Sometimes it seems like everyone in the world is learning to code. Coding jobs are plentiful, and coding bootcamps have become their own cottage industry.
But coding isn't the path to workplace happiness for everyone, and there's a growing realization of the limitations of the "everyone needs to code" mentality.
That's where Ariel Lopez comes in. The entrepreneur and career coach founded 2020Shift (of which Buffer is a proud sponsor!) to spread awareness that you don't have to code to work in tech—and to give underrepresented groups the skills they need to move into all kinds of tech roles.
2020Shift just graduated its first cohort of bootcamp students who got a crash course in hybrid tech roles—roles that are non-engineering yet still technical, like product, design, digital marketing and more.
Fast Company dubbed 2016 the year of the hybrid job, citing a study in which researchers examined 24 million job listings and found that employers want multifaceted employees who possess hard skills such as database technology, coupled with traditional soft skills like communication and collaboration. More than 250,000 of these hybrid roles have been created in the last year alone.
In this CultureLab interview, Ariel talks about the bomb that went off in the industry after Google released their diversity numbers and how that led her to create a program to educate minority millennials about careers in digital media and technology.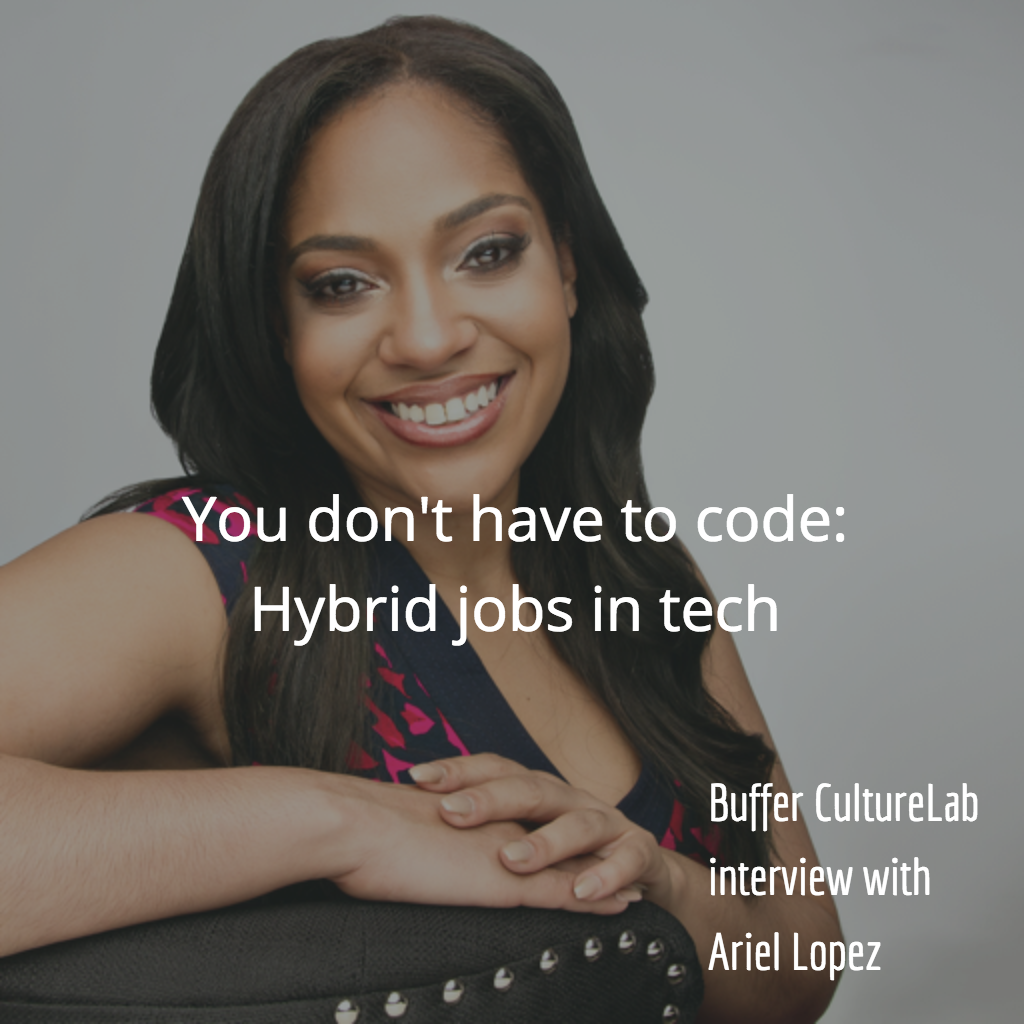 Plus: Carolyn and I chat about going from a startup to a "scaleup" and what changes as a result.
What you'll learn from this episode:
The difference between a startup and a scaleup
How to know which kind of work environment you'll thrive in
How to know when you're entering the scaleup phase
The culture changes we've observed at Buffer as we scale
When it's more expensive to move fast and when it's more expensive to wait
The 3 questions that can lead you to career happiness
What's bringing droves of new people into tech roles
What "hybrid tech roles" are, and why they're growing fast
Why soft skills are essential even in tech roles
What universities are doing (and not doing) to give students tech skills
Stuff we talk about in this episode: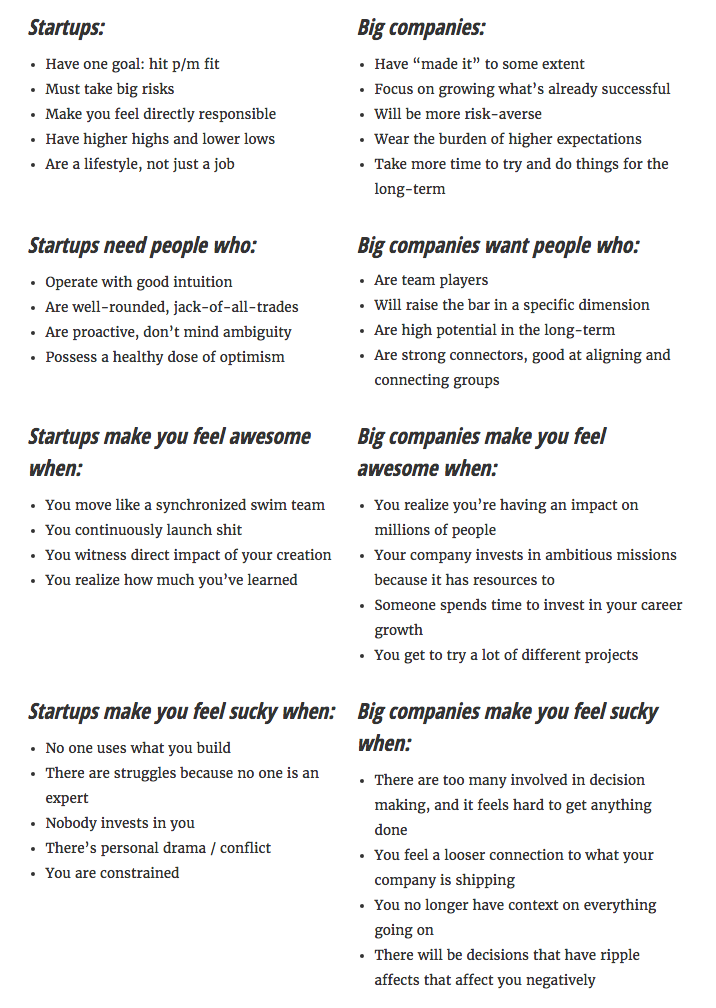 Notable moments
2:11: "Process slows you down until process speeds you up"
3:20: Throwing spaghetti at the wall
4:37: Startups within a scaleup
6:00: Doing everything vs. getting specialized
8:40: Being T-shaped
10:45: A reasonable expectation of weekends and evenings
14:20: Watching your baby grow up
17:55: What career happiness looks like
19:50: Tech is that shiny object in the room
20:53: 3 questions to ask for career happiness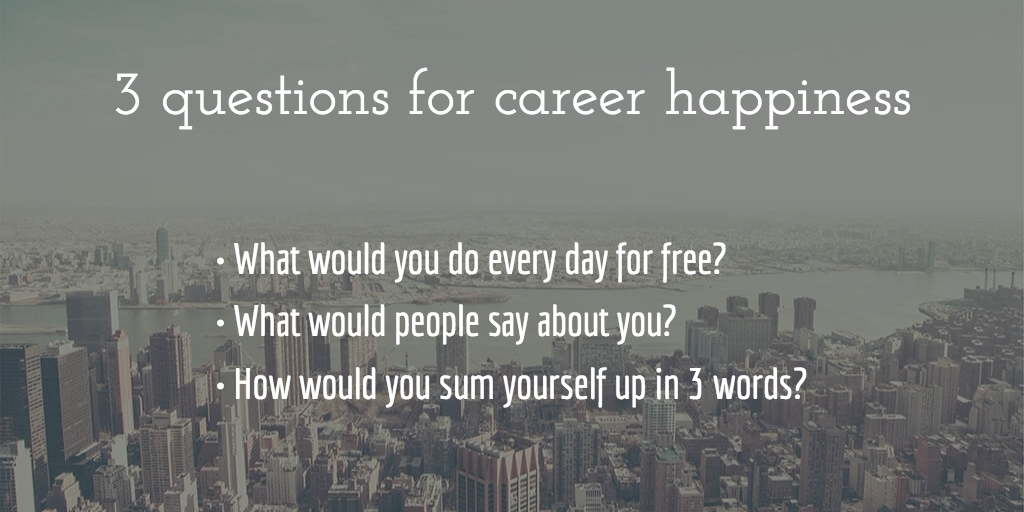 23:25: A bomb went off in the industry
24:50: Hybrid tech skills
26:00: Think about diversity as holistic
27:30: "Culture is 70% of the hire"
30:05: Not all Millennials suck!
32:30: It's not just women; it's everyone
34:35: Incubators on campus
38:00: What is the routine that makes sense for you?
39:00: Some new teenybopper social media platform
39:45: Everyone's parents ruined Facebook
42:30: "Sometimes I just put 'eat' on my calendar"
Further reading
From Startup to Scaleup: What We're Changing As We Make The Transition
Get in touch!
Get all our episodes automatically
Ready to subscribe and get all our new episodes automatically? We've got ya covered!
If you're an iTunes listener, click below to find and subscribe.

You can also listen in these wonderful ways:
Over to you!
Are you a startup person or a scaleup person (or a big company person)? Are you a "tech hybrid?" We'd love to hear from you in the comments, on Twitter, or at culturelab@buffer.com!