This is a guest post by Matt Hamilton, great blogger and Social Media enthusiast at Near Coast Media. More about him at the bottom of the post.
It's nothing new any more and I'm sure you have heard. At over 15 million users, Foursquare has recently grown up from nice gimmick to powerful business tool.
In short, it is a smart phone location based app that allows you to 'check in' to businesses that you are visiting. The app shares these updates with your friends and awards special merit badges. This fun social app for consumers is also a powerful business tool to grow brand awareness and profits.
I dug into Foursquare a lot recently and wanted to find out which great ways there are to use it for businesses:
1. Creating Deals to drive traffic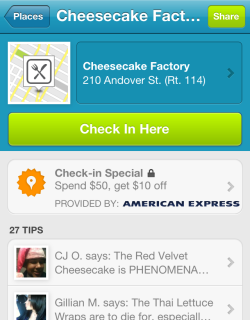 If you claim your business on foursquare, you have the ability to offer special discounts when someone checks in at your location. Claiming your business is free and just takes a few minutes, just visit the foursquare merchant page
With over 15 million users, people often search for nearby businesses that have great new deals to check out. Your offer may be the difference between a new customer and losing them to the competition. Be creative with your special deals and entice new customers to see what your business is all about.
Examples of foursquare deals:
Check in and receive burger and beer for only $8.99
15% off your next merchandise purchase
Receive a free tax consultation when you check in
2. How to use deals to create loyal customers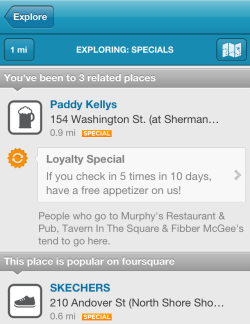 Foursquare deals can be used to create a virtual customer loyalty program.
Getting new customers in the door is great but any marketing or sales person will tell you that current customers are the most valuable. Use this opportunity to reward those that visit your business often by creating a reward based program that gives a special deal after a check in goal is reached.
This is very powerful because it creates a connection between the customer and the business and helps to make customers feel compelled to come back.
Some great foursquare loyalty examples are:
Free 16 oz coffee on your 10th check in
Check in 3 times in 10 days and receive a special gift
$1 off popcorn every 3rd check in
Free business name t-shirt on your 25th check in
3. Easily understanding your demographic with analytics
Anyone running a business knows that having more data about your customers is always going to help. If you are a small business owner, surveying customers to collect demographic data is probably not on your to do list. Luckily foursquare can help you collect some of this data and also present it in a easy to digest manner.
To make sure you are getting as much data as possible, let customers know you are on foursquare as often as possible. When claiming your business you will receive a window sticker that encourages customers to 'check in here'.
Check in data available:
Check in #'s and averages
Where check ins are shared (Twitter and Facebook)
Gender of customers
Customers ages
Times and frequencies
4. Get comments and tips from customers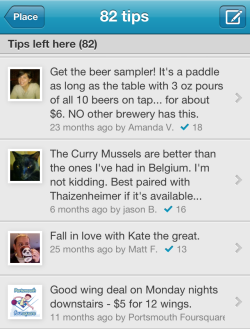 Foursquare users are allowed to leave comments or 'tips' on the profile of venues they visit. Although negative comments could hurt your business, this feature is generally used positively by members to share a favorite dish, pizza topping, service etc.
I have decided to eat at a restaurant solely based on a tip left on foursquare, this isn't a resource to overlook.
It is also a good place to read feedback left by customers in order to make changes or improvements in your business.
5. Free advertising to hundreds or thousands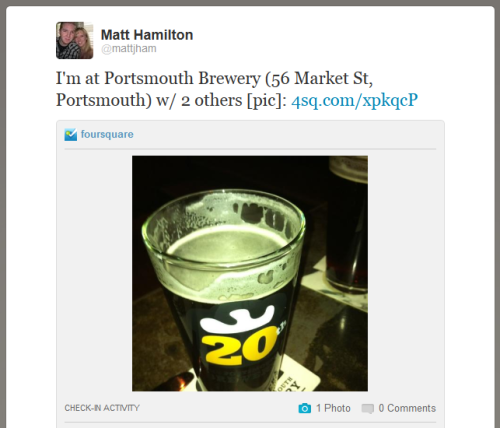 If there's just one reason to convince you foursquare is right for business, this is it.
When a user checks in, that check in is shared to all of their friends on foursquare. Since most people also link this to Facebook and/or Twitter, this check in is being broadcasted to all of their friends and followers. This means that thousands of people are potentially viewing a free advertisement for your business.
Claiming your business and optimizing the listing with your contact information and website will give you the best return from this free promotion. For businesses of any size, this kind of exposure is absolutely worth a few minutes of your time.
I'd love to hear how foursquare has helped your business. Let me know in the comments if you have any unique use cases and share your success or struggles.
About the author:
I got to know Matt as an absolute ace in Social Media. Check out his blog Near Coast Media for resources, services and business consulting. You can also follow Matt on Twitter @mattjham or visit his Facebook Page.