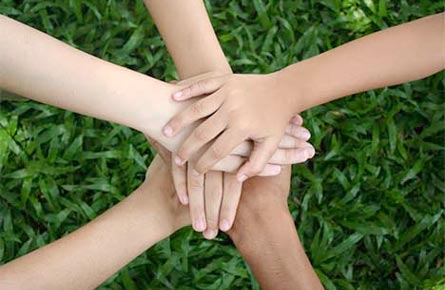 "Let other companies, brands, apps battle with one another over who has the most awesome product, while the REAL battle is over who has the most awesome users." ~ Kathy Sierra
1. From great encouragement to job promotion
Starring Janet Aronica alias @JanetAronica
Being able to meet some of our users for more than a quick "Hi!" is really what makes us get up every morning. The conversations and connection enable us to make the Buffer service better every day, but more importantly, we learn about the great things others are up to out there in the Twituniverse.
Let me therefore share with you the story featuring Janet Aronica.
As (back then) community manager of OneForty I struck a conversation with Janet about several existing tweet scheduling tools. She gave me an opportunity to pitch Buffer to her and the great thing happened: She was excited to use it.
And from there things started to roll, not only did she become a user, but she proactively stepped up for us telling more people about Buffer than we could have ever reached. Her latest feature of Buffer can be found here.
Yet again, this is not the end of the story. I continue being in touch with Janet frequently discussing latest features and asking for her expert opinion.
It is also very interesting learn about the great things Janet is up to with OneForty. You can imagine that it was a real pleasure to learn she just got promoted Director of Marketing, a position I wouldn't know who else could do a better job in.
Walking the startup road together with people like Janet just makes the journey a lot more enjoyable. So do go and have a look at her personal blog, which builds an amazing Social Media resource together with the OneForty – blog she writes for too.
2. A casual mention leads to a massive help in us
understanding how people can use Buffer
Starring Daniela Bolzmann alias @DanielaBolzmann
Daniela is no stranger to scheduled tweets, but she felt that many existing solutions are obtrusive and encourage you to tweet in ways which are not genuine.
A casual tweet from @evanhamilton triggered Daniela's curiosity and she tried us out. The best part about us meeting Daniela was how much she taught us about how people might use Buffer, and how open and willing to chat to us she was.
Daniela was using Buffer before we had the multiple accounts or team members features, and she was one of the first to use those features and help us build them in the best way possible. She also gave us lots of feedback about what she considered fair in terms of pricing. Little gems of information such as "As a sm consultant, I typically manage anywhere from 3-10 twitter accounts" really helped us understand how she and others would like to use Buffer. You can't put a value on that kind of understanding about your users. We think it is crucial to us making Buffer awesome, and it wouldn't be possible without kind people like Daniela.
She has an amazing personality, was patient and helpful when we had bugs, and gave us many of the moments which make us feel really great about what we're doing. The first was when Daniela said "Scheduled Tweets are nothing new but BufferApp.com has found a way to make it human and unobtrusive from my daily activities.", and even better was when she told us that "what used to be a daily routine and about a 2 hour task per week is now a weekly 5-20 minute task". She's also written one of the best blog posts about Buffer that we've ever had, complete with a video and including some tips we hadn't even thought of ourselves! She has a fantastic voice, a real pleasure to listen to. Be sure to check out the post and follow @DanielaBolzmann.
3. From user feedback to amazing input for new Buffer features
Starring Jesse Friedman alias @Professor
It all started out with a tweet from Jesse hitting us up asking about where we are planning on taking Buffer in the future. He showed great support and was really impressed with the service, yet had some slight suggestions on how to improve the product.
We were in touch for several tweets back and forth discussion options about introducing a timing interval and other great ideas Jesse had in mind. It was a great source of input for us as feedback from our users is the most valuable thing we can get.
It tells us about which area we need to continue expanding and which features are not so much appreciated. Having them on your side is the greatest things that can happen.
After Jesse had taken out Buffer for a full spin and was convinced it really suited his needs he sent us another few tweets, which were such a great encouragement for us they are now part of our amazing User Wall.
But wait! It yet again didn't stop there. Jesse took the time to write a full review about Buffer posting it to the very prominent Search Engine Journal giving us an amazing amount of exposure and helping us to spread the word.
Only recently we connected on Skype too and Jesse shared some wonderful ideas on how we could take our Referral and Affiliate to a level where we can give back to all of our amazing users. Stay tuned on it as we are just baking it now.
As Jesse is a WordPress and Twitter expert you can read more from him here.
Photo credit: AshtonPal