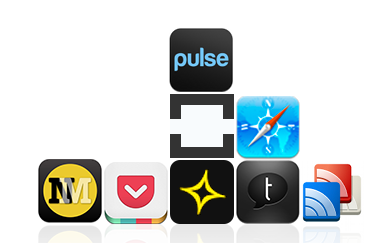 Around 3 months ago, we have opened up the Buffer API to all the awesome app developers out there to build something amazing. And they did!
Over a dozen cool integrations have been launched since and lots more are in the pipeline to be unveiled soon.
Today, I thought I'd pick three of the most interesting and useful integrations to date and explain how you can make the most of them:
Ifttt: Put the internet to work for you
This is an integration that we launched a few months back and have updated and improved just last week for you.
In short, ifttt let's you connect any two web services together. Say for example, you star an item in Google Reader, then a new items gets added to your Buffer.
Or you take a picture with Instagram and it gets posted to Facebook with Buffer for you. Here are 4 great recipes you can check out to make your social sharing smarter and easier:
Star something in Google Reader -> add it to your Buffer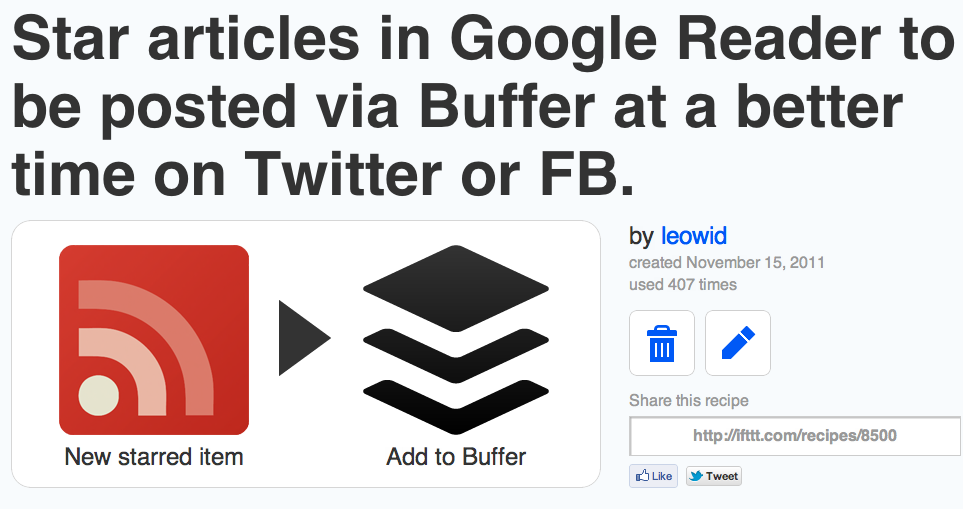 Map out your Buffered Tweets in Google Calendar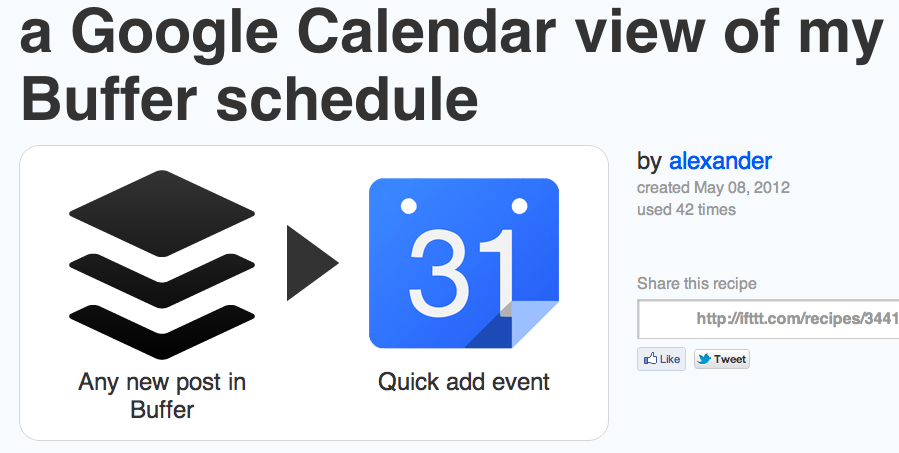 When adding to Buffer -> save to Evernote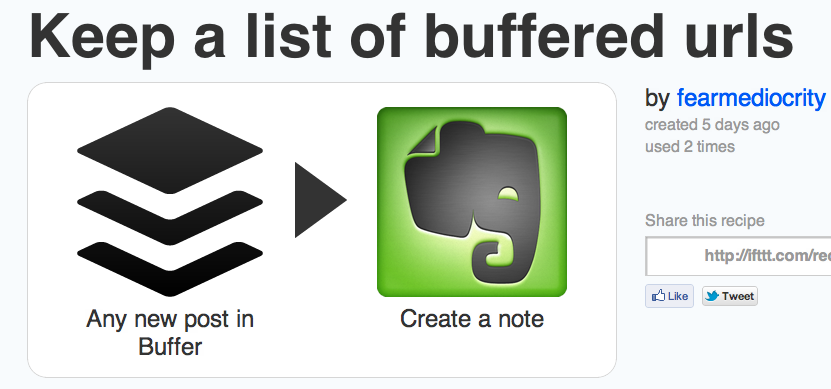 Favorite a Tweet -> Add it as retweet to your Buffer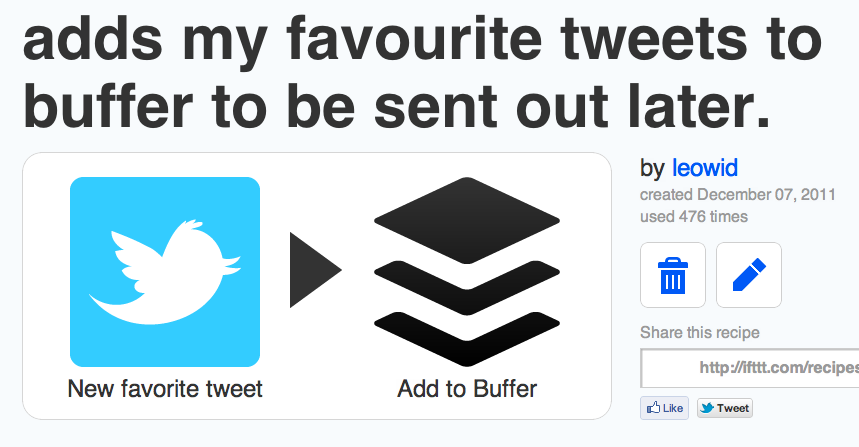 Twylah: Make your Tweets shine
Only last week, we have unveiled our latest integration with a gorgeous Twitter app called Twylah.
If you sign up, the app will automatically take all of your Tweets and turn them into a beautiful brand page that displays all of your Tweets on a blog like page for you: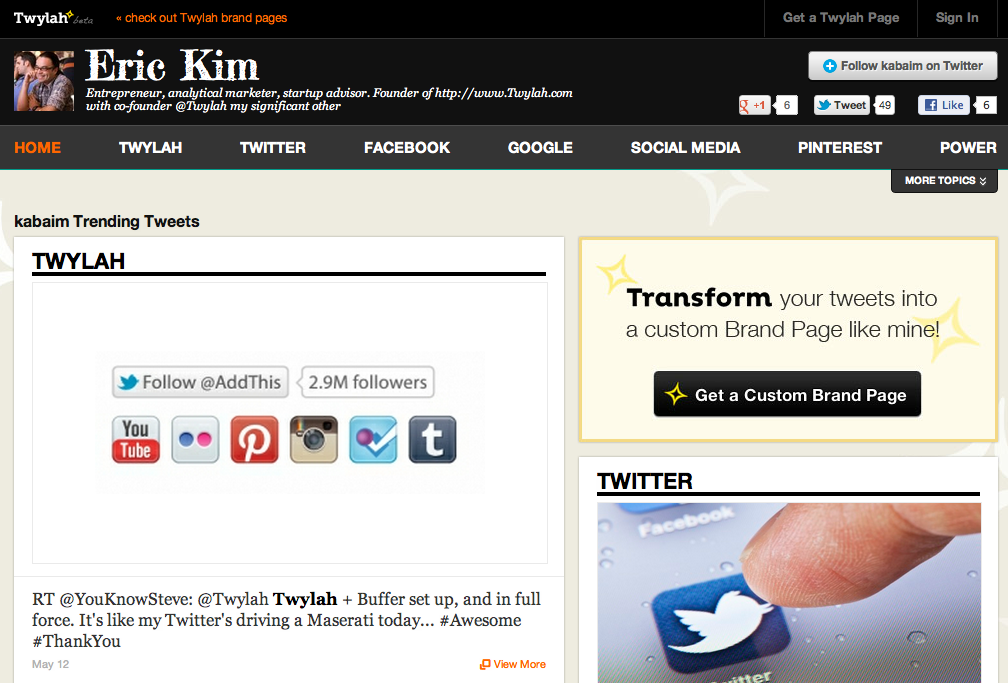 Now, Twylah also features a very cool function called the Power Tweet. It basically lets you send a Tweet for a great post you read to a designated Twylah page.
On there, it will be surrounded with lots of great content to keep your followers up to 40 times more engaged with your content: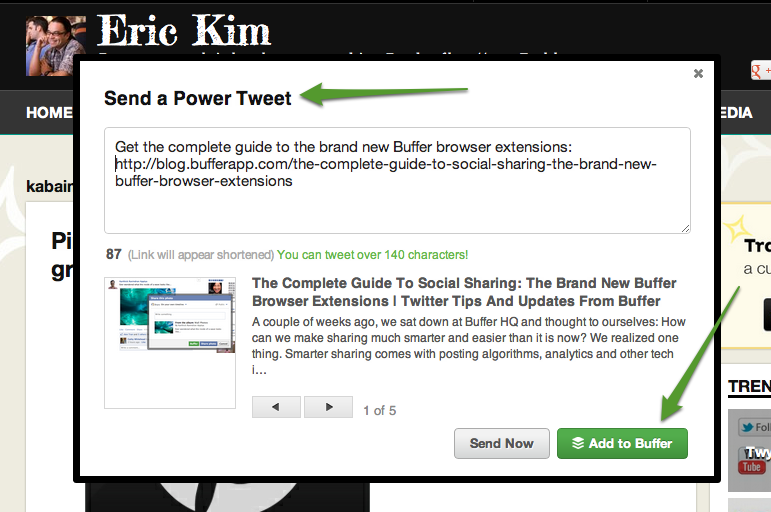 Mr. Reader: A gorgeous RSS reader for the iPad
Another integration, that especially Joel is extremely fond of, is our collaboration with Mr. Reader. Mr. Reader is an amazing and beautifully designed iPad app for following RSS feeds.
You can pull in your Google Reader account and folders very easily. From there you can flick through your articles and add anything you find useful to your Buffer very conveniently: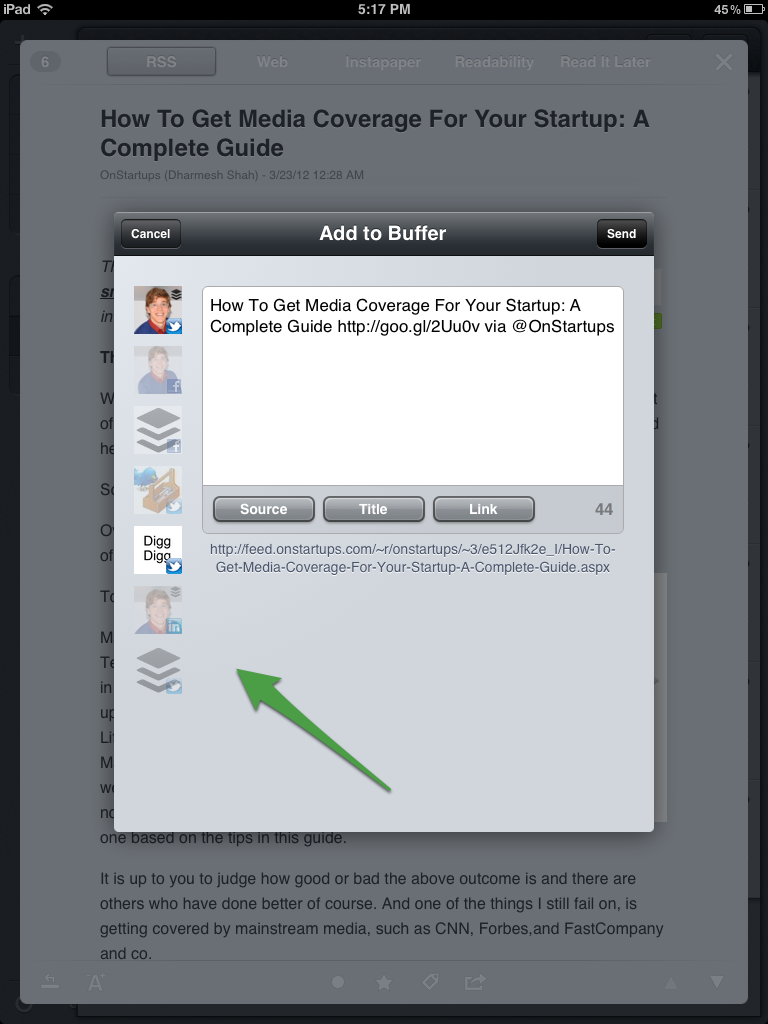 Which Buffer integrations should be next?
You can check out a full list of well over 20 different apps, extras and extensions you can use with Buffer. For now, we are working with lots of other app developers to get you some more Buffer awesomeness wherever you want to share great stuff from.
Of course, we want to continue building awesome integrations for you, so now is your pick. Which other apps would you want to Buffer from? Let us know any suggestions in the box below.