Shopping on social media, or social commerce, is changing the way your customers shop online and is expected to grow into a 1.2 trillion global industry by 2025.

Social media is already a powerful tool for e-commerce — 77 percent of people use social media to learn more about a product or brand. Social commerce takes this a step further because consumers can get ideas, browse for items, and make a purchase, all without leaving their favorite app. And this form of e-commerce is creating opportunities for small businesses to reach more consumers like never before.
What is social commerce?
Social commerce is the use of social media to sell products directly to consumers. Consumers can use social networking apps to discover and purchase products rather than buying them directly on your website.

Because it keeps customers on the site where they first saw your product, social commerce speeds up the buying process. The shopping experience becomes easy and seamless for the consumer, and brands generate more sales and revenue from their social media.

With social commerce, we're seeing consumer shopping preferences shifting to social and to younger audiences. In addition, we're also experiencing a shift in power from major brands and retailers to smaller businesses. More than half of social buyers say they are more likely to buy from a small business through social commerce versus online.

As a small business, you can take advantage of the social commerce revolution in two ways: by integrating your e-commerce shop with social platforms or by hosting live shopping events.  Here's more on both of those approaches.
Create shoppable posts
Shoppable posts allow businesses to generate sales by simplifying the buying process. With shoppable posts, people can purchase your products or services directly from your social media post.

Several of the top social platforms offer shopping features to business accounts. Choose where to host your social commerce shop based on where you interact with your audience the most.
Set up shop on Facebook
In 2020, Facebook launched Facebook Shops to help small businesses sell online. Brands can host an online store under the "shop" section of their business' Facebook page. There are approximately 250 million Facebook Shops worldwide, with some brands experiencing tremendous results, including one retailer's 66% greater average order value via Shops than via its website.

To create a Facebook Shop, you'll need a Facebook Business Page. If you also have a storefront on another e-commerce platform like Shopify, you can sync the two and manage them simultaneously with quick and seamless integration. So, if a customer purchases an item via the Facebook Shop, it will automatically deduct from your online inventory on Shopify (and vice versa).

To create shoppable posts on Facebook, tag products from your Shop whenever you post photos and videos containing a product from your store. If a follower selects a tagged product in your post, they can see product info and pricing, then checkout from Facebook.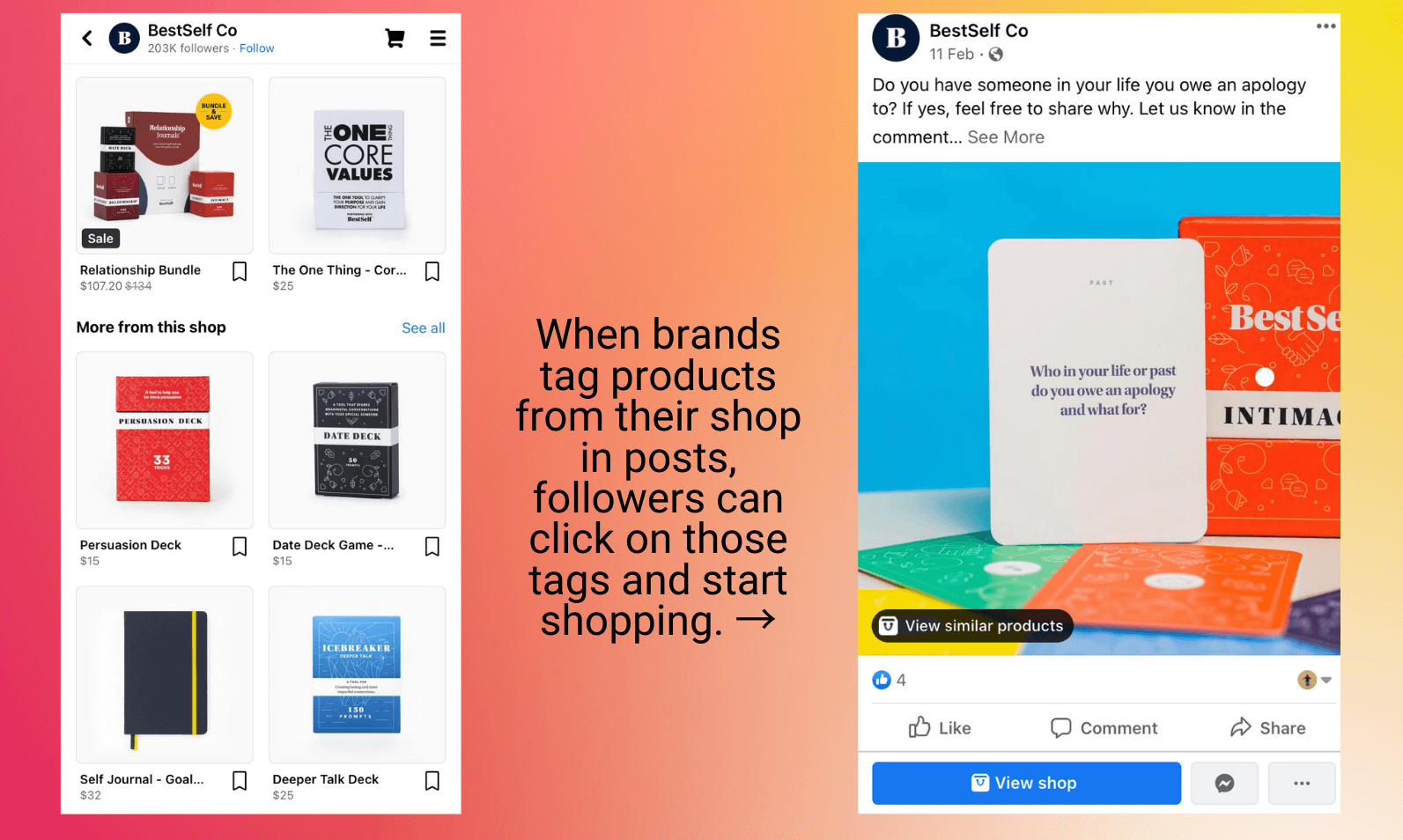 Tag your products on Instagram
According to Instagram, 44 percent of people use the platform to shop weekly, using tags and the Shop tab, and 28 percent of their shopping on Instagram is planned. When it comes to generating revenue, Instagram is a great platform to sell on.

Like Facebook, Instagram Shopping gives you the option of creating an Instagram Shop with a catalog of products by putting products manually into Facebook Business Manager. The other option is to integrate a pre-existing product catalog from an e-commerce platform like Shopify or BigCommerce.

With an Instagram business account, you can set up your account for the ability to tag products in Posts, Stories, and Reels. When followers tap on the featured item, they'll see the product's name, description, and price.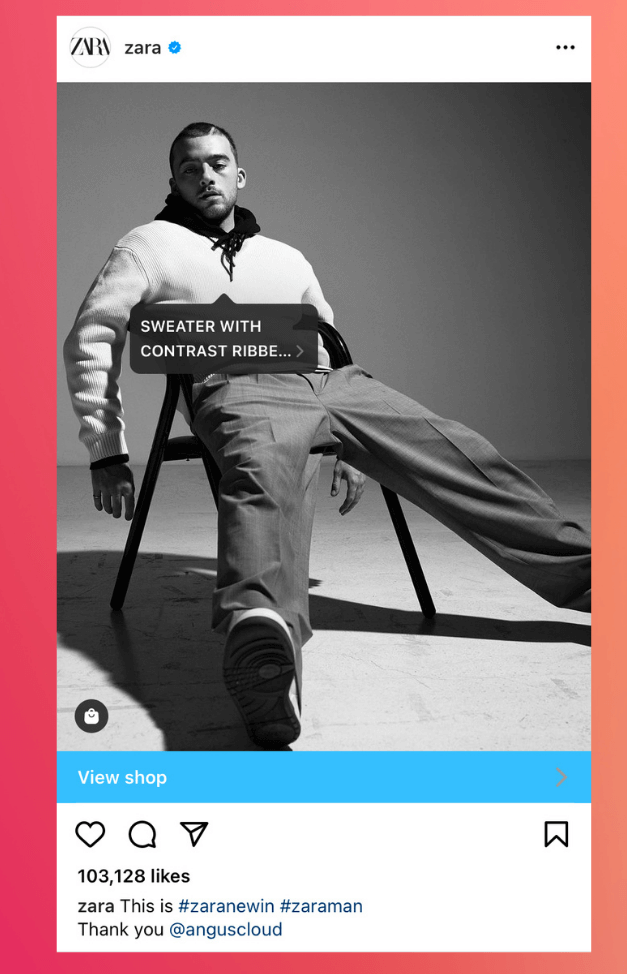 If the customer has Instagram Checkout enabled on their account, they can click the blue "Checkout on Instagram" button on the product page, and they're good to go!

By regularly creating Instagram Shoppable posts, businesses are more likely to be featured on the Instagram Shop discovery tab. That means more brand exposure and higher sales potential.
Post product Pins on Pinterest
Pinterest is a great place to gain exposure for your small business, and according to Pinterest, 80 percent of weekly Pinners have discovered a new brand or product on the platform.

And with Pinterest Shopping, brands can upload their products on the platform and then convert them into product Pins. These are Rich Pins that automatically pull product descriptions, prices, and availability directly from your website.

You can also enable a Shop tab on your profile that consolidates all your product Pins in one place.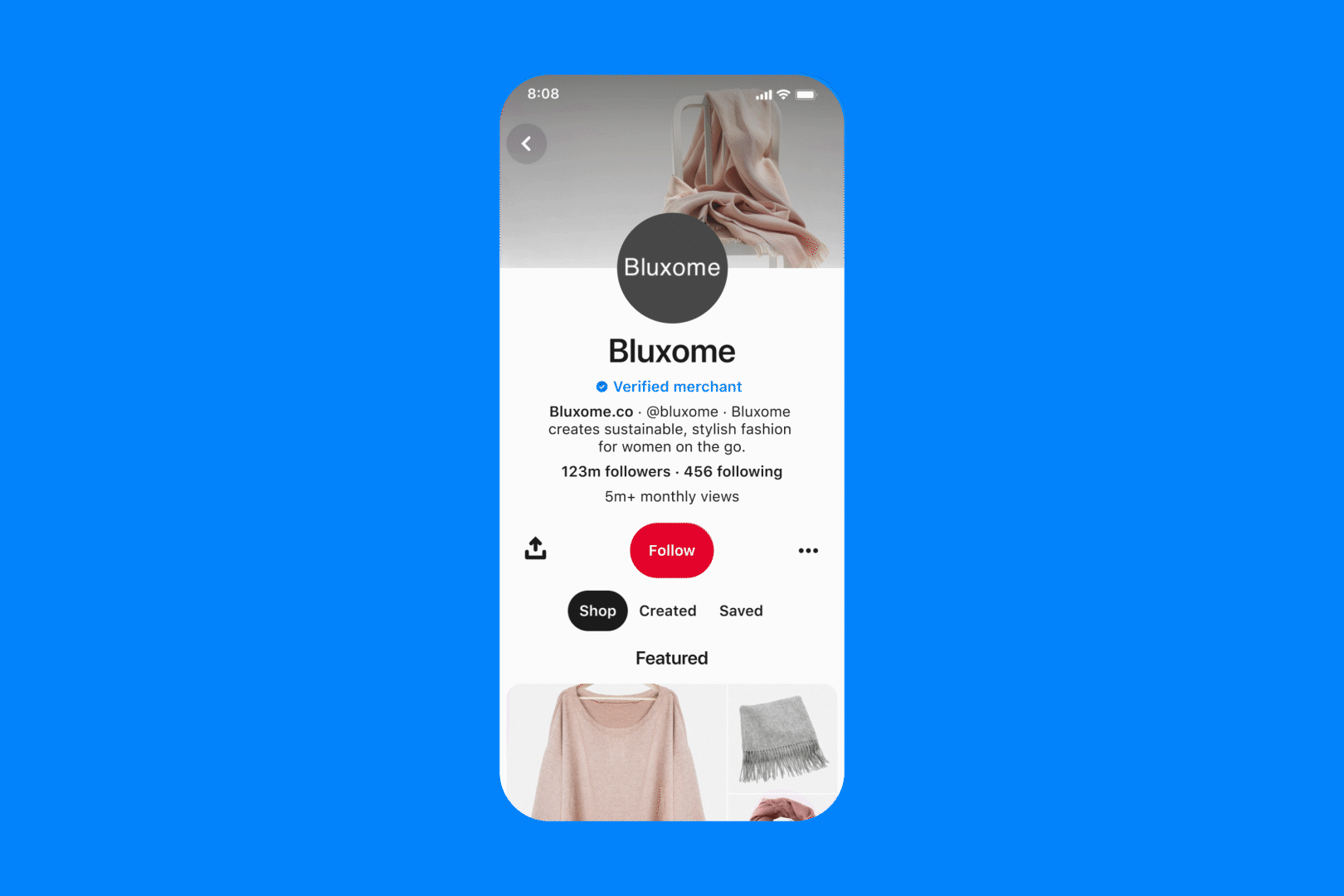 Those Pins can link to their corresponding pages on e-commerce websites where shoppers can complete their purchases. Pinners can also complete their transactions via Checkout, a native tool currently available in beta for select Shopify merchants in the U.S., but will eventually be unrolled to more retailers.
Post shoppable TikTok videos
According to a survey from Adweek, 49% of TikTok users have purchased new products after seeing them advertised, promoted, or reviewed on the platform. TikTok's effect on social shopping trends is so powerful that it even inspired the hashtag #TikTokMadeMeBuyIt, which has amassed billions of views.

TikTok Shopping is currently only available to merchants using Shopify, and additional partnerships with other e-commerce providers like Square, Wix, Ecwid, and OpenCart are in progress. As TikTok continues to roll out more shopping features, this is a platform that brands should hop on.

Currently, brands with a TikTok For Business account can link their Shopify product catalog, which appears in a Shopping tab on their TikTok profile. For example, after Glow Recipe experienced a 600% spike in sales from a viral TikTok post, it became one of the first brands to try out TikTok Shopping.

Through the Shop tab on its TikTok profile, Glow Recipe uses Product Links to spotlight its catalog of products in organic content, and followers can instantly load product detail pages.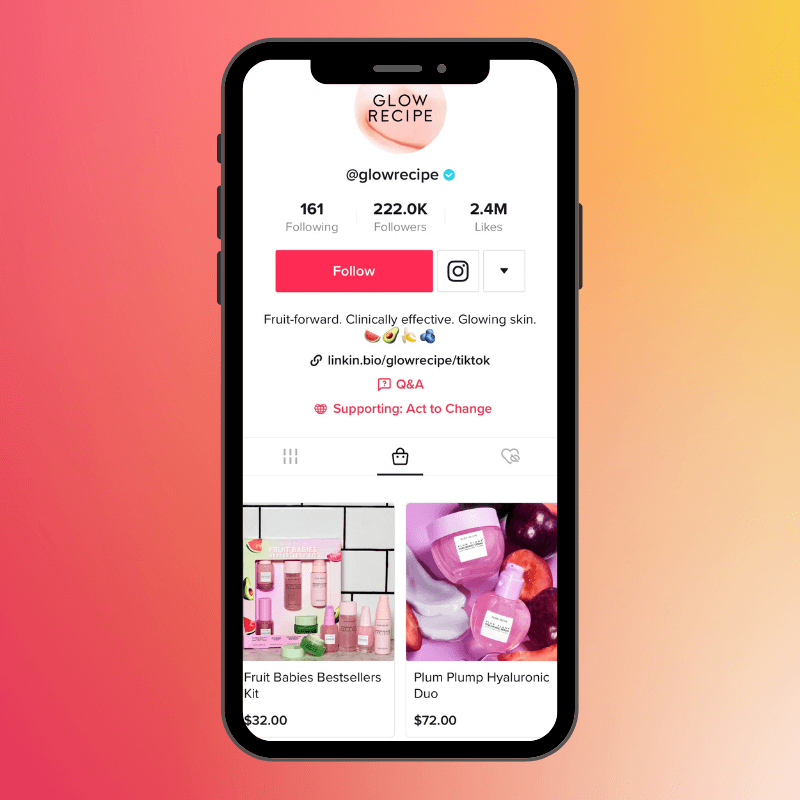 Brace yourself for Twitter Shopping
Twitter wants a piece of the social commerce pie too, and the platform recently debuted its Twitter Shops feature to select merchants. When you visit the bio of a merchant with Twitter Shops enabled, you'll see a "View shop" button just above its Tweets. Tapping the button will open up that merchant's shop, where you can scroll through a gallery of up to 50 product listings.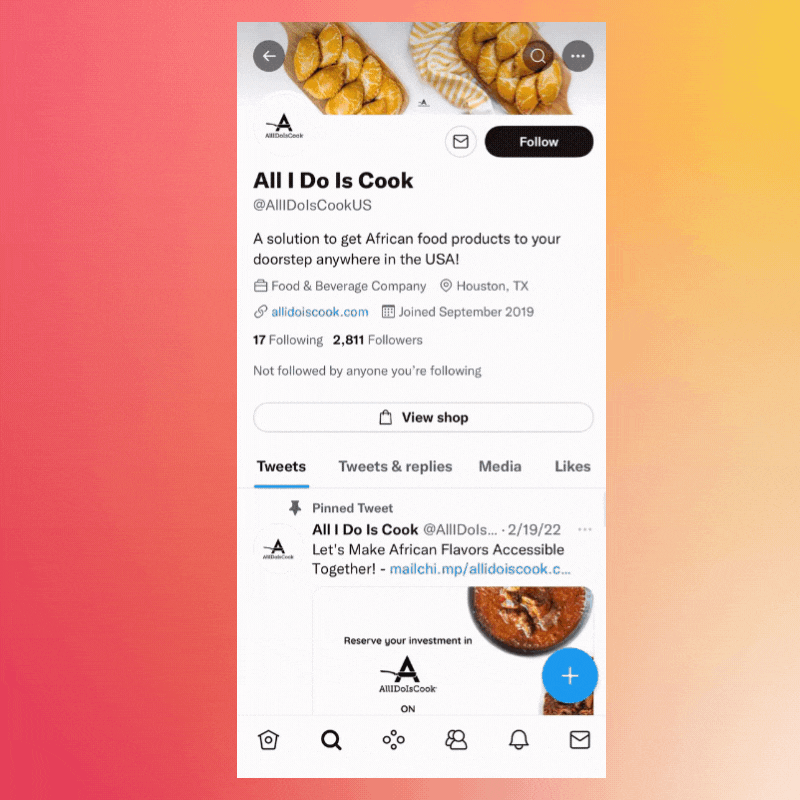 Currently, there is no app checkout on Twitter. Clicking on an item will instead take you to the merchant's website, where you can complete the purchase. However, we expect Twitter to unroll its own native checkout feature similar to Instagram and Facebook's soon!
Host live shopping events
Live shopping is a practice where retailers showcase their products via a livestream on social media. During the stream, retailers talk about product features, interact with customers, and sell products from the video in real time.

Live shopping is huge in China and other parts of Asia. In 2021, two of China's top livestream influencers, Li Jiaqi and Viya, sold $3 billion worth of merchandise in one day — roughly three times Amazon's average daily sales! The trend is quickly spreading to other parts of the world, and live shopping is expected to generate $500 billion in global shopping sales by 2023.

With other worldwide markets, including the U.S., still figuring out live shopping, it's an excellent time for brands to be early adopters. It's also a low-cost way to generate sales for your brand because it can be done on a mobile phone or laptop and doesn't require any fancy editing or setup.

This unedited, unscripted, and immediate interaction with your audience can help you build more authentic and meaningful connections with them and generate sales in a way that other online selling methods cannot.

Treasured Sand Gemstones, for example, sells exclusively through Facebook Live streams that feature hosts sifting sand in real time for gemstones. Then, if viewers place an order, the host will reveal their gems during the Facebook Live stream and then mail the purchase to customers.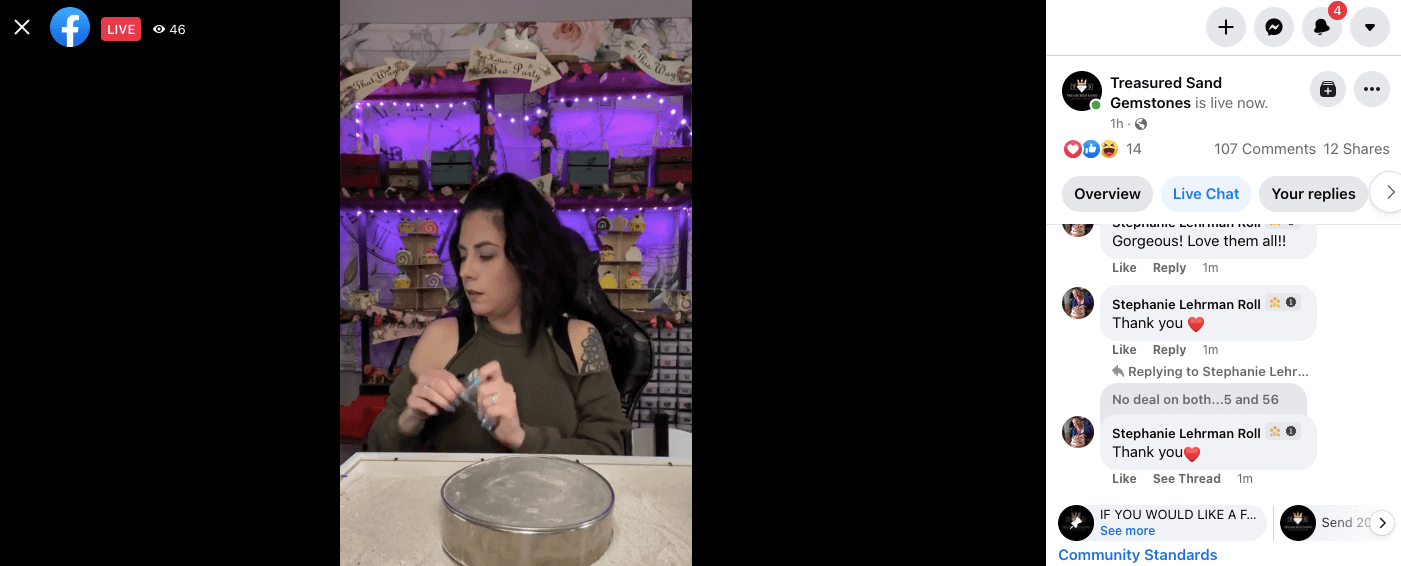 The brand typically generates hundreds of comments and thousands of views in its livestreams. This example demonstrates how live shopping helps break down the lack of human interaction that online shopping typically has.

So far, Facebook, Instagram, and TikTok all have native live shopping capabilities. Sellers can tag featured products within the app from the Shop tab, and those products will be displayed at the bottom of a livestream video so viewers can tap to learn more and purchase.

Not to be left out of the race, Twitter and Pinterest are also embracing live shopping. In November 2021, Twitter unrolled its Live Shopping feature, and in the same month, Pinterest launched Pinterest TV — a collection of live, original, and shoppable shows on the Pinterest app. Clearly, the shopping revolution will not be televised;  it will be livestreamed!
Boost your sales with a social commerce presence
Social commerce is opening doors for smaller retailers to enter markets that were previously only accessible to larger brands. And with Twitter, Pinterest, Facebook, Instagram, and TikTok all aggressively developing social shopping features, small businesses have an opportunity to generate sales without the need for any expensive campaigns.

To get started exploring the exciting world of social commerce and experimenting with all its fun features, check out these resources:
Brought to you by
Did you find this article helpful? You might also like our all-you-need social media toolkit.
Get started for free now