Twitter threads are a powerful format for marketers. You can use them to share longer-form content and they tend to get way more engagement than regular posts. But, they also take more time and effort to craft than regular tweets. You need to think through the content, the sequencing, how the tweets look, and the best time to post for maximum reach.
Doing all of this on Twitter is possible but it's also tricky. You can't save your threads for later so you have to get it all right in one go. Otherwise, you'll lose your work. And you can't schedule them for the optimal time, you have to publish them immediately.
Instead, there are a number of tools out there that allow you to draft, preview, and schedule your threads directly to Twitter in advance.
Here's how to schedule Twitter threads with Buffer
Buffer makes scheduling Twitter threads really quick and easy, and it's free. You can follow these steps to get started.
Connect your Twitter account to Buffer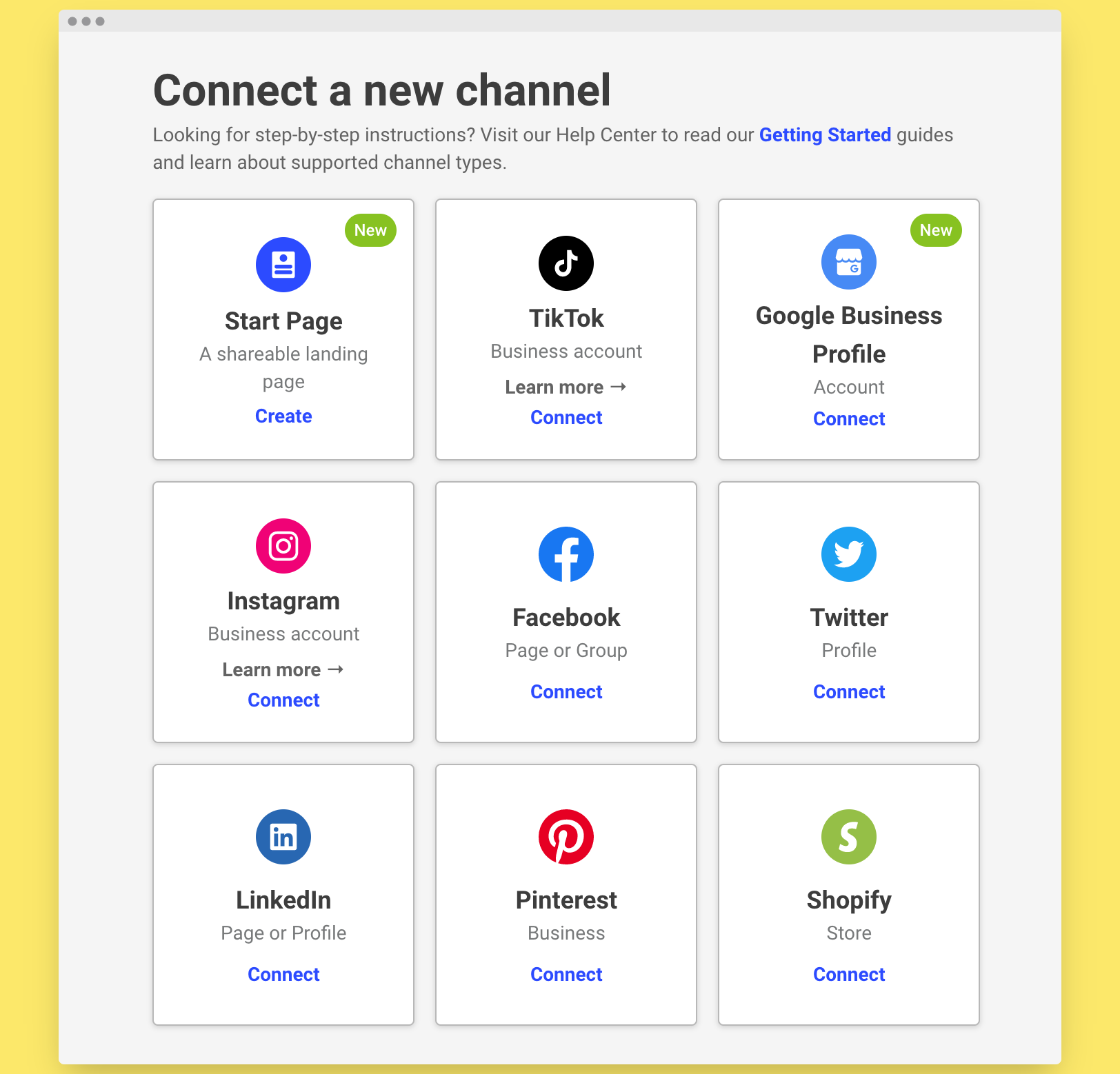 In Buffer, you have the option to connect to a variety of social platforms and marketing channels. Clicking on Twitter will take you to your Twitter profile where you need to give Buffer permission to post on your behalf. Once you do that, you've officially connected Twitter as a channel.
Buffer's free version allows you to connect up to three accounts. If you'd like to connect more than three accounts, you can subscribe to a paid plan.
Open up the Buffer composer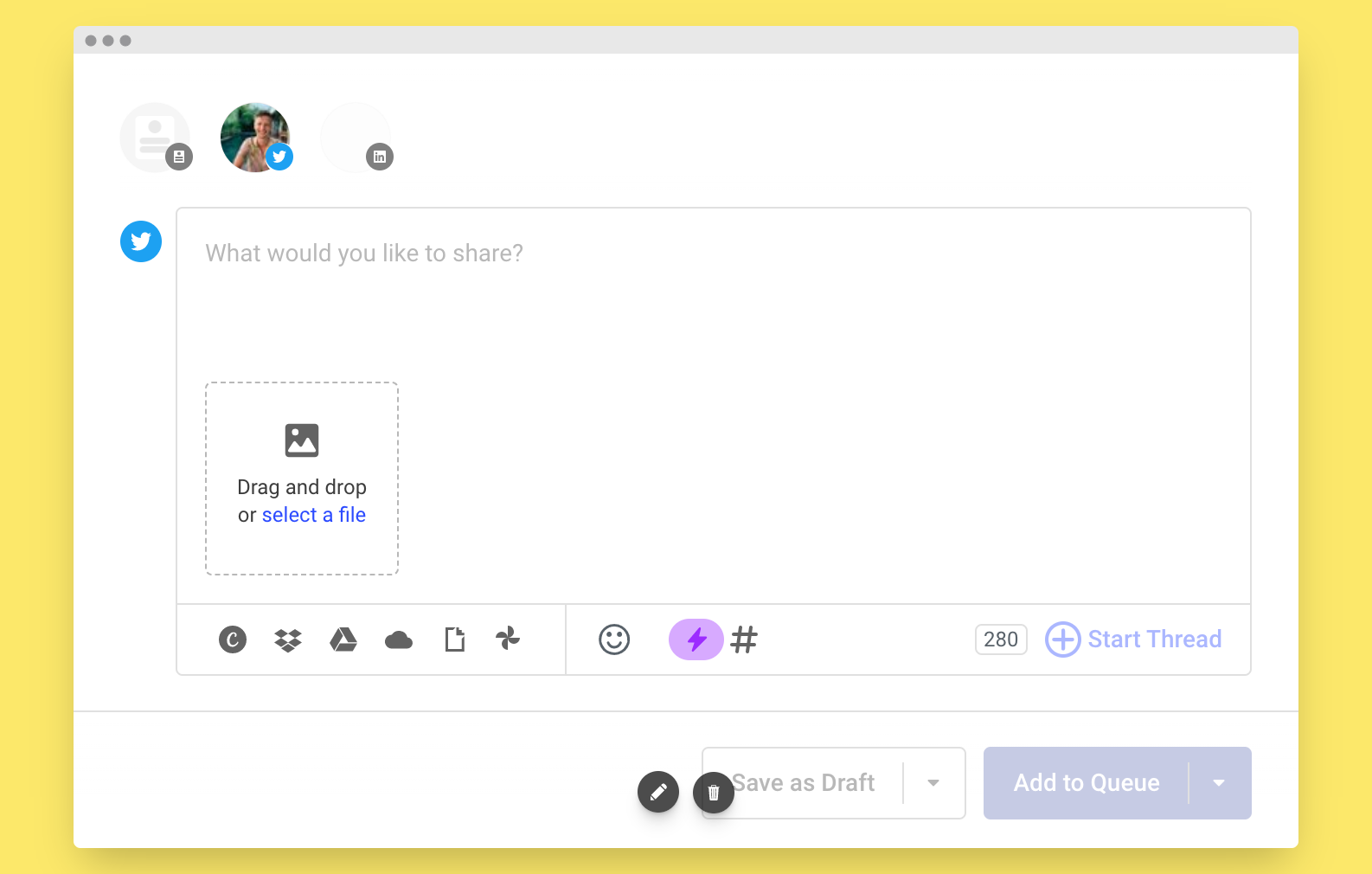 You can create content for any of your connected accounts, including Twitter profiles, using the Buffer composer. The composer has a bunch of features to help you create high-quality Twitter content with speed and ease. Aside from simply typing in text, you can:
Import media from Google, OneDrive, or Dropbox.
Create images using a Canva integration.
Add GIFs directly from Giphy.
Use the hashtag manager to add relevant hashtags.
Start a thread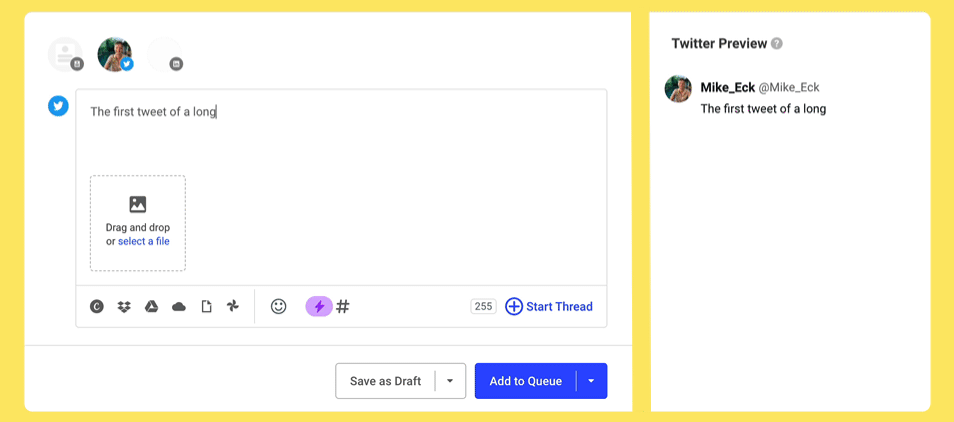 Once you've added some content to the composer, you'll have the option to Start Thread. This will expand the composer into a second tweet. You can add as many tweets to a thread as you'd like; simply click on the + sign. Buffer will show you a preview of your Thread while you're typing, allowing you to visualize your thread as it comes together.
Save or schedule your thread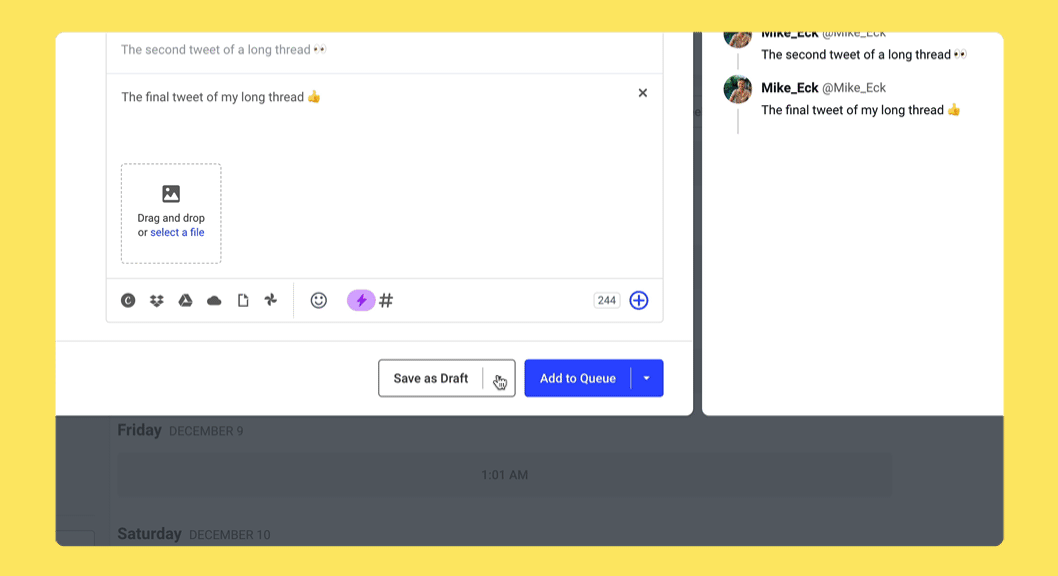 After you've created your tweet thread, there are a number of scheduling options at your disposal. If you want to publish it right away, you can share your thread immediately. If you already have other content queued up in Buffer on a preset schedule, you can add it to the start or the end of your queue. Or, you can schedule it for a custom time outside of your regular posting schedule. Alternatively, you can save it as a draft if you want one of your teammates to review it first, or if you want to come back and work on it later.
Watch the retweets and likes roll in!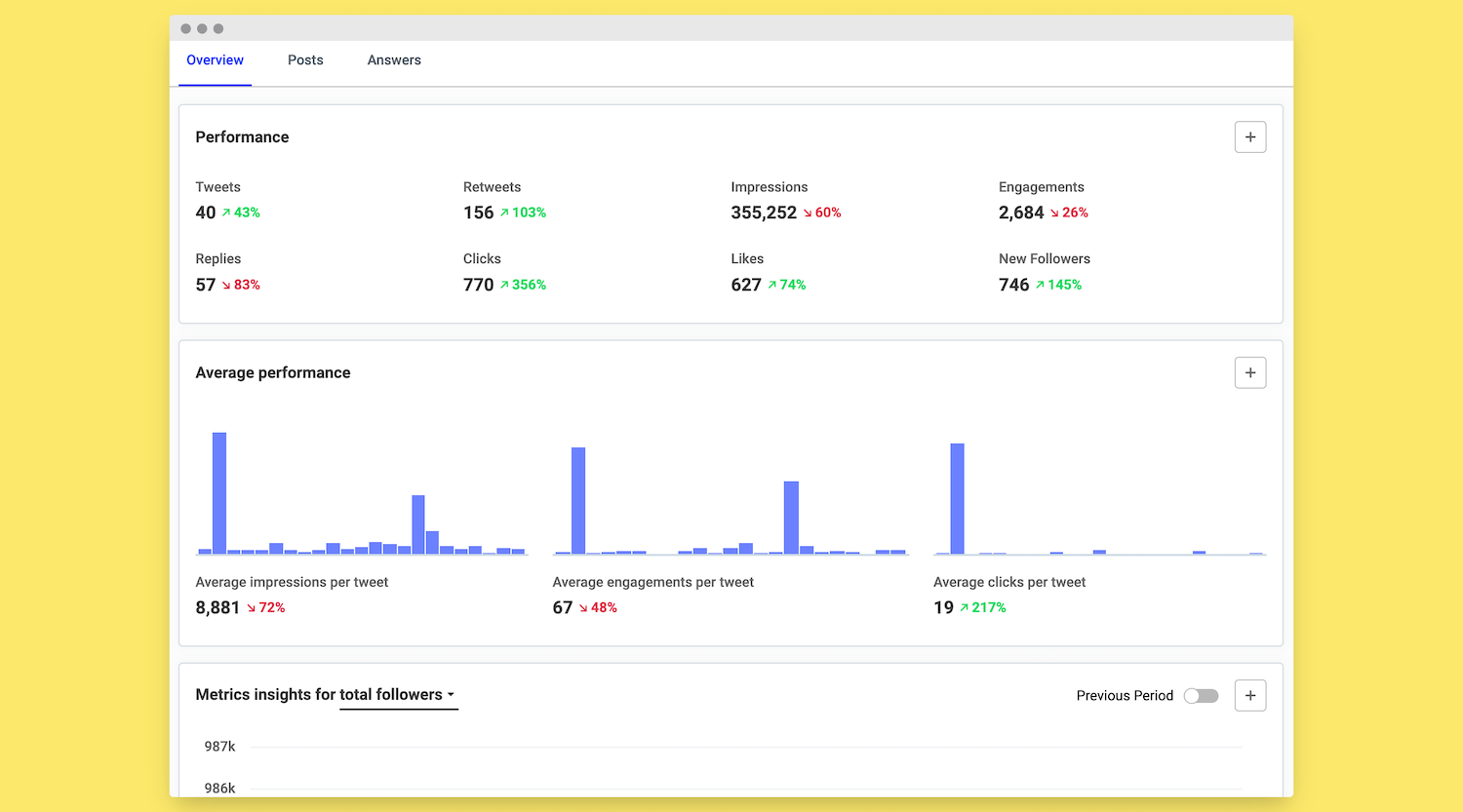 Buffer will auto-publish your thread at your specified time, so all you need to do is sit back, relax and keep an eye on all the engagement on your perfectly crafted thread. Or if you want to take your Twitter strategy to the next level, you can review your analytics in Buffer and use those insights to build out more content in advance.
Buffer will show you which of your posts have received the most engagement, how frequently you should tweet to maximize your reach, and what types of posts tend to get the best results. If you work in a team or with clients, you can also export customizable reports with all of your most interesting data and insights.
Why scheduling Twitter threads is better than posting natively
Scheduling Twitter threads is a great way to organize and plan your content, and it can also help you get more retweets, quote tweets, and replies. When you schedule a Twitter thread, you can write your tweets in advance and set them to be posted automatically at a later time. This allows you to craft your message carefully and ensure that your tweets are posted at the most optimal times for engagement. Scheduling can also help you avoid the potential pitfalls of impulsive or spontaneous tweeting, and it can make it easier to track and measure the success of your content.
Repurposing Twitter threads for other channels
Threads-style content can work well on other social platforms if you tweak the formatting and the material to suit the audience. LinkedIn in particular is a great place to share longer-form social content.
Buffer makes it easy to share content to multiple channels in one go. You can create a Twitter thread, customize it for LinkedIn, Facebook, or Instagram, and then schedule it to all of your accounts in just a few clicks. This is beneficial for two reasons: it'll save you time and it will help your content reach the widest possible audience.
This strategy has worked well for us at Buffer over the years. If you need some inspiration and advice for repurposing content, check out these real examples of repurposed content from small businesses.
Start scheduling Twitter threads today
Buffer makes it a breeze to create and schedule Twitter threads, and plan all of your social media content in one place. It comes with a ton of free features, integrates with all the major social platforms, and has an app for iOS and Android.
Get started with a free Buffer account today →
Brought to you by
Did you find this article helpful? You might also like our all-you-need social media toolkit.
Get started for free now