Summary
This article covers some of the best options for social media entrepreneurs to monetize their social media accounts even if they don't have hundreds of thousands of followers.
You will learn
7 ways you can generate revenue via social media
How you can work with brands and create revenue-generating partnerships
How to generate revenue directly from your audience  
You don't need a huge audience to start making money from your social media audience.
In fact, it's worth noting that many micro-influencers get better results (i.e. earning a higher rate per 1000 followers) than influencers with larger followings.
In this article, you will learn about the best ways to make money on social media (ranked by the least amount of work needed) and will be inspired by some creators who are executing these ideas well.
1. Build a paid membership
One of the most popular ways to make money on social media today is to produce exclusive content, accessible only to followers who pay a monthly subscription via a membership platform.
Platforms such as Patreon have emerged in recent years to cater specifically to this phenomenon, and video sharing social platforms such as Youtube and Twitch have also launched features to compete in this space. Even Twitter has started testing a new "Super Follow" feature enabling users to charge a subscription for exclusive content.
A good example of a creator leveraging this method is John Bonini who launched Some Good Content last year on Patreon. Starting from $10/month, John Bonini gives his 500+ Patrons access to his best content marketing tips and strategies.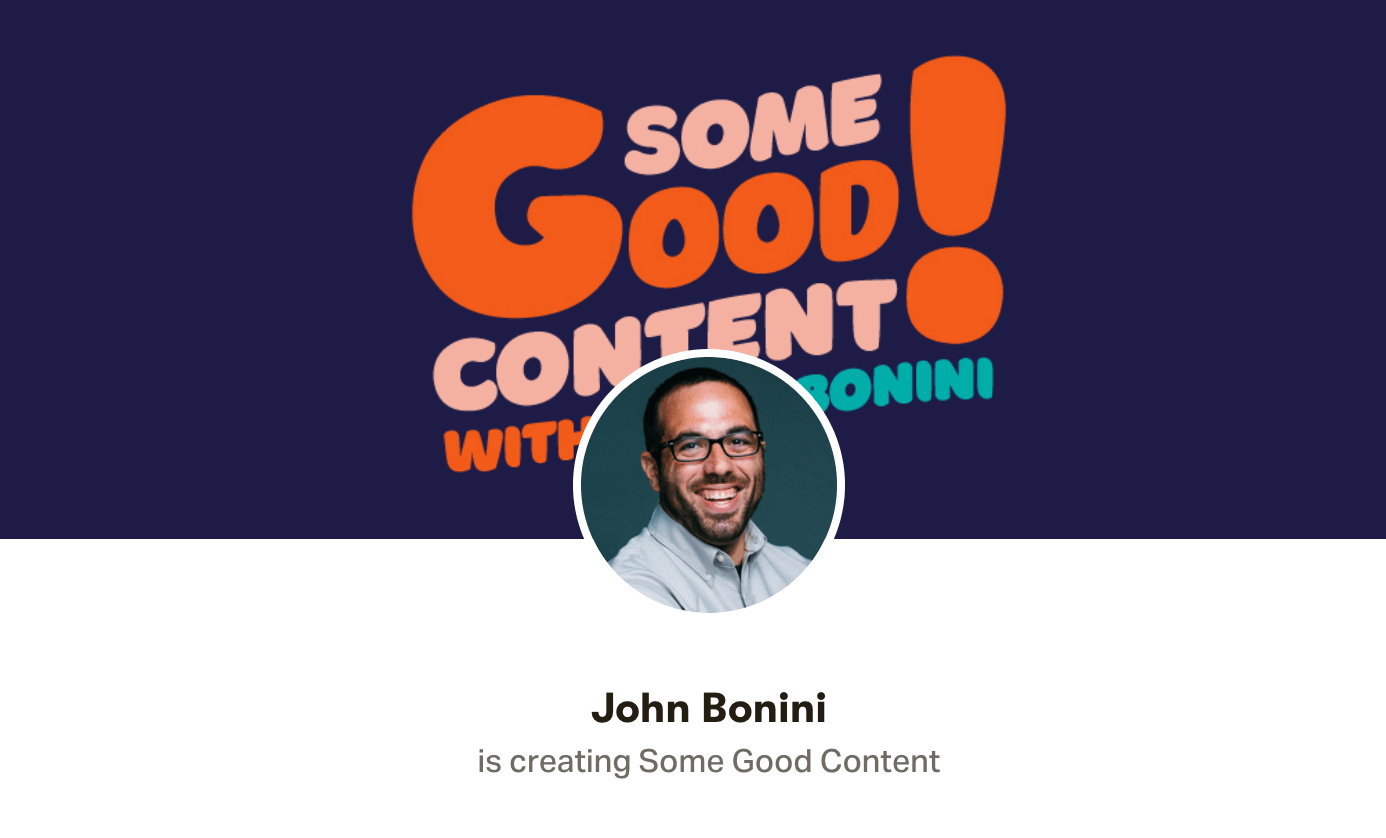 We asked John for his advice for anyone wanting to start a Patreon and he mentioned that "it's all about finding ways to allow others to relate with you". When it comes to creating social content he also recommends you "forget the algorithms" and just "start by making something good."
2. Promote brands with affiliate programs
Another great way to monetize a social media following is to promote brands that you love by linking to their affiliate programs.
Some brands have their own affiliate programs that you can apply to individually, but most brands' affiliate programs will be accessible via an affiliate network.
There are multiple affiliate networks, each of which works with different brands, so depending on the brands you want to promote, you may need to apply to several different affiliate networks.
Otherwise, a third and easier option to get started would be to use a platform such as Skimlinks. By working with the 50 largest networks, Skimlinks enables you to instantly access up to 48,500 affiliate programs worldwide.
A great example of someone using affiliates to make money on social media is Rhiannon Ashlee.
In each one of her Vlogs on Youtube, Rhiannon lists all of the products that she mentions at some point during the video and puts an affiliate link next to almost all of them.
The links entitled "fave.co" are affiliate links and everytime someone clicks on one of these links and buys products, Rhiannon will get a commission on the total order value usually ranging from anywhere around 5% to 15% depending on the brand's affiliate program.
You might also notice that Rhiannon makes it clear and transparent which links she could make money from by having a * next to each affiliated link. This is good practice from an ethical point of view (plus it is required by the Federal Trade Commission), and in fact, this can also help with conversion rates as her fans are likely to want to support her channel while shopping.
3. Join an influencer marketing platform
Joining an influencer marketing platform is another great way to make money with social media, that can require as much, or as little time as you want to put into it.
An influencer marketing (or monetization) platform, such as ShopYourLikes, connects brands with influencers, and makes it easier for both to work together.
Most of these platforms require a certain amount of followers to get approved and may specialize in one social media platform. While links can be placed on any platform, ShopYourLikes influencers often focus on Instagram stories.
Once approved by ShopYourLikes, you will be able to access your performance dashboard and see all the brands available for you to promote.
By using the Link Generator you can create a link for any page of these brands' websites, share it on Instagram or anywhere on social media and get paid every time someone clicks or swipes on your links.
For inspiration, take a look at how Mollie @DesignLovesDetail uses ShopYourLikes to promote Home Decor products effectively in her Instagram stories:
"I think the tactic that helped me most was that I was truly original. Don't copy others on Instagram," Mollie explains. "Try to find your own niche and be uniquely you. Also, having your own content is so important."
"This means more work," she adds. "But if you do the work, it pays off."
Mollie also recommends paying close attention to the things your audience responds to so you can better focus your time on what's selling best & giving you the best earning potential.
"What price points are you making most sales in? What categories or stores have highest sales? Ask yourself those kinds of questions and know the data so you can plan content accordingly," she advises.
4. Find brands to partner with directly
A classic way of making money with social media is by partnering directly with brands.
Julie Nolke is a Youtuber who does this well.

As well as having a Patreon community, Julie partners with brands directly to sponsor her short comedy sketch videos.
Julie has a good system for promoting brands in her videos without risking to annoy her audience.
She usually quickly mentions the brand sponsoring the video at the very beginning and mentions she will give more details about them at the end of the video. This system works well because the first few seconds are crucial to do well on Youtube's algorithm.
Julie Nolke also repurposes her videos on Instagram and sometimes does an entire comedy sketch to promote brands such as this one for Google products. Notice that this ad actually got a lot more views than her other videos, which is likely because it was filmed in a square format, which works best for Instagram, and it was also combined with a giveaway.
5. Launch a sponsored video series
Instead of partnering with brands for one sponsored post, you could instead get brands to sponsor a video series.
Johnny Harris is a great example of a social influencer who did this well.
His history/travel video series called "Borders" was commissioned by Vox and sponsored by Lululemon.
Johnny's video series was on Youtube, but you can also do this on Instagram, Snapchat or Tiktok for example.
According to Mediakix's multiple sources, the average Cost per 1000 impressions (CPM) for each social media platform is the following:
Instagram: $5-10
YouTube:  $15-30
Snapchat: $30-50
Facebook: $4-8
These numbers depend on engagement but they can roughly indicate how much you can expect to earn/charge, and it's worth investing some time testing the platforms that pay the most in terms of brand sponsorship.
6. Sell your own educational products or services
There are multiple types of educational products or services you can create and sell on social media.
Courses, ebooks and mentoring are all examples that perform very well, and for multiple different niches.
For example, Andy Guitar teaches how to play the guitar on Youtube for free, and to make money he started by advertising his private guitar lessons. Today he monetizes his channel by creating online guitar courses.
Kathryn Kellogg is another social media influencer doing this well. She teaches how to live sustainably on Instagram. To monetize, she created a course on Skillshare and published a book entitled "101 Ways to Go Zero Waste".
7. Sell your own merchandise
Finally, a great way to make money on social media is by selling your own merchandise.
You can start doing this very easily by creating your own shop using tools such as Teespring or Teemill.
These tools are great to get started and to test your product ideas.
You just need to upload your designs and they'll take care of the rest by printing the clothes and shipping them directly to customers for you.
Kate Arnell is doing just that. She started her own shop, EcoBoost, using Teemill, selling eco-friendly merchandise.
---
Now that you know the best ways to make money with social media, go ahead and give each method a try and let us know which one performs best for you.
Remember that diversification is important so make sure to build multiple sources of revenue. In other words, don't put all your eggs in one basket! That will protect you from the risk of relying too heavily on one revenue stream.
Brought to you by
Did you find this article helpful? You might also like our all-you-need social media toolkit.
Get started for free now