Summary
Carousels have higher engagement than any other Instagram post type. In this guide, we'll give you everything you need to know about carousels and some inspiration to help you get started.
You will learn
How to create Instagram carousel posts
Why carousels can boost engagement
Ten unique ways to use carousels as a part of your Instagram strategy
Instagram Carousels have the highest engagement rate of all post types — but they account for only 19% of Instagram content.

Although that percentage is up from 3-4% in 2017, Instagram Carousels are still underused, especially considering how well they perform compared with other types of content.

Everyone, particularly brands, should take advantage of Instagram Carousels to increase engagement. Plus, varying your content types is a great way to make the Instagram algorithm work in your favor. If you're not incorporating Instagram Carousels into your marketing strategy, you're missing out on a powerful feature.
The basics of Instagram Carousel posts
Instagram Carousels allow you to share up to 10 photos and/or videos in a single post.

To create an Instagram Carousel:
Tap the plus (+) sign to create an Instagram post.
Select the layered square icon.
Choose up to 10 photos/videos from your library.
Tap "Next."
Edit each photo individually.
Tap, hold, and drag photos to rearrange the order, if desired.
Tap "Share."
Instagram Carousel images and videos can be square, landscape, or portrait. However, whatever size you choose for your first image will be applied to all photos and videos in the Carousel.
Why are Carousel posts more engaging?
Carousels are a great way to boost your presence on Instagram because, as Aia Adriano, Director of Social Media at Complex explains on Twitter, "[it] increases engagement and time spent on the post simply because there's more to consume." It's also fairly common for carousel posts to appear in the feed more than once with a different slide displaying each time.
10 ways to use Instagram Carousels
Don't just post 10 related images in a single post and expect to rack up likes. Get creative with Instagram Carousels. And don't forget to mix in videos as well — Carousels with both images and video have the highest engagement rate of all post types on the app. Play around with these content ideas to see what your target audience responds to.
1. Tutorials
If your how-to content is too long for an Instagram Reel and too complicated to explain in a caption, then Instagram Carousels are your friend.

Tutorials are a great way to show off the products you sell. Give step-by-step instructions on how to use a specific feature through still images, short videos, or a mix of both. Tutorials aren't just helpful in the moment — they're also save-worthy. And you want people to tap that little banner icon under your post to save it for later, because saves factor into your Instagram engagement rates.

Of course, tutorials don't have to center on products. Many business accounts use Instagram Carousels to share tutorials for everything from makeup tips to iPhone hacks.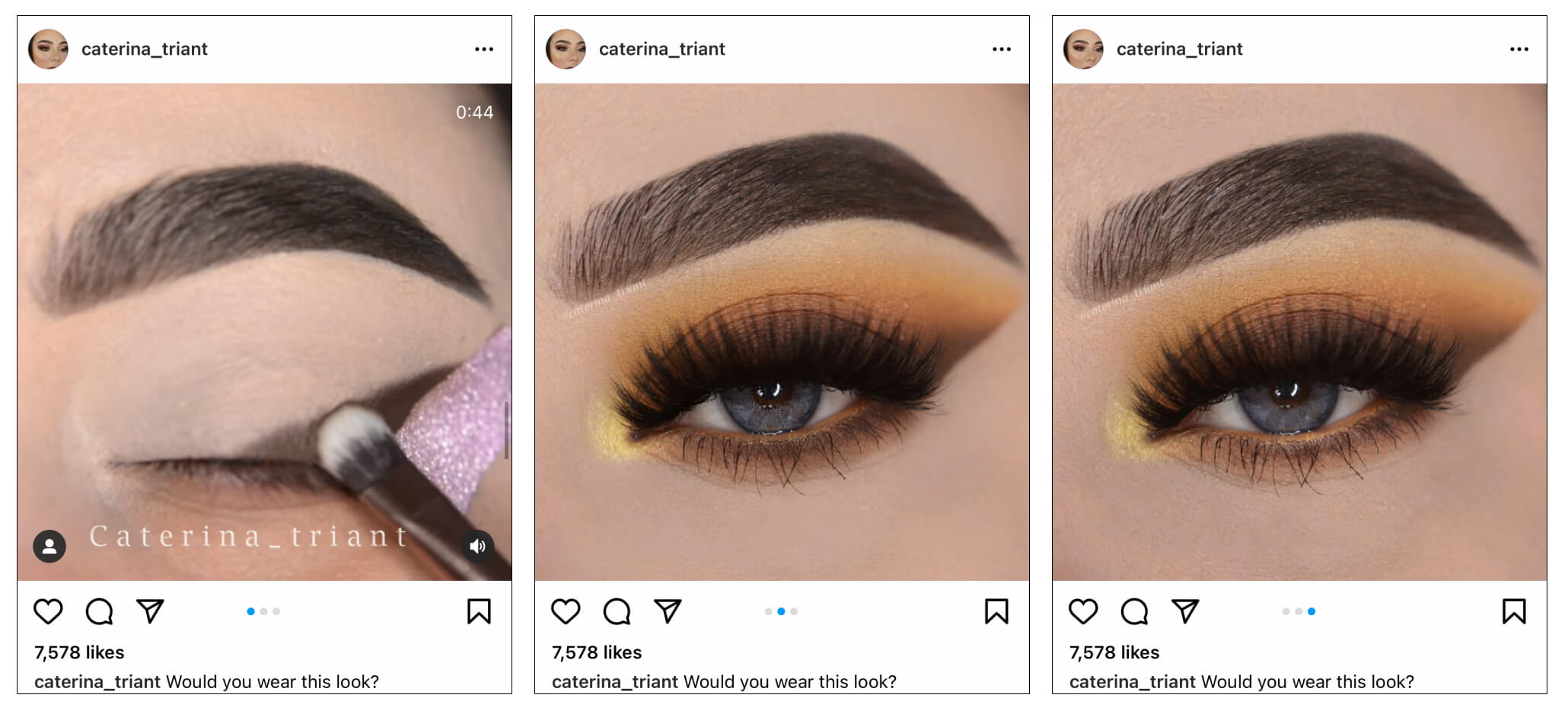 2. Data and Educational Content
Instagram captions are useful for long-form text and explanations, but they're not as eye-catching as an image. When you have interesting information to share, design text images, and then share the content in an Instagram Carousel post.
No matter how fascinating the statistic or data point, you'll have a hard time getting people to read through your caption to find it. Try highlighting a few key facts with simple graphic images.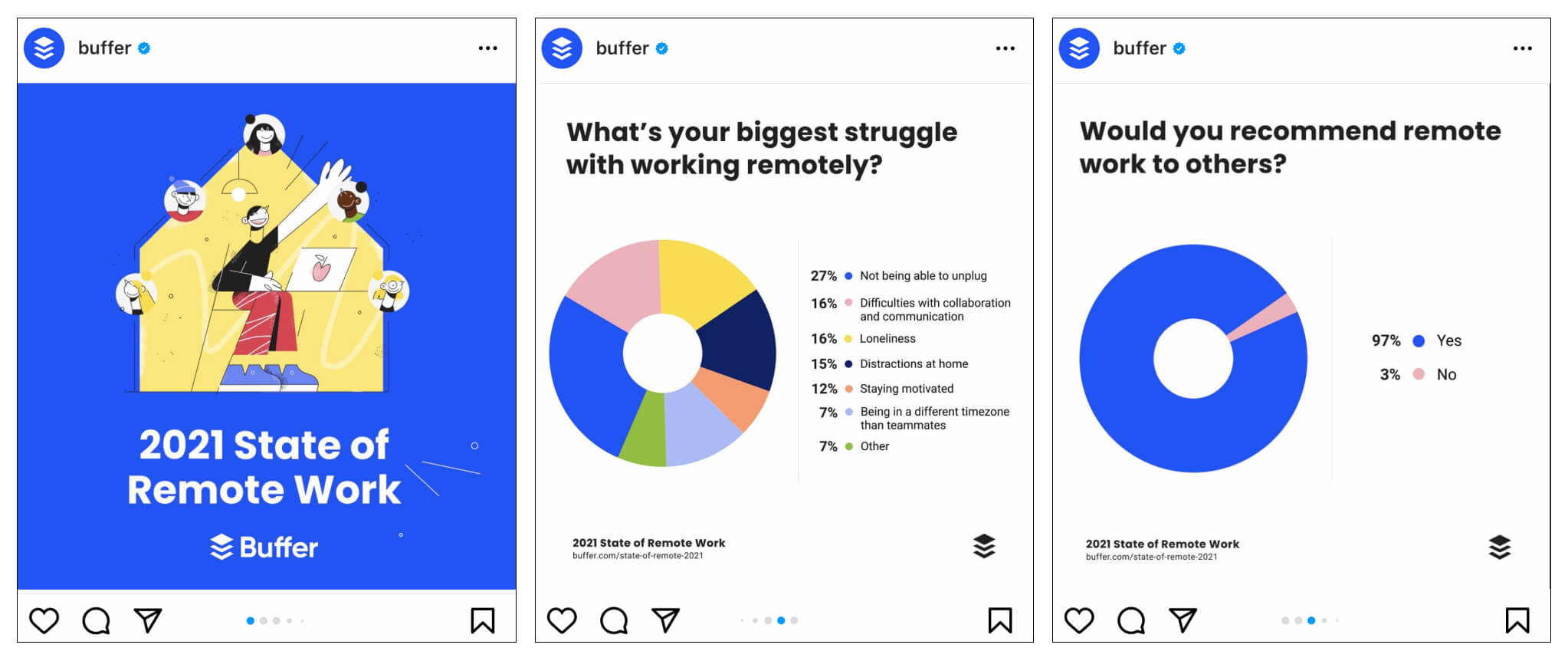 Instagram Carousels are ideal for sharing educational content as well. Create a series of images to explain a concept, delve into a bit of history, or share fun facts.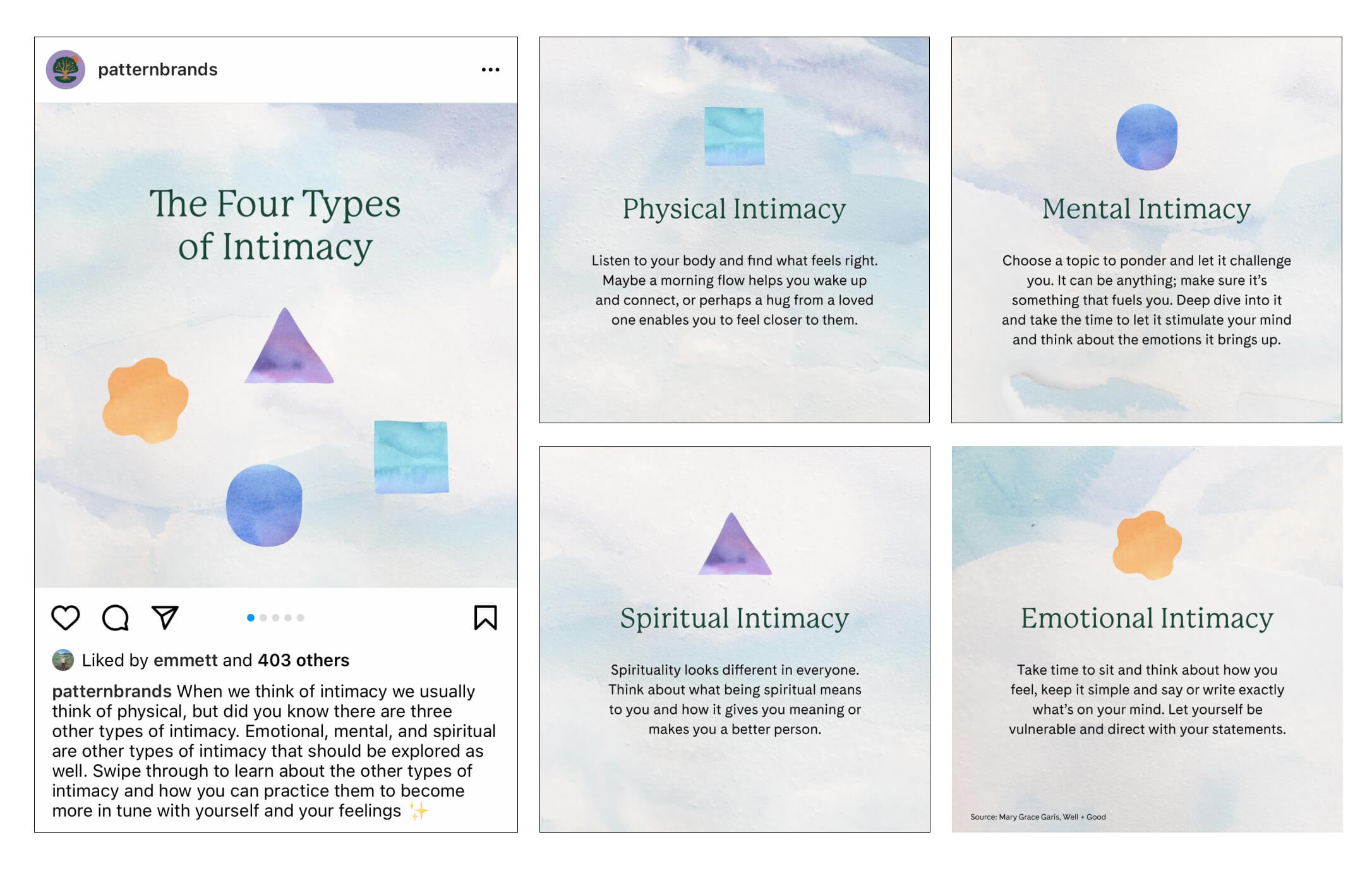 Instagram is a visual-centric platform, so images and videos are the best way to keep people from scrolling right past your post. After the visual catches someone's eye, they're more likely to read through your caption or explore your profile page for more details.
3. Spotlights
Spread the love! Instagram Carousel posts are an easy way to showcase people, products, and businesses you support.
Create roundups of accounts you enjoy, authors you admire, local businesses you patronize, or anything you'd like to feature on your account.
In February 2021, we celebrated Black History Month by shining a light on Black-owned small businesses. Grouping them into a single post allowed us to feature nine businesses without overloading our followers' feeds with separate posts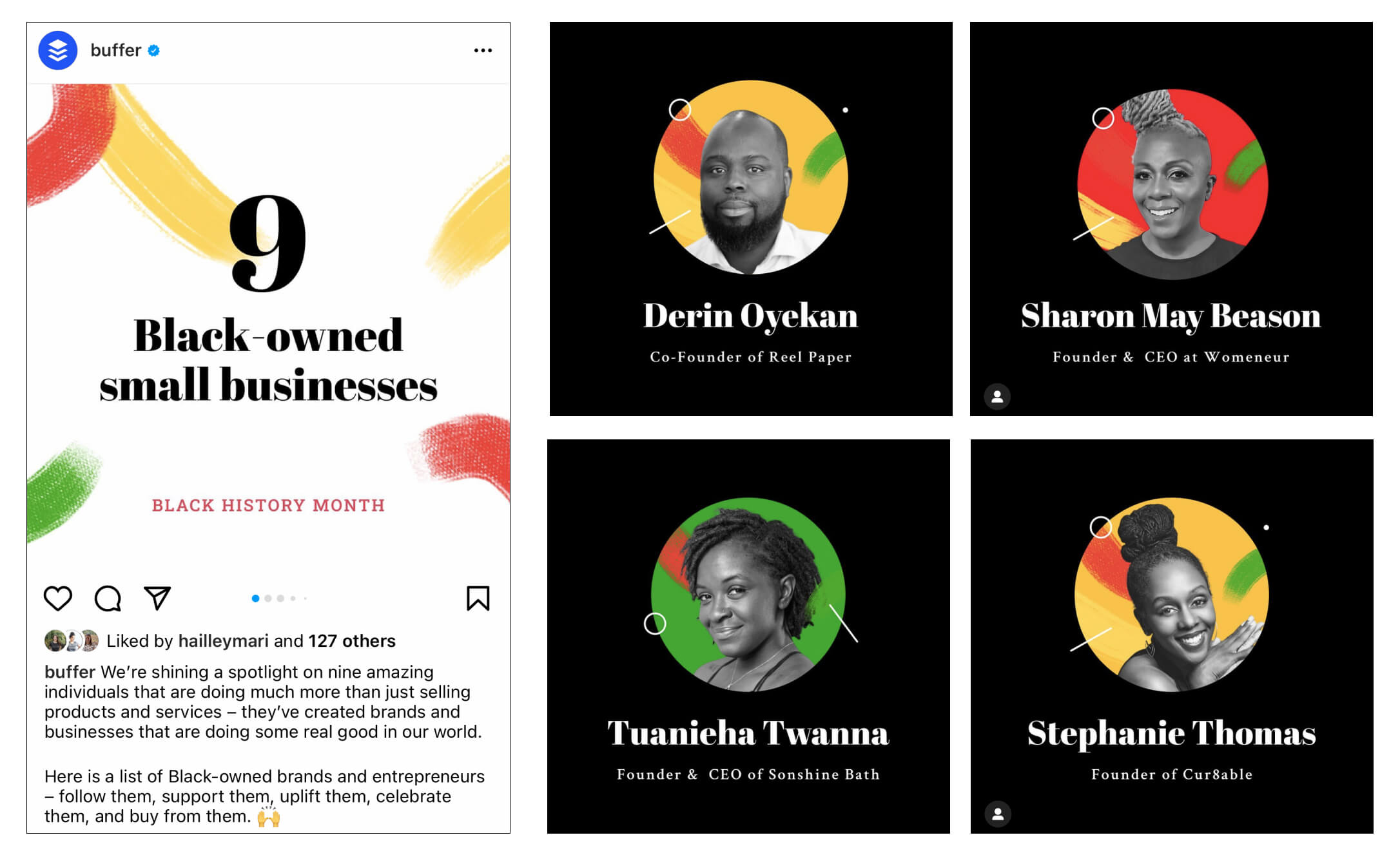 Now, take a look at any animal shelter's Instagram page. Chances are, you'll see Instagram Carousel posts featuring animals up for adoption. While cute animal photos are usually a welcome addition to any Instagram timeline, sharing 10 back-to-back posts of the same puppy would split engagement across all 10 posts. With Instagram Carousels, you can keep all the likes and comments in one place.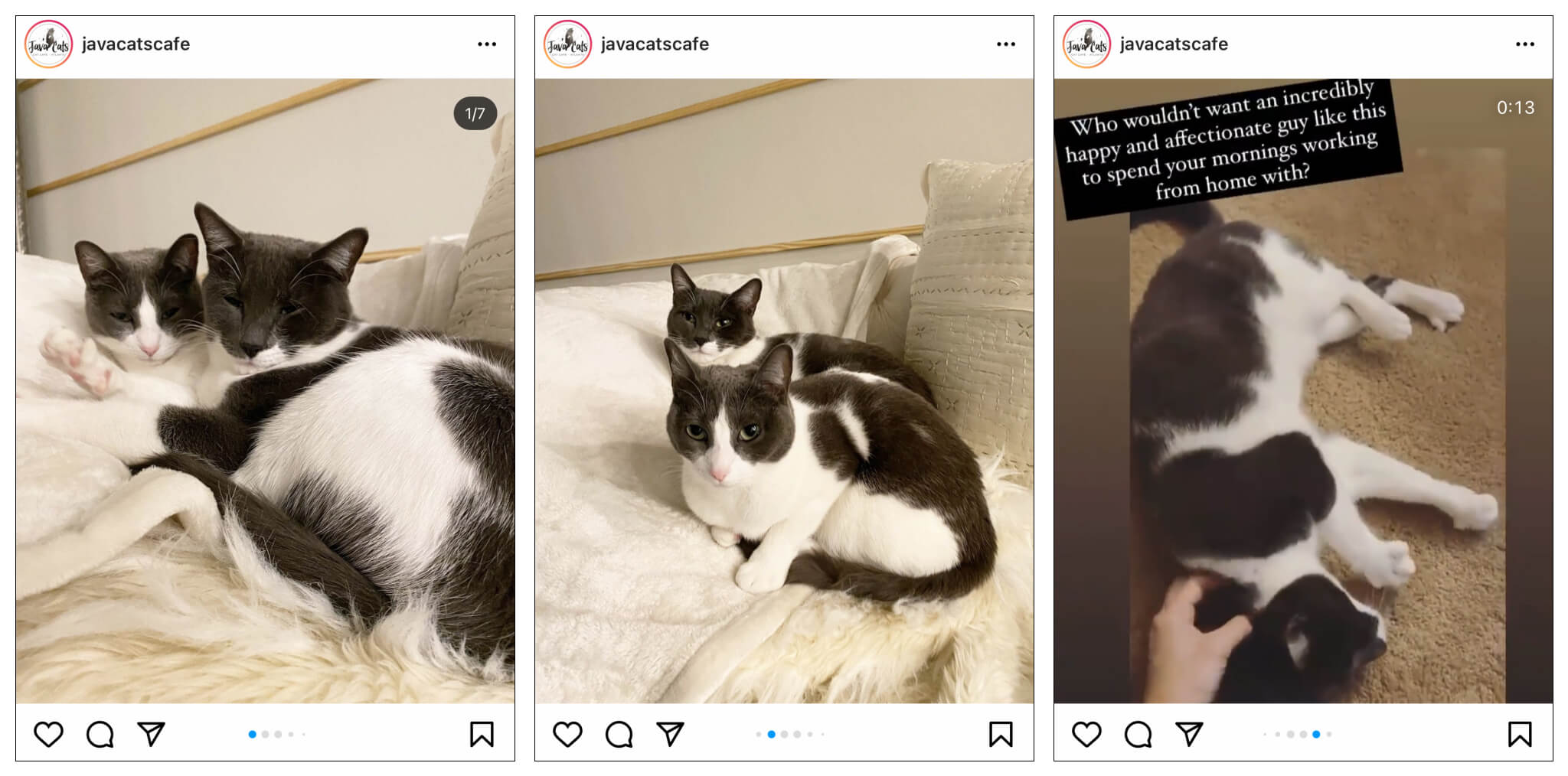 4. Behind-the-scenes content
Everyone loves to peek behind the curtain. But behind-the-scenes photos don't always feel Instagram-worthy. With Instagram Carousel posts, you can share the polished end result alongside the photos and videos of the process.
One of the most popular ways to use Instagram Carousel posts is for "Instagram versus reality" content. Real-life looks different from the beautifully edited final product. Give your fans the relatable content they crave by showing them the edited photo alongside the original version.
Bloopers are always a fan favorite, but there are other ways to show off your process. Use Instagram Carousel posts to demonstrate how an item is made, what goes into framing the perfect product photo, or what your video setup looks like.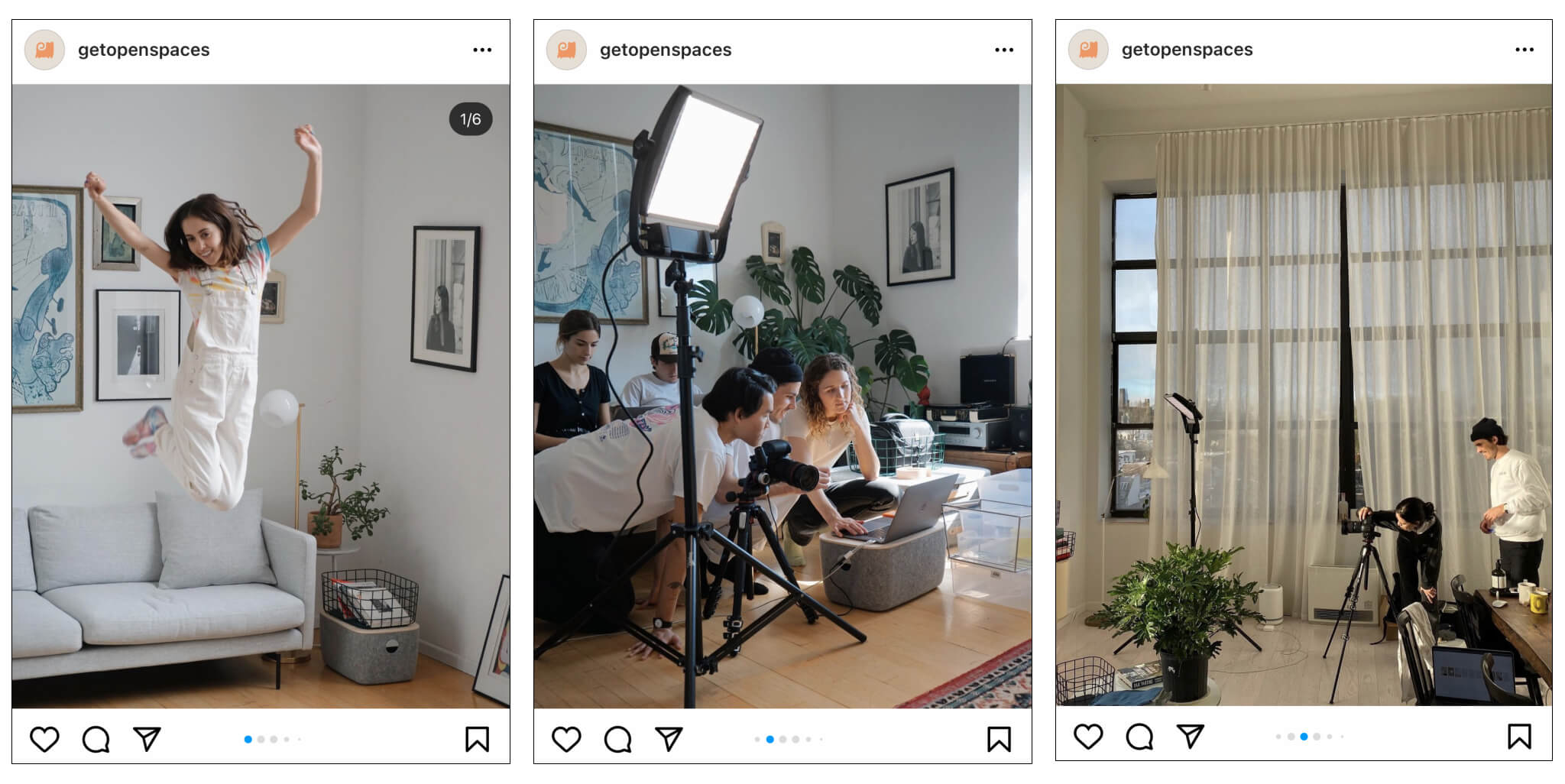 5. Engagement prompts
Give people a reason to swipe through your Instagram Carousel posts. And while you're at it, use your caption to remind people to swipe through; studies show that posts with "swipe left" get more engagement than those without.

Prompts such as "swipe to find out more" or "swipe for a surprise" may seem too obvious, but they are effective. Some Instagram accounts use the promise of a reveal to encourage people to interact with the post. For example, an astrology account might group horoscopes for every zodiac sign in an Instagram Carousel post and tell people to swipe to see what's in store for each sign.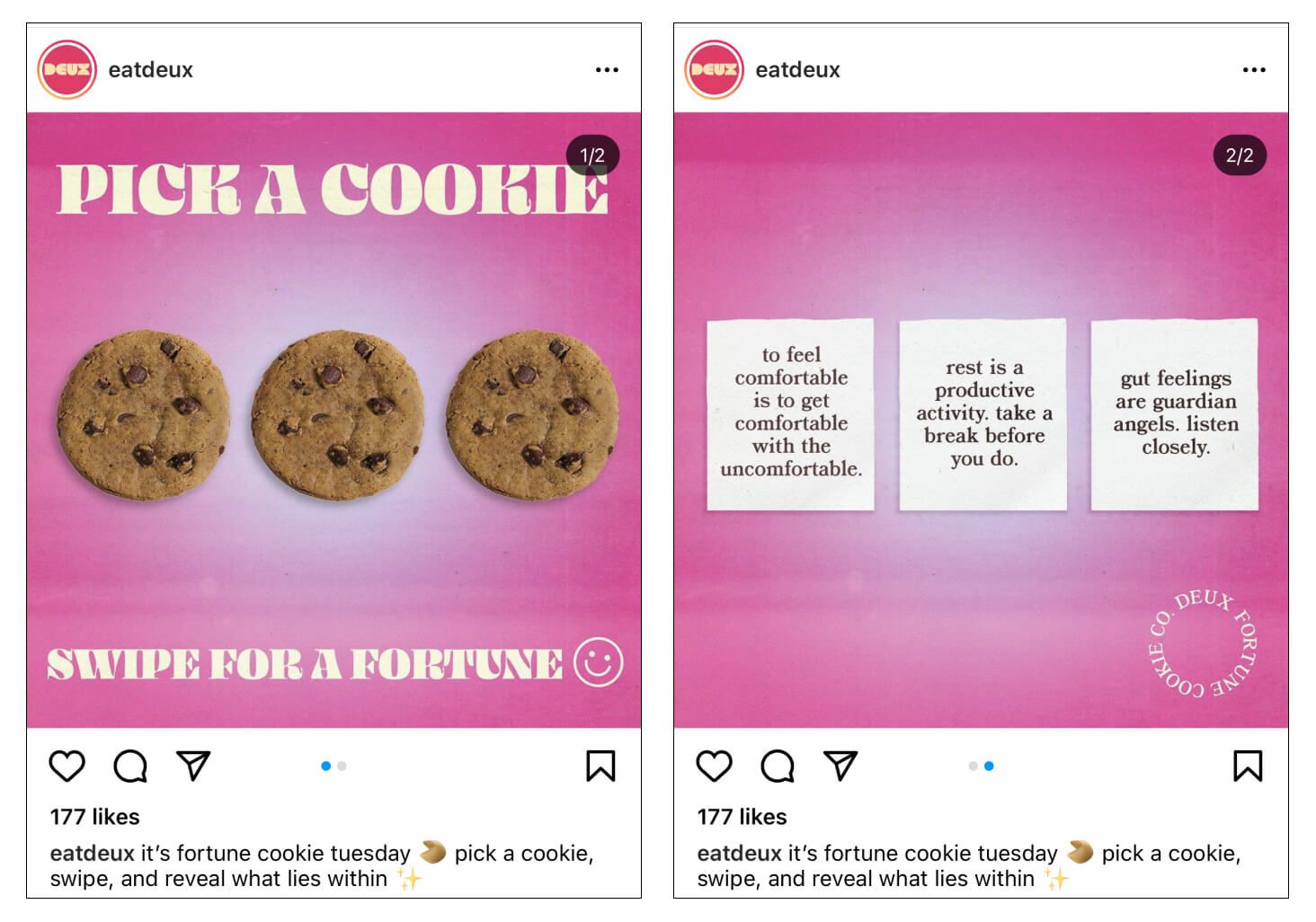 Another way to encourage engagement is to share several related photos/videos, and then ask people to comment on which is their favorite. For example, "Which of these outfits is more your style?" or "Here's the same video clip shot from different angles. Which do you prefer?"
6. Storytelling
Tell a story in 10 slides or less. Create a short slideshow with images, text, or a mix of the two to tell a story. For example, artist Naolito shares a mix of illustrations and animations to showcase the characters he creates.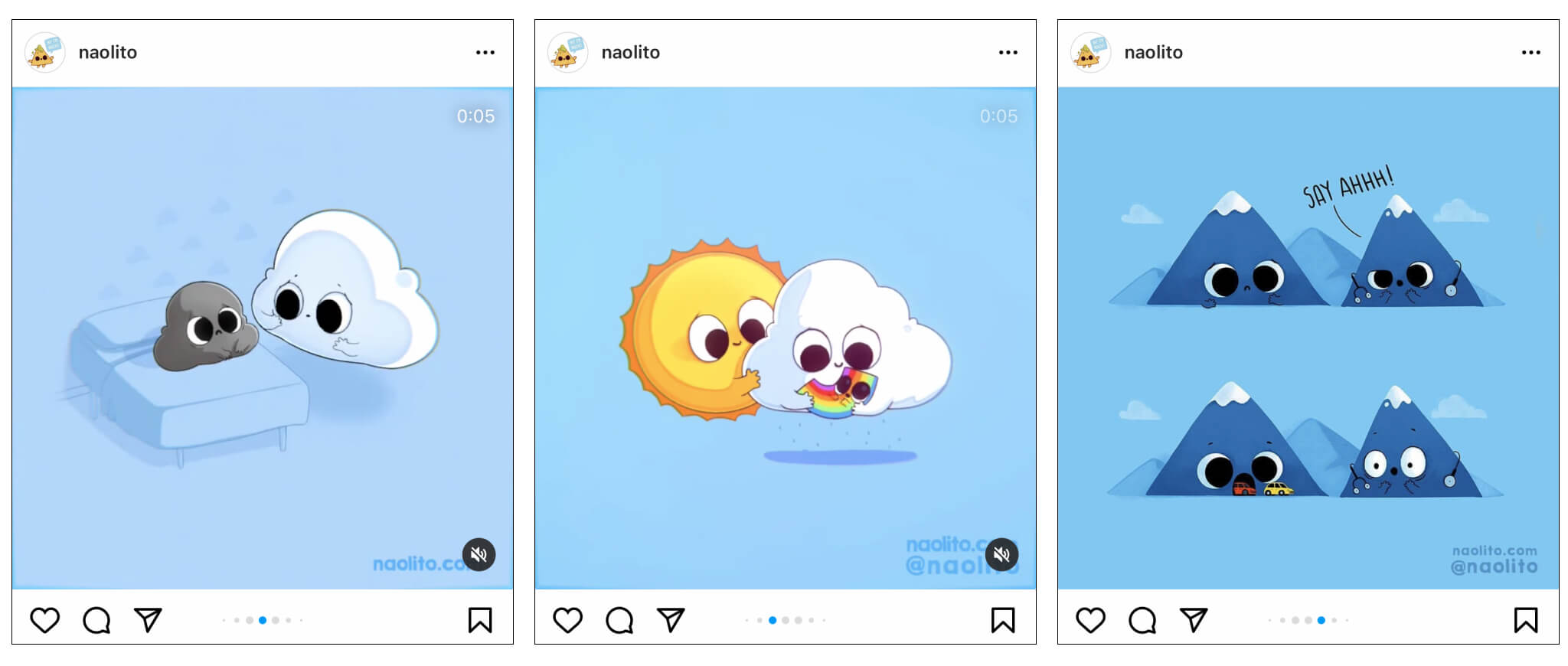 Of course, not all stories need to be as adorable as Naolito's. You can also use Instagram Carousels to share the journey of a specific project, the steps leading up to a product launch, or even your company's origin story.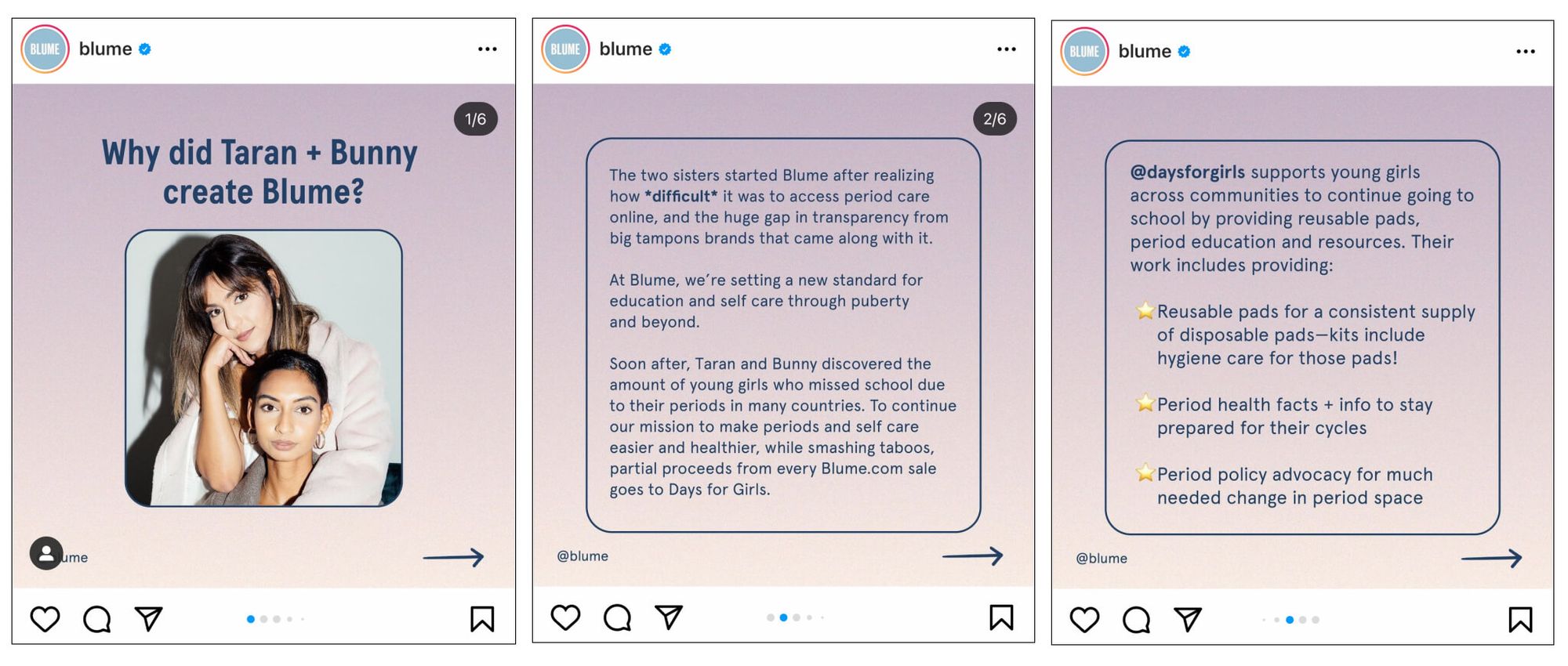 7. Repurposed content
Why put all the work into creating great content if you're only going to use it once? Instagram Carousels are an excellent way to repurpose content such as blog posts, webinars, events, and more.
Promoting written content on Instagram is tricky. But with Instagram Carousels, you can create text image teasers for content, such as blog posts, and then send them to your link in your bio to read more. This is also a great way to repurpose long-form content such as white papers or books — text images that share highlights work well as stand-alone content.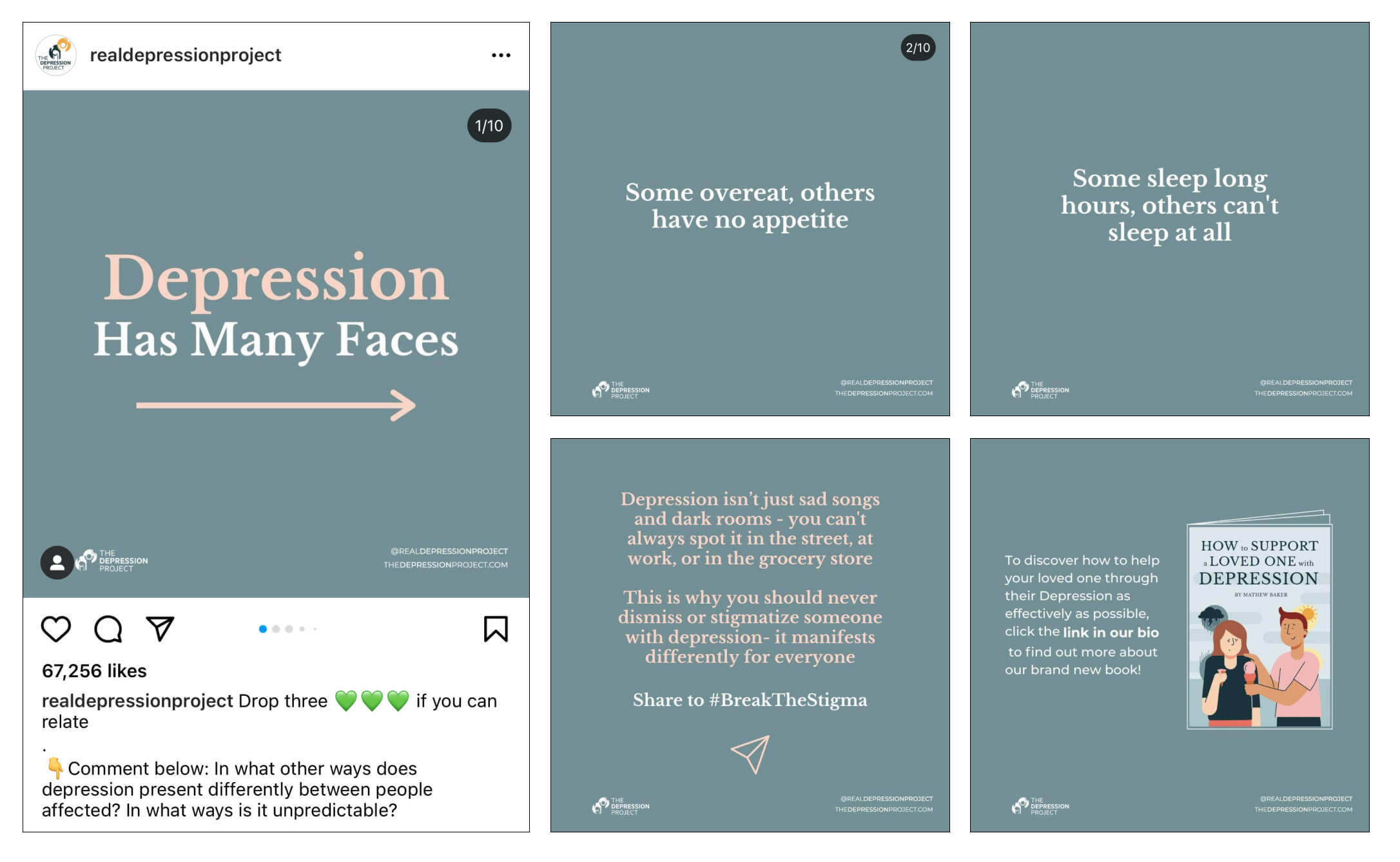 Think about how much content you can repurpose by creating a multi-image series. Quotes from webinars, screenshots from product demos, and video clips from a recent event — all of these things and more can be repurposed through Instagram Carousels.
8. Showcase your work
Carousels are a great way to bring some attention to your work. Because you can post mutliple slides as part of a Carousel, you can tell the story behind your work in more detail that a single image or video post.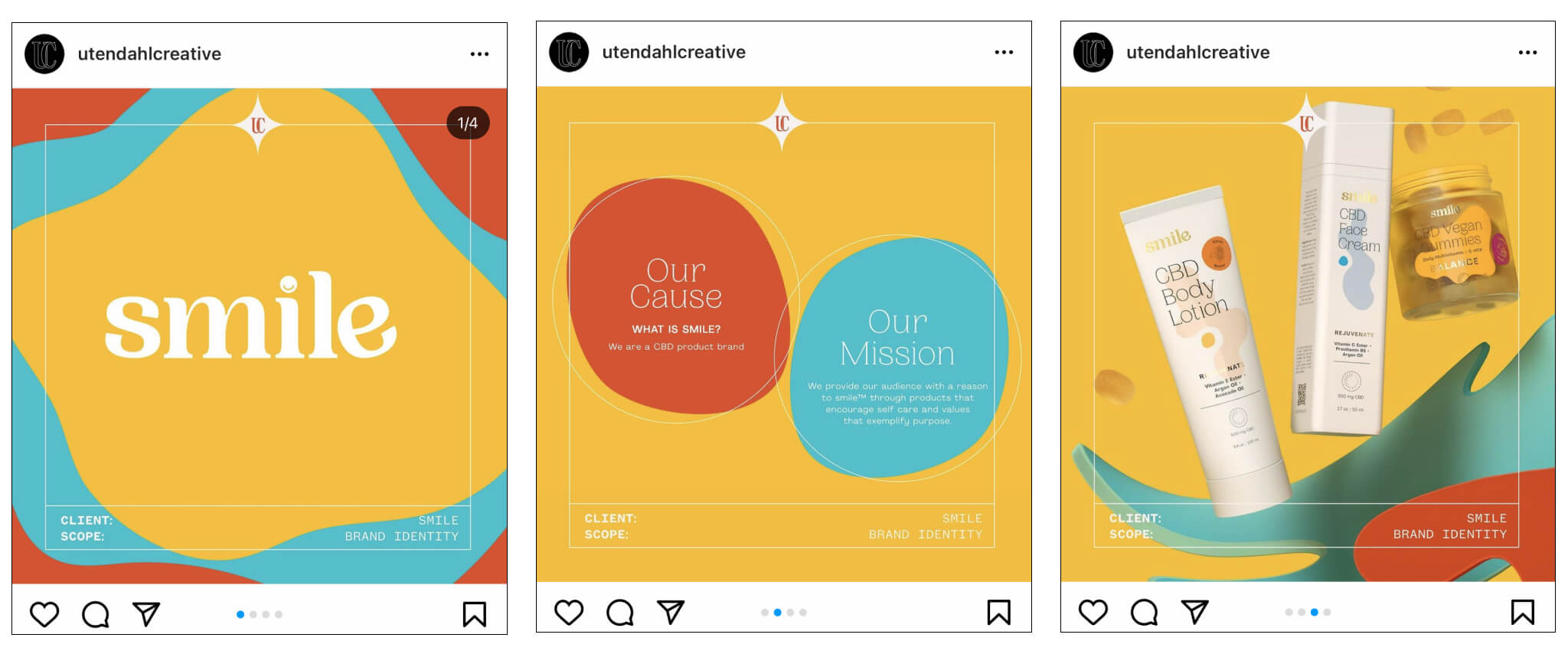 This type of post can work for multiple types of business. Utendahl Creative is a creative studio so it makes sense to showcase client work on Instagram. But this could also work nicely for a software business celebrating a new feature launch or an ecommerce brand announcing a new product.
9. Before and Afters
Show off those transformations. Instead of splitting a single image into two, share full-sized photos with Instagram Carousels.
Before-and-after posts work well for a variety of industries, from beauty salons to DIY projects. If your product or service transforms something for the better, Instagram Carousels are a great way to prove it.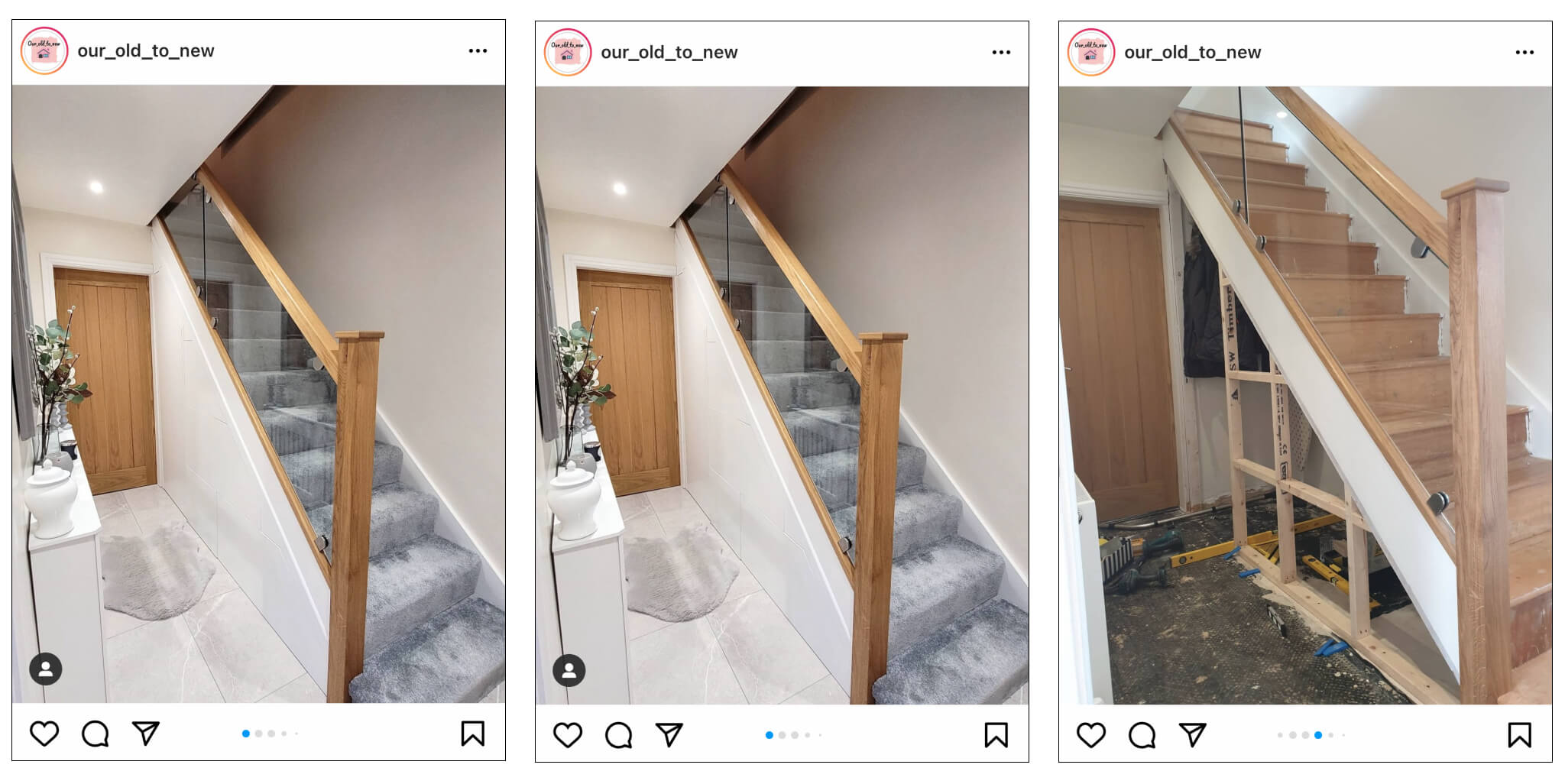 When sharing before-and-after content, consider swapping the order — end result photos first, then the before pics. On Instagram, it's always best to reel people in with the pretty stuff.
10. User-generated content
Social media should never be a one-way conversation. One of the best ways to connect with your fans is to feature user-generated content on your account. Everyone loves a shout-out, and Instagram Carousels present the perfect opportunity to share roundups of user-generated content.
Brands can sing their own praises all they want, but it will never be as powerful as a customer testimonial. Put those glowing reviews to work by sharing roundups in Instagram Carousel posts. Photos of customers using your product are even more impactful. Think about it — aren't you more interested in how a regular person uses of a product versus someone who is paid to promote it?
But not all user-generated content has to be about promotion. Sometimes, it's enough to just hype up your followers, give them shout-outs, and thank them for being your fans.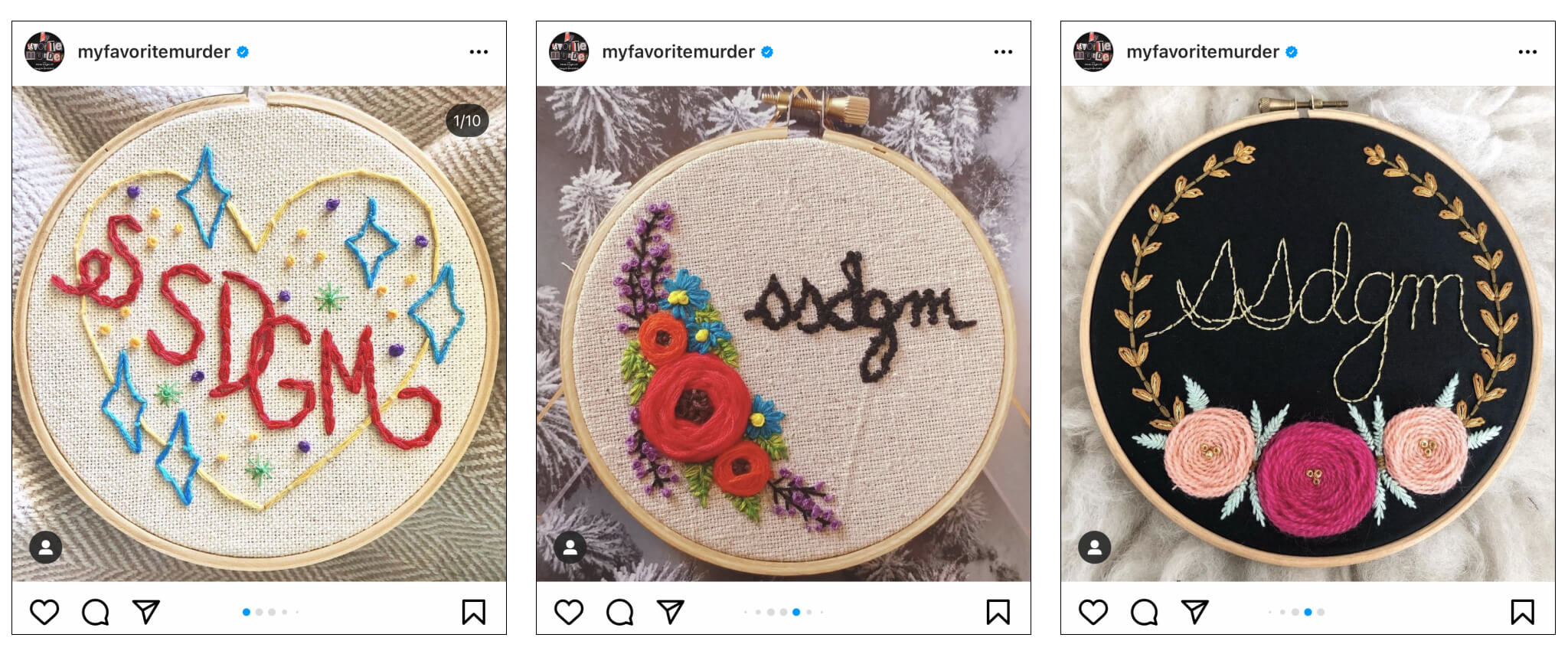 We use the Buffer Instagram bio to encourage people to share photos with a branded hashtag, #BufferLove. This way, we can keep an eye on the hashtag and easily find great user-generated content to feature on our Instagram account.
Are you using Instagram Carousels?
Between 2017 and 2020, Instagram Carousels jumped from 3-4% of Instagram content up to 19%. At this point, if you are shying away from this content format, you're falling behind your competitors.
There are many different ways to share content on Instagram. While it may be tempting to stick to single-image posts and the occasional Instagram Story, limiting your content types will also limit your Instagram growth. Get creative with your content, and start incorporating more Instagram Carousels.
Did you know you can scheduled all your Instagram carousel posts, for free, in Buffer? Get started for free today.
Brought to you by
Did you find this article helpful? You might also like our all-you-need social media toolkit.
Get started for free now