"Google it". That's what most of us do, whether we're haircut hunting, sandwich seeking or cappuccino chasing. Of all searches on the internet 85.55% are completed with Google—if you want to be found, you need to be on Google.
But, being found on Google isn't just a case of optimizing keywords for SEO. Nope. There's a new sheriff in town—Google Business Profiles.
Google Business Profiles are rocket-fuel for your business growth. Google has revealed that keeping a Google Business Profile up-to-date means customers are:
2.7 times more likely to consider the business reputable
70 percent more likely to visit
50 percent more likely to make a purchase
From one-person lemonade stands to multi-national Fortune 500 brands, keeping your Google Business Profile up-to-date is vital. This guide will walk through every step of the process. You'll learn how to set up your profile, how to manage it, and importantly, tips to get ahead of the competition.
What is a Google Business Profile?

A Google Business Profile (formerly known as Google My Business) is a profile on Google that shows up on Google products, like Maps and Search. Whenever you search for a business, this profile should show up (more on that later). When it does, searchers will be presented with vital information about the brand, including:
A short description
Contact details
Location
Opening hours
Website links
Questions and answers
Reviews (with pictures)
And posts
Chances are you've used a Google Business Profile even if you don't know what it is. Here's what the listings look like on Maps: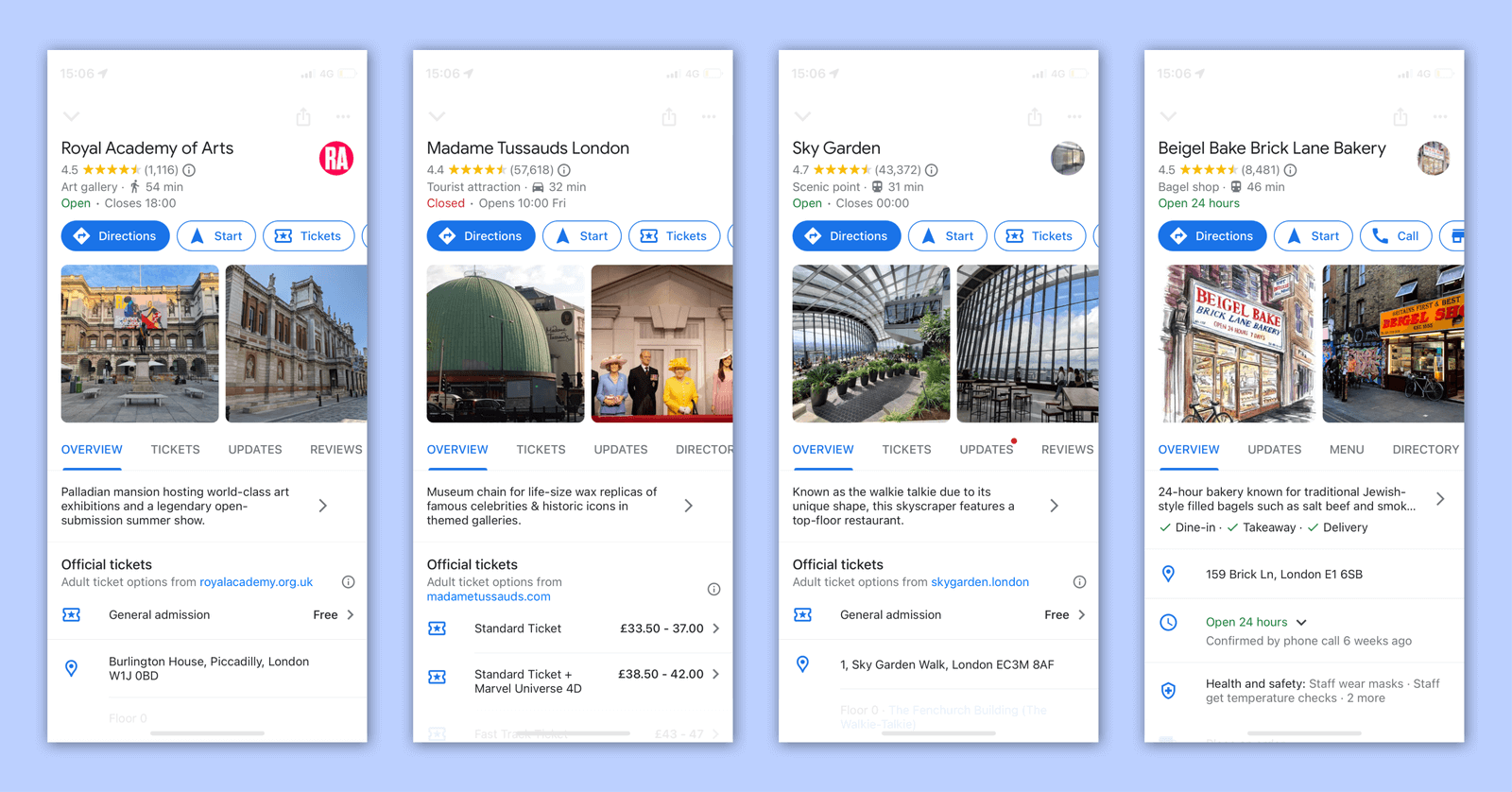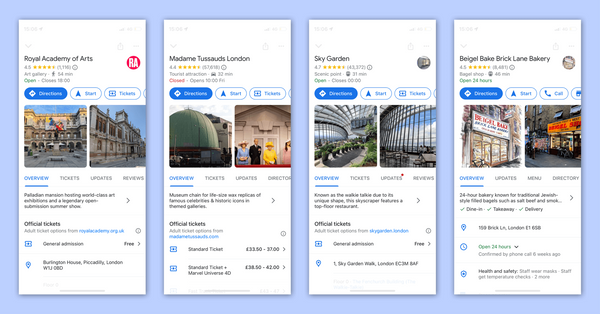 Do I need a Google Business Profile?

If you manage a business with a physical location (like a shop front or a service area), then setting up and managing your Google Business Profile is a must. Business Profiles help customers make contact with you and find your store.
If you're an online-only business, don't worry. You can still grow your traffic with Google Business Profiles. You don't need a physical location to create a listing.
So, if you run a business that needs customers, then chances are you'll want a Google Business Profile. An up-to-date profile has been shown to boost clicks to your page by seven times, according to Ipsos Research.
How do I set up a Google Business Profile?

First things first, you'll need to claim your business on Google. For desktop users, this can be done in three simple steps:
Sign in to Google Maps.
Add your business using one of three ways:
Enter your address in the search bar. Find your location and click Add your business.
Right-click anywhere on the map. Then, click Add your business.
In the top left, click Menu > Add your business.
3.  Follow the on-screen instructions to finish signing up for your Business Profile.

There are also ways of claiming your business for Android, iPhone, and iPad devices. Find information on that here.
Once that's done, you'll need to verify your profile. There are several ways to do this, depending on the type of business you run. For some businesses, you'll get a message from Google on your phone with a code that you can use to verify. For other businesses, you may need Google to send you a postcard by mail.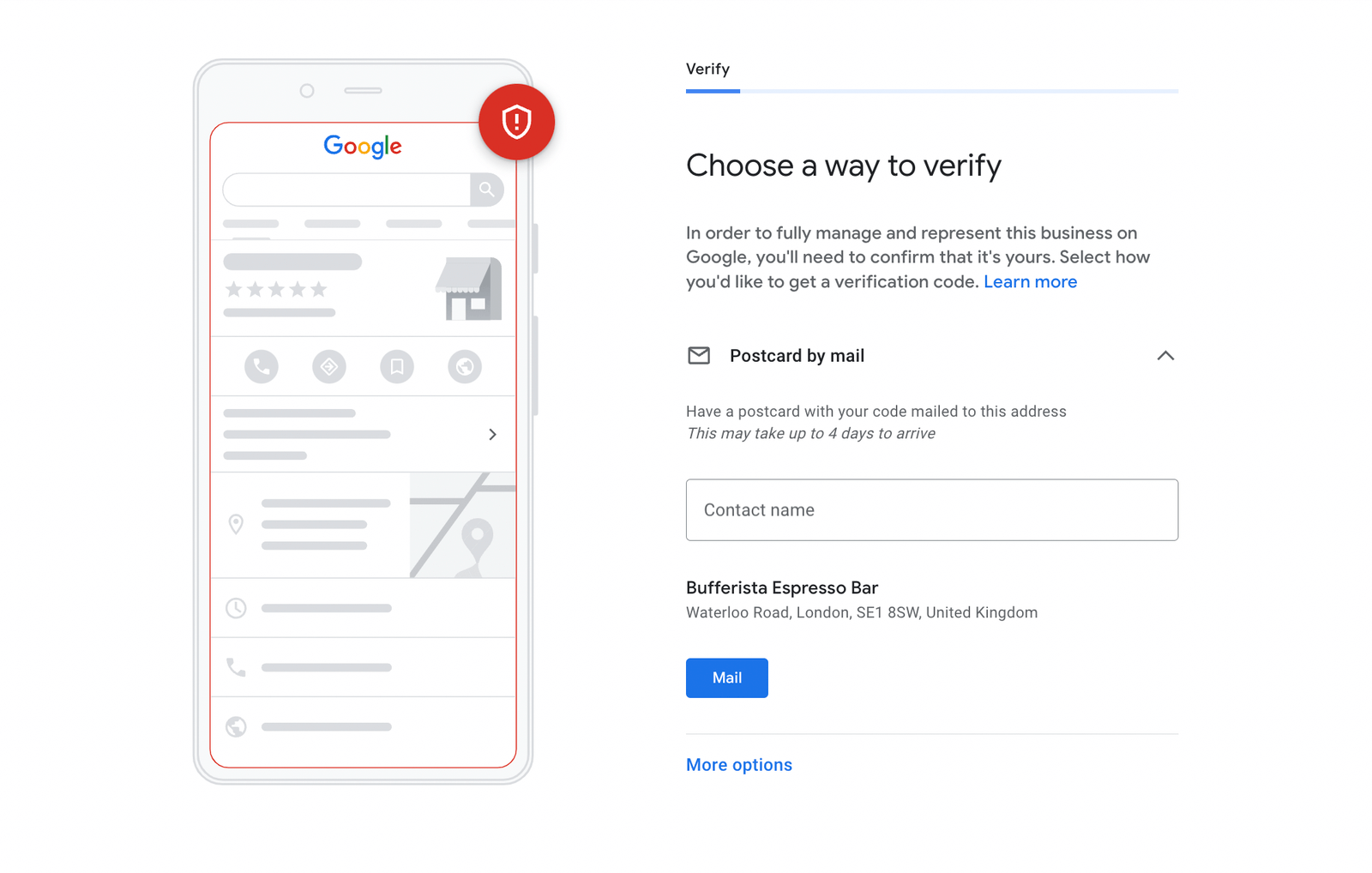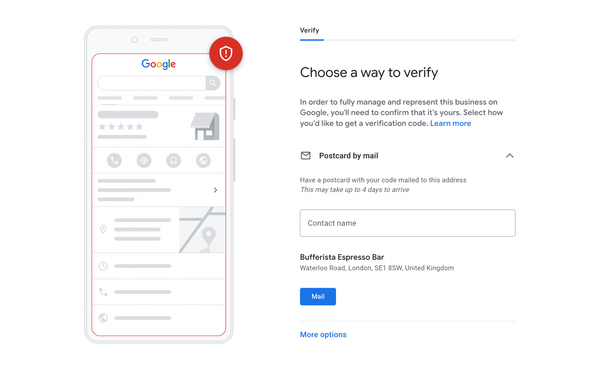 Now you've claimed your business and verified it, you'll want to start adding all the vital info to your page. This varies depending on the type of business you offer. Most businesses will want to add standard information like opening hours and your website, but you can also include:
Which payment options you accept
Book a table functionality
Your specific offerings
How accessible your store is
What amenities you offer
When you first opened
Covid-19 updates
Great! You're all set up. The most important steps are claiming and verifying your business. Once that's done, managing your profile is fairly self-explanatory. Just head to your dashboard to finish up.
What are Google Business Profile posts?

It might be a surprise to hear that you can publish posts on your Google Business Profile. It's a fairly unknown yet powerful feature where you can publish posts just like you would on any other social network.
There are four types of posts:
What's New: a standard text or image post that shares an update on your profile.
Offer: similar to a What's New post but with a Start and End date and the option to add a coupon code.
Event: similar to an Offer, but specifically for events.
Covid-19 update: identical to the What's New post, but specifically for updates related to Covid-19.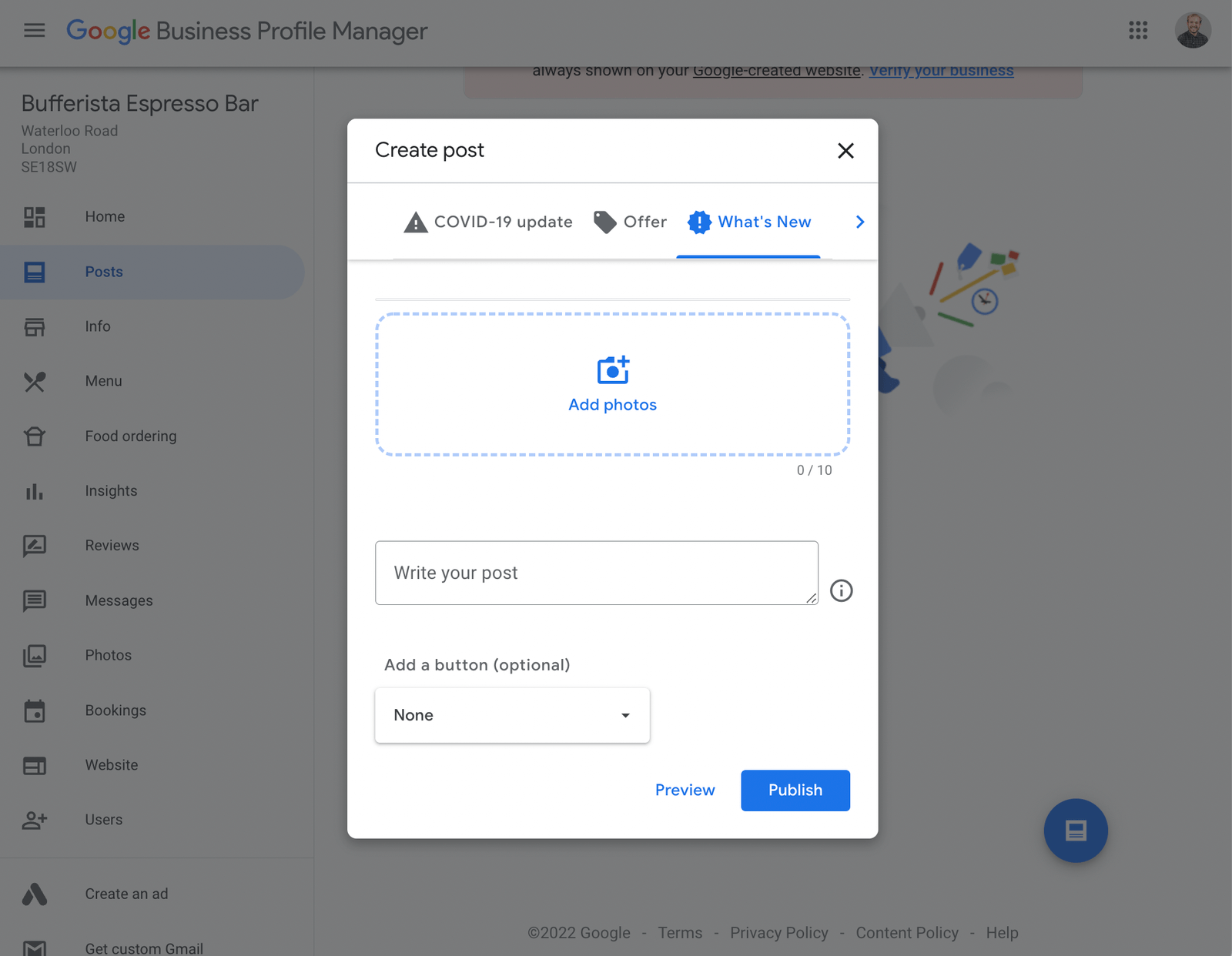 Should I share posts on my Google Business Profile?

One-hundred percent yes.
This one is a bit of a no-brainer. There's no shortage of evidence that publishing posts on Google Business Profiles is good for your business.
Google says keeping your profile up to date makes customers 50 percent more likely to make a purchase.
Google Business Expert, Joy Hawkins, has run tests to show that consistently posting boosts your traffic, engagement, and reach.
And even though posts might not boost your rankings directly, they drive traffic and visibility, which ultimately help you rank higher.
With that in mind, you might be surprised to hear that very few brands post regularly on their Google Business Profiles.
Here at Buffer, we analyzed 500 business profiles across five cities; London, Sydney, Delhi, Paris, and Toronto. (Note this research was inspired by Ben Fisher's analysis. He focused his research in the USA, so we purposefully chose cities outside of the States.)
After looking at five different cities, 50 different sectors, and 500 profiles, we found that very few profiles were published regularly:
Only 20.4 percent had posted within the previous 30 days
Only 43 percent had posted in the last year
79.6 percent of profiles didn't post regularly. This surprised all of us.
The evidence says that regular posting is a simple but effective way to grow traffic organically.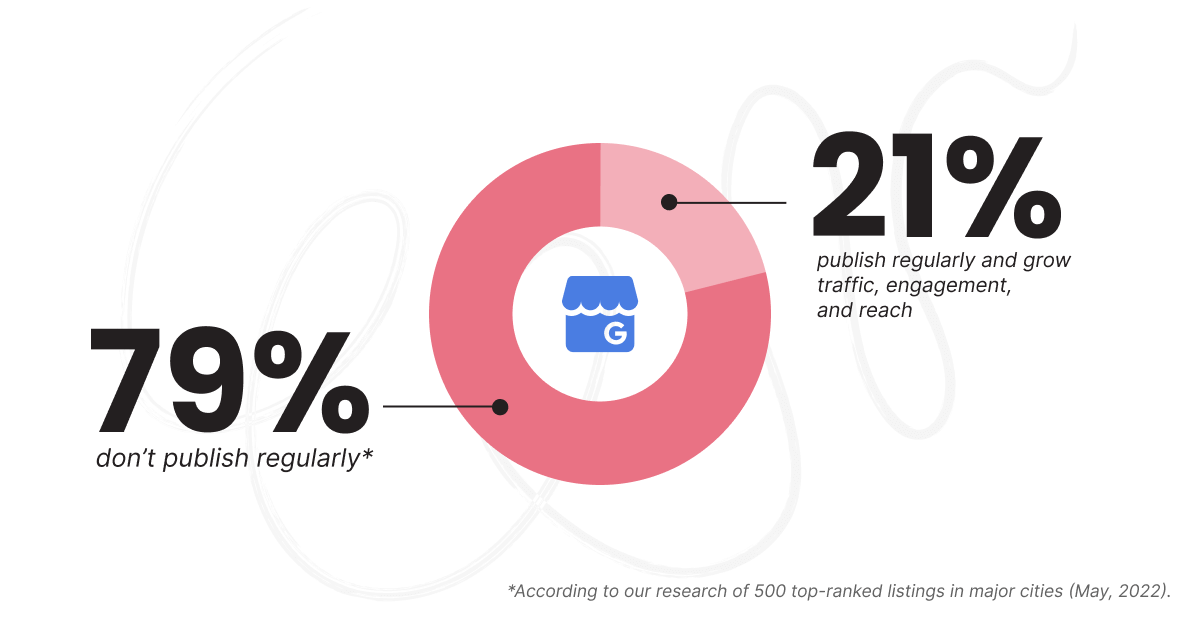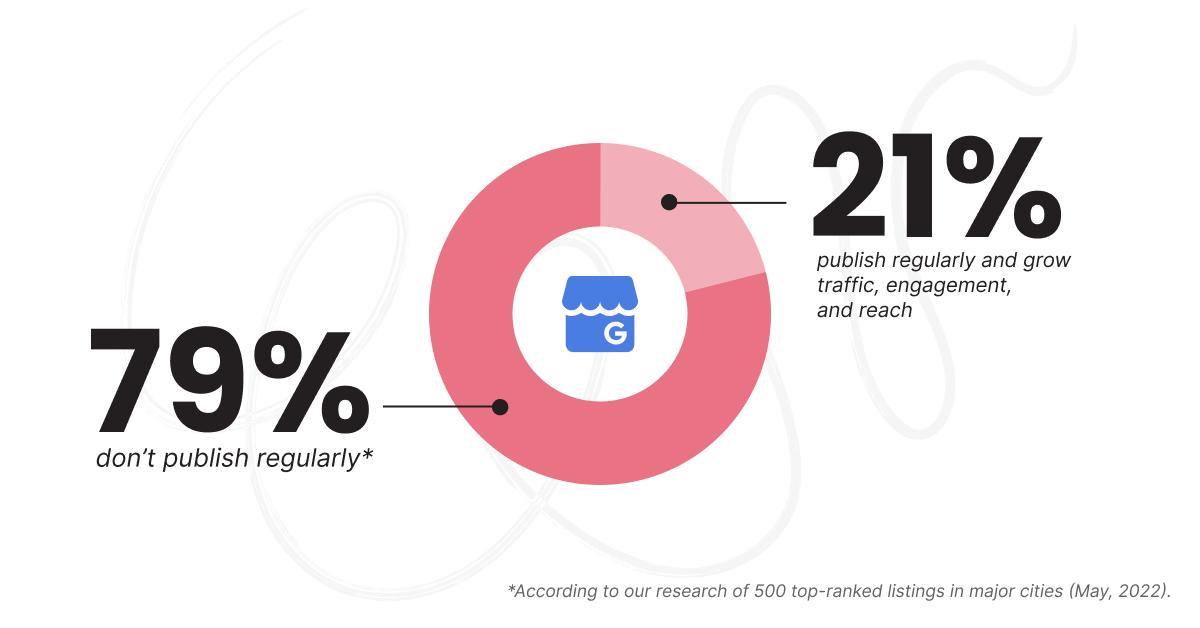 So, how come so few businesses post?
We asked our customers.
Dawn Stanyon, President at Professionality Consulting, said it's just too time-consuming to switch between multiple social channels. "One issue I've had is that I haven't posted to Google Business Profiles as often because I have to go do it separately."
Nial Philimore, Director at imexpert, said the same, "sharing content across multiple social media channels and Google Business Profiles takes a lot of time."
It's not easy managing multiple different channels at once. Jumping between tabs to publish content across all of your networks just isn't easy. Furthermore, publishing on Google is outside of a marketer's typical workflow. We're already swamped—publishing on social, sending out newsletters, and updating our own blogs—we don't have time to manage something else.
Fortunately, here at Buffer, we've built a solution.
Now you can draft, publish, and schedule posts to your Google Business Profile using Buffer.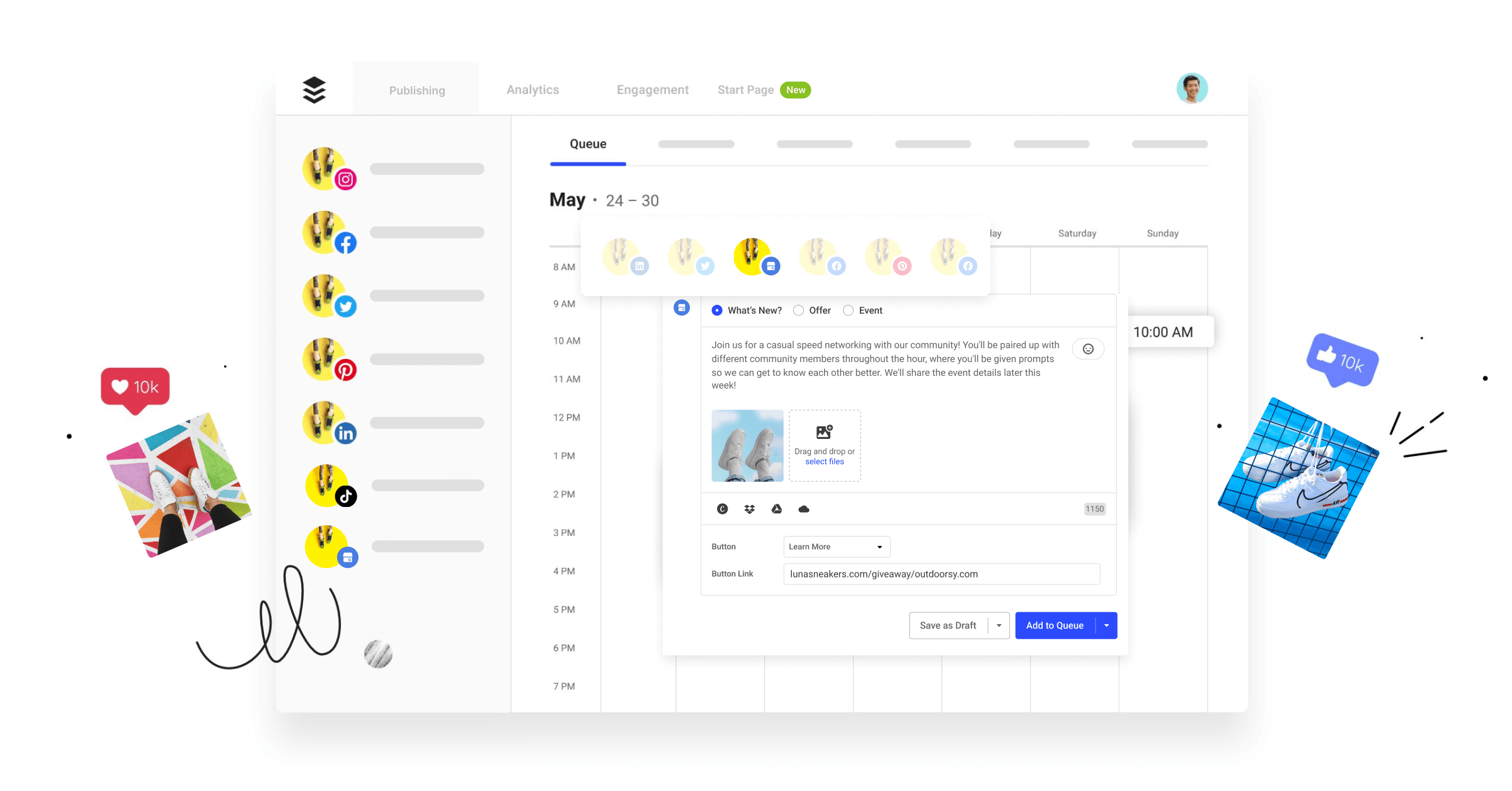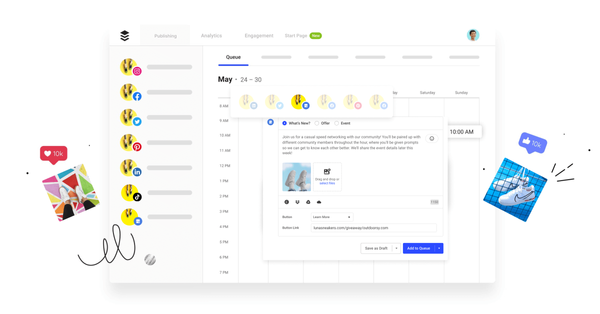 With Buffer's free plan you can schedule up to 10 posts to your Google Business Profile. This will help you consistently drive traffic to your page, and move ahead of the 79% of brands that don't publish regularly.
Want to schedule more than ten posts? No problem. All of Buffer's paid plans let you schedule up to 2,000 posts on your Google Business Profile.
How often should I post?

At a minimum, you should try to publish once every seven days (ideally, more often than that). Here's why. 👇
1) After six months, posts disappear from your profile
Regular publishing is important for heaps of reasons. One of the most important is visibility. Your posts will only stay visible on your profile for six months. After that, they'll be hidden behind a "view previous updates list".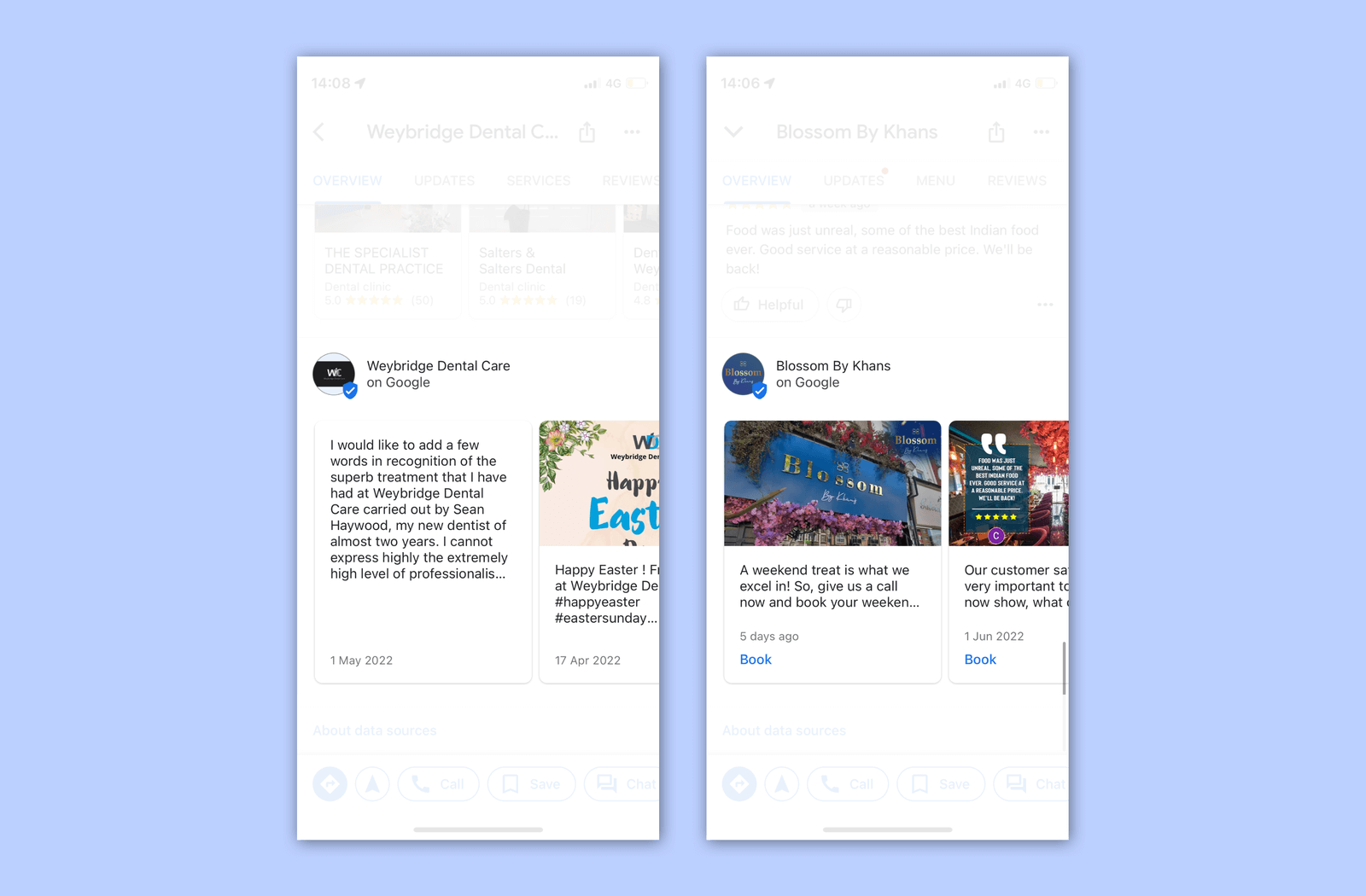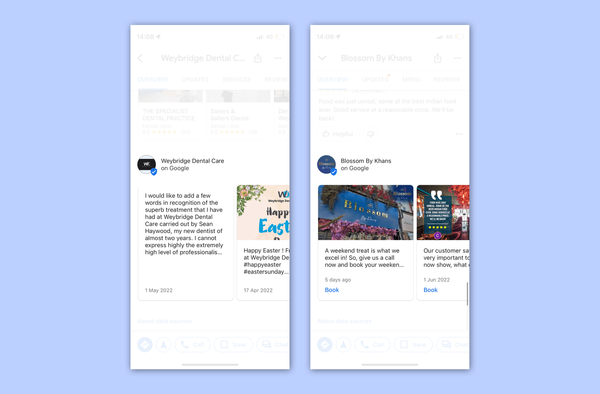 2) Google pulls info from posts published within 60 days
To add extra details to your profile, Google will automatically pull information from your reviews, your website, and your posts. Google calls these details justifications.
Having justifications on your profile increases your visibility and boosts your chances of capturing traffic. So, you'll want to do all you can to get justifications.  
Another reason to publish regularly is that Google only pulls justifications from posts that have been published within the last 60 days. So, you'll want to keep a rolling schedule of posts published on your profile, as Google will use them to create justifications.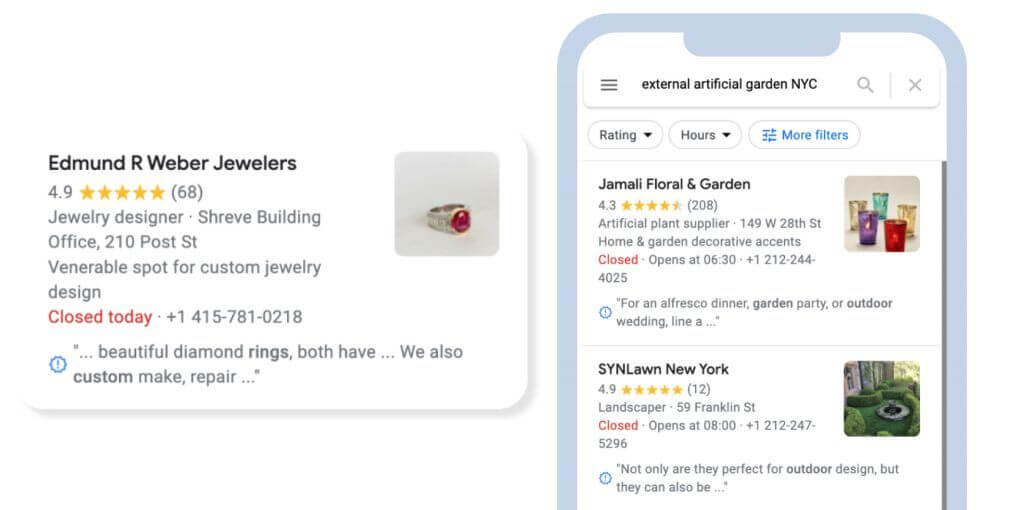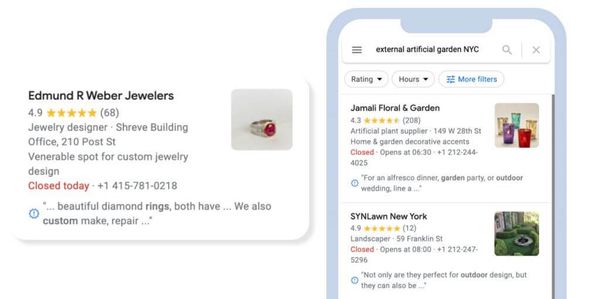 3) Drive organic traffic from Explore
Google Maps has a feature called Explore that showcases all of the latest updates in your area.
On Explore, you'll find a mixture of updates from local reviewers, and (important to you) posts from Google Business Profiles.
While writing this piece, I took a quick look at Explore and immediately saw three updates from local companies.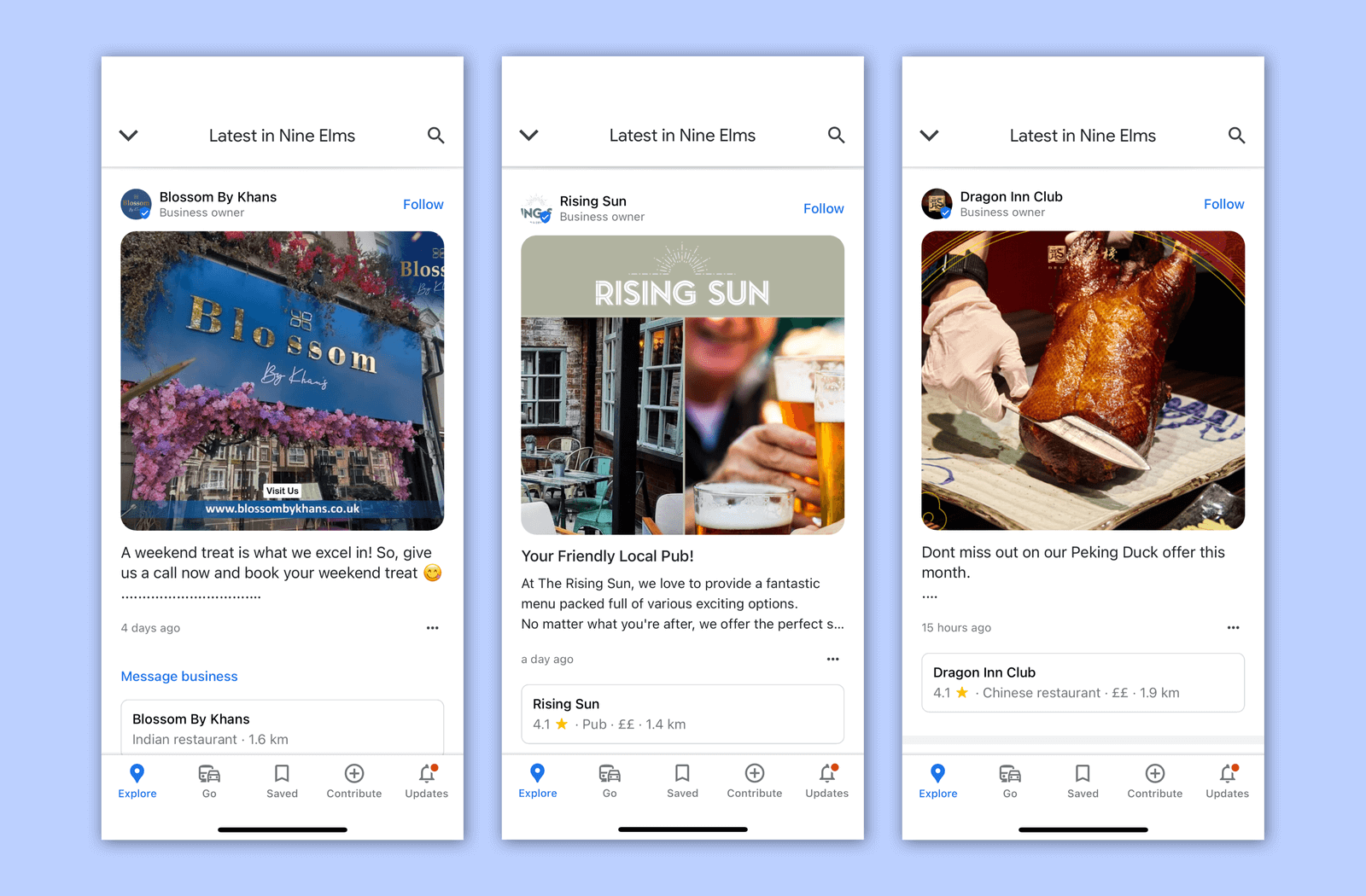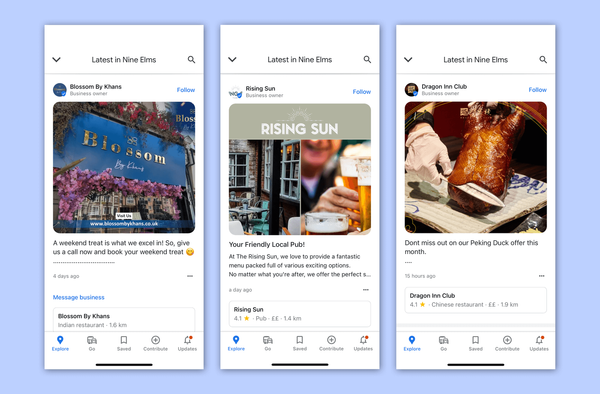 This is a great way to drive organic traffic to your page. The Explore part of Google Maps is very visible, appearing as the first icon along the bottom row in the app. It's clear that Google is trying to push it to users.
But importantly, your posts will only show up in Explore if you've published within the last seven days. And the more recent the post, the more chance it has of appearing higher up in the feed.
So, a weekly publishing cadence is necessary to drive new customers to your page.
4) Get ahead of your competition
Despite all the evidence showcasing how important consistent posting is, it's clear that very few companies do it.
We analyzed 500 Google Business Profiles across 50 different industries in five cities to determine how often they posted (take a peek at the raw data here).
Only 20.4 percent of businesses had posted within the last 30 days.
And only 43 percent of businesses had posted within the last year.
The vast majority of businesses do not publish regularly on Google Business
Profiles. This means there's a big opportunity for businesses (like yours) to get ahead of the competition.
With so few businesses publishing on the platform, you'll have a much greater chance of capturing attention with a weekly posting cadence.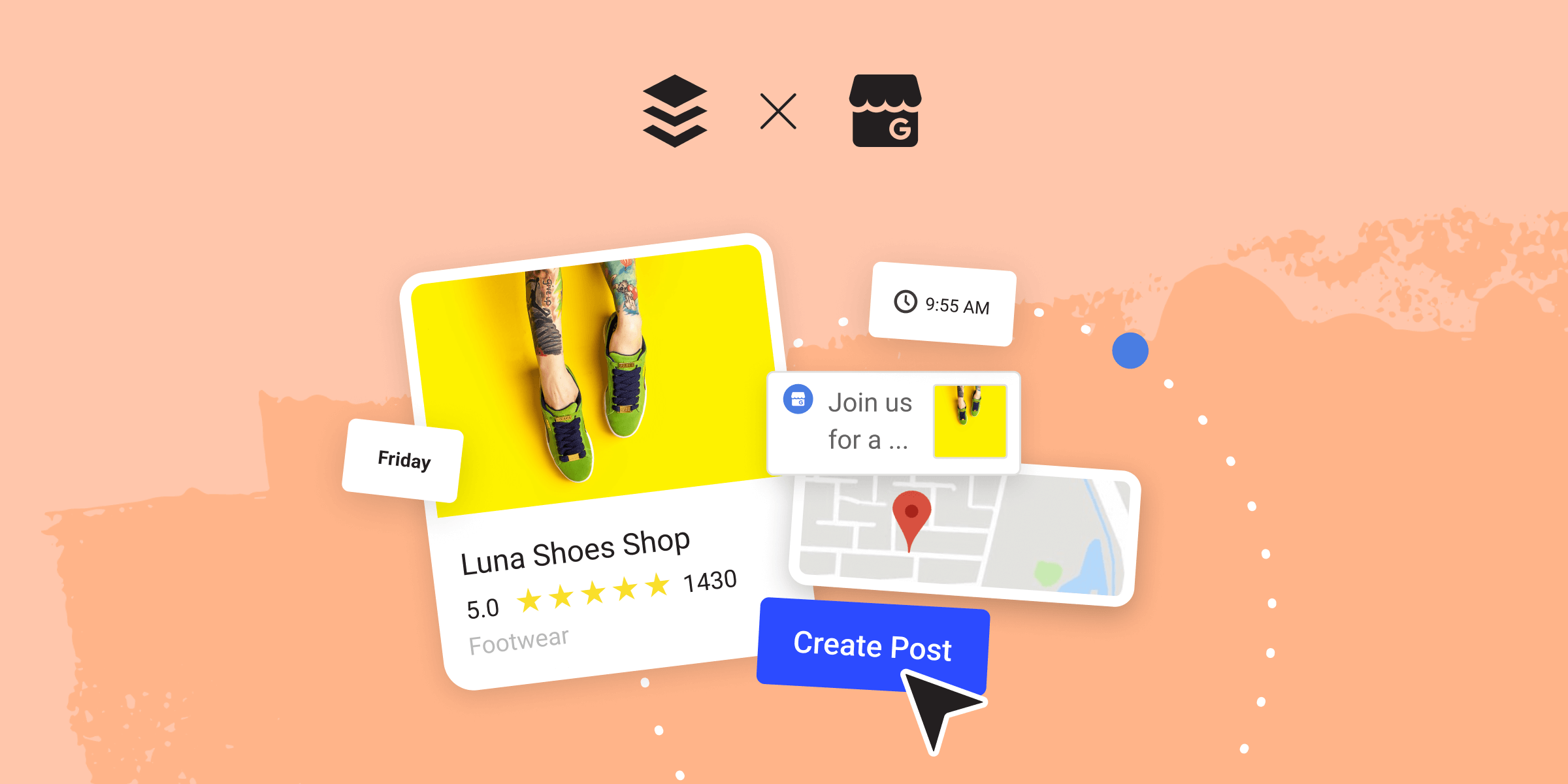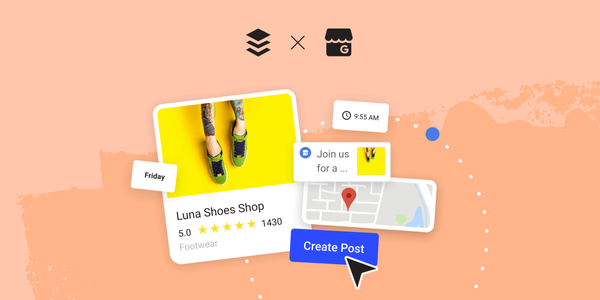 To recap—publishing at least one post a week will mean:
Your posts are visible on your profile
Google will pull live justifications from your posts
You'll start to appear in Explore
And you'll stand out compared to 79% of your competition
In need of more inspiration? Here's how why other Buffer customers are using Google Business Profiles:
Dawn Stanyon, President/Social Creator at Professionality Consulting
"We can easily share our 'regular info' - like class list, prices, café menu, our art class posters, info on how to find us, automatically via Buffer."
"Buffer + Google Business Profiles saves us time, enhances our SEO, and helps potential customers easily find us, increasing our bookings by as much as 30% - 50%, we believe!"
Behdad Jamshidi, Founder of CJAM Marketing
"Google Maps is an important way for getting local traffic to your business. It helps get your business in front of more people who are looking for your services."
"I will be reusing and repurposing some of my posts for Google Business Profiles to help build out my local SEO."
Nial Phillimore, Director at imexpert
"Now we can distribute content across all the important channels saving us time in the process."
Brigid Kaye, Owner at Creative Pro Marketing
"I integrated Google Business Profile on Buffer the second it launched because it is literally that important."
Are you using Google Business Profiles? Have you discovered any tips that we haven't included? Get in touch and tweet us to let us know.
In the meantime, why not start scheduling your Google Business Profile posts for free with Buffer. It takes just 30 seconds to set up. Get started now.
Brought to you by
Did you find this article helpful? You might also like our all-you-need social media toolkit.
Get started for free now