Social media marketers are always looking to uncover the "next big thing", and as we head into 2019 personalized social media engagement is becoming the latest must-have strategy for businesses of all sizes.
According to recent Epsilon research, 80 percent of consumers are more likely to do business with a company if it offers a personalized experience.
And this applies to social media too. Today's social media users want to interact with brands on a personal level and be treated as individuals.
But how exactly do you go about creating personalized social media experiences?
Look no further than Kimpton Hotels and Restaurants. Kimpton truly understands the importance of personalization on social media and has built a team that's focused on delivering "ridiculously personal experiences" to customers both online and offline.
How Kimpton provides personalized social media experiences for customers
Director of Social Media at Kimpton Hotels & Restaurants, Whitney Reynolds has spearheaded its shift towards a more personalized social media strategy and Kimpton now uses social media as a way to provide surprise and delight to everyone the business interacts with.
"At Kimpton, we believe that heartfelt, human connections make people's lives better. That's why we go out of our way to create what we call 'ridiculously personal experiences' both on property and online."– Whitney Reynolds, Director of Social Media, Kimpton Hotels & Restaurants
For example, when one customer tweeted about the great in-person experience they'd received at a Kimpton hotel in Nashville, its social team continued that experience by sharing an additional recommendation to enhance the customer's stay: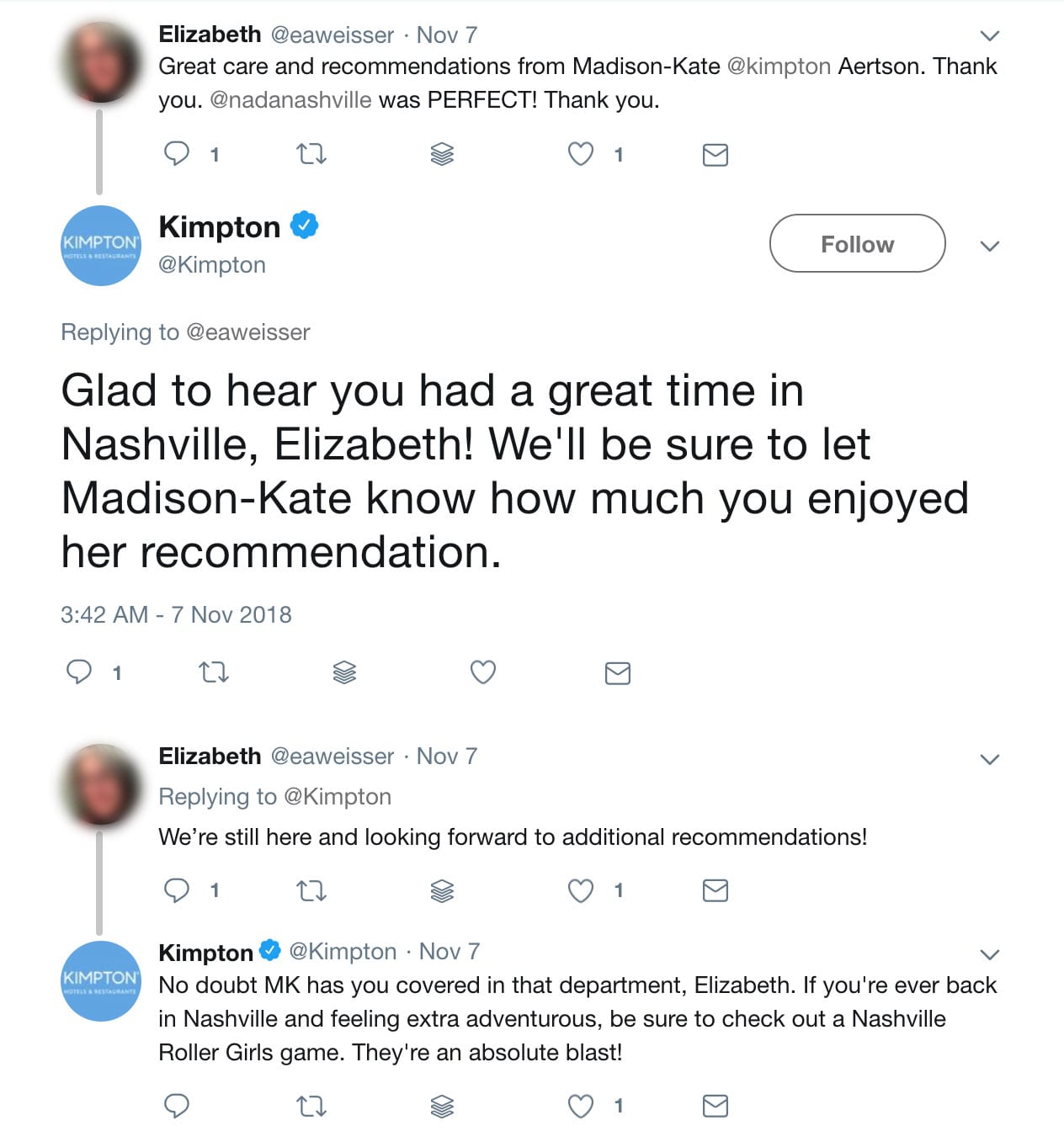 The Kimpton social media team is also keen to ensure that these one-off, in-the-moment interactions aren't lost:
"We ask a lot of conversational questions so that we get to know more about each guest every time [we interact on social media], and we use a social CRM to make note of the interesting things that we want to remember about you."
So if you were to share that you love pugs, have four kids, or fundraise for a particular nonprofit, Kimpton will make a note of it ready for your next conversation.
"We treasure this information," Whitney said. "It means we don't have to start from scratch with every conversation on social. We're picking up with our followers where we left off."
The importance of human-to-human interactions
While technology plays a part behind-the-scenes, Kimpton's social media personalization strategy is powered by humans — and Whitney sees the team as the most important part of this strategy.
Kimpton's social media engagement is handled by its Social Listening Desk, a team that responds to social chatter 24/7/365 across all its social channels.
"We hire for heart. Technical writing skills and knowledge of social platforms are important, but the most essential qualities we look for in a Social Listening Desk team member are empathy, heart and a sense of humor."
"For our social media team, it's really about finding the right people from the start – the ones who innately go out of their way to connect with each person, and get a real kick out of doing it."
The Social Listening Desk team are also encouraged to go out of their way to make people feel special in each message:
"If there's an opportunity to make someone's day by really personalizing an interaction, our Listening Desk is empowered to act on it. We even have a mechanism for surprising and delighting our followers that anyone on our social team can activate as they see fit."
How user-generated content can enhance the personalized experience
As a business that puts so much focus on its customers, user-generated content also has a huge role to play in Kimpton's strategy — both across social media and its website.
"We're fortunate to have hundreds of beautiful guest photos coming in via hashtags, geo-tags, and mentions each day from our 148 hotels and restaurants," Whitney explained.  "We love that, often, a guest's first instinct is to pull out their camera phone and post a picture of their experience to Instagram or Twitter, and we don't take it for granted."
To encourage more sharing, and reward those customers who do share their Kimpton experiences on social media, the Social Listening Desk team will 'Like' posts featuring their hotels and restaurants.
But to take things a step further, Whitney encourages the team to comment on guests' photos to thank them for posting, often calling out a specific detail of the photo that they loved. And sometimes, they'll ask to repost their favorite content: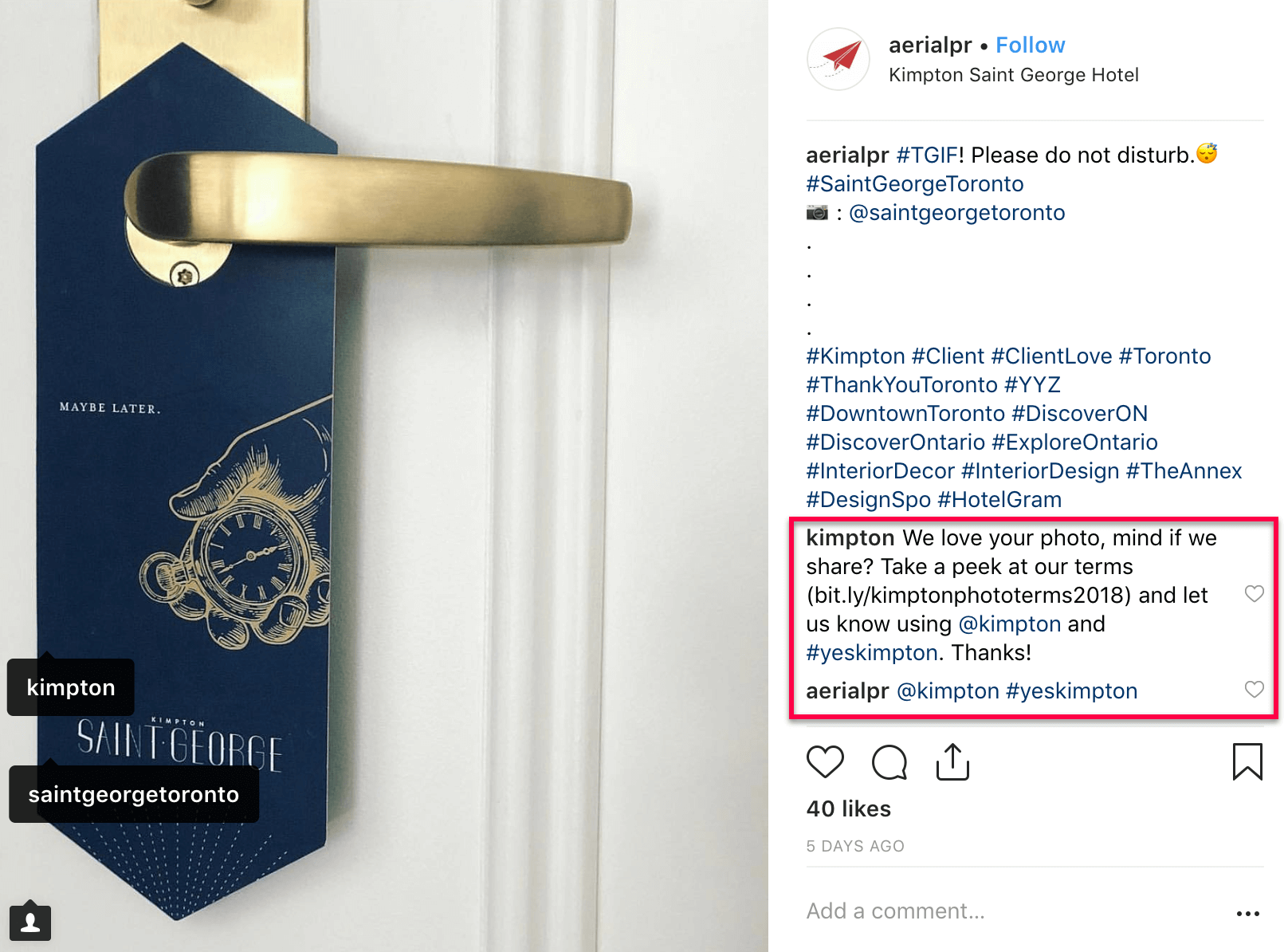 Kimpton also features social content and guest photos on hotel and restaurant websites as well as having dedication pages for user-generated social media content on KimptonHotels.com: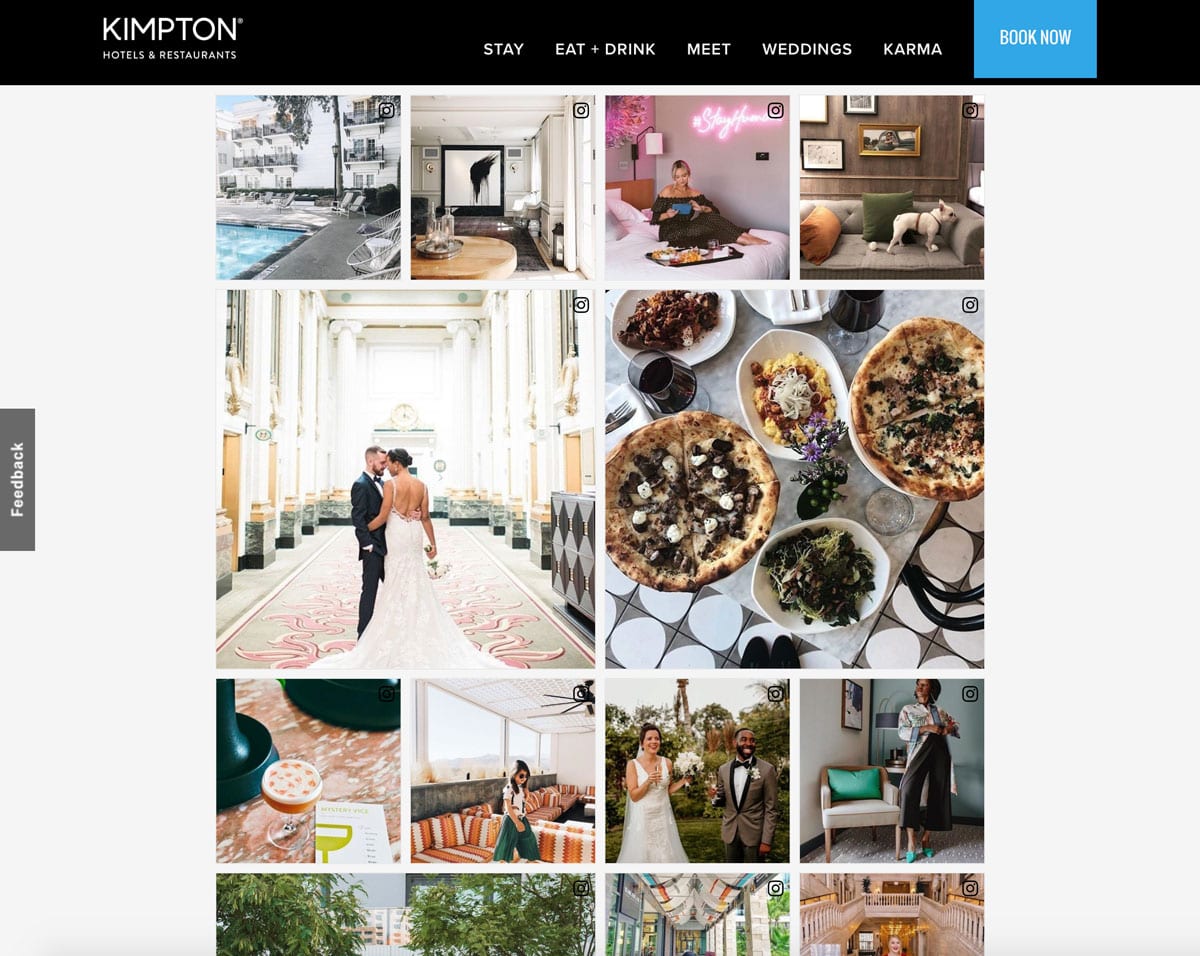 "We know that our followers would rather see real photos from real guests, especially during the research phase of the booking process, so we rely heavily on user-generated content for telling our brand story and the stories of our hotels," Whitney explained.
How you can harness the power of social media personalization
Reaching your audience with personalized messages and experiences can work wonders for your business. But if I could pick out one key takeaway that you can use for your business right away it would be this:
Social media personalization isn't really about your content — or how big your budget is — what really matters is the way you communicate with your audience.
People on social media want to be seen as individuals with their own likes, habits, and personalities. If you can tap into this, and deliver each message with care, your audience will respond in-kind.
And what's even more exciting is that social media personalization is still an under-the-radar strategy, so there's a huge opportunity to get ahead of the curve.