The social media world moves incredibly fast and to help you stay up to date, we thought we'd round up some of the latest news, trends, research, and statistics that caught our attention this week.
From Twitter redefining itself and some big news from Facebook to new features on Pinterest and Periscope, it's been an exciting week.
Let's get started!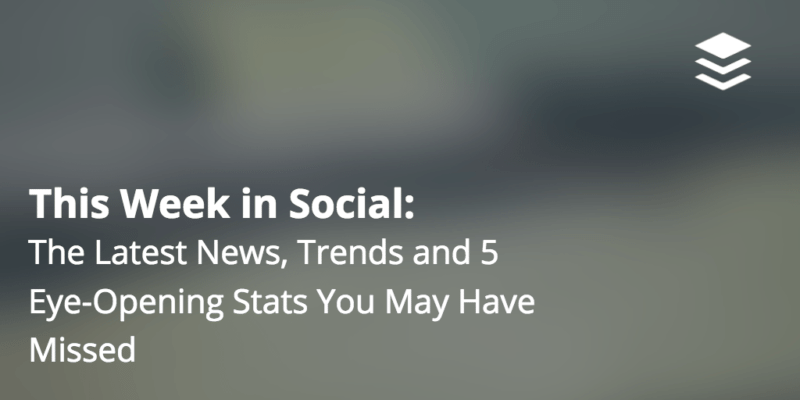 What's new in social this week
Want to jump to a particular story? Try clicking one of the headlines below:
Facebook reaches 1.65 billion monthly users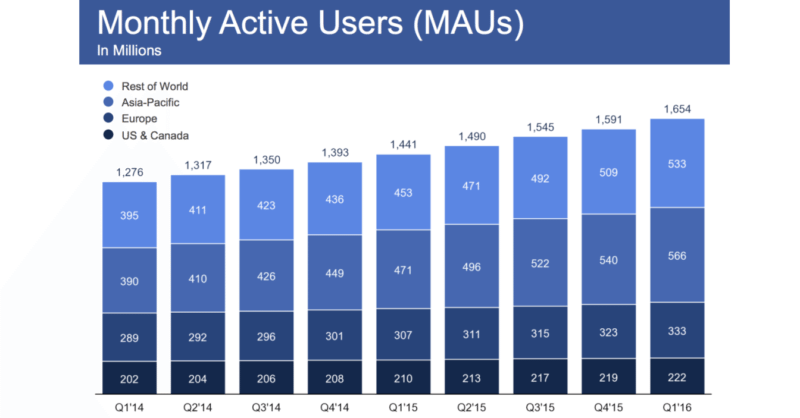 In its Q1 2016 earnings report, Facebook announced it has now reached. 1.65 billion monthly users. That figure means Facebook grew 3.7%, from 1.59 billion monthly users last quarter (Q4, 2015).
The social network's daily active user count has also grown significantly. It reached 1.09 billion daily active users in Q1, compared to 1.04 billion in Q4 2015, a 4.8% increase.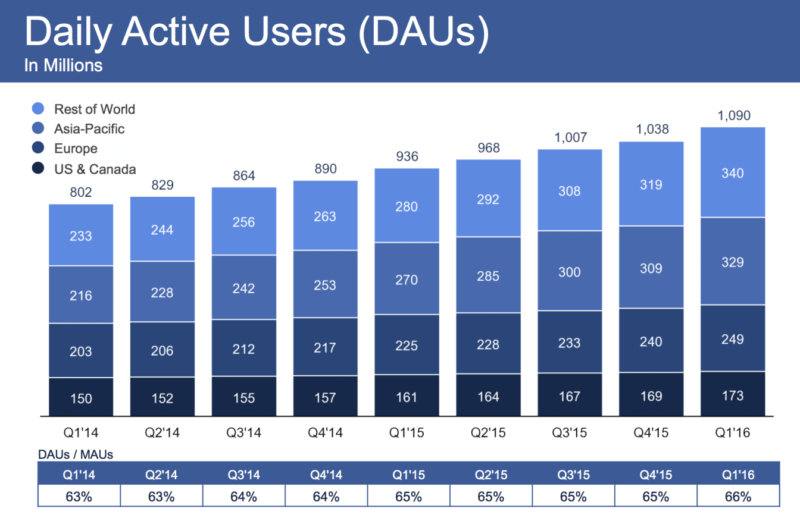 Twitter is no longer a social network
Highly alert Twitter users noticed it's now categorizing itself very differently. In an update on April 28th, Twitter now sits in the News category rather than Social Networking.
This change moves Twitter away from apps like Snapchat, Facebook and Messenger in the App Store and the switch also boosted the app to the #1 spot in the News category (it was previously sat 6th in Social Networking).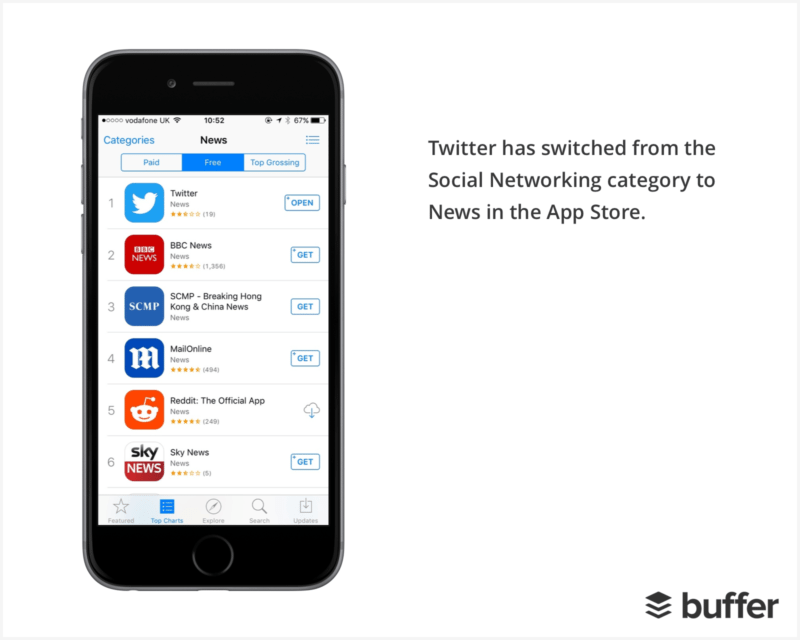 Ranking #1 in a category could be a nice boost for Twitter, and could help attract new users who want to keep up with the latest news on mobile. Being ranked #1 will also help with App Store visibility and could lead to more organic downloads.
Could this be a sign of a significant shift for Twitter? Or maybe an experiment to see how App Store categories and rankings affect downloads? Keeping an eye on this over the coming weeks will be interesting.

Video consumption on Snapchat has doubled
Daily video views on Snapchat have now hit 10 billion. TechCruch reports that the new numbers represent a 150% increase in video consumption on Snapchat in just under a year.
In February 2016, Snapchat reported 8 billion daily video views and in November 2015, 6 billion views. That's incredible growth.
➤ For more on Snapchat, check out our 'Complete Guide to the Ghost' here.

Pinterest Featured Collections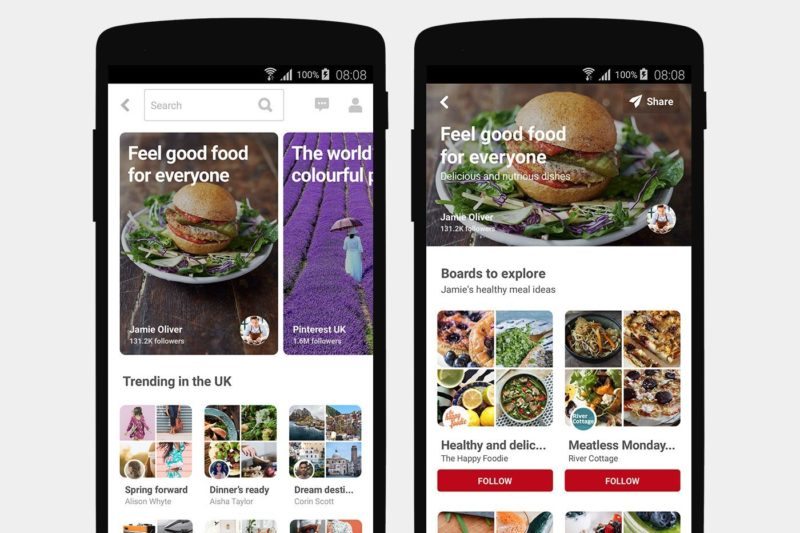 Pinterest has released Featured Collections, a way to keep tabs on trending topics and content. Every day, the brands, celebrities, and influencers, and Pinterest's own editor's will curate popular pins, users, boards, and searches within Featured Collections.
The Featured Collections will be localized to the UK, France, Germany, Brazil, and Japan, further strengthening the network's relationship with international users.

Periscope launches sketch feature and deeper analytics
Periscope have released a fun, new sketch feature for their iOS app.
The feature enables you to draw anything you'd like over your live stream video, and anything you sketch will vanish after a few seconds.
The sketch feature is accompanied by an update to Periscope's analytics within their iOS app. Broadcasters can now see how many people have tuned in and when they were watching.
YouTube announces 6-second ad format
This week, YouTube announced a new ad format dubbed "bumper ads."  Bumper ads are 6 seconds long and can not be skipped by users.
The ads will be sold through the AdWords auction on a CPM basis. According to Google and YouTube Bumper ads are ideal for driving incremental reach and frequency, especially on mobile, where "snackable videos" perform well.
"In early tests, Bumpers drove strong lift in upper funnel metrics like recall, awareness, and consideration," they explain in a blog post.
Here's an example Bumper Ad (h/t to TNW for this one):
5 Eye-opening trends and stats
1. 46% of Snapchat users are 18-24
Using Comscore's latest report, FastCompany put together a fascinating interactive chart which highlights how Snapchat dominates social media for millennial users.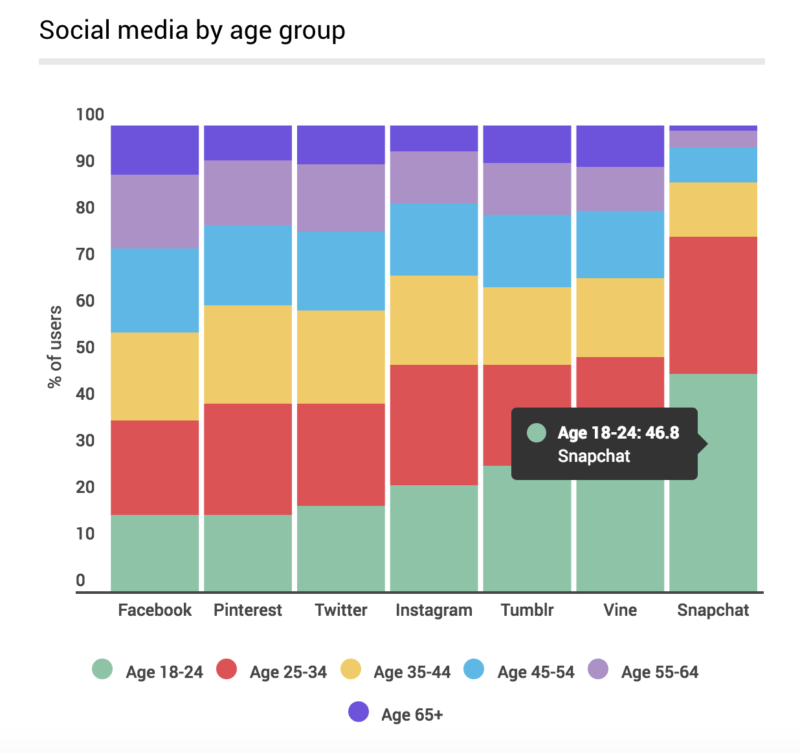 2. 45% of Instagram's top advertisers are startups
A new report from analytics company Sensor Tower discovered that roughly 45% of Instagram's top app advertisers collected venture-capital funding in the past year.
The study also found that 65% of advertisers on Pinterest were e-commerce companies or shopping apps.
3. Only 2% of users opt out of Twitter's algorithm based timeline
In February, Twitter made switched on their "Best Tweets first" timeline for all users. Since then, less than 2% of users have switched off the feature according to Twitter CEO, Jack Dorsey.
Tweets, Retweets, replies, and likes have increased for users with the new timeline, though Twitter is yet to reveal the exact figures.
Here's a full quote from Twitter's Q1 shareholder letter:
The enhanced timeline we launched this quarter is a great step forward, improving both speed and relevance. For users with the new timeline, we've seen increases in Tweets, Retweets, replies, and likes, a sign that it improves people's experience on Twitter. Although people can still opt out if they wish, the opt-out rate is extremely low (about 2%).
4. People spend 50 minutes per day on Facebook, Messenger, and Instagram
Facebook's aim of building a family of apps seems to be showing some success. In Facebook's Q1 2016 earnings call, Mark Zuckerberg said:
Today, people around the world spend on average more than 50 minutes a day using Facebook, Instagram and Messenger…and that doesn't count WhatsApp."
This figure is up from 2014 when Zuckerberg said American users spent 40 minutes per day on its service.
5. Four-fifths of Facebook ad revenue comes from mobile
The Facebook Q1 2016 earnings opened up a ton of interesting insights. But one that caught my eye is just how much revenue Facebook are driving from mobile ads.
Overall, Facebook's ad revenue jumped 57% in the first quarter to $5.2 billion, up from $3.3 billion in Q1 2015. What's more impressive is that four-fifths of that ad revenue comes from mobile advertising sales.
Over to you
I hope you found this roundup useful, and I'd love to know if there's anything I missed. Have any social media stats caught your eye this week? Have you noticed any new features in your favorite social networks and apps?
I'd also love to know if you'd enjoy reading a weekly roundup like this every Friday? Let me know in the comments.