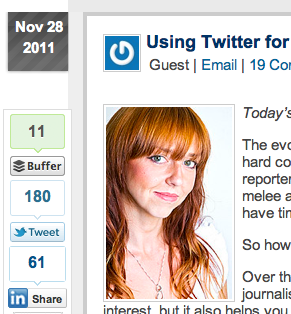 Things are moving very fast here at Buffer and we are excited to roll out the next big thing for you. A few weeks back we launched the Buffer button in a beta version.
With the Buffer Button, you can add any article straight to your Buffer, for it to be Tweeted or posted to Facebook at a better time, well spaced out over the day. As we have shown to increase clicks on Tweets by 200%, I believe this should be a major benefit for any blogger too of course.
With over 300 blogs using the button already, we got 15 of the most well known Social Media blogs out there on board. These are the ones:
The KISSmetrics blog is one of the most well known blogs in the Social Media marketing space and I love reading it. It features fantastic tips on optimizing your blog for conversion, improving your Twitter performance and Facebook page.
Run by the friendly guys Hiten and Neil, they offer tips and tricks around the clock and have a wonderful analytics tool to track and improve conversion for your website too. The new Buffer button is an awesome fit.

Another blog that needs very little introduction is Jay Baer's ConvinceandConvert. It boasts the world's best Social Media insights from one of the top #5 Social Media consultants out there. What I like best are the great Social Media case studies he always digs up to help us understand what works and what doesn't.
Jay is also one of the most approachable and humblest people I know, so "hype-free" is more than appropriate. With the latest publication of his book The Now Revolution, he published an amazing best seller to help anyone turn his business into something truly social. Check out the Buffer button on his site.

Jeff Bullas is a Social Media titan that needs little introduction. He runs one of the most well respected Social Media blogs out there. He has hands down the best tips on producing great and contagious content, as well as teaching us about the latest Social Media tools.
He also offers great Social Media case studies to help you get inspired for your next campaign. If there is any article out there you should Buffer, make it Jeff's posts next.
SpinSucks

Update: This blog is no longer available.
This is a blog that continually amazes me, due to the amount of engagement Gini and Lisa are able to create. I believe the SpinSucks blogposts have more comments than any other blog I read. The posts are always truly personal and they totally win the award for most creative and funniest headlines.
With InsidePR, Gini also hosts a fantastic podcast about public relations and Social Media I can highly recommend. That their Social Media blog now also has the Buffer button is just awesome.

Another blog that I am super proud to have on board for our launch is Kristi Hines Kikolani blog. Kristi has an outstanding personal touch when producing her blogposts, and is most generous with allowing guestposts.
On top of all this, her guide to blogpost promotion is probably one of the best resources out there to get started with your own blog too. Having the button on her site is fantastic and what's even better is that she gets more Buffers than we do on some of her posts.

From my friend @AnnieCushing, who is an awesome BlueGlass'er, it is awesome to have one of the top Social Media Marketing agencies on board with their top notch Social Media blog. With their strong analytics approach there are a lot metric insights I get every week from their site.
On top of great SEO and Social Media insights, I particularly like the attention to detail through custom made banners for each new article. Having them on board with the launch of our button couldn't be a better fit.
TweetSmarter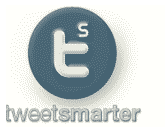 It's of course fantastic to have one of the world's most engaged and well known Twitter accounts on board with our launch with @TweetSmarter. Dave, besides his stunning Twitter presence also runs a fantastic Social Media blog.
On his blog Dave answers questions from the dozens of people asking him questions about Twitter every day. With the addition of the Buffer button to his blog, it should be a tad easier for you to share his great posts.

Earning a staggering $+30,000 through affiliate marketing and other passive ways to generate revenue every months, @PatFlynn is the go to resource to get all your questions on growing your web presence answered.
Pat is also one of the nicest guys around, and doesn't fear to openly admit when something went terribly wrong. He would rather show how others can learn from it and turns it into some awesome content.

Jason Cohen's blog is hands down one of the best startup resources out there. How good? Joel secretly told me that this was the one blog he read for over 3 years straight. It boasts very high quality posts on everything from getting your first customers, to great podcasts on building the right business.
Be sure to hope over to check out his resources and whatever you like, just drop it in your Buffer. It's well worth the time, especially if you are in the verge of starting your own business.

Being one of the top 50 Social Media blogs according to Evan Carmichael's yearly ranking, Smedio is a fantastic site to learn everything you need to know about Social Media. Douglas' (@Douglasi) commentary on the latest changes of Facebook or Google always boast unique insights on the currrent state in tech.
Having such a Social Media heavyweight on board for our Buffer button launch is fantastic. Be sure to hope over and check out Douglas Idugboe's awesome articles.

A blog that I am very proud of having on board is Francisco Rosales' SocialMouths. His case studies and awesome commentary on the latest developments in Social Media are always spot on. Francisco is also most approachable and great to work with.
The fact alone that he has a page about "Who Is This Dude?" full with great insights about his past and personality makes me want to visit every time he has a new post out. Be sure to hop over, check out the shiny Buffer button and read some of his awesome posts.

With Hesham's FamousBlogger, it is fantastic to have one of the most well-known multi-authors blogs out there on board. Not only does he run fantastic guestpost competitions, he also makes it super easy for anyone to regularly guestpost and contribute to the FamousBlogger community.
Hesham also has a great eye for the latest Social Media tools you should check out to stay on top of your game. Be sure to hope over to his blog and check out what he has in store for you.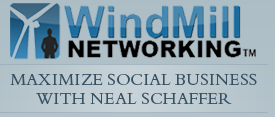 One of the top Social Media consultants in the space and a true LinkedIn expert, it is fantastic to see Neal Schaffer on board with our launch. What I love particularly is that Neal bridges blogging and Social Media insights on his blog in a stunning manner.
You can find him on Twitter @NealSchaffer, be sure to hit him up, Neal is a great guy. Or check out some of his most recent books. Having the button shine from Neal's blog is a particular honour.
12most

Update: This blog is no longer around ?
I am sure this is a blog you have come across before. It's a multi-author blog that Guy Kawasaki and lots of other top bloggers have written for already. Run by positive vibe producer Peg Fitzpatrick, the site is full of great posts in the form of 12 list posts.
Packed with Social Media tips, SEO insights and general life guides, this site has quickly become one of my favourite daily reads. And on top of all this Peggy, Paul and their team are always open to guestposts.

Danny is a person that again needs no introduction at all. He runs one of the most engaged Social Media blogs. He has grown a community and following that is a great inspiration for anyone starting out on the web.
What I like best is that all of his content is extremely high quality. Whether he reviews an awesome book or adds commentary to one of the hottest topics in Social Media. It fantastic to have him on board for our launch.
More top bloggers with the Buffer button
With over 300 Buffer buttons already out there, it's amazing to see so many top quality blogs using it. Amongst many others, there is my good friend Brankica over at Live-Your-Love, Jure Klepic, Pam Moore from PamMarketingNut and ZoomFactorOnline, Ana Hoffman from Trafficgenerationcafe, Marty and Misty from Podjam.Tv and Ileane Smith from BasicBlogTips.
There are lots of others still, including Kiesha from WeBlogBetter,  Amy Schmittauer from SavvySexySocial, Katy Widrick, TheNickyBlog and  AskAaronLee.
Another person that I am very proud to have on board is Jay Gould with his great BehindTheWeb video series, as well as my friend Karthick from Akarthick.com. Be sure to check them out.
Have I missed you on the list? Let me know, we have a roundup post of the next set of top bloggers using the button coming!
Why should you give the Buffer button a go on your blog?
So, what's actually a good reason to put the Buffer button up on your site? There are a few great reasons, that will give your blog great exposure, here is a list of a few of them:
As Buffered Tweets get 200% more clicks on links, allowing people to add straight into their Buffer from your blog, can be a big win for traffic to your site.
The Buffer button consistently outperforms the Google+1 button, just check any of the blogs mentioned above.
Allowing your readers to add to Buffer, gives them a chance to stay longer on your site, add multiple articles at once, without ever flooding their stream.
Every Saturday, we will publish an article with the top 10 most Buffered articles for the week, so more people can Buffer your awesome content.
If you put it up on your blog, please Tweet us @bufferapp, we would love to promote you and your posts with the shiny button.
Over to you now. What do you think about the Buffer button? Are there any other blogs or Apps you would like to be able to Buffer from?