What strategies does it take to effectively grow your Instagram account?
Today, there are more than 500 million people across the globe using Instagram to not only share photos of their lives, but to connect with personalities, brands, and businesses in meaningful ways.
Now is a perfect time for marketers to learn the ins-and-outs of Instagram Marketing so that you can take advantage of an opportunity that is growing by the minute.
In this episode, we had the pleasure of speaking with The Instagram Expert herself, Sue B. Zimmerman, about the proven, cutting-edge strategies marketers and businesses are using to grow their Instagram account. She has amassed more than 85,000 followers on Instagram and has taught countless brands and businesses the art of Instagram Marketing.
A huge thank you to Sue B. for jam-packing this episode with actionable wisdom and takeaways for social media managers and marketers looking to grow their Instagram account into a thriving marketing and social media channel.
This episode is available on:
In this episode, here's what you'll learn:
Sue B. Zimmerman shares her thoughts and expertise on the art of Instagram marketing and some of the specific tactics marketers can use to grow their Instagram account and see meaningful results. You'll also learn some other great things like:
Why Instagram is such a huge opportunity for brands and businesses
Instagram marketing strategies for small businesses
What to do if your brand is not "visual" on Instagram
Instagram marketing strategies for medium-large businesses
Setting up the perfect Instagram profile
3 key takeaways for brand & businesses looking to grow their Instagram account and see big results
In Sue's words…
1. Having a call to action in your Instagram Stories
Actually having a call to action in your Instagram Stories that is not sales-y. Create a sense of, "this is what I want you to do and why." Because if you're going to take the time to craft the story, you definitely want to have a reason for doing it that's going to benefit your business.
2. Use Instagram Direct Messages to welcome new followers
Here's something that I have done in Instagram Direct Messages that is a ninja-tip. I record a 15-second welcome video – thanking people for following me and telling them what the next action step is. I want you to know that when people can hear your voice, see your eyes and see your smile, they will feel more intimately connected to you. And you can do that within Instagram DM.
3. Build a community around a hashtag
I have many different hashtags that I have built different communities around. One being #InstaGalLive when I spoke on stage at Creative Live and that was a community of people that followed me. I also have a community around my new course called #RSGCommunity – Ready Set Gram. I also have a fun hashtag that I do whenever I get an interview is #SueBMadeMeDoIt.
Mentionable Quotes and Shareable Snippets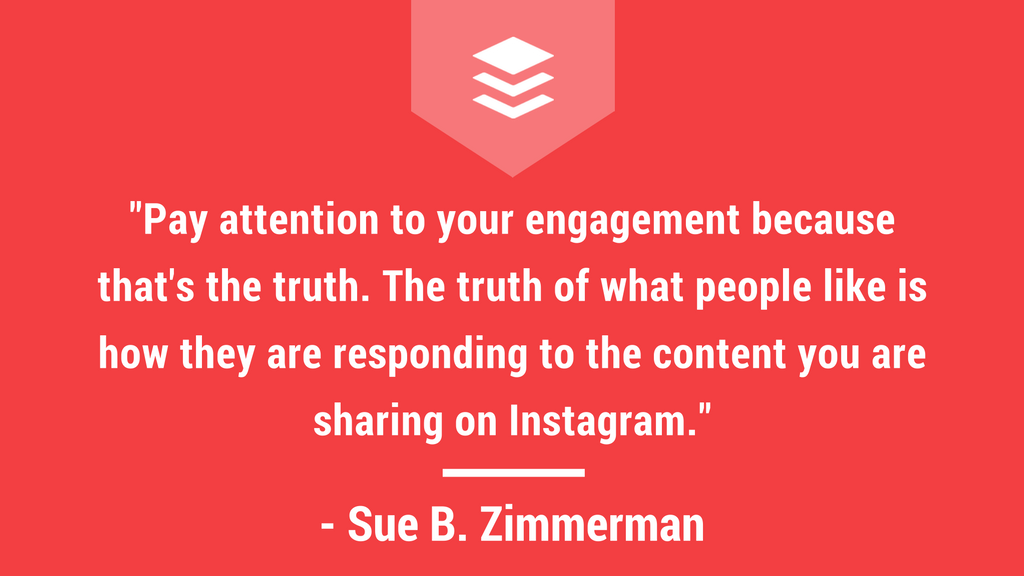 "Pay attention to your engagement because that's the truth. The truth of what people like is how they are responding to the content you are sharing on Instagram."

– Sue B. Zimmerman
Show Notes and Other Memorable Moments
Thanks a million for checking out this episode! Below are the websites and other tidbits that were mentioned in today's podcast about creating incredible Facebook communities using groups. If you have any questions for us, feel free to drop us a line in the comments and we'll respond right away!
Awesome People, Shows, & Articles Mentioned in the Show
Great Quotes
"You can stay top of mind and show up in people's newsfeed, but if you're not creating a strategy, one that will ultimately attract the ideal customer or client that you're trying to serve (and not your competition) you can have great success on Instagram."
"If you are a solo entrepreneur or a small business owner with a small marketing team, I always recommend having a smiling face as your avatar."
"Going back to talking about having a strategy. You need to ask yourself: what is the vibe you want to go for on your account? What is the look and feel?"
"Everything I do is always intentional. It's not just, 'OK, let me check this off the list of my to-dos today.' You need to think about what you're posting and if it aligns what's going on in your content calendar."
Every single business has a story to tell – a visual story to tell. And it doesn't have to be literal. It can be from the company culture, the environment that you work in, or the clients that you want to attract."
"If you were to partner with someone that would make sense for your business, even if it's service-based, think about who it would be and how you can creatively show that and post that."
"There's no right or wrong with Instagram Stories – it goes away in 24 hours! Progress not perfection."
How to Say Hello to Sue (and us)
Sue B. Zimmerman is just about everywhere on social media. She'd love to say "Hello" on Instagram at SueBZimmerman or TheInstagramExpert and you can read more about Sue B's work at suebzimmerman.com.
Thanks for listening! We'd love to connect with you at @buffer on Twitter or with the hashtag #bufferpodcast.
Enjoy the show? It'd mean the world to us if you'd be up for giving us a rating and review on iTunes!
—
About the Show
The Science of Social Media is a podcast for marketers and social media managers looking for inspiration, ideas, and results for their social media strategies. Each week, we interview one of the very best in social media marketing from brands in every industry. You will learn the latest tactics on social media, the best tools to use, the smartest workflows, and the best goal-setting advice. It is our hope that each episode you'll find one or two gems to use with your social media marketing!
The Science of Social Media is proudly made by the Buffer team. Feel free to get in touch with us for any thoughts, ideas, or feedback.