Social media algorithms are a lot like "Dog Years."
They seems to progress and change at a rate of seven years for every one year on the human calendar.
We've seen first-hand the dramatic declines in traffic and organic reach over the last two years as so many businesses have.
But despite the challenges that marketers face with social media algorithms, there is still a way to overcome them and share your content with the world.
Michael Stelzner, CEO and Found of Social Media Examiner, has been in the business of social media since 2009 (when organic reach and traffic numbers were going strong). We had the pleasure of chatting with Michael all about how social media algorithms work and how marketers and businesses can implement strategies to use algorithms in their favor to get great content seen.
A huge thank you to Michael for jam-packing this episode with actionable wisdom and takeaways for social media managers and marketers alike looking to understand how and why social media algorithms are in place and how to use them in their favor.
This episode is available on:
In this episode, here's what you'll learn:
Michael Stelzner shares all of his insider secrets and knowledge on how social media algorithms work and how you as a marketer or business owner can overcome them. You'll also learn tips like:
Why algorithms are important for consumers
What Live video is the darling of algorithms right now
How the Facebook and Twitter algorithms work
How to overcome social media algorithms
Michael's most important steps for small businesses and brands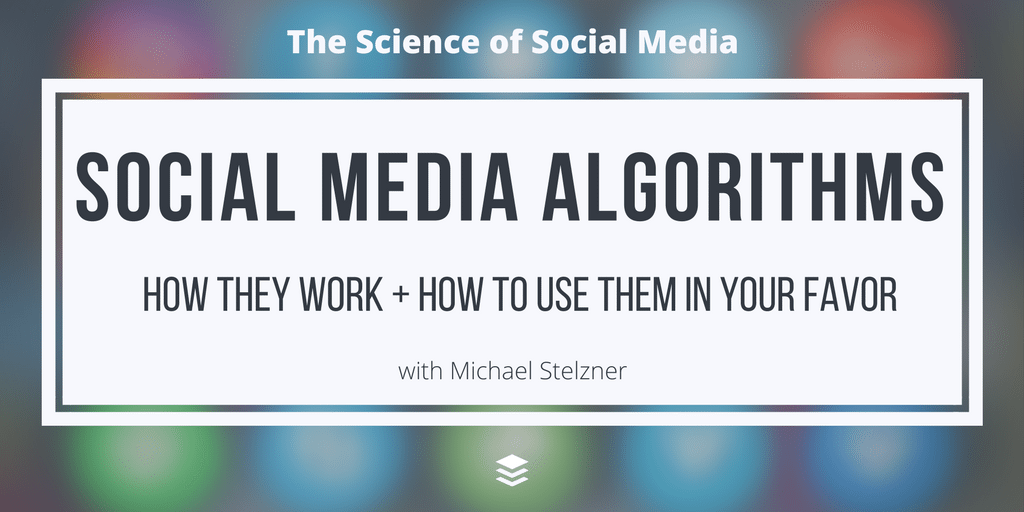 3 Key Takeaways for Marketers Looking to Use Social Media Algorithms in Their Favor
In Michael's words…
1. Rethink
Rethink is the keyword here. Rethink your posting strategy on social media – Less is actually more!
2. Live video is the flavor of the day
Live video is currently the flavor of the day with algorithms and so figure out a way to do it. We have nearly 13 sessions on live video at Social Media Marketing World 2017. We've got some preliminary research that marketers are all in on live video and so it's time to do it – do not delay.
3. Refocus
Refocus on the reason why you have a social community in the first place. There's a community there and so it's important to refocus on community development. Stop worrying about the numbers and stop worrying about the traffic. Start focusing on cultivating the right people to build a strong affinity and relationship with your business so that they become evangelists.
A Great Moment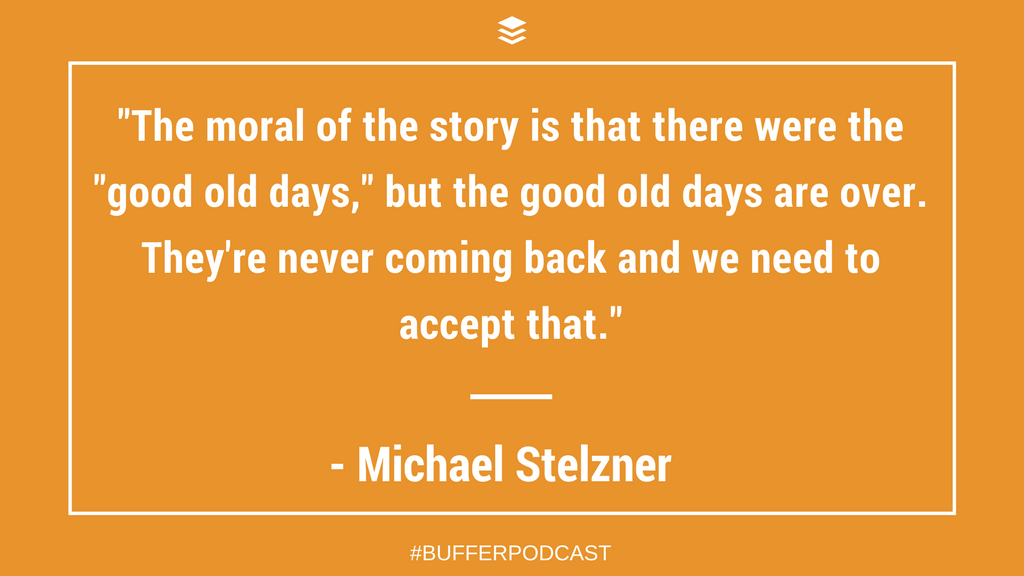 "The moral of the story is that there were the "good old days," but the good old days are over. They're never coming back and we need to accept that."

– Michael Stelzner
Awesome People and Stuff Mentioned in the Show
Favorite Quotes
Traffic has been going down, down, down and down. For years! That's the challenge – you're not getting the reach or visibility and we have to be OK with that reality.
With the algorithms in place, high-quality content can be seen at any time. This is important.
The old mentality of 'scheduling when people are there' has been thrown out the window. The whole idea of algorithms is that posts are not in linear order… these are like radical re-thinking strategies.
Due to the implementation of algorithms over the last year or so, we've completely gotten rid of our evergreen reposting strategy on Twitter and LinkedIn and only selectively repost to Facebook.
We know that the more we go live, the more our non-live content get exposure in the Facebook News Feed.
We are refocusing a lot of our efforts on community development with social media. We are actively doing things with our community to provide value to them.
Facebook is like the Hotel California – you can come anytime you want, but you can never leave. And they don't want you to leave, marketers!
First and foremost, if you're a small business with little traction on social media or on your blog, you have to figure out your email acquisition strategy.
How to Say Hello to Michael (and us)
Michael Stelzner is the go-to resource for everything social media – especially when it comes to staying on top of the latest trends. You can follow along with Michael on Twitter here or check out Social Media Examiner on Facebook here. And don't forget about Social Media Examiner's Award-Winning Blog.
Thanks for listening! We'd love to connect with you at @buffer on Twitter or with the hashtag #bufferpodcast.
Enjoy the show? It'd mean the world to us if you'd be up for giving us a rating and review on iTunes!
—
About the Show
The Science of Social Media is a podcast for marketers and social media managers looking for inspiration, ideas, and results for their social media strategies. Each week, we interview one of the very best in social media marketing from brands in every industry. You will learn the latest tactics on social media, the best tools to use, the smartest workflows, and the best goal-setting advice. It is our hope that each episode you'll find one or two gems to use with your social media marketing!
The Science of Social Media is proudly made by the Buffer team. Feel free to get in touch with us for any thoughts, ideas, or feedback.