It's not everyday that you hear of someone leaving the tech giant Google to pursue their own fast-growing business.
For Allison Esposito, that's exactly what she did. What first started as a fun side-project and a way to get to know other women in tech, Tech Ladies now connects more than 5,000 women around the world to a network of jobs and opportunities.
We had the pleasure of speaking with Allison about her incredible journey from Google to full-time entrepreneur. Allison shares the story of how a combination of her personal network and social media allowed her to build Tech Ladies full-time.
A huge thank you to Allison for packing this episode with great insights and actionable takeaways for social media managers and marketers looking to discover the power of personal networks on social media and how you can leverage them to start a side-project of your own.
This episode is available on:
In this episode, here's what you'll learn:
Allison Esposito shares why building a personal network on social media over the years has allowed her to take her side-project (side-hustle) and turn it into a full-time business. Some other great things you'll learn as well:
How personal connections on Twitter led to the start of Tech Ladies
Why Allison's personal network allowed her to quickly connect with influential people
Channels that are driving growth for Tech Ladies on a large scale
Why Facebook Groups are such a successful and vibrant channel for Tech Ladies
Where Tech Ladies plans to take social media in the future
3 Tips for Leveraging Social Media to Grow Your Side Project or Business
In Allison's Words…
1. Choose your platforms carefully
Use platforms that are uniquely suited to what your company or brand or community does and needs. So for example, it's just as important what Tech Ladies doesn't have as what we do. We don't have an Instagram right now. We don't have a Twitter. To start from scratch and get to the point where it would be useful and worth our time it would take years. Given our resources, you have to ask: what platforms can we be on and do really well?
2. Really be there
Whatever platform you choose to be on, actually be there. Be active, be helpful, respond to people. One thing that I think is totally underrates is that it doesn't cost you anything to "Heart" something on Twitter or "Like" something on Facebook. It costs you absolutely nothing to do that. Give those out like candy and be extremely generous with them. Often people will pay that back to you.
3. Be positive on social media
This can be really hard sometimes. Most of the time, if you have something to promote, studies show that being positive and upbeat will always outperform a negative Tweet or Facebook message. As long as you're not being overly cheese or fake, I think people really do respond to positivity on social media.
Mentionable Quotes and Shareable Snippets
In Allison's Words…
"To me the whole point of networking or building a network is so that you can meet with all different kinds of people. If you're just inviting your friends you're only ever going to invite their friends. At some point it began growing way beyond friends of friends of friends. It happened immediately, but on a large scale it took a long time."
Show Notes and Other Memorable Moments
Thanks a million for checking out this episode! Below are the websites and other tidbits that were mentioned in today's podcast about personal branding on social media. If you have any questions for us, feel free to drop us a line in the comments and we'll respond right away!
Awesome Stuff Mentioned by Allison
Great Quotes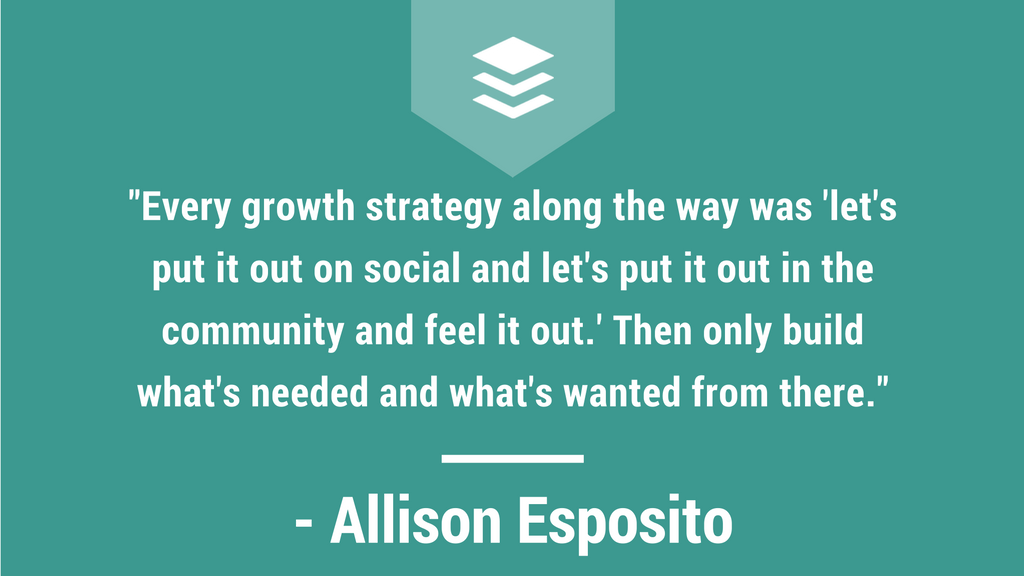 "When you don't have too many people you follow on Twitter, you can actually follow what they're doing with their lives and learn from them. And so I just started scheduling coffee meetings with interesting people on Twitter. That was really the beginning of what is now Tech Ladies."
"I would reach out one by one to people on Twitter to keep in touch and then I made an Excel spreadsheet with contact information. From there I would send out emails which eventually became our newsletter. Really simple stuff."
In making a big decision and how you know it's time is when things are growing faster than you can keep up with. I was working on Tech Ladies from 6 p.m. to midnight five days a week and then usually on Saturdays and Sundays. I was also saying no to great opportunities coming through… I realized that if I couldn't handle it part-time anymore than it was maybe time to go full-time. The demand was there."
"Having a personal network is so important in feeling like there's hundreds of people who support you and giving you a digital high-five when you go to pursue your own side-project. Those are also the people that are going to support you along the way."
"Every growth strategy along the way was 'let's put it out on social and let's put it out in the community and feel it out.' Then only build what's needed and what's wanted from there."
"To me the whole point of networking and building a network is so that you can meet all different types of people. If you're just inviting your friends it won't grow."
How to Say Hello to Allison (and us)
You can read more about Allison on the Tech Ladies About Page.
Thanks for listening! We'd love to connect with you at @buffer on Twitter or with the hashtag #bufferpodcast.
Enjoy the show? It'd mean the world to us if you'd be up for giving us a
rating and review on iTunes
!
—
About the Show
The Science of Social Media is a podcast for marketers and social media managers looking for inspiration, ideas, and results for their social media strategies. Each week, we interview one of the very best in social media marketing from brands in every industry. You will learn the latest tactics on social media, the best tools to use, the smartest workflows, and the best goal-setting advice. It is our hope that each episode you'll find one or two gems to use with your social media marketing!
The Science of Social Media is proudly made by the Buffer team. Feel free to get in touch with us for any thoughts, ideas, or feedback.