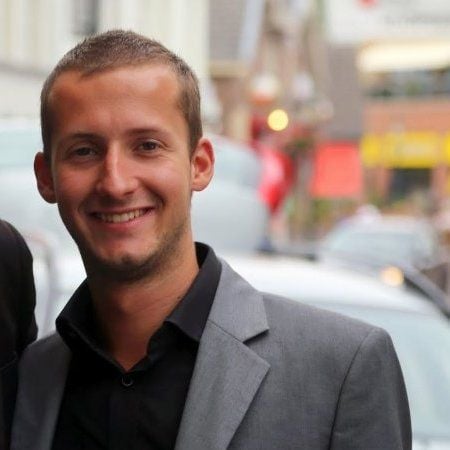 It's a truly remarkable story when I think about how Rodolphe first reached out to us at Buffer and how he eventually became part of the team.
If I were to guess the inspiring philosophy behind Rodolphe's way of coming on board and also his general approach to making things happen, it'd be based on one of Mark Suster's recent posts that I really enjoyed: "Be politely persistent."
Here is how the back story of how it happened: In passing, I briefly mentioned that Buffer will soon start to look for a full-time sales person in a blogpost a while ago here on the Open blog. Since the Open blog hasn't been around for very long yet and didn't get a lot of people reading it, it didn't even cross my mind that anyone would pick up on that. Even less so that someone would take it as a trigger to send in an application.

Here was his first email:

And here is what I replied with:

Rodolphe came back with a killer response then:

I was amazed by Rodolphe's understanding of our culture and our product too. In the meantime, we had decided to not build a sales team at all at Buffer, for a number of reason, but largely because of our focus on culture.
I came back to Rodolphe saying that unfortunately we weren't hiring sales people anymore and that we couldn't bring him on board – here was his awesome response:

I was blown away again! I thought this was such an amazing way to show no pressure whatsoever, but still offer us a way to work with him – just in case.
From then onwards, we realized that whilst we might not quite be building out a sales team at this stage, there're still plenty of "hustler"-tasks that we needed help with, especially on the partnerships side.
What I take away from Rodolphe's approach to work almost daily is how persistent he is with all his tasks and how he sees them through until completion, no matter what. It's sometimes easy for me to get frustrated or feel down after a number of rejections, the strength to just push through and follow up again – in politely persistent manner – is a unique skill I believe.
I'm excited to have Rodolphe join us with a focus on business development on the one side and on product and customer development on the other side. He's already spear-headed an awesome partnership initiative with bit.ly and conducted dozens of interviews with customers to come up with next steps and ideas for Buffer the product.
Rodolphe brings a unique entrepreneurial and go-getter spirit to the table and I feel he's had a tremendous impact on Buffer already.
We ask new team members to write a little something about themselves for Buffer's team page as well as answer a few fun questions (adapted from Vanity Fair's famous Proust questionnaire). Here're some words straight from him:
Straight from Rodolphe
On Buffer
I found Buffer in 2012 and loved it ever since! Then, things got better: I starting reading Buffer blog and heard more about the team… The transparency and authenticity of the Buffer team looked super cool from the outside, and looks amazing from the inside! Working with that merry bunch is a real privilege for me…
What is your greatest extravagance?
Traveling! Airplanes, sailing boats, trains, hitchhiking… I love it all and it really fuels me, I keep moving and it broadens my horizon, I would say that have quite a nomadic lifestyle lately…
If you were to die and come back as a person or thing, what do you think it would be?
I think I would be quite happy to come back as a (cool) cat: wandering about and discovering new people and things at all time, with a keen interest on taking naps in sunny places.
Which talent would you most like to have?
Well that hand-eye coordination thing would be amazing! Managing to catch flying items would be such a novelty…
What do you consider your greatest achievement?
I'm trying to balance "achieving more" and "enjoying a good flow." My latest achievement was to sail across the Atlantic in 23 days, from Canary Islands to St Lucia, Caribbean – together with 3 amazing Norwegians I met one week before we sailed off!
Where would you like to live?
Love that question! My ideal mix changes all the time, but for now something like mixing Paris, Sydney, Malaga (Spain) for about 9 months a year, then another 3 months traveling to new places would be nice. It also helps escaping winter!
***
Rodolphe is based in Paris, France, but moves around a lot. I hope you get the chance to talk with him on Twitter here.
Welcome, Rodolphe!