What is it like to be the Director or Social Media for one America's largest and most engaged universities?
With more than 1,000 social media accounts to oversee and an audience base of over 6 million, Nikki Sunstrum, Director of Social Media at the University of Michigan, knows what it takes to reach and engage with a large demographic of people from prospective students to parents to proud alumni.
We had the pleasure of speaking to Nikki about what it's like to be the Director of Social Media for the University of Michigan and how her team goes about creating great social media content with the goal of making a difference and shaping change.
A huge thank you to Nikki for packing this episode with incredible wisdom and takeaways for social media managers and marketers looking for ways to branch out and create unique social media content that challenges the status quo.
This episode is available on:
In this episode, here's what you'll learn:
Nikki Sunstrum takes us inside social media at the University of Michigan and how they are able to create consistently great social media content for an audience of more than 6 million.
What the University of Michigan's social media team looks like and how they collaborate
How emerging channels like Snapchat and Instagram Stories fit into the larger U of M strategy
Why recruiting "brand ambassadors" can be a great way to connect with your audience on a personal level
What social media success looks like at the University of Michigan and how they measure that data
The type of social media content that U of M is focusing on in 2016 and why it's important
Why injecting personality into your storytelling is important for authentic social media content
3 Social Media Content Creation Takeaways from Nikki
In Nikki's words…
1. Be willing to take a risk with social media content
Continuously trying to push the envelope and make a difference on social media is super important in your overall strategy. Making a difference will bring people back to your communities and want to engage with you time and time again.
2. Always keep a goal and strategy in mind
We don't create accounts, we don't create campaigns, we don't publish content unless it has some sort of strategy or goal behind it. Who's your target demographic? That can help you determine your platform. And then what does your design look like? Should it be a video, a GIF, a cool meme? Determine how you can make that custom to you.
3. Leverage your opportunity to create change and make a difference
"We don't, for the most part, 'can' anything. You have to leverage your opportunity to create change and to leave a legacy and that is what we try to do here every single day."
Mentionable Quotes and Shareable Snippets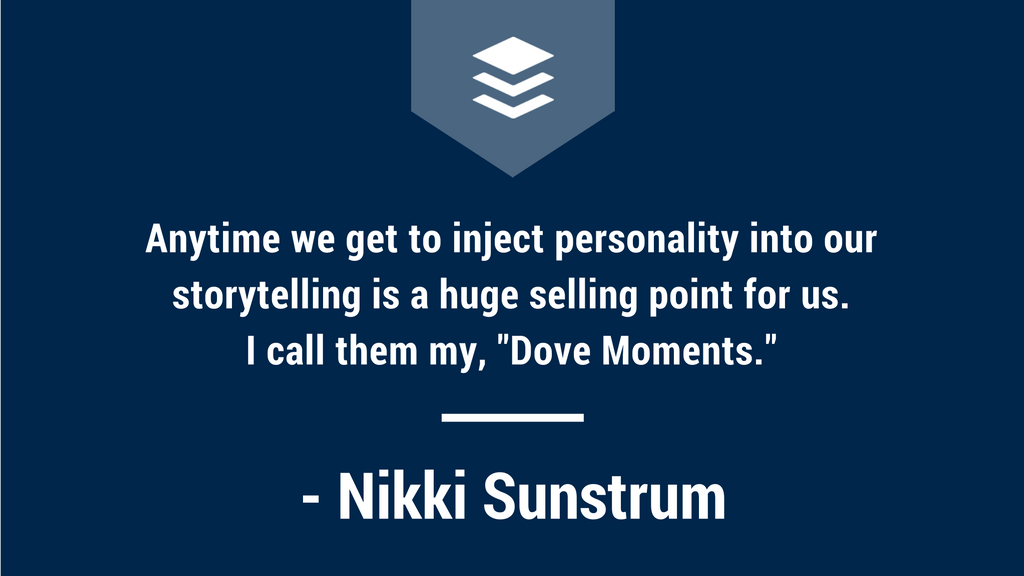 "Anytime we get to inject personality into our storytelling is a huge selling point for us. I call them my, "Dove Moments. Dove has been such a ground-breaking company in telling that really dynamic, emotionally-based story and moving beyond just product sales into this concept of health, wellness and beauty. And so we try to apply a similar strategy to our own content to broaden the types of dialogues that we have."
Show Notes and Other Memorable Moments
Thanks a million for checking out this episode! Below are the websites and other tidbits that were mentioned in today's podcast about personal branding on social media. If you have any questions for us, feel free to drop us a line in the comments and we'll respond right away!
Tools and Resources Used by Nikki and UofM
Social Media at UofM – Read more about all of the awesome social media projects Nikki is working on
Slack – The communication tool UofM uses for team collaboration
YikYak – "Find your herd. Yik Yak helps you feel at home within your local community."
DigitalStake0ut – A tool for "Digital Risk Intelligence"
Meltwater – Social Media and Media Monitoring
Great Quotes
"Every platform that we leverage has a specific target demographic for us. And so based on the type of event that's happening or the type of people we'd like to reach, we'll use that respective platform."
"We download all of our Snapchat stories before they expire and upload them into a YouTube playlist. That allows us to tell those stories on different platforms and for people to engage with them for years to come."
"The @UMichStudents account we manage and turn over to a different student every Sunday evening. That account just surpassed 18,000 followers and it's a coveted position among peers here at the University of Michigan."
"We're continuously looking to establish the University of Michigan as an industry leader in social media. U of M is the only university to rank in the top 10 for size on every social media platform.  Having those numbers is a success."
How to Say Hello to Nikki (and us)
Nikki is active on Twitter at @nikkisunstrum and you can read more about Nikki's work at the University of Michigan's staff page.
Thanks for listening! We'd love to connect with you at @buffer on Twitter or with the hashtag #bufferpodcast.
Enjoy the show? It'd mean the world to us if you'd be up for giving us a
rating and review on iTunes
!
—
About the Show
The Science of Social Media is a podcast for marketers and social media managers looking for inspiration, ideas, and results for their social media strategies. Each week, we interview one of the very best in social media marketing from brands in every industry. You will learn the latest tactics on social media, the best tools to use, the smartest workflows, and the best goal-setting advice. It is our hope that each episode you'll find one or two gems to use with your social media marketing!
The Science of Social Media is proudly made by the Buffer team. Feel free to get in touch with us for any thoughts, ideas, or feedback.