The art of Facebook marketing in 2016 is one that is constantly evolving. Tweaks to Facebook's algorithm look to drive a more pleasant user experience while brands and individuals share more and more organic and paid content everyday.
But some brands continue to drive hundreds of thousands of engagements on Facebook each month regardless of the influx of content. The Next Web is one of those brands!
We had the pleasure of speaking with Matt Navarra, Director or Social Media and Head of Content for The Next Web, about how his team approaches Facebook marketing in an unorthodox way and why that may be the secret to their success. Matt also dives into the importance of experimentation and practicing out-of-the-box thinking and how you can inject personality into your Facebook marketing to help you stand out.
A huge thank you to Matt for packing this episode with great insights and actionable takeaways for social media managers and marketers looking to learn about a Facebook marketing strategy that really works.
This episode is available on:
In this episode, here's what you'll learn:
Matt Navarra shares The Next Web's specific strategy and how their approach to content helps them to gain a ton of engagement each month on Facebook. A few other great things you'll learn include:
Why social media should be intertwined with every part of the content creation process
The Next Web's unorthodox approach to posting on Facebook and why it works
How to add a "human" element to your strategy and why it's important for engagement
Crafting individual content across social media and how to make the most of every blog post
The art of writing a Facebook caption and headlines that draw attention to your content
Why keeping things simple of Facebook works tremendously for The Next Web
3 Top Facebook Marketing Tips to Increase Engagement from Matt
In Matt's Words…
1. The Use of Audience Targeting
You can target your posts from the moment you go into your normal Facebook page admin mode to different audiences. These are the people that you can show to your posts to first because it's more applicable to them. Those are based on key pages or key topics that you can then tag for the posts. We've been experimenting with some of our posts that we put up on Facebook as audience-targeted.
2. Engagement Your Audience on Facebook
A lot of the engagement I see on Facebook Pages by admins  is simply functional, as in "I better respond to this." (To deal with a problem with a post). We try and engage as much as possible with the tiny team of two social media managers we have at TNW. Particularly on a Friday when we're in that moment and want to have a bit of fun… We'll join in on a joke that people are making about something that we've written about or we'll just turn up as if we've just pitched up to a party as id "Hey, I'm just hanging out." We do that as much as we can. That makes it so people know that you're simply part of the community – that classic community management stuff.
3. Keep Things Simple and Give Your Audience What They Want
People try and use all of the new formats and make complicated posts. But really, in this current social climate, there's so much choice where you can get things on social and also the volume of things that people are trying to spin through. What people really want is something that is simple, clear, and something that strikes an emotional chord. Keep it simple and start to pay close attention to what is and isn't working. Look at some of the insights to give you some extra flavor for it, but don't be blinded by the numbers too much.
Mentionable Quotes and Shareable Snippets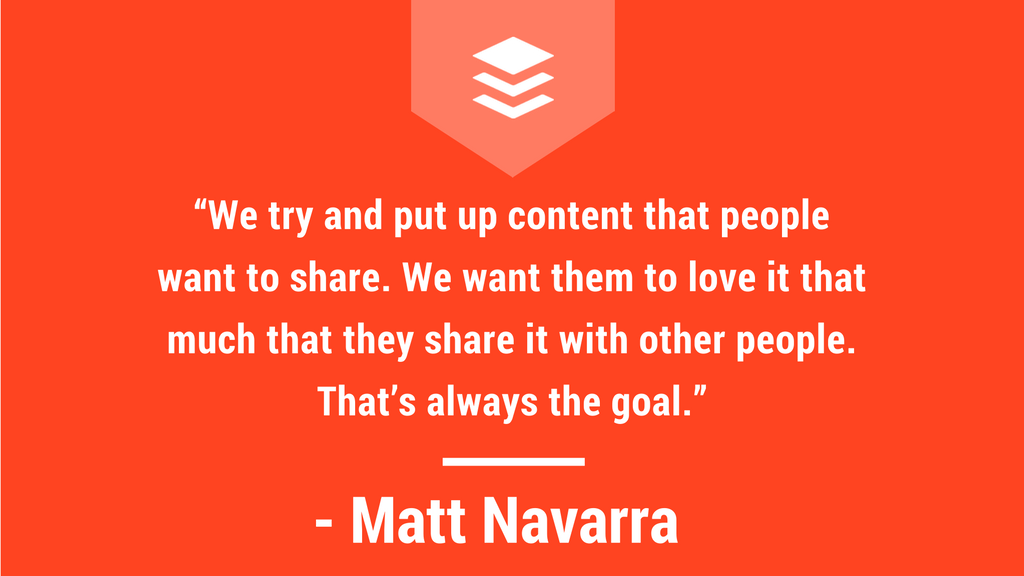 In Matt's Words…
"Testing some bizarre or unusual things that others are not doing might be that spark of genius or something weird might happen that we had not expected and that might be where the gems are that we're able to benefit from."
Show Notes and Other Memorable Moments
Thanks a million for checking out this episode! Below are the websites and other tidbits that were mentioned in today's podcast about personal branding on social media. If you have any questions for us, feel free to drop us a line in the comments and we'll respond right away!
Awesome People and Brands Mentioned by Matt
Awesome Tools Mentioned by Matt
Great Quotes
"It's important to not let social media be an afterthought or an add-on at the end of the process of writing a blog post. It really should be the first thing you think of when you've got the idea for your story or you've seen something that you want to cover. Social media should be threaded throughout the writing process."
We spend a lot of time crafting and thinking about personality and the "human element" with everything we do on Facebook. And I do think that has helped to get a really strong audience that comes back for more and wants to be part of the TNW community.
"We try and put up content that people want to share. We're not looking to put up things that people want to "like" or people want to just read. We want people to love it that much that they share it with other people. That's always the goal."
"We believe that the engagement is as important as getting the traffic and so we're perfectly happy to put up things that aren't there to drive traffic, but that  are there to drive social engagement."
How to Say Hello to Matt (and us)
Matt is super active on Twitter at @MattNavarra and you can read more about Matt on The Next Web's About Page.
Thanks for listening! We'd love to connect with you at @buffer on Twitter or with the hashtag #bufferpodcast.
Enjoy the show? It'd mean the world to us if you'd be up for giving us a
rating and review on iTunes
!
—
About the Show
The Science of Social Media is a podcast for marketers and social media managers looking for inspiration, ideas, and results for their social media strategies. Each week, we interview one of the very best in social media marketing from brands in every industry. You will learn the latest tactics on social media, the best tools to use, the smartest workflows, and the best goal-setting advice. It is our hope that each episode you'll find one or two gems to use with your social media marketing!
The Science of Social Media is proudly made by the Buffer team. Feel free to get in touch with us for any thoughts, ideas, or feedback.