Did you know that more than 30 billion pieces of content are shared on Facebook every single month?
That's a lot of content!
As marketers and brands, we sure have our work cut out for us in terms of getting our content in front of potential customers. Even the best of the best pages are only organically reaching around 2% – 8% of their total Page's audience base!
That's where the power of Facebook Advertising comes into play. Not only do Facebook Ads allow you to get your content seen by more people, but they allow you to get your content in front of the right people.
We had the great pleasure with speaking to one of the premier experts in Facebook marketing, Mari Smith, about just how important Facebook advertising can be for businesses and how to effectively implement and Ads strategy. Mari shares her personal Facebook ninja tips along with some incredible stories of businesses who have seen their sales go from $1 million to $10 million in just 18 months.
A huge thank you to Mari for jam-packing this episode with actionable wisdom and takeaways for social media managers and marketers alike looking to drive real customer acquisition results with Facebook Ads.
This episode is available on:
In this episode, here's what you'll learn:
Mari Smith shares her expert insights into the importance of Facebook Advertising for brands and businesses along with several successful strategies that you can implement today. You'll also learn great things like:
How to get started with Facebook Advertising
The importance of Facebook Pixels and Remarketing
Examples of several brands who have built a fortune with Facebook Ads
How much you can expect to spend on advertising
The future of Facebook and where advertising is headed
3 key takeaways for marketers and brands looking to get the most bang for their buck with Facebook Advertising
In Mari's words…
1. You're in the business of education, first and foremost
You're in the business of education. It's not always, "buy my stuff, buy my stuff." Provide valuable, highly-shareable information.
2. You must have a budget
You must have a budget. Nominal is fine, we spoke about that quite a bit – $5 per day, $10 per day, even start with $1 per day!
3. Test, test, test
Test, test, test, test, test!
Mentionable Quotes and Shareable Snippets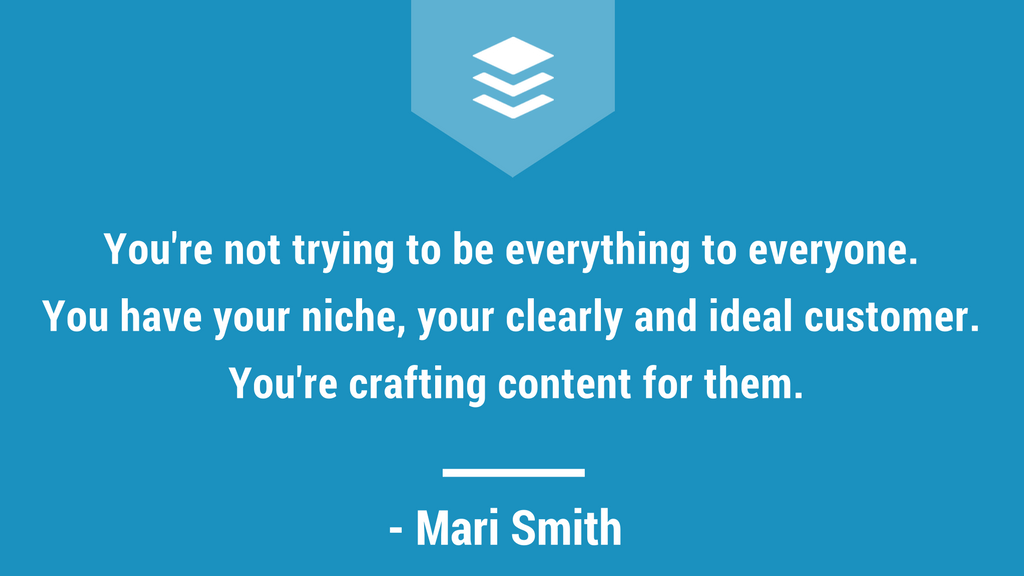 It's geared towards your audience. You're not trying to be everything to everyone. You have your niche, your clearly defined "who you're trying to reach – who is your ideal customer." And you're crafting content for them.

– Mari Smith
Show Notes and Other Memorable Moments
Thanks a million for checking out this episode! Below are the websites and other tidbits that were mentioned in today's podcast about creating incredible Facebook communities using groups. If you have any questions for us, feel free to drop us a line in the comments and we'll respond right away!
Awesome People, Shows, & Articles Mentioned in the Show
Mari Smith – More information on Facebook's new dedicated Video News Feed
Great Quotes
"I've said for years that Facebook Advertising is the most targeted traffic that your money can buy, that your advertising dollars can buy. It's gotten much more effective, more accurate, and more leverageable.
"You should be focusing on creating good content, really good content. It all starts with amazing content that you'd be willing to put some advertising dollars behind."
"My number one tip for creating content is that it has to be so compelling, thumb-stopping actually, Facebook uses the term thumb-stopping."
"The magic, secret-sauce is the ability to go in and create custom audiences based on videos views alone."
"You're in that one-on-one dialogue with your customers or prospects with Facebook Messenger. That's one of the biggest areas that a business can invest in – responding to people as they message you."
"One of the primary uses of your ad dollars is for lead generation. It's not necessarily to immediately make a sale, but to collect email addresses and nurture that relationship."
"You've got to create your content (and ad content) in a way that is engaging and relevant to your audience… I see so many ads on Facebook these days that are just jarring."
How to Say Hello to Mari (and us)
The Queen of Facebook, Mari Smith, is a fantastic influencer to follow on social media. You can find Mari on Facebook here, and read more about her amazing story or get in touch at marismith.com.
Thanks for listening! We'd love to connect with you at @buffer on Twitter or with the hashtag #bufferpodcast.
Enjoy the show? It'd mean the world to us if you'd be up for giving us a rating and review on iTunes!
—
About the Show
The Science of Social Media is a podcast for marketers and social media managers looking for inspiration, ideas, and results for their social media strategies. Each week, we interview one of the very best in social media marketing from brands in every industry. You will learn the latest tactics on social media, the best tools to use, the smartest workflows, and the best goal-setting advice. It is our hope that each episode you'll find one or two gems to use with your social media marketing!
The Science of Social Media is proudly made by the Buffer team. Feel free to get in touch with us for any thoughts, ideas, or feedback.