Learning about the experiences and history of LGBTQ+ people shouldn't stop after June, which is why we wanted to share an updated list of resources to help us all learn how to be the best allies we can be!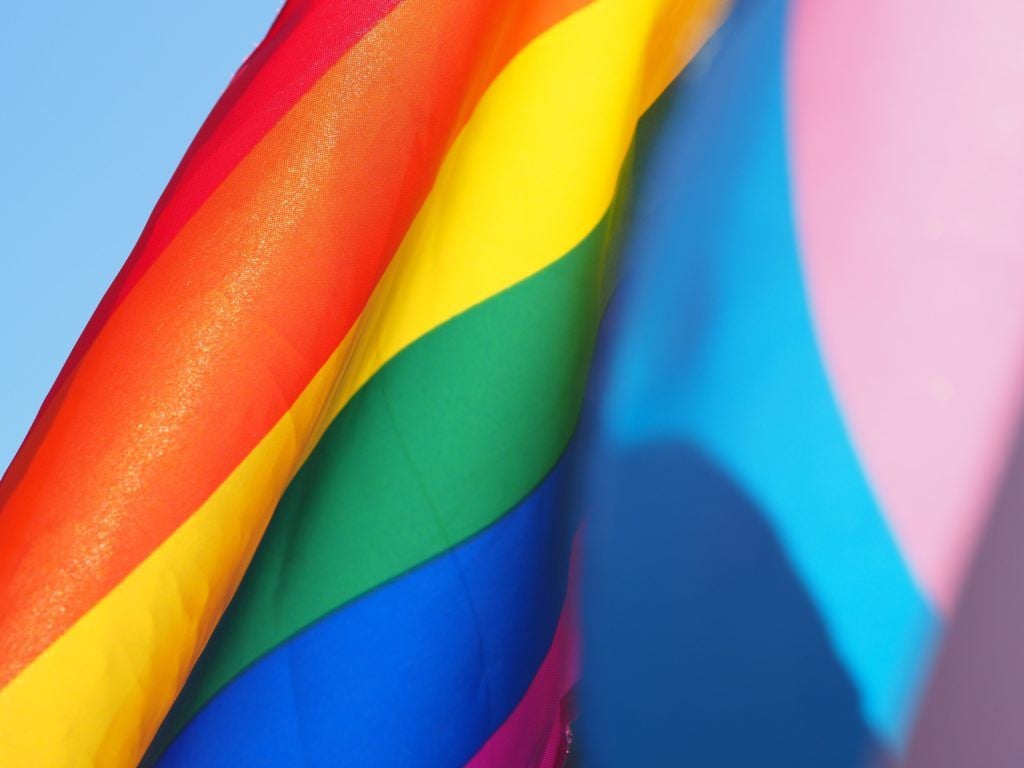 First, a brief history of Pride
Although Pride might seem like a month of parades and glitter these days, its origins are far from celebratory. The first Pride rally occurred a month after the Stonewall riots in 1969.
A well-known gay bar, Stonewall was a safe space for drag queens, trans folk and the LGTBQ community. Back then, police raids on gay bars were happening so frequently that many thought they were trying to extinguish gay nightlife altogether.
On  June 28, 1969, during another typical night of police persecution, Stonewall patrons fought back – and created a watershed moment for the queer movement in the United States. On the one-year anniversary of the riots, events held to commemorate the riot became the first spark of what would become Pride.
Today, Pride events commemorate the history of the LGBTQIA social movement and mark an opportunity for the community to come together. Celebration is a big part of it, but it's key to remember the activism and bravery that started it all.
OK, so what exactly is LGBTQIA?
LGBTQIA is an acronym that collectively refers to individuals who identify as in any of the following ways:
lesbian
gay
bisexual
transgender
queer
intersex
asexual
A more complete acronym is LGBTQQIAAP: lesbian, gay, bisexual, transgender, transexual, queer, questioning, intersex, ally, asexual, and pansexual: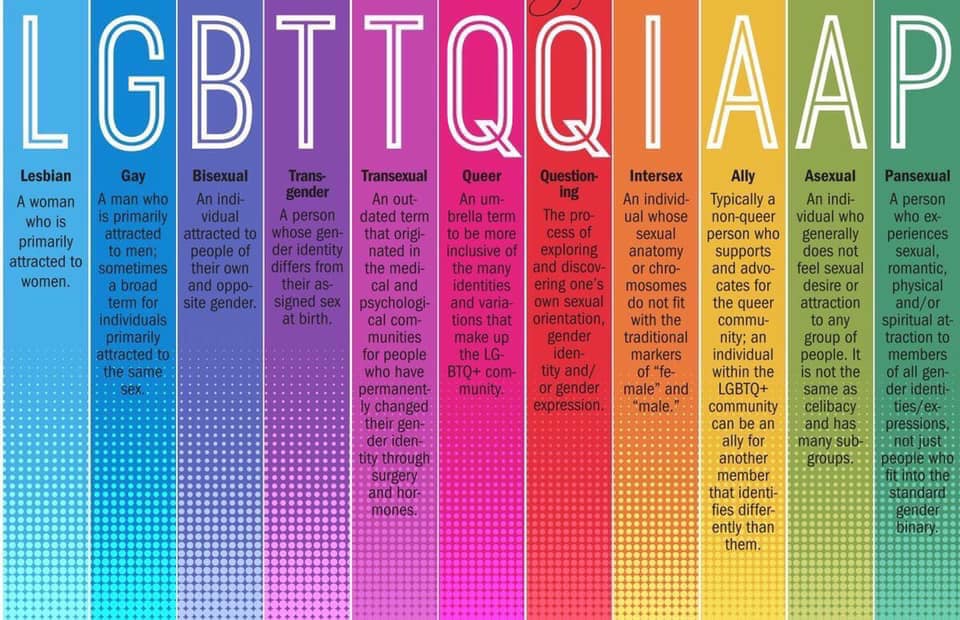 An even more comprehensive (though still not exhaustive) acronym is LGBTQQIP2SAA: lesbian, gay, bisexual, transgender, questioning, queer, intersex, pansexual, two-spirit (2S), androgynous, and asexual. Here's a more detailed explanation:
A growing movement lobbies for dropping the rapidly growing acronym and replacing it with the umbrella term GSM, standing for "gender and sexual minorities."
Clearly there many options to collectively refer to this large and diverse community – and of course, differences of opinion. In the end, it's not about using the perfect acronym, but it is about trying to respect all people with our language.
LGBTQIA Vocabulary Lists
Anxious about saying the wrong thing? Lots of us talk as little as possible about issues of sexuality and gender expression identity because we're worried about messing it all up.
These glossaries can help make conversations easier and help all of us acquire the language to be as respectful and accurate as possible with our language.
A quick caveat: Vocabulary is evolving rapidly in these areas, and definitions can often vary across communities and individuals!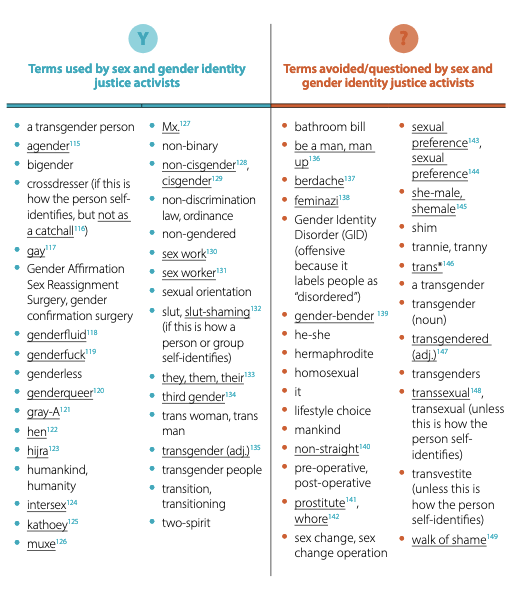 Some great starting-place videos for allies
Twitter lists
Adding different voices to your social media following can be a great way to break out of your filter bubble. This great Twitter thread from Marco Rogers is a great primer on how to make it happen. Or check out the lists below:
Instagram lists
Instagram is increasingly a great place to go to get a view into perspectives outside your own. Here are some places to start:
Resource lists
General LGBTQ resources
GLAAD's LGBTQ Resource List
Straight for Equality has a great list of workplace learning sessions
The HRC Corporate Equality Index: Designed to help you learn more about where your company stands when it comes to equality.
Breaking Binaries Worksheet: Use this worksheet to understand how you personally understand your assigned birth sex, gender expression, gender identity, and sexual orientation. It can be a conversation starter about non-binary identities.
Test Prep Insight's College Guide and Resources For LGBTQ Students: This guide covers all aspects of college life for LGBTQ students, including common challenges, tips for integrating into campus life, and perhaps most importantly, guidance from experts on navigating college relationships.
LGBT Scholarships: Equal Possibilities for High-Quality Education
Ultimate Guide to Resources for LGBTQ+ Students: This guide covers resources for LGBTQ+ students in higher education, including scholarships, events, clubs, anti-bullying hotlines, and more.
Resources from the American Psychological Association:
RetireGuide's LGBTQ+ Elder Health Care Guide
Trans-specific resources
Ally-specific resources
Books and movies lists
Ready to dive deeper? Here are some book lists to deepen your journey as an ally.
Over to you
I learned a lot while researching this list (I personally still have a lot to learn about the history of the movement) , and I hope some of this information will be helpful to you, too.
We want to hear what's on your list, too! Please add your favorite resources in the comments so we can all keep learning together!