This a guestpost from Amanda DiSilvestro, content writer at Business.com. More about Amanda at the bottom of the post.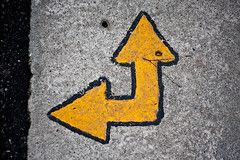 If anyone follows me on Twitter they know that I tweet my own content. I do not tweet only my own content, but I tweet it. I like it. I wrote it. I want others to learn from it. So I tweet it. I see nothing wrong with promoting your personal or your company articles as long as you tweet your connections articles as well.
This helps increase the quality of your tweets; therefore making you a better person to show up on someone's feed. It shows that you aren't using Twitter just for a promotion tool. Right?
If you really stop and think about it, promoting your followers content just for the sake of creating a connection is still a type of promotion. In general, you hope that by tweeting their content they will tweet yours in return. This led me to wonder: Is anyone really using Twitter to find great information?
Apparently, I am not the only one who has caught on to this possible misuse of the network. The Nieman Journalism Lab conducted a study that answers the very question: Is Twitter used more for promotion, or more for information?
The Facts
In general, company Twitter pages are the ones using the social medium as a form of self-promotion. As the Nieman Journalism Lab puts it—a glorified RSS feed. According to a studied released by Pew's Project for Excellence in Journalism,
"fully 93 percent of the postings over the course of the week offered a link to a news story on the organization's own website."
The study examined 13 of the most Twitter-happy news organizations over a one week period. It was a typical week (no breaking news stories), but most agree that more extensive research should be done.
On a similar note, the study found that individual reporters had very similar behaviors to major companies. They also used Twitter as a way to share their own information, and the study found that just 3 percent of the individuals' tweets were of an outside organization. Consider the chart created by Nieman below: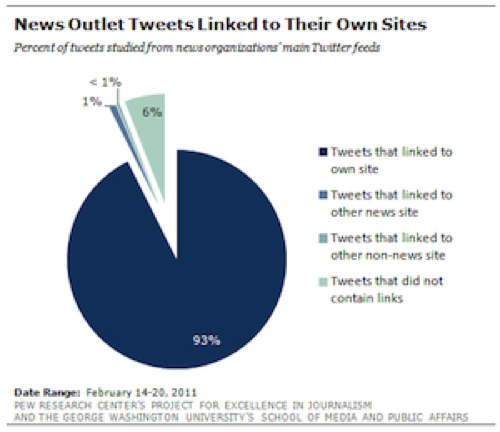 After looking at some of the data, I decided to come up with reasons why this isn't a problem and reasons why this could get ugly:
In Defense of purely promoting
If people want to follow a business, they probably want to see articles from that business. It's a quick way to see what it being put on the website without actually having to rummage through the different webpages. For example, if I follow The Wall Street Journal, I expect to see content from The Wall Street Journal, not just content they find interesting.
Business Twitter pages are usually managed by a group of people. At the very least, they represent an entire organization. Therefore they have no need to use Twitter to find great articles. An individual might, but a business page can't very well worry about the type of content every single person in the office would like to see.
Reporters, even when they are off the clock, still have to uphold the image of their company (as do many others in the professional world). This makes it harder for these individuals to really be themselves on the social network.
The Pros to focusing too much on promotion
If your content gets tweeted that's great, but if no one clicks on the articles and reads them, then what's the point? If people (companies included) are only visiting Twitter long enough to tweet their own content, then tweets really don't matter.
Although Twitter is free and it's probably worth a shot to hope someone clicks on the link you have tweeted, companies and individuals should learn Twitter best practices. It would likely help increase your number of followers, and it only takes a few minutes to read over your feed and find some great stuff that can help you.
The defense says that some people like when users only tweet their own content, but the flip side can be just as true. Many people find this annoying, so you will lose a follow quickly. It's less likely that someone unfollows your account because you occasionally retweet others information; it's more likely that someone unfollows you because you only tweet your own.
Your Verdict?
I keep saying twitter best practices, but in reality Twitter is a free service. You are free to do whatever it is you wish. Do people use Twitter more for self-promotion than a way to find news that interests them? What have been your findings?
Photo Credit: ValleeC
About the author:
Amanda DiSilvestro is a writer on topics ranging from web analytics to background checks. She writes for an online resource that gives advice on topics including small business loans to small businesses and entrepreneurs for the leading business directory, Business.com.