While just a little over turning 3 years old, Instagram has made huge strides in social media. With over 150 million users on the platform, 16 billion photos shared, and 1 billion likes happening each day, the photo-sharing and editing platform is one of the most engaging channels on social media.
Instagram has some pretty different functionalities in comparison to other social media sites and is fundamentally based on being able to simply upload and share beautiful images instantly. Except, looking at the other capabilities, Instagram is still a platform to share things and identifying what is working and what isn't helps to determine what a specific audience craves.
As a marketer, I'm completely intertwined in social media as it represents a pretty big channel and never ceases to change everyday. But, I also have to monitor all of the other channels (ex: Traffic, SEO, Paid Advertising, Earned Media, etc.), so finding out how I could get the most out of Instagram while coupling with the scarcity of time.
At TrackMaven, we released a huge report on how the Fortune 500 uses Instagram and we found some pretty awesome pieces of data that are extremely applicable in optimizing engagement in your Instagram account to resonate with your audience.
1. Instagram Photos dwarf Video
On June 20 2013, Instagram released a 15 second video component to their platform as a direct competitor to Twitter's Vine and gained some popularity in its first 24 hours with 5 million videos uploaded. Instagram video functions like the photo part with filters and users can also upload their own videos to edit as well.
The biggest video sharing platform, Youtube, which boasts over 4 billion videos viewed each day and 800 million unique visitors visit the platform each month, one would think that Instagram video could have the same ramp in success with video. Yet, that is not the case… just yet.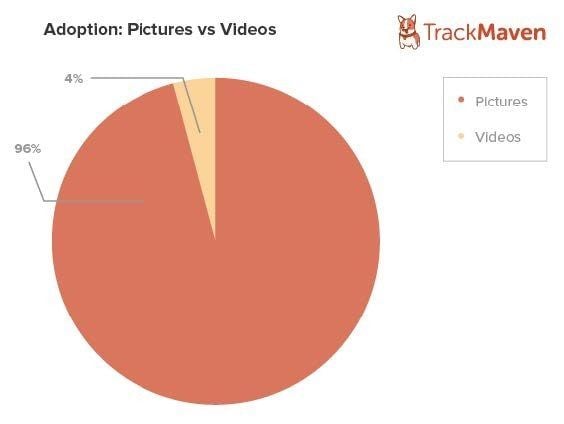 55 Million photos on average are uploaded each day, while the adoption rate of video is barely scratching the surface. In the US Fortune 500, only 4% of the big brands have adopted video.
Currently the average photo receives an average of 37 interactions per 1,000 followers, while videos are behind with an average of 24 interactions per 1,000 followers. So, sticking with photos to get more comments and likes is a safe bet, however, it's not to say adding video will lower those interactions. Instagram video isn't even a year old yet, so adding in a diverse mix will only strengthen your account in the long run.
2. Normal or #nofilter is by far the most popular filter, but it is not the most effective.
Instagram's filters are arguably the most unique function it has as a social media channel. With the likes of Twitter and the new iOS7 adding in the capability of adding filters directly to your photos through your device, Instagram filters are what helps make the platform unique. But what are the filters that are used the most; are they the ones that also harness the most interactions from your Instagram followers?
One of my favorites is lo-fi, as I am one of those people who frequently snaps pictures of my food (Even though it apparently makes my food less appealing when I'm ready to eat…psh, right) brings out the warm undertones of food. Lo-fi is also one of the most popular filters used by big brands sandwiched in between Normal (or No Filter) taking the first place spot and X-Pro II in third place.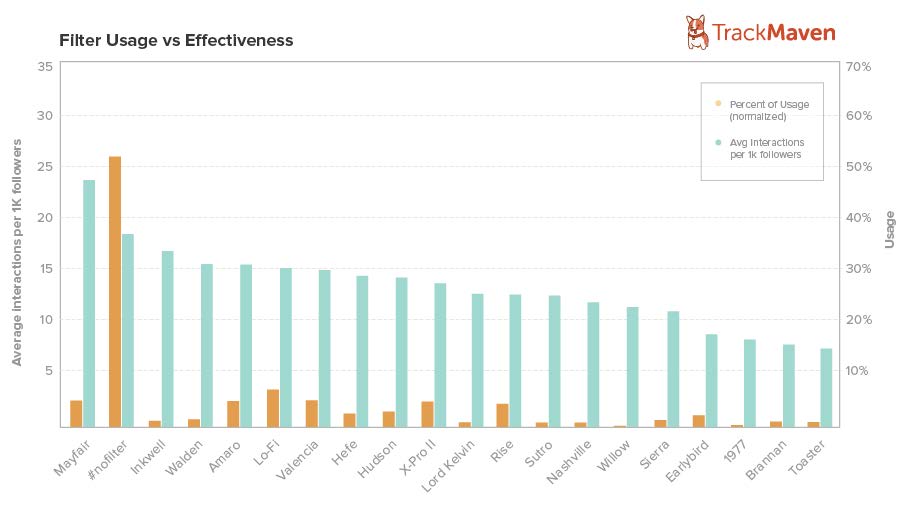 However, filter usage versus effectiveness varies from the popular choices. Mayfair brings in on average 23.044 interactions (the sum of likes and comments) with Normal at about 18.009 average interactions and Inkwell with 16.407 average interactions.
So yes, that filter may make your picture stand out; however, is it going to garner the right attention with your audience? Beauty is in the eye of the beholder, but the data doesn't lie!
3. Best day to post: Most people post on Thursday, but Sunday would be most effective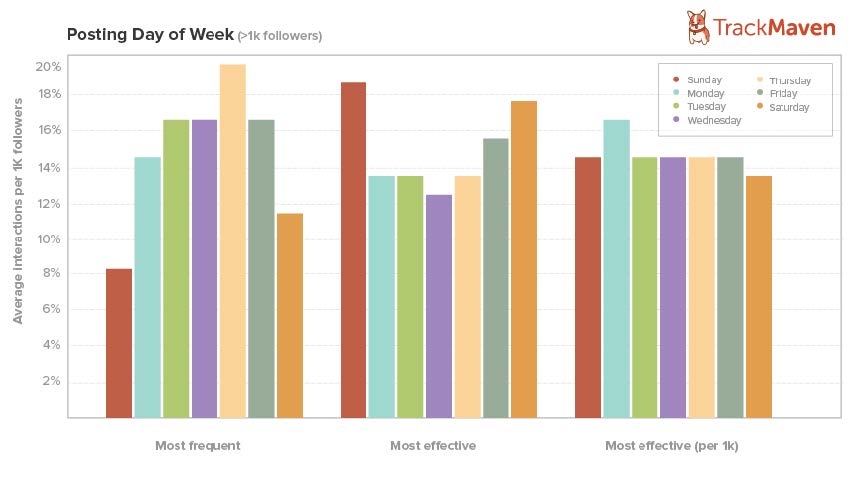 In regards to email, tweeting, Facebook posts etc, there are days of the week that will gather more attention, but it's the complete opposite for Instagram.
With the mobility of Instagram it is inherently on "24/7," making any day of the week optimal for posting. While looking at the Fortune 500, there is no conclusive best day of the week to post on Instagram, but people do post the most on Thursday.
4. When is the best time of the day to post videos?
The best time in the day to post follows the same tune after the best day of the week to post.
Larger brands are posting more frequently during business hours while gaining on average 16.31 interactions during workday hours. However, during off-hours and weekends, photos get about 15 interactions.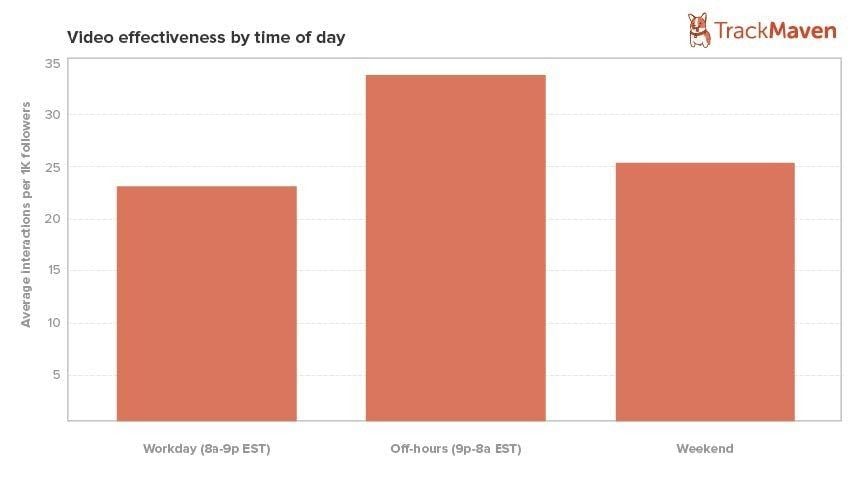 If you're posting a photo, Instagram still holds the theme of being on 24/7 with the interaction levels remaining the same throughout the day; yet, when posting a video there are differing results. With the average number of interactions at 33.44, Instagram videos are best posted during off-hours (9pm-8am EST) gaining on average 33.44 interactions.
It might be because of the sound component for videos with Instagram, so they pose to be difficult to watch in secrecy during the work-day or it could be that more people have time to watch videos after work.
When it comes to figuring out the best time of day or best day of the week to get the most out of your posting strategy should reflect your audience and when they interact with you the most.
5. For every 33 likes you get 1 comment on average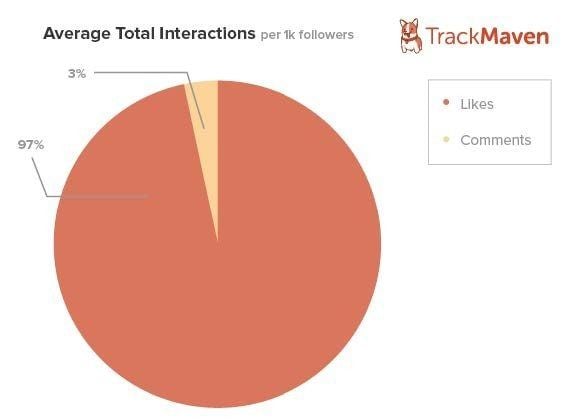 It's easy to like a post on Instagram because it only takes a "double-tap" of a finger to do it; however, comments take a little extra work. With the Fortune 500, likes make up about 97% of the average interactions with comments taking a sliver of 3%.
Keep this in mind when posting onto Instagram, as it looks like conversation on Instagram may be a fruitless effort. You're bound to get some of the billion likes that happen daily.
6. The Golden Number of Hashtags
Many experts advise against using more than two hashtags at a time and I even considered it an extreme social media faux pas to hashtag more than once. Except the data on hashtags on Instagram crushed all of those former thoughts.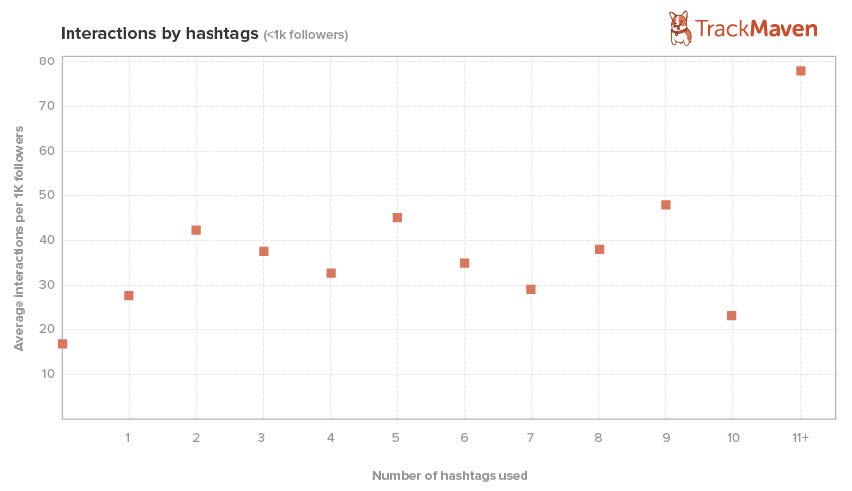 With larger brands on Instagram with more than 1,000 followers received on average 21.21 interactions per post. However the more startling numbers came in with accounts with less than 1,000 followers where a post with 11 hashtags received an average of 77.66 interactions.
With the surprising data behind the number of hashtags a brand can use for Instagram postings to increase interaction, it points out that users don't just stop at the instant edit and upload. They also want to share, curate, and discover other images that they are interested in. Having the right number of hashtags will increase interactions and it will also allow for your posts to be discoverable in the search window and through a simple click from the user on the hashtag. Don't go hashtag crazy, but adding a number of relevant hashtags to your posts can increase their visibility to users who share in the interests you are posting about.
7. The most clicked URL to put on Instagram
Instagram mainly functioned as a mobile app, until about a year ago when it opened up desktop browser profiles. It still functions on mobile as you cannot take a picture from your computer and upload it to your account.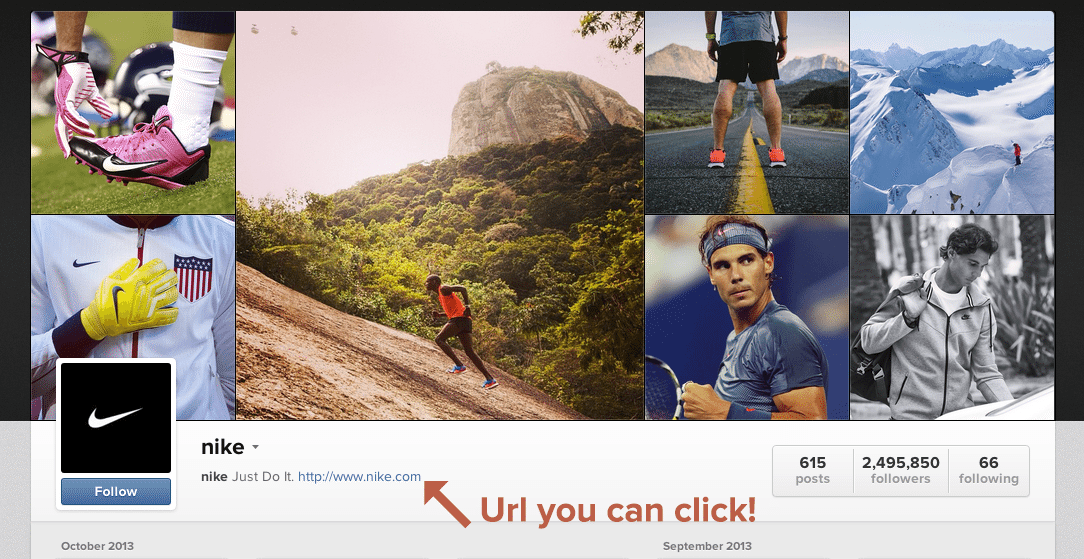 But that isn't to say you should just have a mobile focus. When looking at an Instagram profile on a browser on your desktop you are able to click on the links provided in the profile taking you to whatever destination they link to. For example, if you are recruiting for new hires and your Instagram reflects your company culture, why not insert a link at the top to the job listings? Try out different CTA's in your profile description to target all users coming in to view your posts.
8. Filters, hashtags, photos and videos aside, your audience is your champion.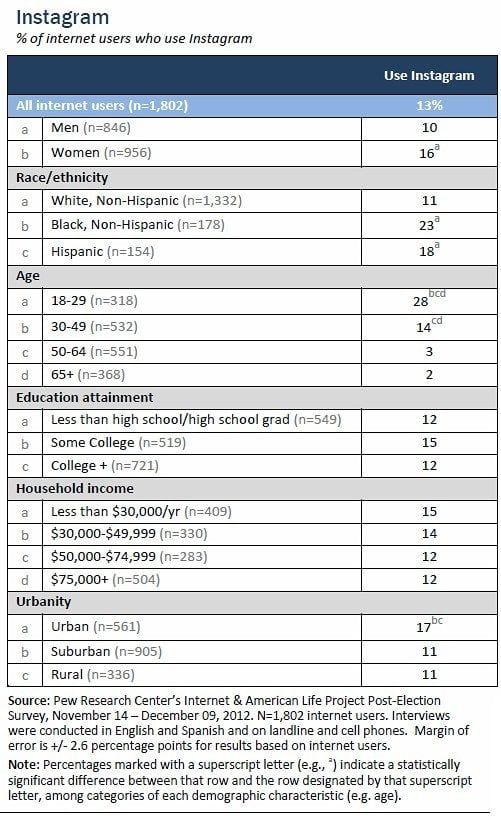 About 13% of internet users use Instagram with varying demographics. Just like every social media channel though there are ways to make the most out of each without forgetting about your number one priority — your audience.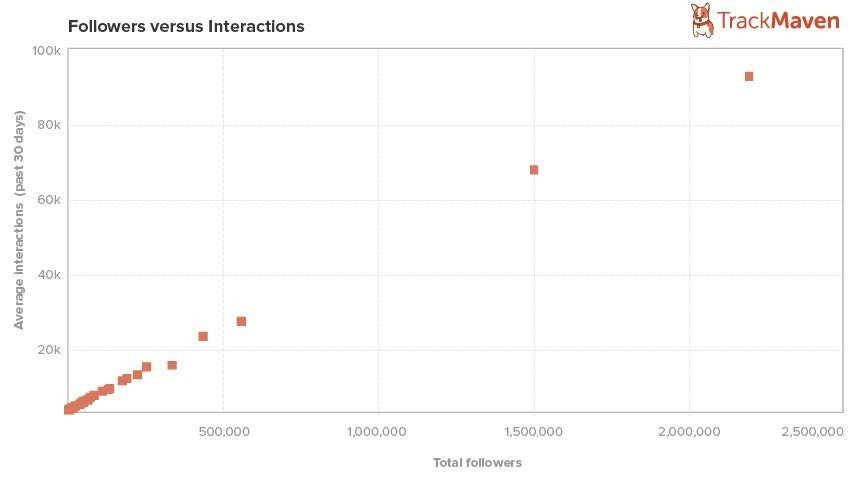 This isn't a startling graph because the pieces of data in it tells us what we already know. Interaction levels increase as followers increase and Instagram is an "efficient" social platform in that an increase in followers will be roughly correlated with a proportional increase in average interactions. Keeping your Instagram strategy audience focused shows that increased followers with inevitably increase interactions as well too.
Update: Buffer has created a quick guide for gaining your first 1,000 Instagram followers: you're welcome to check it out here!
Not Just For Vintage-Looking Photos Anymore
Instagram itself has evolved way beyond the stereotypical latte art, sunsets, corgi puppies, and a good-looking dinner (ok, I'm still guilty in uploading all of these images), and is a visually stimulating platform that brands should take advantage of to share their message.
Craving more data…or Corgi pictures filtered in Mayfair? Check out the rest of TrackMaven's Instagram Report.