Want to make your business stand out on Instagram? Check out our complete guide to Instagram marketing and get the playbook that drives results for Instagram's top profiles.
Businesses have been using Instagram as a way to build their audience and connect with customers for a while now without too much insight on how their content is performing. But soon, they'll be able to dive way beyond total likes and views.
Instagram has officially announced the launch of its tools for business users, including new business profiles, analytics and the ability to create ads from posts directly within the app.
The Facebook-owned company worked with hundreds of business users to understand what was needed to enhance their Instagram experience, and three key needs became clear—stand out, get insights and find new customers.
Most importantly, they found that businesses want the ability to stand out on Instagram. Secondly, they realised that businesses needed more insights into their post-performance. During their research, a retailer in Austin explained that many analytics are overwhelming and hard to apply to its marketing. And third, businesses want to reach even more customers.
With these insights in mind, the company developed new Instagram Business Tools and we'd love to share what's coming with you.
Let's jump in!
Business profiles
Business profiles are a free feature for accounts wanting to be recognized as a business on Instagram. As noted previously, brands with a business profile can choose how they want their customers to get in touch with them: call, text or email with a tap of the contact button as well as get directions.
Business profiles will only be open to those who already have a Facebook Page for their business. Instagram's Global Head of Business and Brand Development, James Quarles explained the reasoning behind this decision to TechCrunch: "In doing that, it gives us the payment credentials, as well as if they want to prepopulate some of the information like their street address, the phone number, and the website."
The 'Contact' button will appear next to the Following button in the profile information section of the page. Upon clicking the button, users will have the option to get in touch with the business or get directions to their location.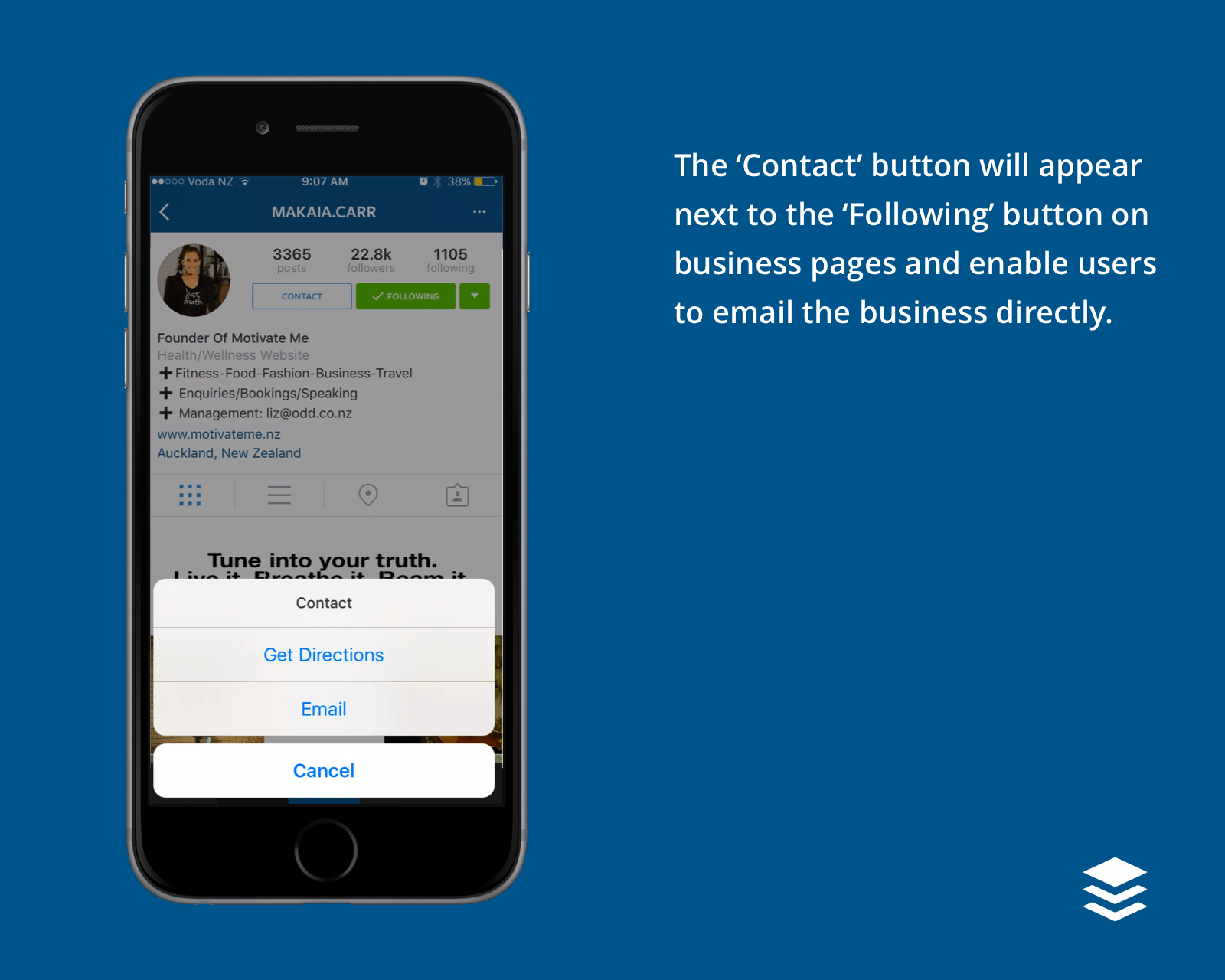 The 'Location' tag will be displayed underneath the current website link on a business page and when tapped, will open up a map showing the business location and enable users to get directions from their current location.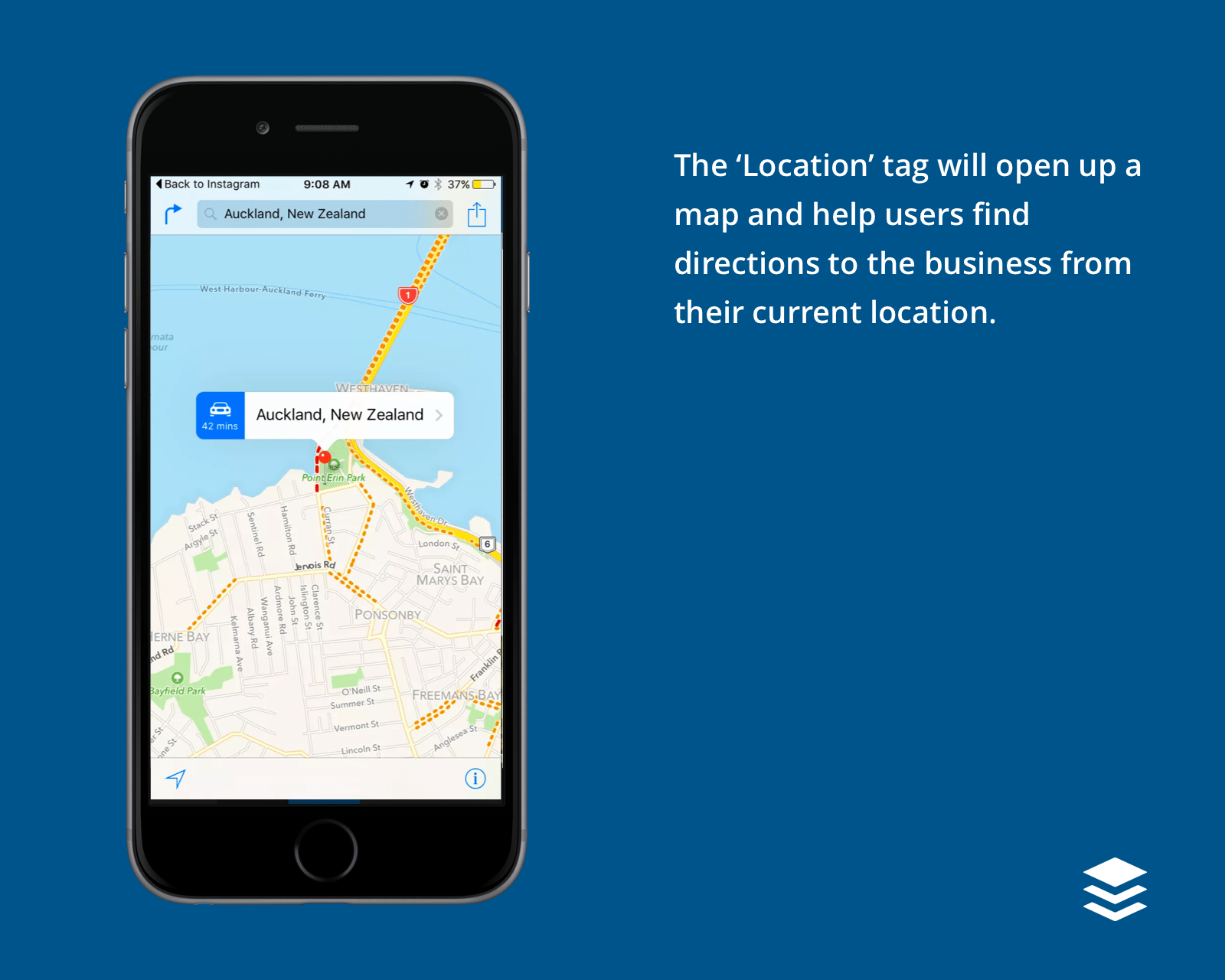 Insights
Insights on Instagram give businesses actionable information about who their followers are and which posts resonate better than others—all from within the mobile app. By learning more about the behavior and demographics of your audience, Instagram believes you can create more relevant and timely content.
Insights will feature metrics like top posts, reach, impressions and engagement around posts, as well as more data on your followers like their gender, age, and location. Here's a look at how the Insights will be displayed on iOS, as reported on Later.com: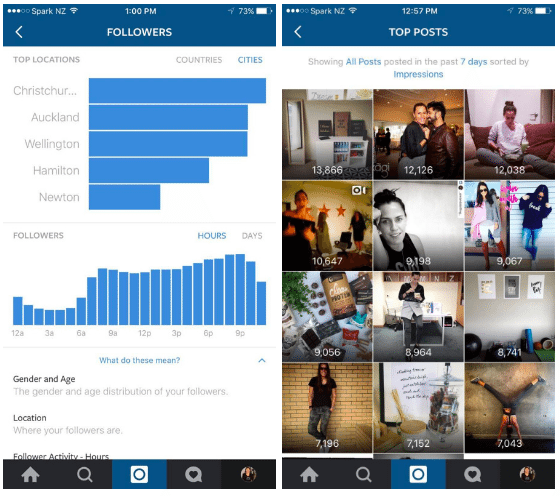 Instagram business users will be able to identify where their followers are from, even going as deep as the city they're in. This will be incredibly valuable for marketers, especially when it comes to figuring out when to post content to their profiles to maximise reach and engagement. The new Insights will also show you the most popular times of day your followers are using Instagram.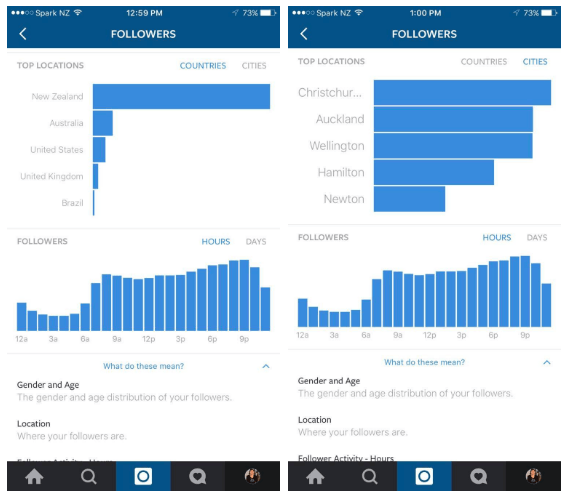 Later also reports that you'll be able to view the top posts sorted by Impressions for both a 7 day and a 30 day period. This will help business users to work out an engagement rate based on how many people have seen their post and how many decided to engage with it.
Here's a quick video showing Instagram's new Insights in action:

Promote
The ability to promote lets you turn well-performing posts into ads right within the Instagram app—helping you connect with even more customers.
To run an ad, you'll be able to simply pick a post you've already shared on Instagram and add a button encouraging people to take action. You can select a target audience or allow Instagram to suggest targeting for you. After that, your post will be promoted as an ad for any length of time you choose.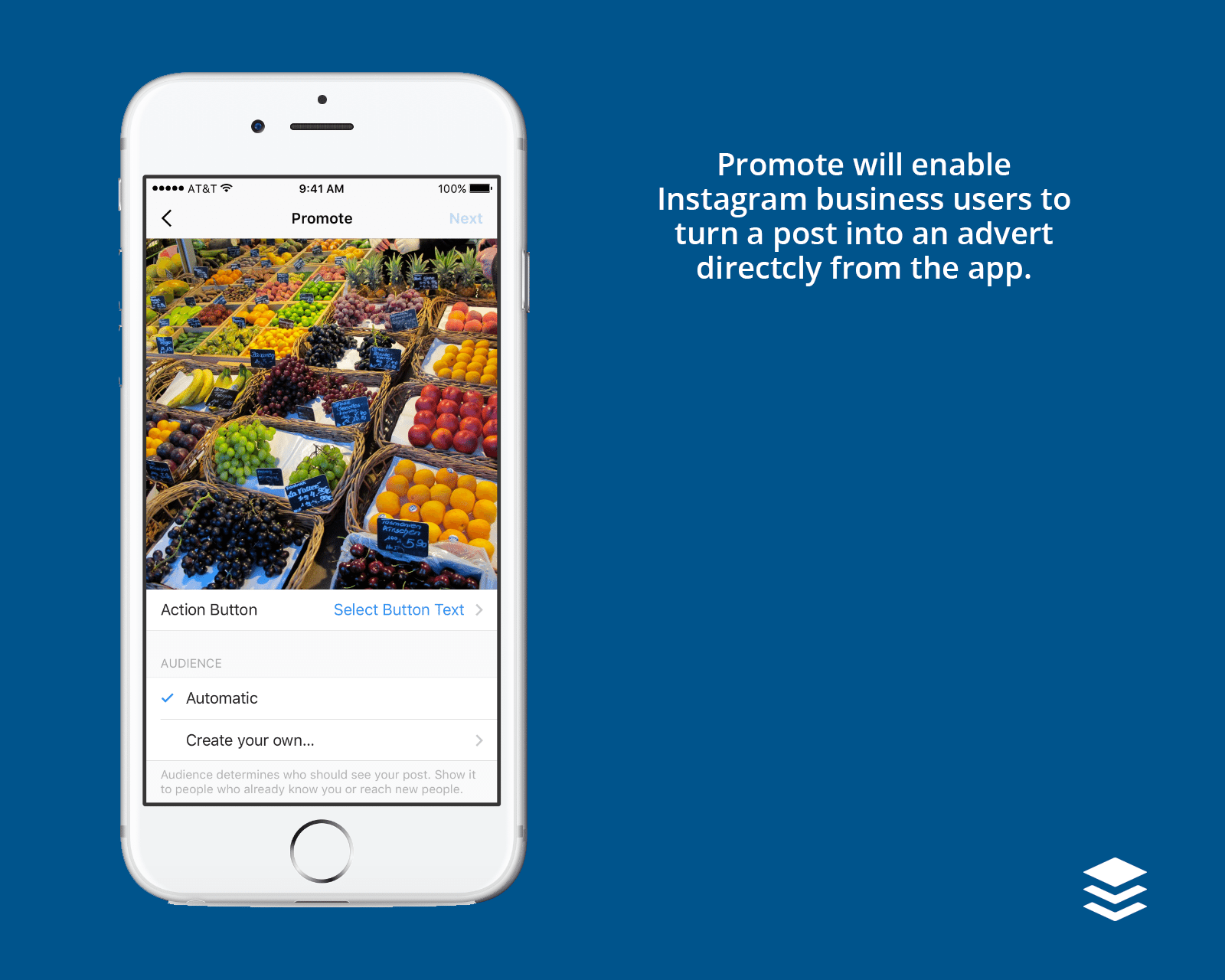 The new ads functionality is designed to let business get started with ads in just a few taps. Speaking to AdWeek, Jim Squires, director of market operations at Instagram, said: "The way I envision this is there are a lot of businesses on the platform that may be new to advertising, or not advertising yet, and this is a straightforward, easy way to start advertising on the platform."
The simplicity of this tool means that businesses may not have the flexibility and targeting options available using tools like Facebook's Ads Manager or Power Editor. Though, as TechCrunch reports, advertisers will be able to define and save custom audiences based on data from Facebook users' profiles such as gender, age and location and interests.
Over to you
Instagram business tools are just some of the new ways Instagram hopes to make growing a business on the platform much easier. Business profiles, insights and the ability to promote posts will be rolling out in the US, Australia and New Zealand in the coming months, and will be available in all regions globally by the end of the year.
I'd love to hear your thoughts on these new features and how they may make your Instagram experience smoother. Feel free to leave a comment and I'd be excited to jump in and join the conversation.