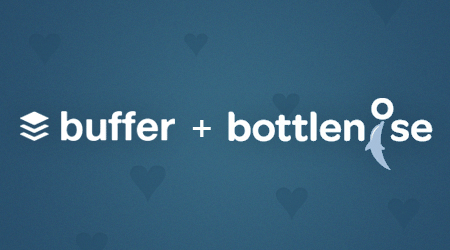 "Bottlenose is to social networks what Google is to the web." Is how Bottlenose CEO Nova Spivack recently explained the brand new version of its site.
Intrigued as I was, I went ahead and checked out what the team has been up to. Bottlenose features now a real time search engine that queries all public information from Social Networks, groups and displays them in algorithmic order of importance.
The result? An awesome stream of content ranked by most important to least important. For me, the first few searches I did were "startup insights", "blogging tips" and "seo guides". All were full of amazing resources and insightful posts I could use right away.
On top of all this, you can of course easily share the top hit results and add them to your Buffer right away. Since I believe the integration of the two makes for an amazing browsing and sharing experience, here is a detailed overview about all the awesome things you can do with Bottlenose.
Exploring Bottlenose – What can you do with the "Now" search engine?
What I like best about the new Bottlenose experience is the easy to use homepage, once you hit it. Without having to sign up or in, you can immediately start exploring great topics and how widely they are spread across the web.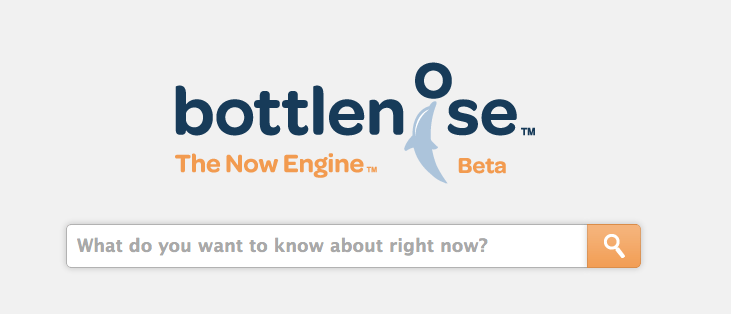 It then gives you a link of the most interesting links that are circulating around any topic. In my case, I just wanted to know what's going on about the topic "Twitter", here are some results: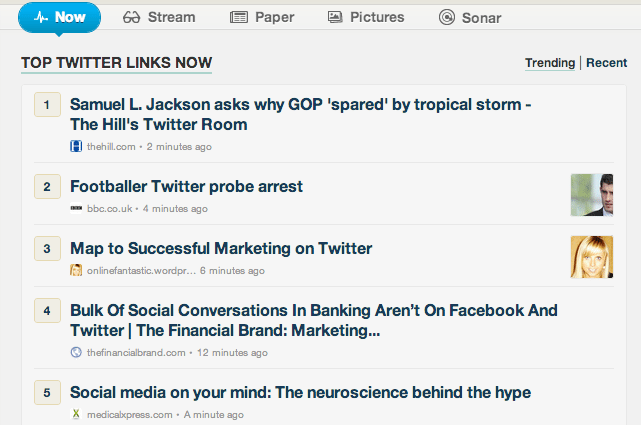 Another aspect, I particularly enjoy is Bottlenose's "Newspaper view", which lets you browse through lots of different topics. It's a great layout to get topic specific updates in real time: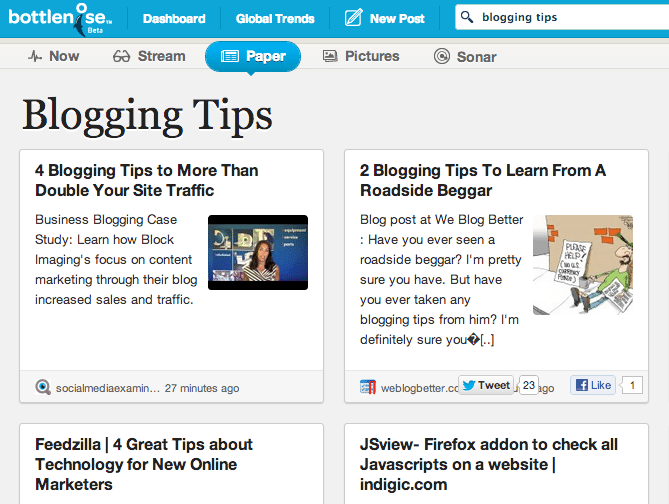 Bottlenose comes with a huge number of different other ways you can find out more about what is happening on any social network right now and of course helps you to customize things further if you sign up for an account with them. Here is a great and short video on everything you need to know:
Discovering and sharing content easier with Bottlenose and Buffer
Once you sign up for your own Bottlenose account (it's free!), I believe you will get even more power out of your Bottlenose stream. The most useful aspect for myself is to explore the "popular" tab on the web. This means Bottlenose takes the whole of your Twitter stream and orders it by the most popular links from your followers. Here is how this looks for my stream: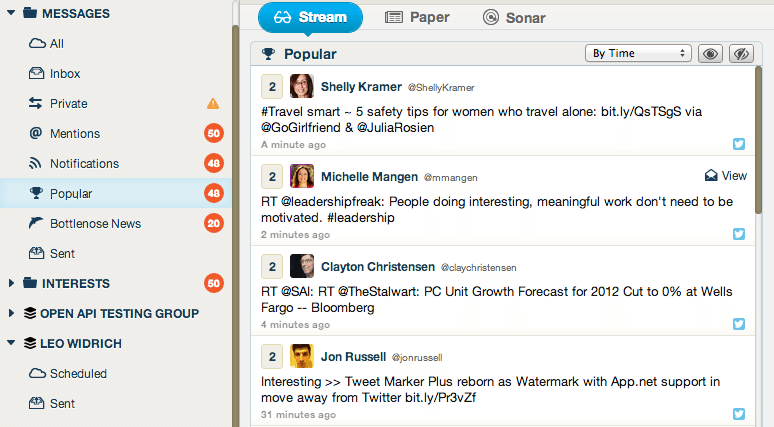 Whenever I check this stream, I find a bunch of awesome articles and videos, that I surely would have missed. On top of that, you can now very easily Buffer each of these posts with one click.
The best part here is that you can connect all or any of your accounts in Buffer and add to each of them, just like you can with the Buffer browser extension: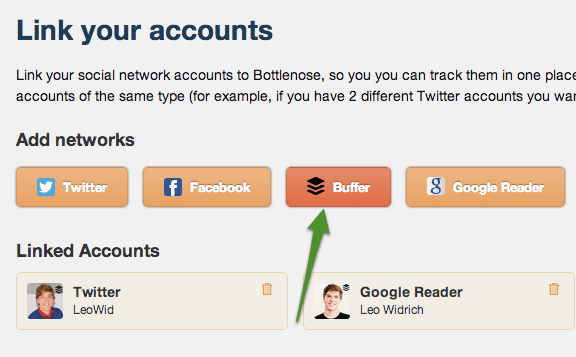 So now, whenever you are browsing Bottlenose's stream of top news, just hit the "share" button and add the post to your Buffer. You can simply tick or untick any of the selected profiles and get new accounts added to the list: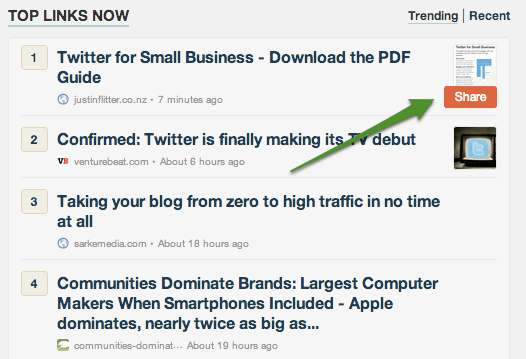 Which gives you an awesome sharing screen to add to your Buffer: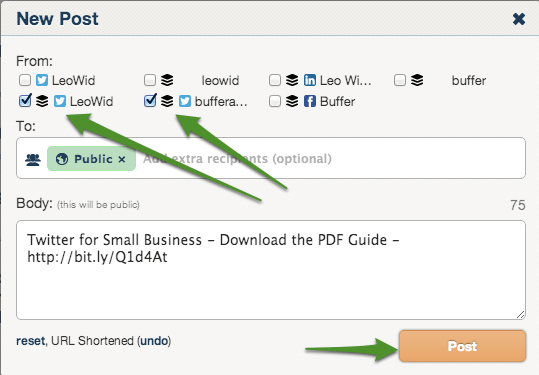 Personally, I find this to be an awesome way to quickly fill up my Buffer with the latest content and get it added to the queue.
Manage your Buffer right from inside Bottlenose
The Bottlenose integration with Buffer doesn't stop there and allows you to dig even deeper. You can easily see all of your connected profiles and how many scheduled updates you have in your Buffer.
This is a terrific way to keep track of what's going on, see how much engagement your updates have gotten and delete anything in the queue, that you don't feel like sharing anymore: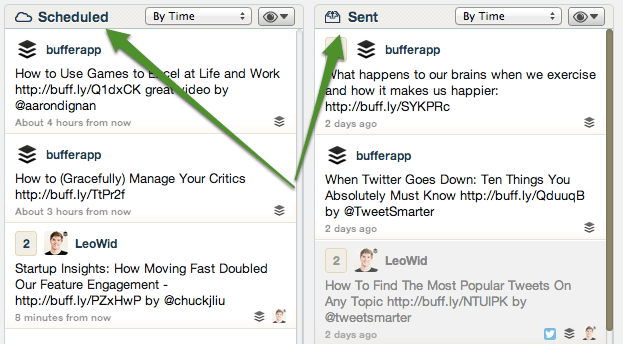 Easily delete any scheduled update, or let Bottlenose do the hard work showing you how well any of your Buffered updates have performed in your stream: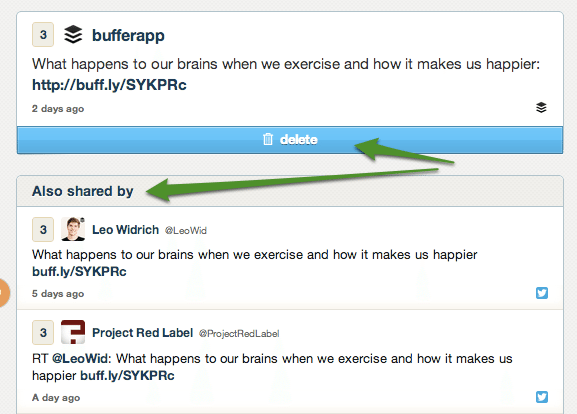 Quick last tip: Turn Bottlenose into an awesome Google Reader reader client
The last thing that I've discovered to be particularly useful when browsing through Bottlenose is that you can also connect your Google Reader account to add content to your streams: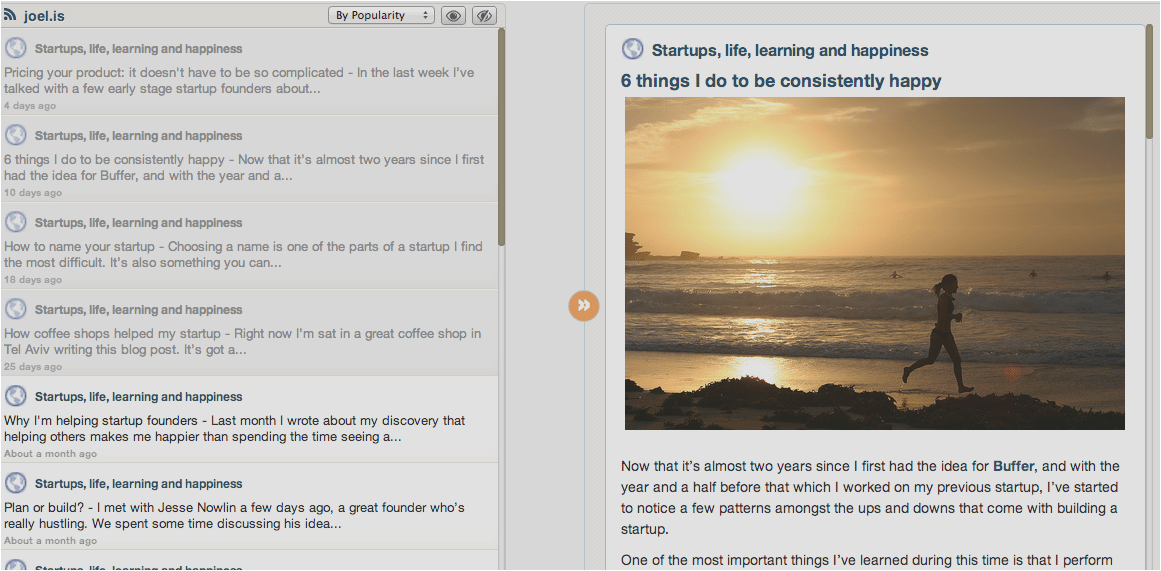 This way you can have your RSS and Twitter feeds all in one place and can Buffer stories right from there in one go. A great one-stop shop to get all your newsreading and sharing done efficiently and with the most up to date content.
If you are looking for an awesome way to do all of your news consumption in one place, I believe Bottlenose is the way to go. Together with the real time search feature, there is a ton in there I want to go back and explore.
What are your thoughts on the brand new Bottlenose and Buffer integration? Do you think better real time search results could be useful for you? Be sure to give Bottlenose a spin and let me know what you think.