This is a guestpost by Brandon "Oxhorn" Dennis of Scotch and Smoke Rings, more about him at the bottom of the post.
Here is how it all started. I was super excited, when I opened my inbox one day and discovered this:
Gilt, a website with accessories for only the classiest of gents, was giving a huge discount to people based on their Klout score.
Over the years, I've built up a following because World of Warcraft machinima and music. With over 125 thousand subscribers and 55 million video views, I figured my Klout score would be high enough to nab myself a sick discount. I logged into Klout for the first time in months to discover, to my horror, that my Klout score had dropped significantly during my absence. I still got a pretty sweet discount (I used it to buy the classy shoes on the right), but not as much as if I had kept up with social media over the past few years.
How Refined Gentleman's Shoes Led Me to Buffer
Not so different from you probably, my day job keeps my pretty busy. Unfortunately I just don't have the time anymore to make time-consuming movies and keep fans up-to-speed with the latest and greatest gaming news. My Facebook and Twitter interactions were strong but had significantly declined over the past year and a half, specifically because I just wasn't posting as much.
And then I discovered Buffer. The concept knocked my classy socks off. You mean I can get home from work, enjoy my dinner and then queue a few dozen posts while enjoying a gentlemanly cigar? Sold! I've been using Buffer religiously for the past few weeks and already I'm seeing significant improvements.
How to Increase Facebook Fan Engagement
My formula was simple—find or create focused news I knew my fans would enjoy, then share it with them at the times they want to enjoy it. I did a bit of research on the best times to post updates to Twitter and Facebook (KISSmetrics has a handy infographic on this) and then created unique schedules for both networks that published my posts at those exact times. Then I simply added my news to my buffer queue before bed.
As you can see from my Facebook Insights, I went from about 150 interactions per day to well over 700—that an increase of over 200%. What's more, my weekly total reach grew by over 10%, and my constant updates actually increased my fan count and number of likes (I was afraid my techniques would be considered spammy, but I realized just the opposite).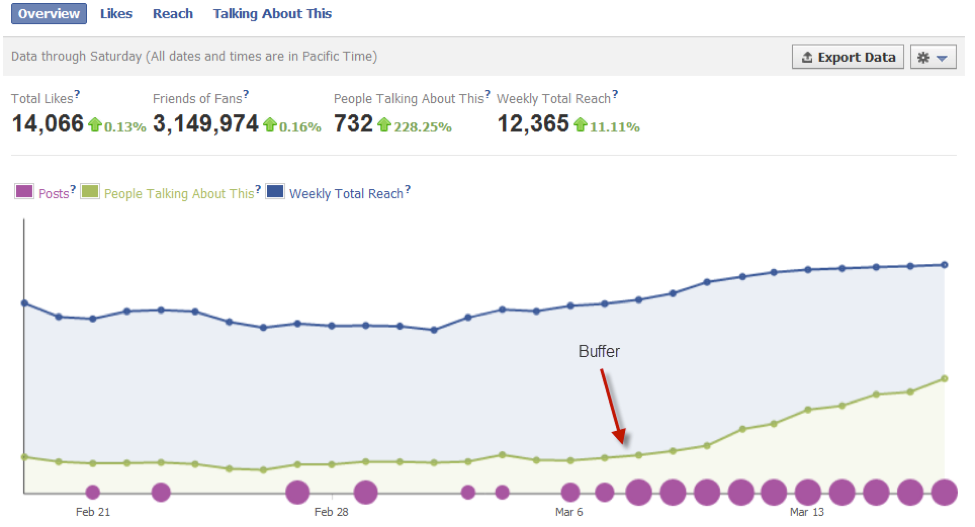 How to Increase Twitter Followers with Buffer
I'm even enjoying significant improvements with Twitter @oxhorn, and Buffer is the only step I have changed in my social strategy. Buffer's handy analytics shows me the exact number of clicks my tweets enjoy, allowing me to discern which type of content my fans like best. Now, I don't have to stay up until 1:00 AM to take advantage of what is apparently a great time of day to tweet.
In the short space of time I've started with Buffer, my Klout score has increased an entire point and is steadily improving, which means the next time they offer a gentlemanly perk, perhaps a single malt bottle of Glenfiddich, well hey, I'm golden.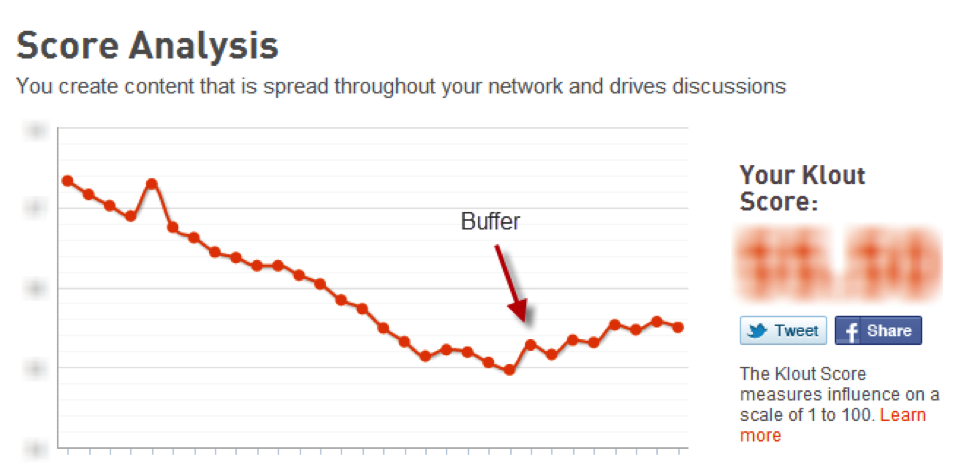 After experimenting on my personal networks, I've implemented this strategy at work. I'm the marketing manager at buuteeq, purveyor of hotel web design and digital marketing, and am in charge of their social strategy. After using Buffer at work for just one week, we've seen an increase in everything—likes, fans, followers, mentions and retweets. Also, our company's Klout score has jumped 2 whole points.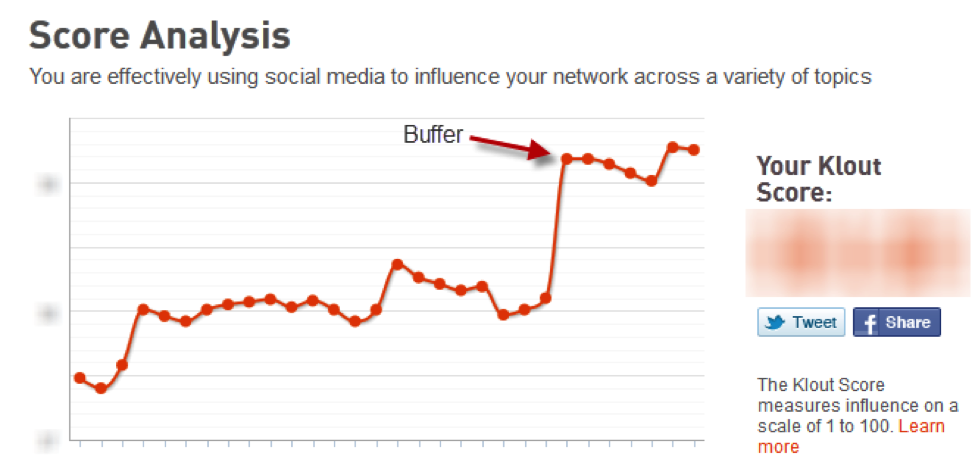 You might say that I'm experiencing these results simply because I'm more active. And that's true. But I'm not just more active, I'm selectively active. If I tweeted 6 times in 60 seconds, I would get little benefit from those tweets, direct far less traffic, and probably annoy my followers enough to unfollow me.
Instead, by using Buffer to spread out my news over the course of the day, and at the exact moment my fans check Facebook when they wake up in the morning, check Twitter during a lunch break or get home from school or work, I optimize my CTR and encourage more interaction.
Oh, and since you asked, here's another pair of shoes I bought with my Klout perk. Ron Burgundy has nothing on me.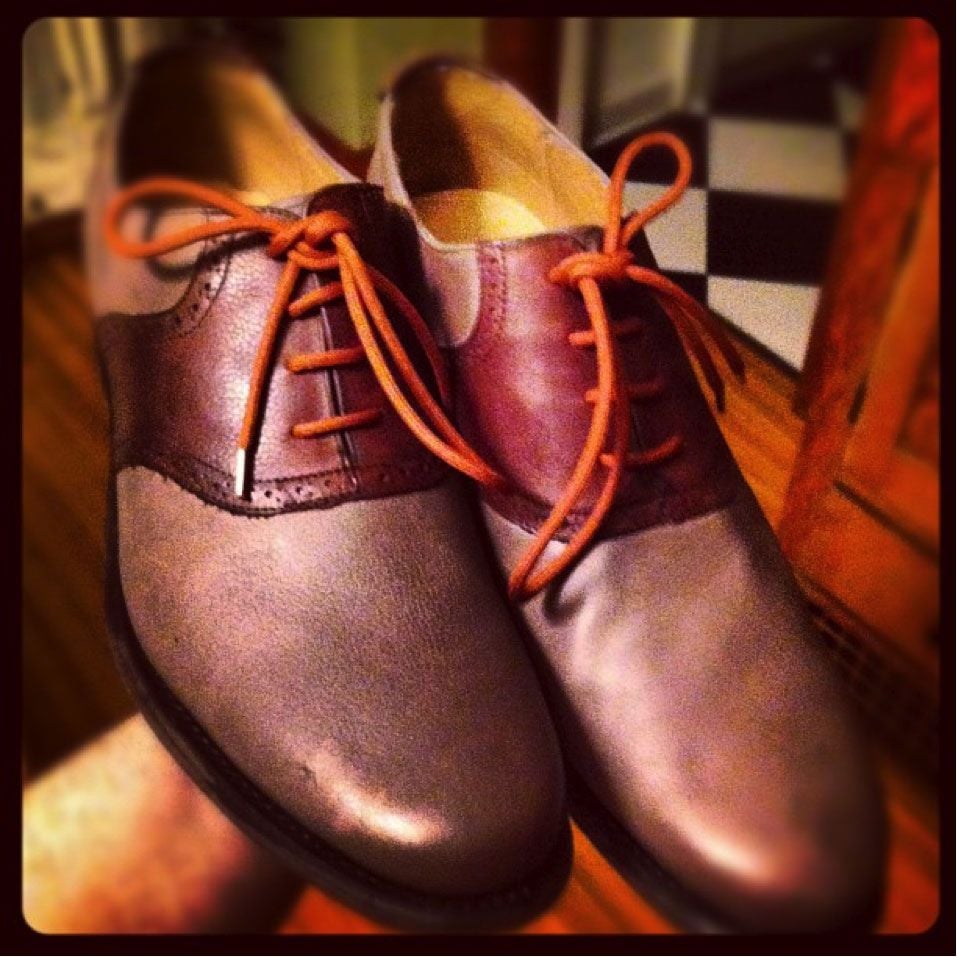 —
Brandon "Oxhorn" Dennis is the marketing manager at buuteeq during the day, WoW enthusiast and cigar savant at night, and professional beard and suspender model on the weekends. You can see him live every Thursday night at 7:00 PM Pacific during his show, Scotch & Smoke Rings. Track his class on Facebook at facebook.com/OxhornPage and on Twitter @Oxhorn and be sure to subscribe to his classy blog.