5 Start Page Updates to Help You Grow Your Brand
Building a landing page shouldn't be hard. It shouldn't cost a fortune. It shouldn't take hours. Start Page helps you create beautiful, free, mobile-friendly pages in 60 seconds. And as of today, you can add GIFs, YouTube vids, Spotify songs, and more.
When we launched Start Page back in October 2021, we weren't quite sure who would use it.
We had a hunch, but it turns out we weren't imaginative enough.
Start Page has been used more widely than we could have possible imagined. From photographers to plumbers, baking sites to gig nights, seeing hundreds of new and different pages each day has warmed our hearts. (Scroll down to see our six favorite Start Pages).
But, it's also filled our inboxes, as heaps of you have been kind enough to reach out and provide feedback. That's kept our team busy, building lots of new features and tools to improve Start Page.
Five Start Page improvements
Rather than work through a lengthy list of features, we thought customers might want, we decided to focus on specific features customers asked us to build. (This is among the many lessons we learned building a new product.)
Fueled by your feedback, we've concentrated on building five new features we hope you all will love!
1. The GIF gallery
Catch the eye by adding a GIF to your background. You can pick one of the 15 we pre-selected or browse thousands of different GIFs in Giphy's library. From relaxing beach scenes to memorable memes, you can style your Start Page however you like.
Our hand-picked GIFs were selected because they meet Accessibility Best Practices meaning they look great, while containing subtle motion, and no flashing animations.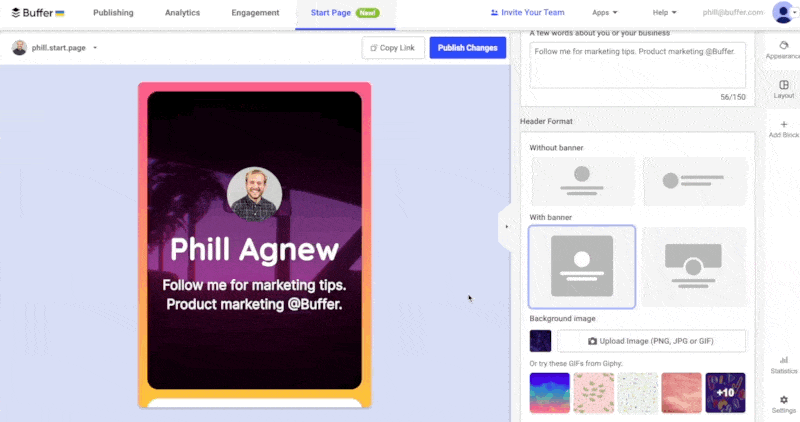 2. Promote latest YouTube uploads
Many of us who publish regularly on YouTube struggle with one thing—gaining views for new videos.
The algorithm is great at promoting old content that viewers like, but newer content often gets missed. We think Start Page can help.
With the new YouTube Video block, you can link to your recent YouTube uploads. Now, every time you upload a new video, it'll be showcased automatically on your Start Page. It's a fantastic way to ensure your audience won't miss your latest work.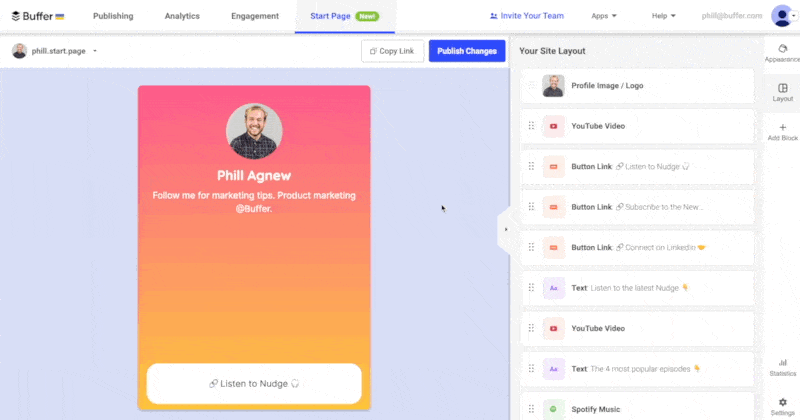 3. Showcase links to products or content
Ever wanted a simple landing page to link to your most-loved products, or best-performing content? Well, now Start Page can do just that.
With the Image Links Grid, you can upload images to a grid and link them to the relevant web page. Personally, I might use this to link to some recent book reviews, but I can't wait to see how else it's used. Here are a few ideas. 💡
Cinemas promoting tickets to the latest films. 🍿
Yoga instructors showcasing a range of classes. 🧘‍♀️
Fashion brands unveiling a new range of t-shirts. 👕
Local builders revealing the services it offers. 🧱
Taxi companies promoting discount deals. 🚕
Cafes linking to upcoming events. ☕️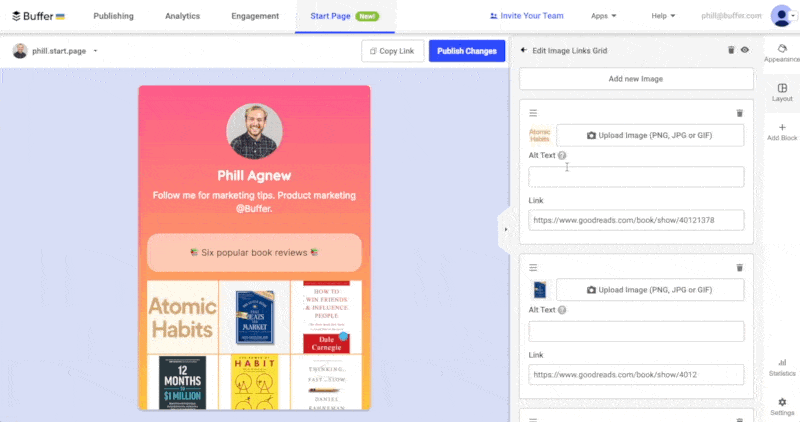 4. Embed songs & podcasts with Spotify
Last year, Spotify broke the 300 million users mark for the first time, cementing its position as the world's biggest music streaming platform. So, working on a Spotify embed feature was a no-brainer for us.
There are a few obvious use cases, like musicians looking to promote their songs, but also for creators needing to showcase a podcast. Perhaps you create a new Start Page to list your favorite new artists!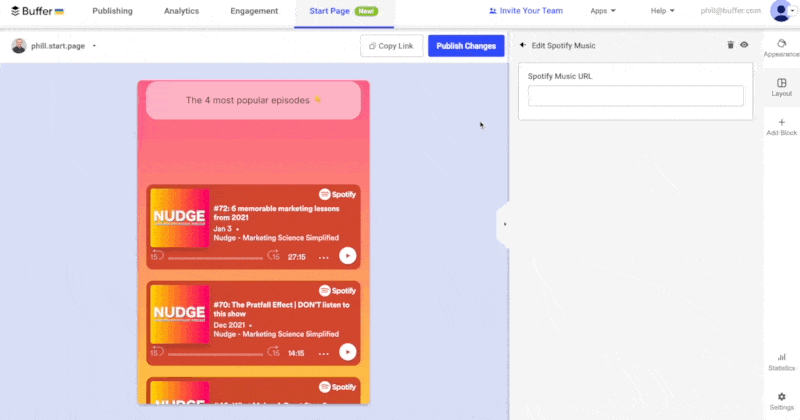 5. Style your Start Page your way
Picking a style that's right for your brand can be tough, so we've developed 16 different themes to match your look.
Each theme is styled with a unique background color, button color, and font to make the page stand out. Want even more control? No problem, use the hex code color picker to find the right shade for you.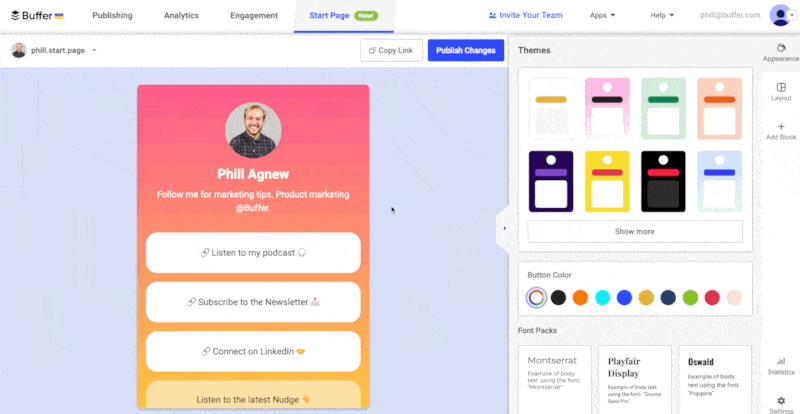 Six stand-out Start Pages

Six months since launching, over 12,500 Start Pages have been created. Here are some of our favorites.
Martha Stewart & Marley Spoon share their updated weekly menu with mouth-watering pictures.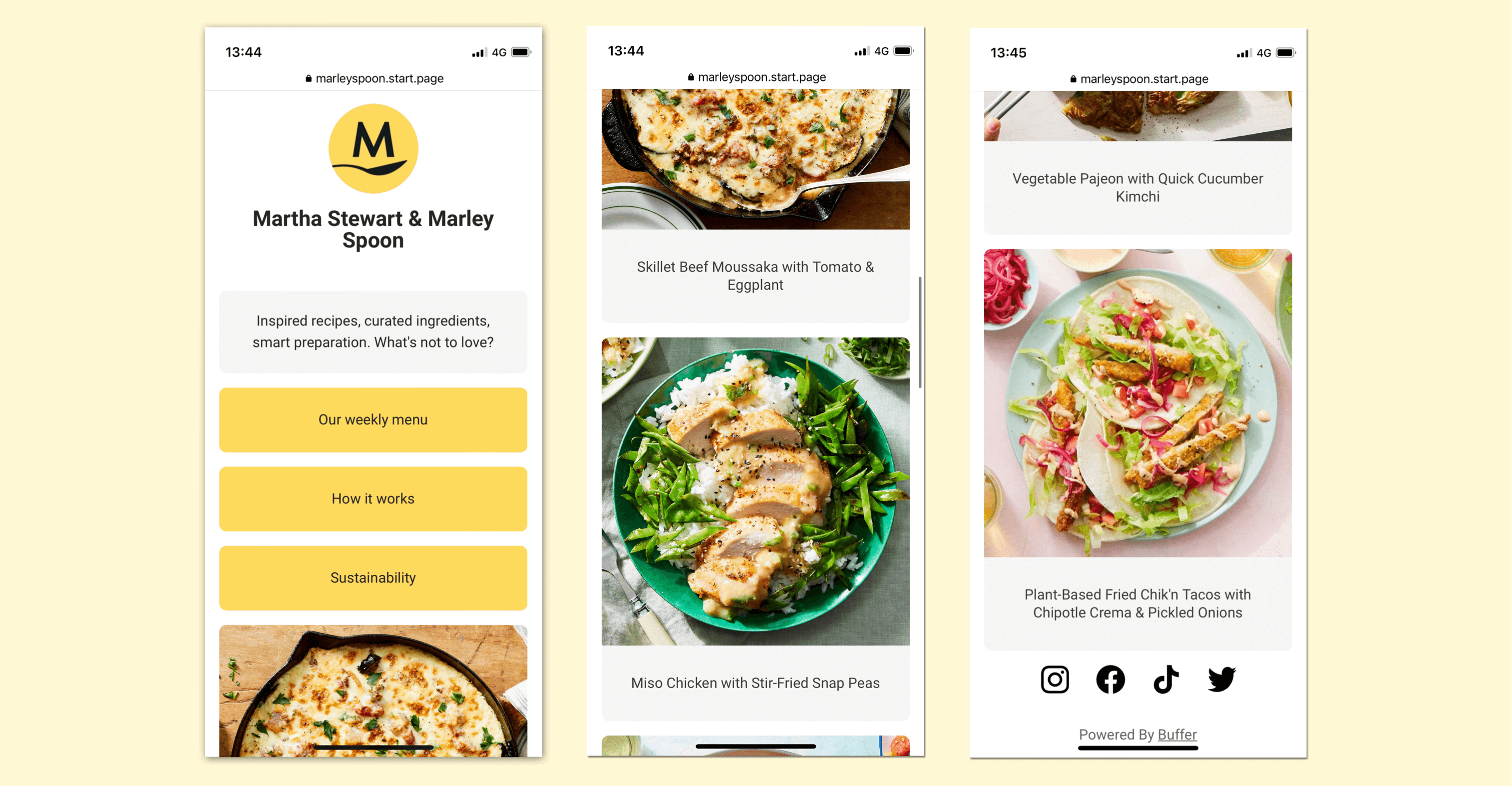 Forever Duke keep alumni connected with recent posts, a Spotify Playlist, plus relevant YouTube videos.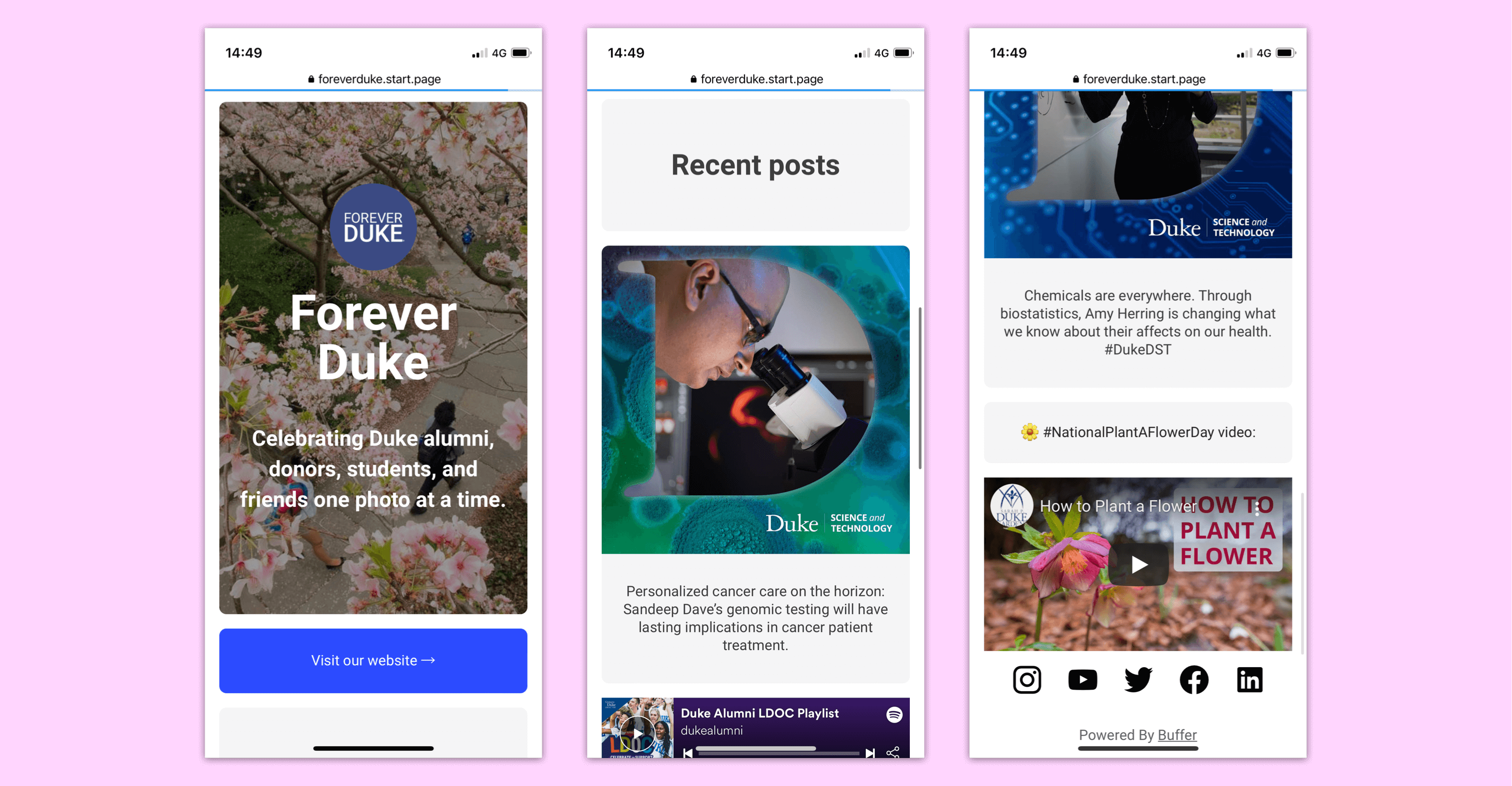 Waka Bahule shares her latest music with fans.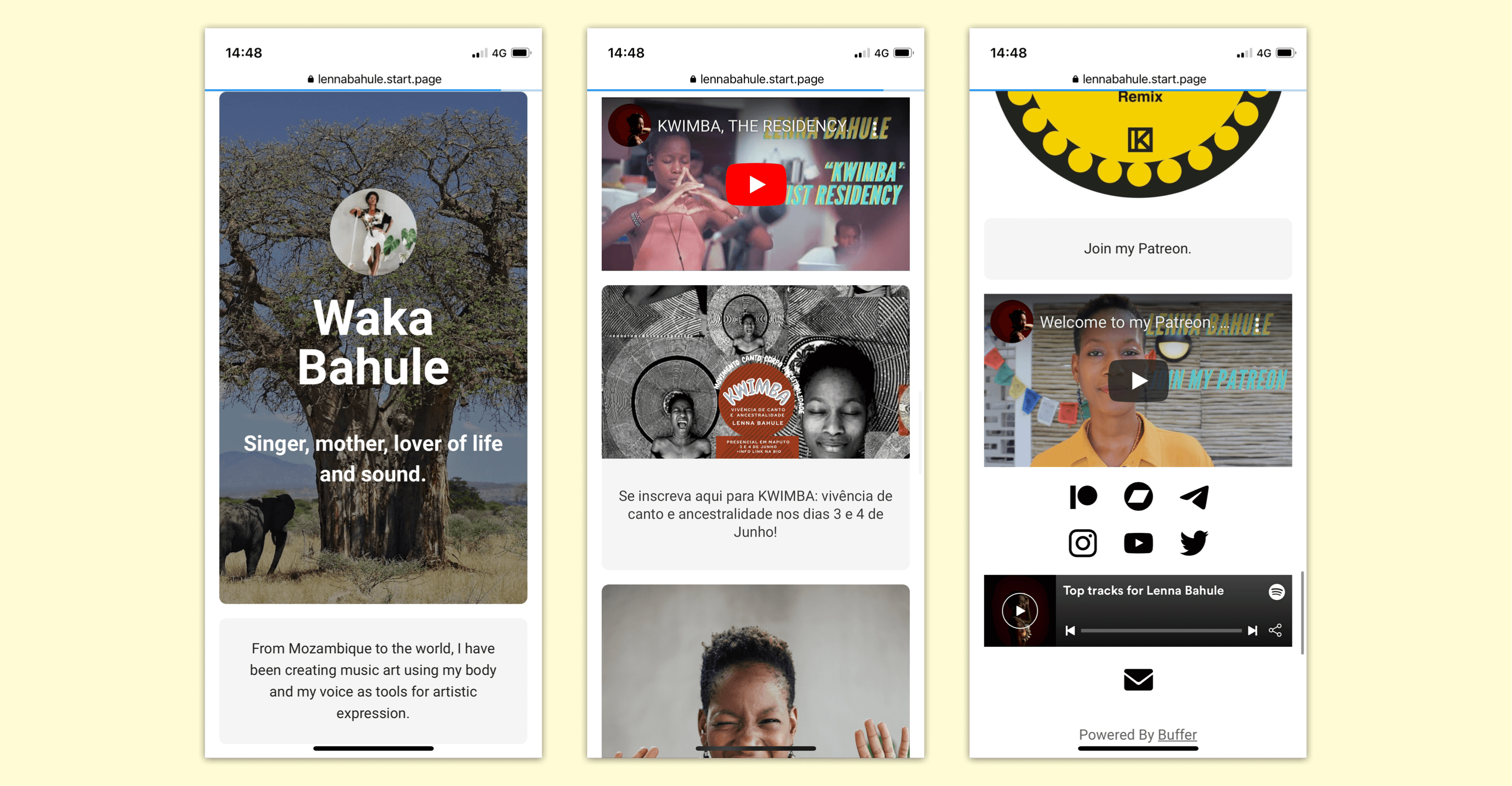 Non-GMO Project share latest news, collect donations, and grow newsletter subscribers.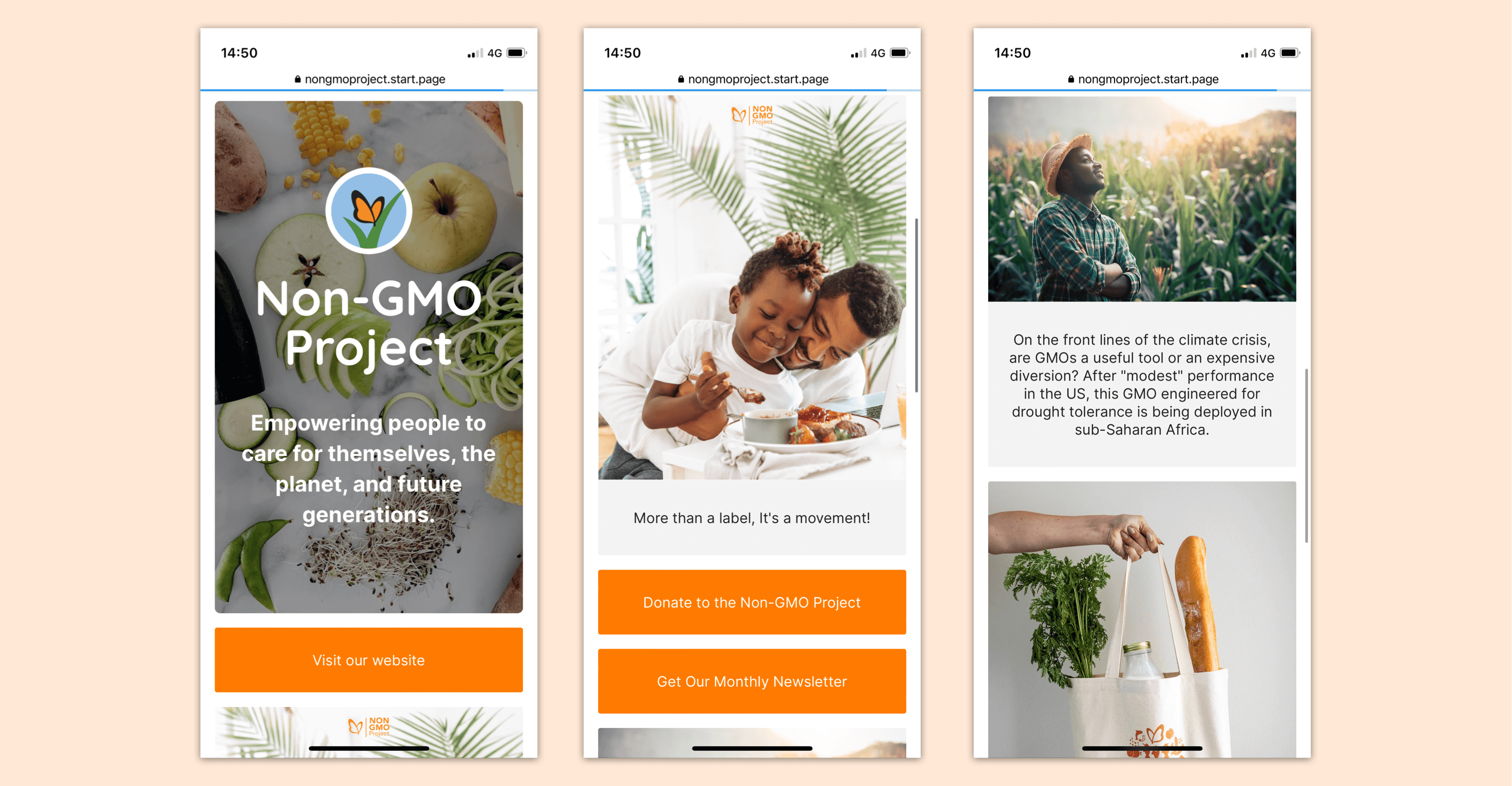 Dinnerly attract new customers with their latest dishes.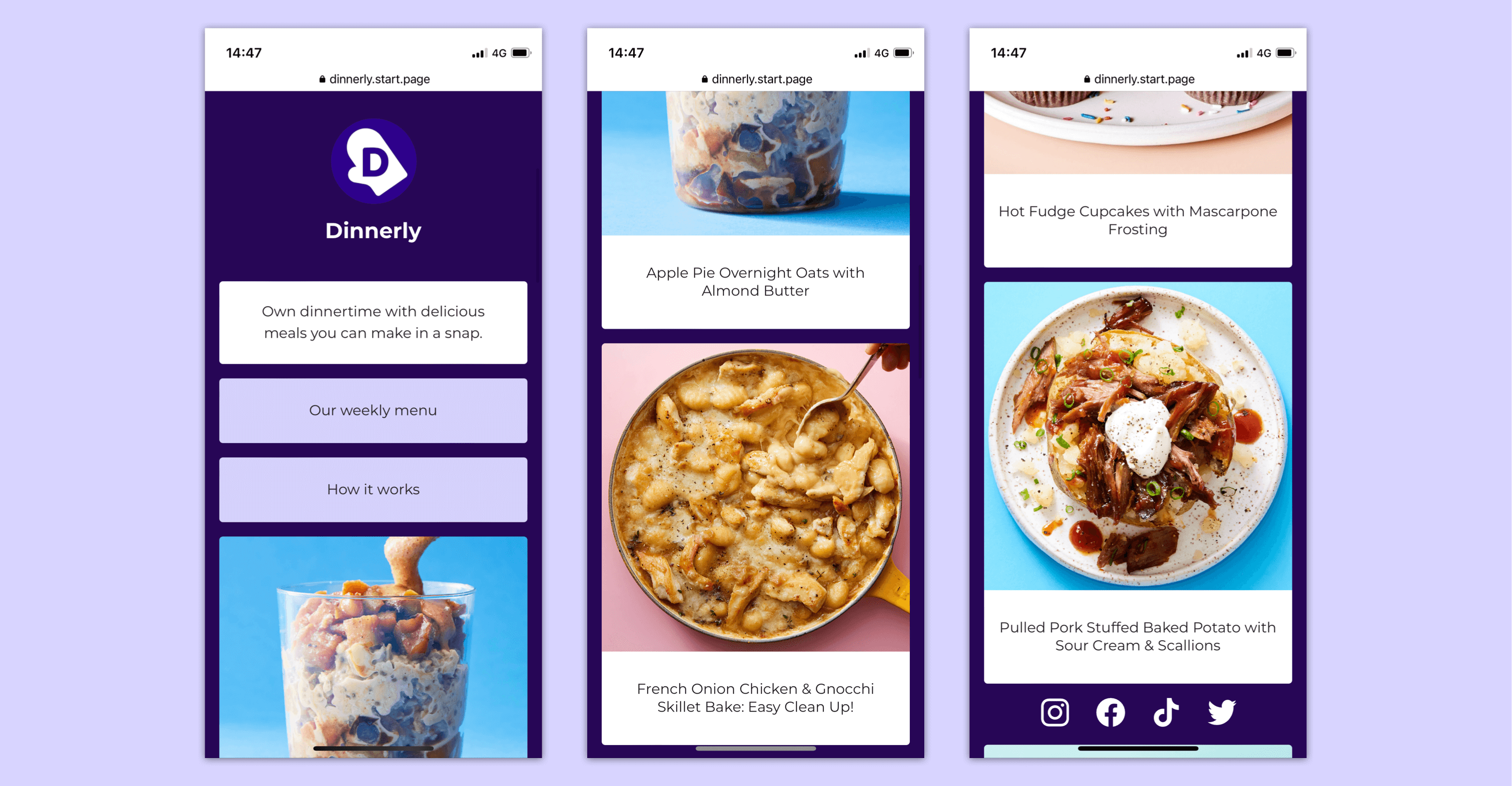 Plumber Parts links to his latest YouTube videos.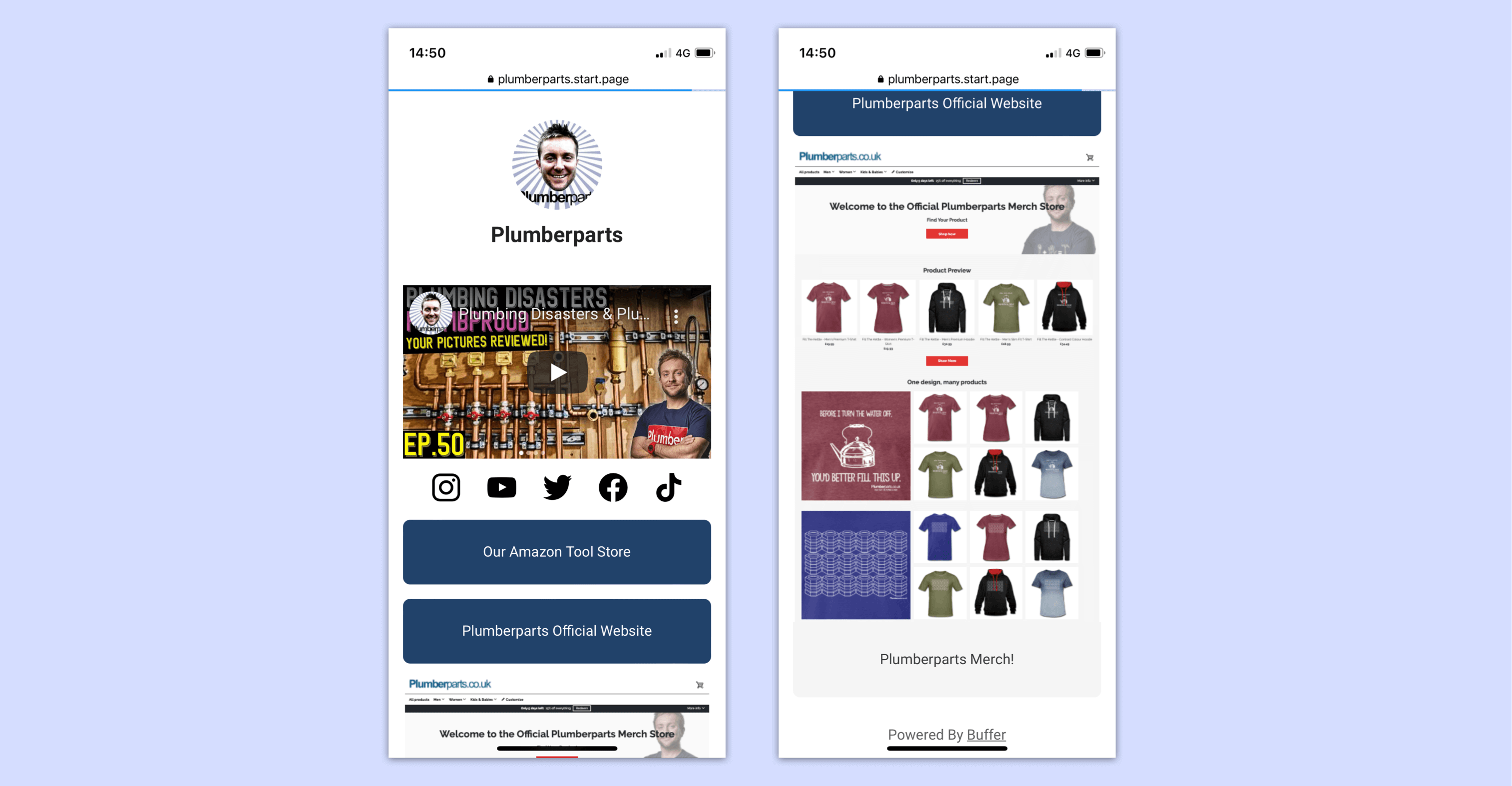 We want to promote your Start Page!

At Buffer, we're in the businesses of helping small businesses and creators succeed. That's why we want to promote your Start Page on our site.
Each month, we'll be showcasing 10 of our favorite Start Pages in the carousel, helping you attract more visitors and boost your SEO.
Want us to feature your Start Page? Fill out our 60 second survey.
Create your own Start Page, for free, in three minutes(or less)!