We wrote a post awhile back about email list building, and in the course of writing that post, we got the Christmas morning jitters. We wanted to try every single idea we could.
And so we did.
And wouldn't you know it, the ideas worked!
I'm really happy to share with you our experience from an exciting month of email list building and the strategies we used to get more email subscribers. The hugely encouraging aspect to all this is that our simple email changes can be done by anyone. If you're interested in growing your email list and gaining new subscribers, feel free to borrow any of the ideas we'll share below. I'll let you know exactly how we did it.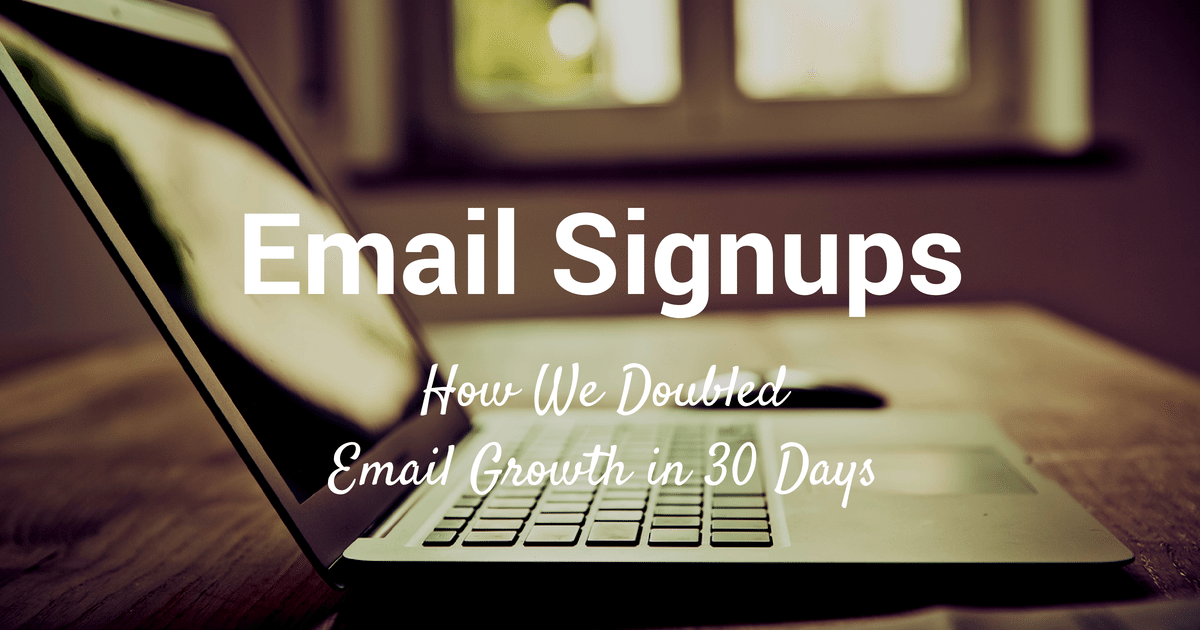 The 1 big idea: Make it ridiculously easy to sign up
I've got this idea about email marketing, and it goes something like this:
Create amazing content that people want to read all the time
Ask permission to send amazing content to people's emails.
Ask again.
Ask a couple more times.
Basically, if you've got great content and you make it easy for people to sign up for email updates, you should begin to see significant list growth.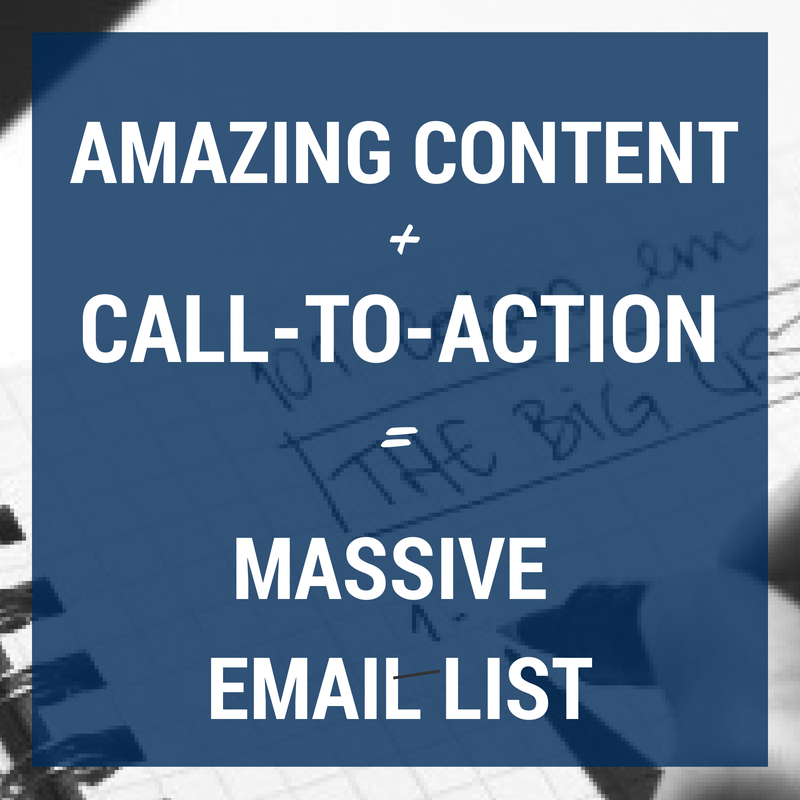 We're hopeful that we're headed down a good path with creating amazing content here at the Buffer blog. It's an ongoing process for us, and we're always open for ways to improve. (hint, hint) As for the second part of the email equation …
We knew we could make it easier for our happy readers to sign up for email updates.
So we did.
Here's how it went.
Double the list growth in only 30 days
We implemented several changes to our email signup forms in July (see below), so we had the opportunity to easily compare growth from the previous months to growth in July. Previously, in May and June, we had averaged a pretty steady 2,349 monthly email signups from our two blogs, Buffer Social and Buffer Open.
In July, we had 5,450 email signups!
That's more than double the previous month! Specifically, it's 130 percent growth, month-over-month—more than we ever expected to see in our first month of experimentation.
And it led to crazy-looking growth charts like this: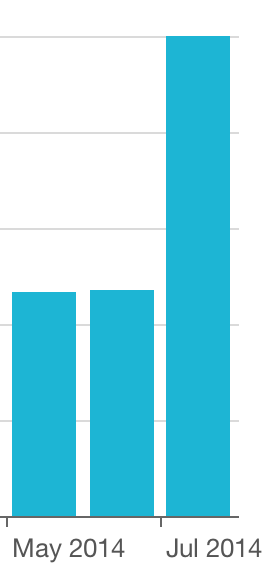 How'd we do it?
Our crazy amount of signup sources: 9 ways to capture new subscribers
Here's a good comparison of what we were doing before this email push and what we were doing after.
Before: Slideup form
After: Slideup form, blog homepage email capture, HelloBar, sidebar ad, postscript CTA, Twitter lead gen cards, Facebook newsletter signup, SlideShare, Qzzr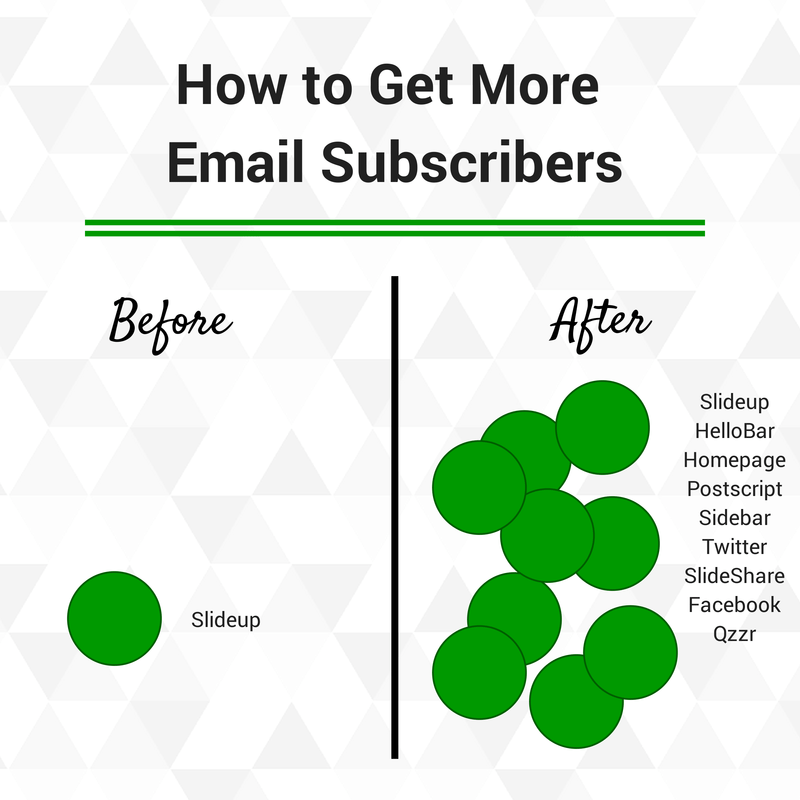 Essentially, we added nine times the email capture opportunities.
Not every one of these new areas was a hit, yet collectively the addition of so many unmissable opportunities to sign up led to a huge uptick in growth.
Here's a chart of a typical week with our email list and how each of the different sources contributes to overall growth.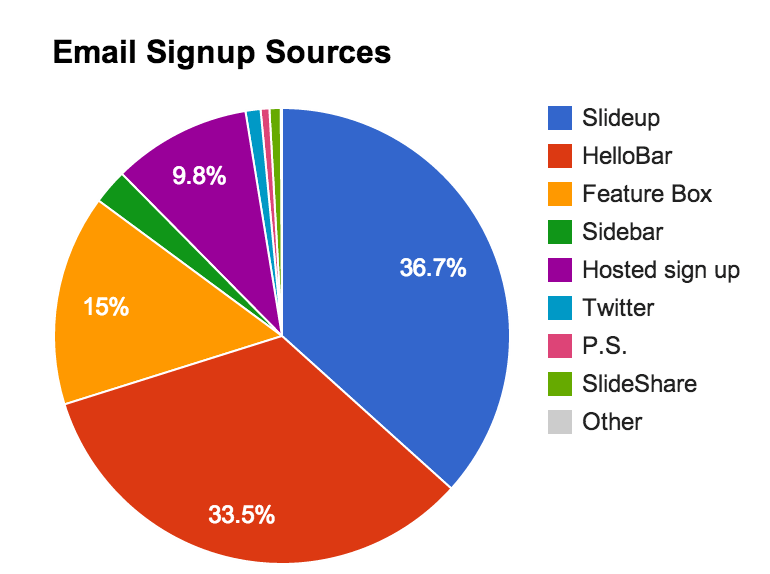 It's funny that at the first of the month, when the email signups started rolling in, I kind of sat back in awe that we were getting so many new subscribers! (Yay, and welcome!) Then I realized I should probably be finding a way to track where all these signups came from.
We use MailChimp to manage the email on our blog list, and to track signups here, you can cross your fingers that one of two methods work.
The app you use to collect email is recognized by MailChimp automatically (e.g., HelloBar and Twitter)
Your embedded signup form includes a hidden field that you can handcode to include a variable that makes it possible to track the source (e.g., all the rest of our sources)
Eventually, we were able to get everything wired up so that we could track the total number of signups from each source (feel free to ask in the comments if you have any questions about how we got this working). With these numbers, we could more easily see which sources brought us the most signups and where to focus our efforts.
Here's a little more on each of our nine signup sources.
Slideup box
Our best-performing email signup form on the blog has been the slideup, which brings us a little more than 400 new signups each week. It's the closest thing we have to an outright pop-up (which we hear can be super useful for collecting emails).
Our slideup comes up from the right-hand corner of the page whenever a new visitor scrolls 60 percent of the way down the page. If you close the slideup, we store a cookie that reminds us not to show you the slideup again for 30 days.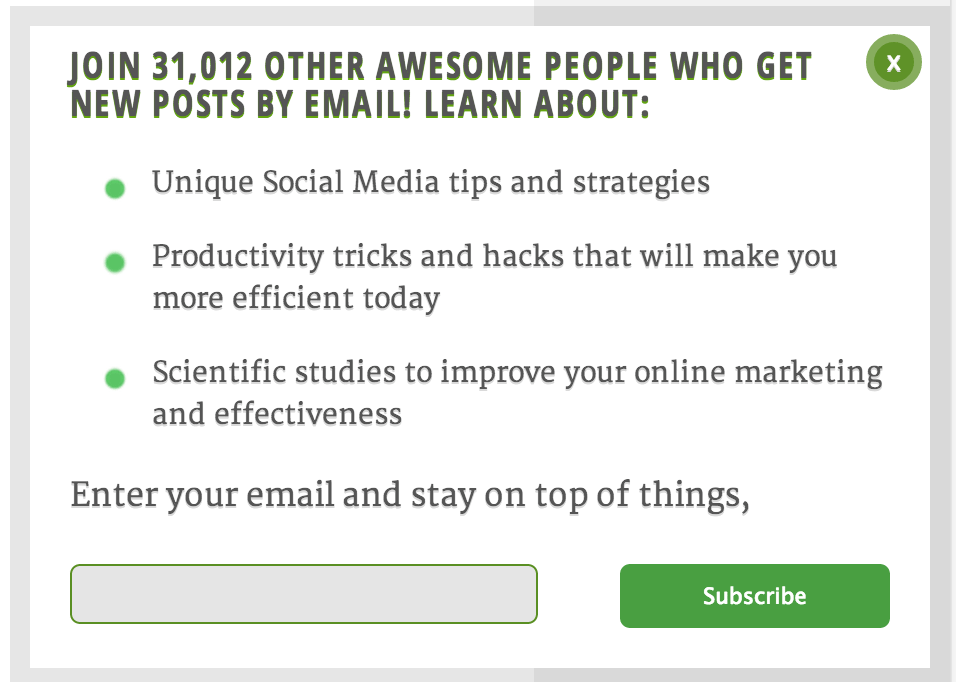 The results: All this is managed via the free WordPress plugin Dreamgrow Scroll Triggered Box. We control the HTML that goes in the box, and we use this to place some CTA copy and a MailChimp signup form that includes a hidden field so we can track our slideup signups.
HelloBar for email
We had long used the HelloBar to drive visits to the main page of the Buffer app, which I imagine might be how most SaaS blogs use it. HelloBar works wonders on conversions.
However, when our priorities for the blog shifted, we decided to change the HelloBar on the majority of pages to an email capture form. There were two big reasons why this worked so well for us:
The HelloBar integrates seamlessly with our MailChimp list. The only real difficulty here was figuring out how to ensure that double-opt in was turned on for our list.
HelloBar lets you test variations of your copy, buttons, and CTA. Here are a couple of different versions we tried. The winner actually became the basis for our email copy on several other locations for CTAs.

The results: We typically receive 350 or more signups each week from HelloBar, and it even held our top spot for email signups in the first couple weeks of July.
A featured box for email signups on the homepage of the blog
We were super stoked about getting this one live on the blog. Since our blog homepage is the third-most-visited page on the blog, month-after-month, it made a lot of sense to optimize this page as best we could to meet our goals. If there'd ever be a page deserving a unique design, it'd be the blog homepage!
At first, we tried a plugin called PlugMatter, which worked amazingly well but just didn't quite fit the blog design we were after. So we had our designers set us up with a new one. Our blog redesign came a few days after, so the homepage CTA changed again. Here's the version that you see today: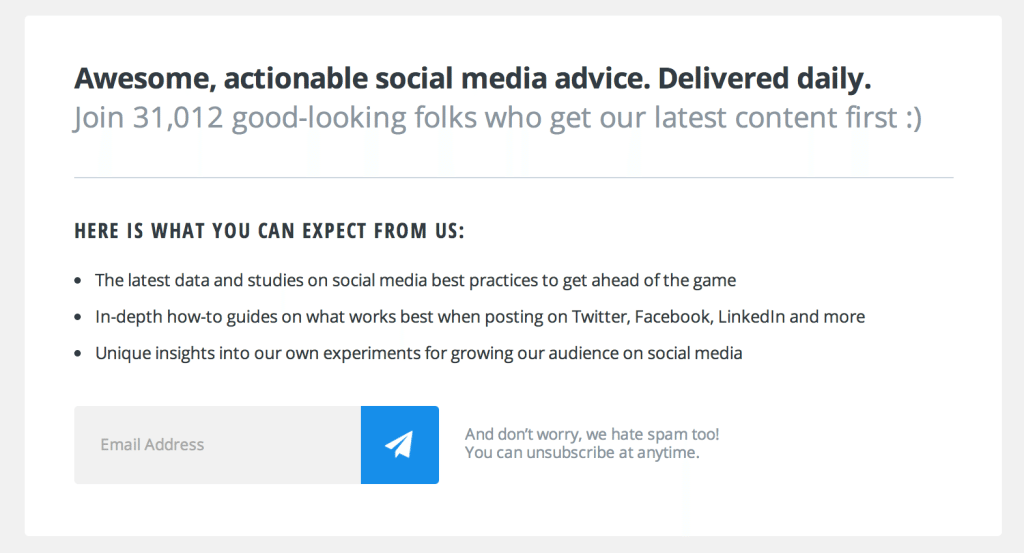 The results: This feature box on the homepage accounts for 150+ email signups each week, good for third on our list of signup sources.
Sidebar email signup
As we've shifted priorities on the Buffer blog over the years, the design and layout has shifted, too. One of the most recent shifts was toward a simpler, cleaner layout that took everything out of the right sidebar and replaced it with a Buffer app CTA. When this changed, we lost our sidebar email signup.
We put the sidebar back online for a brief time while we were growing our list, and it definitely helped. Although not as much as you might think.
The results: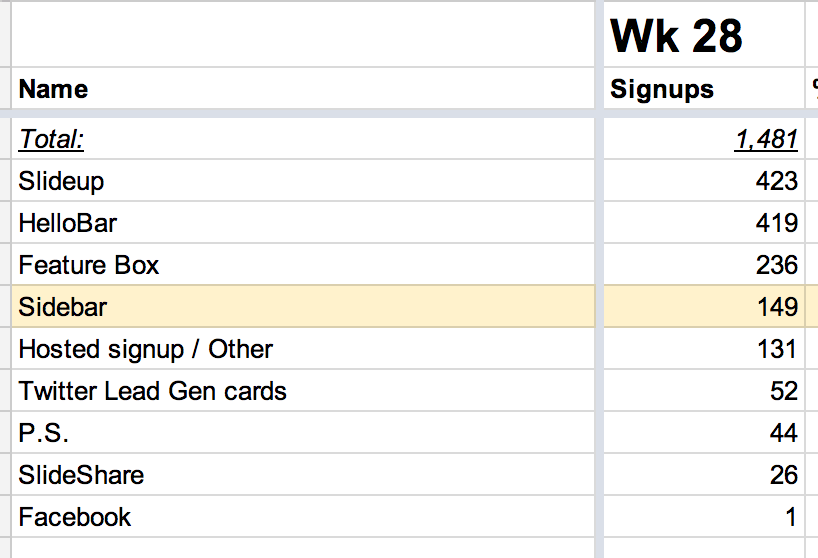 My expectations were that the sidebar ad would be the biggest source of signups. Not so much. There appears to be a bit of sidebar blindness among readers, so it fell in the middle-of-the pack of our signup sources. Still big numbers, just not the No. 1 source I expected.
Our blog redesign did not include a sidebar (for the time being), so we no longer count this among our sources.
Twitter Lead Generation cards
We tried these on a lark, not even knowing how or if we could get them done. Turns out, they're quite easy to set up and well worth the effort.
Click on the gear icon in the top right of your Twitter homepage and go to Twitter Ads.
At the top of the Ads homepage, click on Creatives > Cards.
Create your first Lead Generation card. Write out the CTA and text that you want to appear, upload a banner photo, and add your website's privacy policy (you can create a policy here if you don't have one).
Share your Lead Gen card as a tweet on your profile.
(Much more at this helpful resource from Vero.)
Here's how our first Lead Gen card looked.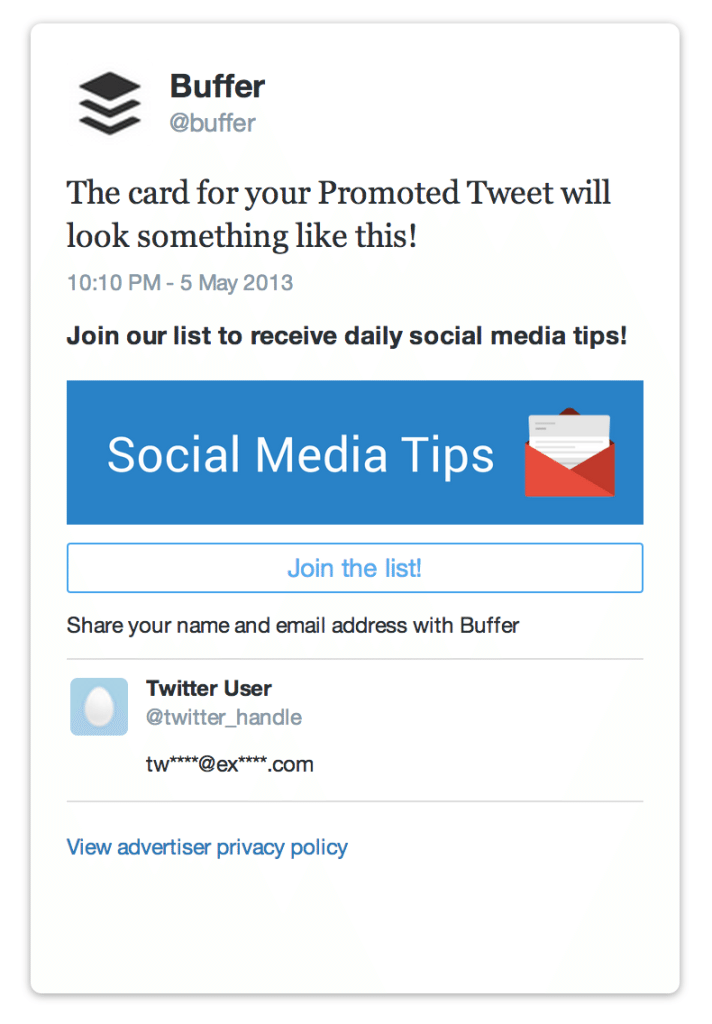 Once we had the Lead Gen card created, we sent it out in a tweet to our followers. And after sending, we followed up by pinning the tweet to the top of our page, hoping to collect more emails over the week.
The results: 182 new email signups. Zero dollars spent.
Postscript
For quite some time, we had used the P.S. message at the bottom of every blog post to link to related content elsewhere on the blog. The P.S. is one of the most-read elements of emails and articles, so we wanted to make sure that we optimized this space.
When our blog priorities changed, we changed the P.S. from pointing to related content to pointing to our email list.

The results: 20 to 40 new email signups each week from the P.S.
Facebook page email signup app
I stumbled across this integration in MailChimp where you can sync your MailChimp list and your Facebook page and collect email signups right from Facebook.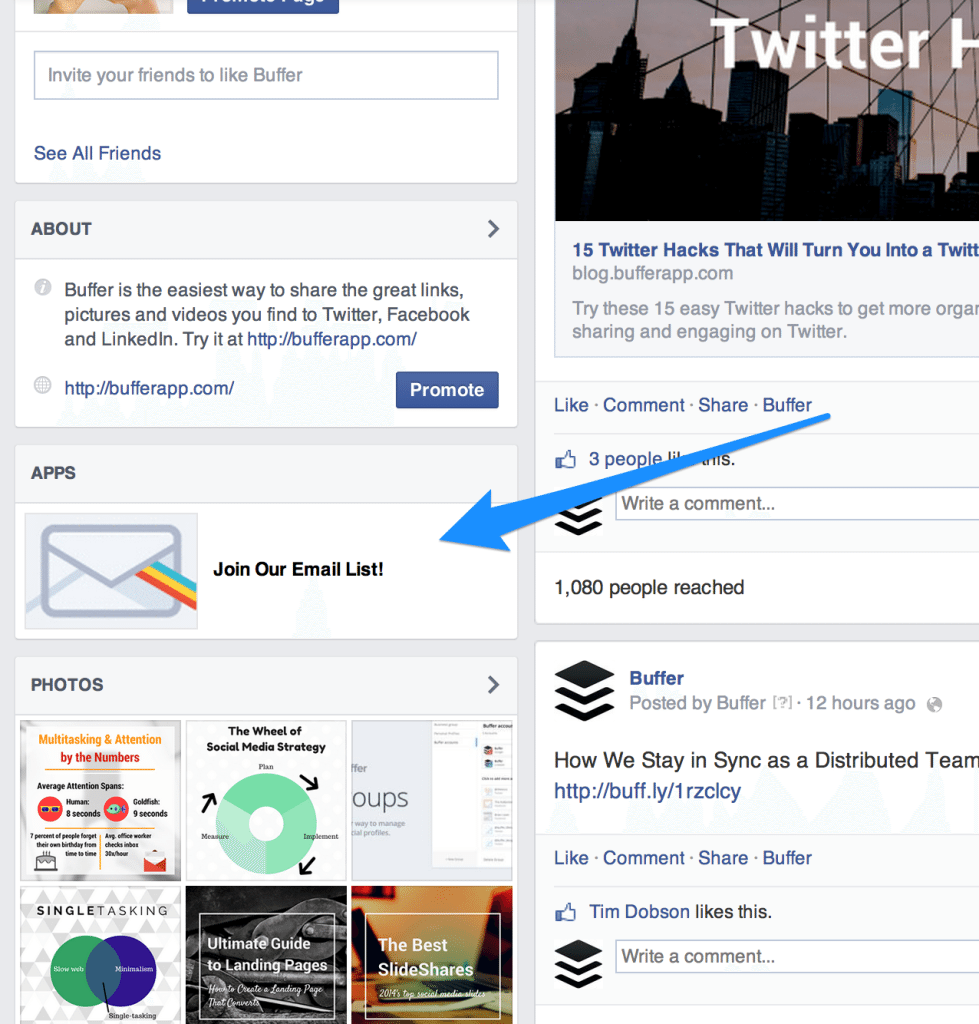 I probably could have done a better job with the styles and implementation here. It's pretty bare bones, and I'm afraid my lack of effort probably led to low signups.
The results: one email signup per week.
Other sources
SlideShare
Inside our SlideShare Pro Dashboard, we added a lead capture form that appears after the fifth slide of all our presentations. In the six weeks that the form has been running, we've collected 257 total emails.
Qzzr
On our social media personality types article, we included an embedded quiz from Qzzr, and at the end of the quiz was a prompt to subscribe to email updates. We've collected 345 leads from the quiz since it went live in mid-July.
Miscellaneous

Each week, close to 100 of our 1,200 weekly signups fall into the "other" category. MailChimp denotes these signups as "Hosted Signup Form," which basically means that these folks are using a signup form that we aren't yet able to track or find.
My best hypothesis on these unknown sources is that these are people who sign up directly from our emails, either browsing our newsletter archives or forwarding email to others who clickthrough to the MailChimp forms directly.
I'm open to any other theories you might want to share in the comments, too. It's even possible I'm forgetting to track one of our sources entirely!
Takeaways: Which email signup sources will work for you?
I've taken a couple fun lessons from our big month of email signups:
If you have a focus on email signups, let your blog reflect your focus. Ask for emails in several unique and obvious ways.
Slideups and popups get the best responses. Signup bars aren't too shabby either. And be sure to test your theories about which sources you think will be most popular. You might be surprised.
Which email signup sources are you currently trying with your list?
I'd love to hear your tactics and strategies for email list building. We're excited to push forward with a few new experiments in the coming months (which we'll be sure to report back to you): segmentation, customization, giveaways, and more. Fun times! If there's anything else you think we should try, let me know in the comments!
Image credits: Markus Spiske