The short history of how social media developed is still nothing short of incredible. When Facebook started in 2004, strictly for colleges, and Twitter in 2006, mostly for techies in the Bay Area, it was all about individuals connecting with each other.
About a decade later, a lot of that has shifted. While the personal use case is obviously still very strong, the influence of brands is fascinating. We're now talking with big brands like Nike or Coke on Twitter or Facebook in a way that we originally only did with friends.
I believe we might be at the beginning of a third way of using social media—a new way of bringing individuals, and the brands they represent, together.
This is really interesting from a marketing perspective. It's even more interesting from a human-to-human perspective—for example the focus of what an individual, who is a team member of Coke, has to say about the company. And people looking towards them, instead or in addition to the main brand account sharing news and announcements.
News publishers and tech companies at the forefront of this trend
The best example I can think of is news publishing. Over the last years, many reporters for many of the top publications have built up a sizable social media following through their writing. Many of them share their own stories or other stories from writers on the site.
It seems like a logical step that there be a way for them to suggest to their other fellow reporters news stories to share on their social accounts. Or for editors and social media managers, who know which stories are doing particularly well, to suggest that a story be shared by more team members in the organization.
At Buffer, we've gotten a hint of a potential big need for a tool like this from some of our customers already. A visionary example is the New York Daily News, where we've worked with Brad Gerick on creating this setup for the whole organization: Letting editors and social media managers suggest content to all team members of NYDN is one of the most exciting pilot projects we have running right now.
We also wanted to experiment with this ourselves, so we created a first "Buffer for Teams" setup:
A first experiment in connecting individuals and brands: Buffer for Teams
At Buffer, we've recently started a simple experiment to see if there's a good use case around social media advocacy. It started with a simple email to the team: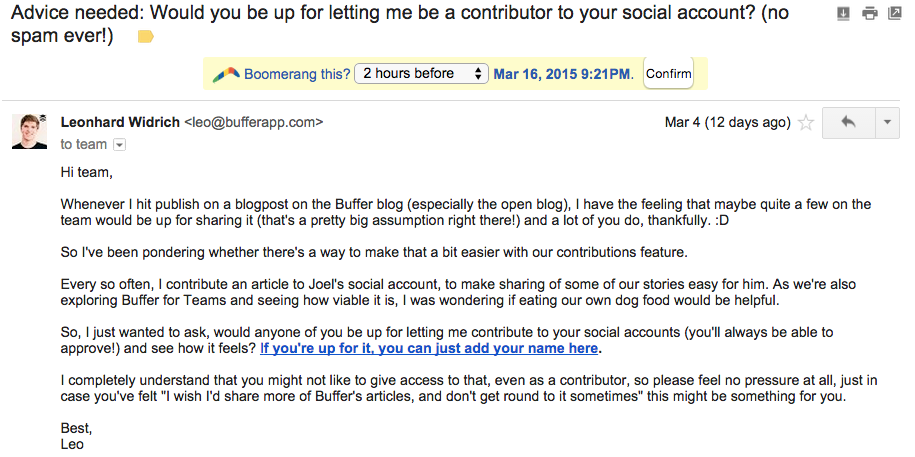 Quickly, a lot of people were interested in getting some suggested content from me for their Buffer account. The next step for me was to make it super easy to share these stories with other people's social accounts. So I went ahead and used Buffer's group feature to create a new group for the Buffer team only: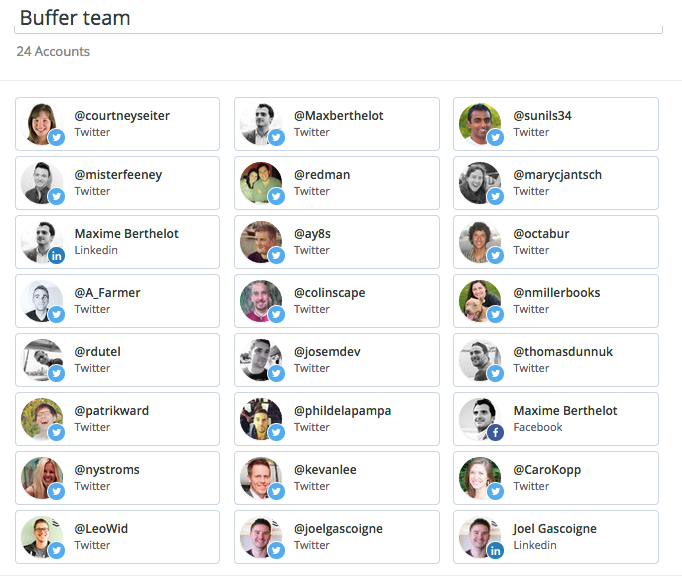 This was absolutely amazing—with the click of a button I could now suggest content for all these people that were interested in getting curated content for their social accounts from me.
When we announced that we acquired the Buffer.com domain, I thought this was a great example of something that everyone on the team might want to share: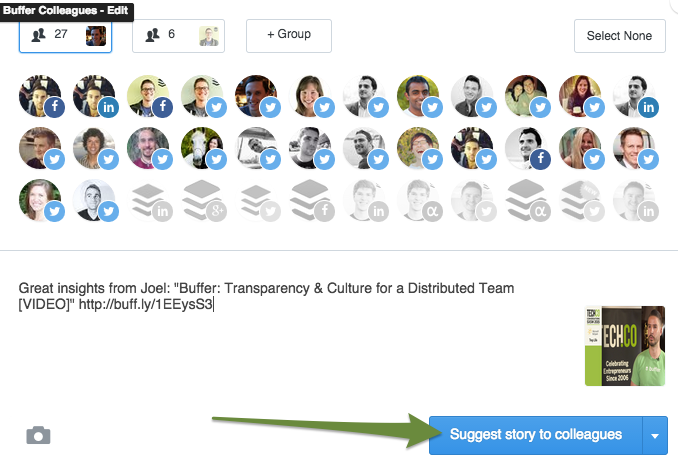 I felt totally superhuman to be able to potentially amplify the buffer.com story by the power of the whole Buffer team, with the click of a button.
I'm also playing around with creating different groups of people in the company that could find things particularly interesting, like just the marketing team, just the sales team, just the engineering team for example: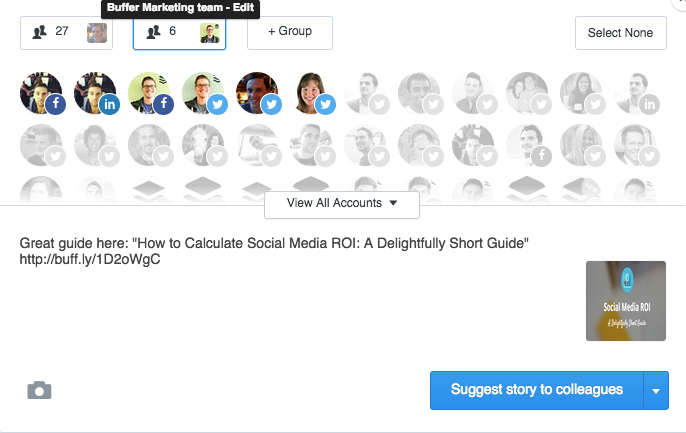 Experience of this for the team and colleagues
Making it super seamless and easy to share the suggested stories makes a big difference here. We have 2 ways that the user can go about adding stories to their queues to be shared on their social account.
Here is how it appeared for team members in their Buffer account, easy to approve or edit:

Carolyn now had 1 new contribution from me in her Buffer account that she could easily either "approve" or "delete".
She'd also get an email with a new contribution being available for her: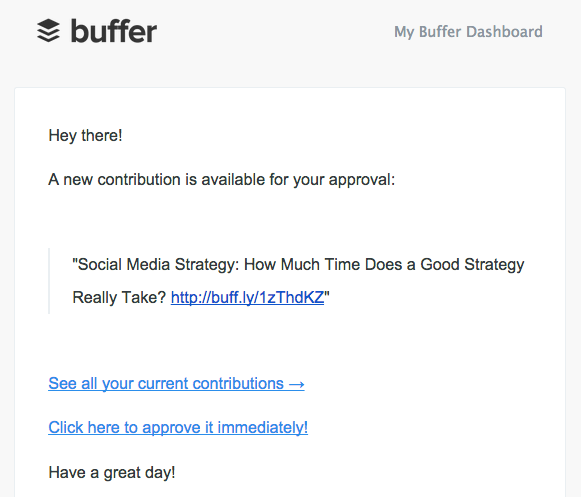 Overall, this has felt like an amazing way to help everyone at Buffer save time and still share some great company news or announcements if and when they feel like it.
Want to try this out at your company?
We're right now at the very early stages of learning about whether this use case is something that could be great for many other companies out there. We think that is the case, and some of the early demand seems to hint at that.
I think that this might be the beginning of a very exciting trend that could make social media a lot more personalized, with content and announcements from big brands also represented and shared by individual team members.
We've already started working with some select publishers and brands who wanted to use this new version of Buffer for Teams – if you'd like your company to be part of it, too, you can just share your interest here and we'll reach out to you asap:

We're excited to work closely with teams early on to learn how to best go about building this out further. You can just register your interest for Buffer for Teams here and we'd love to reach out to you.