Great news: Courtney Seiter has joined the Buffer team full-time as Head of Content Marketing!
Courtney, who lives in Nashville, Tenn., wrangles the Buffer blog and Open blog, making sure they're always full of useful content for Buffer's audience.
I remember when I first came across Courtney's writing through her Marketing Land column over a year ago and I loved reading and following her posts there. In fact, I often looked towards her posts for inspiration and brainstorms for our own posts. Hers was easily some of the best social media content I could find – I was hooked!
What stands out for me the most with Courtney's writing is her unique approach: She teaches without instructing. Her writing is filled with personal stories and a very warm touch and yet, it's still very professional. Walking the line between these things is insanely hard to do. Take a read yourself.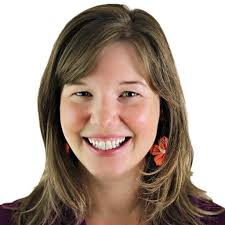 When Courtney finished her 45 day Buffer bootcamp, it was immediately obvious to me that she should take the lead and take over all content marketing at Buffer. It was one of those moments where I realized she is doing a better job already now, than I will probably ever be able to do – that was pure joy!
On top of all of that Courtney is living and breathing the Buffer values. She shows so much kindness and helpfulness towards everyone she interacts with, both online in the comments, blogposts and on Twitter, and also internally as part of the Buffer team. I believe that having Courtney as part of the team was partially a very selfish decision, as I feel simply having her around already makes me a better person.
Straight from Courtney

We ask each new team member to write a little something about themselves for Buffer's team page as well as answer a few fun questions (adapted from Vanity Fair's famous Proust questionnaire). Read on and get to know Courtney a little better:
Courtney on Buffer
"The Buffer blog audience is smart, friendly and always excited to learn something new. My responsibility and privilege is to make sure we're constantly providing them with the best, most complete and most useful content out there – backed up by research and data. I love helping folks learn more about social media and showing them what life is like at Buffer, as well as jumping into conversations with our community on social media and in blog comments."
If you could change one thing about yourself, what would it be?
"I would worry a lot less. It's amazing how all the things I've ever worried about, I look back on and think, "That really wasn't a big deal at all." If only I could get that sort of clarity in the moment instead of years later! Meditation helps a bit with that. I'm open to all suggestions!"
Where are your most productive and happy?
"I'm still figuring out where I'm most productive. So far the best contender is: In a coffee shop, just before the power goes out on my laptop. I'm very deadline motivated. :) I'm happiest when I'm in a really thoughtful, interesting conversation or hanging out with my dogs and looking at their goofy, happy faces."
Which talent would you most like to have?
"I'd love to be visually artistic–to be able to paint or draw. I greatly admire artists but no part of that is my strong suit whatsoever. But the internet makes things a lot easier—now there are tons of tools out there that can even make somebody like me feel like an artist!"
What is your most marked characteristic?
"Most people who know me well would probably say my enthusiasm. I am fairly animated, and it's pretty easy to get me riled up when something excites me or makes me happy. I've been known to gallop and/or skip down hallways. :)"
What do you most value in your friends?
"Empathy and humor—the combination of those two elements seem to create the most amazing, thoughtful conversations. I'm overwhelmingly lucky to have plenty of folks in my life who have those qualities and so much more."
I'm excited to see where Courtney will take content at Buffer and how the blog and all our content marketing efforts will evolve. You can find her on Twitter here and I hope you get the chance to chat with her!