What does it take to put a great holiday marketing strategy into place?
Whether you're looking to increase sales this holiday season or simply create fun and engaging content online, it all starts with having a strategy in place with what you would like to accomplish and why.
We had the privilege of speaking with Shopify Content Marketing Lead and Managing Editor Casandra Campbell about the specific ways her team approaches holiday marketing and how they strategically help their huge community of businesses – both big and small – find success with content and sales online.
A huge thank you to Casandra for packing this episode with great insights and actionable takeaways for social media managers and marketers looking to implement a holiday marketing strategy that engages customers online and increases sales.
This episode is available on:
In this episode, here's what you'll learn:
Casandra Campbell shares her unique approach to how her team at Shopify creates and implements a successful holiday marketing strategy year after year – and how you can too! You'll also learn some more great things like:
How early Shopify starts planning for the holiday season
The importance of exclusivity and social proof during the holiday season
How retargeting and remarketing are full-proof strategies to convert customers
The importance of customer service before and after the holidays
How to get people to hit "purchase" and not abandon their carts
3 Takeaways for Marketers Looking to Create a Solid Holiday Marketing Strategy
In Casandra's Words…
1. Make sure to really market your promotions
If you're running any kind of promotion – make sure you tell people! It's always so sad when a company has a great deal and they just forgot to spread the word. Email your customers, share it on social and in any relevant communities. Make sure people know.
2. Don't ignore customer service
Don't ignore customer service, it's incredibly important. It can really make or break your business and so make sure that you're providing a really great experience. That will keep people coming back after the holidays
3. Keep in touch
As much as possible, look for ways to keep in touch with those people that have purchased your product or not. Whether it's capturing email addresses or retargeting – just make sure that you're thinking about the next step as well. It could be upselling or abandoned carts or the next purchase.
Mentionable Quotes and Shareable Snippets
In Casandra's Words…
"Any kind of social proof that you can include that shows that other people have purchased the product and other people have loved it, that can be very powerful as well. On a conscious level, we all think we won't be swayed by that, but we really are."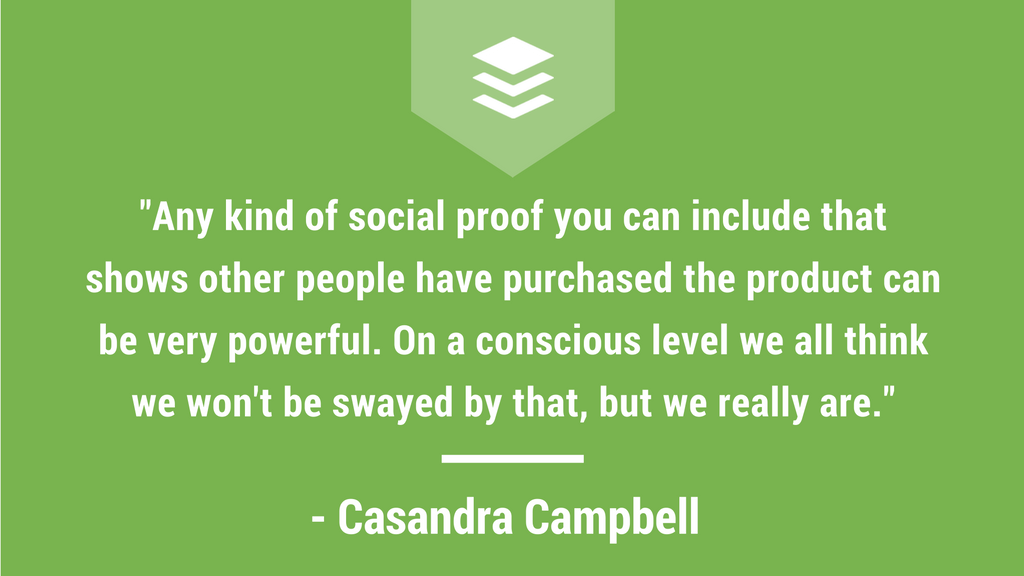 Show Notes and Other Memorable Moments
Thanks a million for checking out this episode! Below are the websites and other tidbits that were mentioned in today's podcast about personal branding on social media. If you have any questions for us, feel free to drop us a line in the comments and we'll respond right away!
Other Great Quotes from the Show
"We really start thinking about holiday marketing towards the end of the summer and the fall. Figuring out what gaps we need to fill, how we can support our merchants, and the initiatives we have coming up."
"Social media is probably still the best way to be talking to your community and talking to your audience. So whatever you have planned for the holidays it's a great way to spread the word and help them."
"I see a spike in keyword searches around the holidays and in many cases it's the same keywords we see throughout the year. But it can be really hard to rank for those keywords in such a short period of time and so it's super important to start early in your content process."
"We see shipping as a huge barrier. One of the best things you can do is figure out at which price point you can offer free shipping."
"Exclusivity always works really well in driving clicks… When people know they're not going to be able to get it late that can be really powerful."
How to Say Hello to Casandra (and us)
Casandra Campbell is super active on Twitter and would love to say "hello" at Casandra_Camp and you can read more about Casandra at casandracampbell.com (Minimalist Marketing)
Thanks for listening! We'd love to connect with you at @buffer on Twitter or with the hashtag #bufferpodcast.
Enjoy the show? It'd mean the world to us if you'd be up for giving us a
rating and review on iTunes
!
—
About the Show
The Science of Social Media is a podcast for marketers and social media managers looking for inspiration, ideas, and results for their social media strategies. Each week, we interview one of the very best in social media marketing from brands in every industry. You will learn the latest tactics on social media, the best tools to use, the smartest workflows, and the best goal-setting advice. It is our hope that each episode you'll find one or two gems to use with your social media marketing!
The Science of Social Media is proudly made by the Buffer team. Feel free to get in touch with us for any thoughts, ideas, or feedback.