We have some more great news for you. Joel has just pushed the latest Buffer feature live. Please note that in it's first version it will only work if you have the Chrome Extension for Buffer installed.
1.) Add Tweets from Twitter.com
It means that you can now add tweets to your Buffer right from inside Twitter.com.

If you click it, it will allow you to do old school RTs , so others will see that you have retweeted them. You can Tweet Now or Add to Buffer, just as usual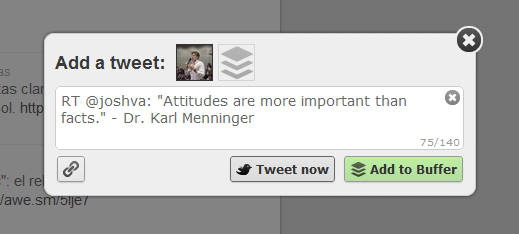 2.) Right click and add your tweet on any page
Here is another little add-on so adding tweets to your Buffer is even simpler: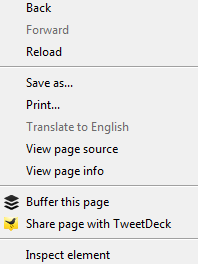 3.) "Alt + b" keyboard short cut to open your Buffer
Last but not least you can now open your Buffer box with a nifty keyboard shortcut whilst you are reading a page. Try "Alt + b" right here and see what happens.
That's it, I hope you like these new little add-ons. Any feedback you have, please share it with us below.
PS: Chrome might take a little while to update automatically for you. In case you really want to try it out, simply right click the icon, click "manage extensions" and from there click the "+" sign of developer mode on the top right. This gives you a chance to click "Update all extensions" and you will have it right away.