We have another feature ready for you. From now on you can "Tweet Now" via Buffer with both the browser extensions and from your home account. Here's how it looks: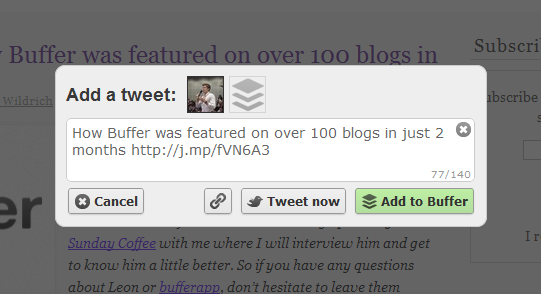 Why did we do it?

From the outset of the Buffer journey we always stated we wanted to stay on the genuine side of things and help make Twitter easier to handle.
Therefore the step to real time tweets was a logical one for us as it helps everyone to create either real-time or Buffered tweets. This means we can help you to optimize further without trading in on the important human element of Twitter.
Another reason is that you will also get the handy analytics for your immediately sent tweets via Buffer which we thought is useful.
Finally, we think you can now see the browser extension as your fast and flexible tweet panel that allows you to tweet immediately or add to Buffer for later.
What do you think about this feature? Could it be useful for you? Please let us know below.