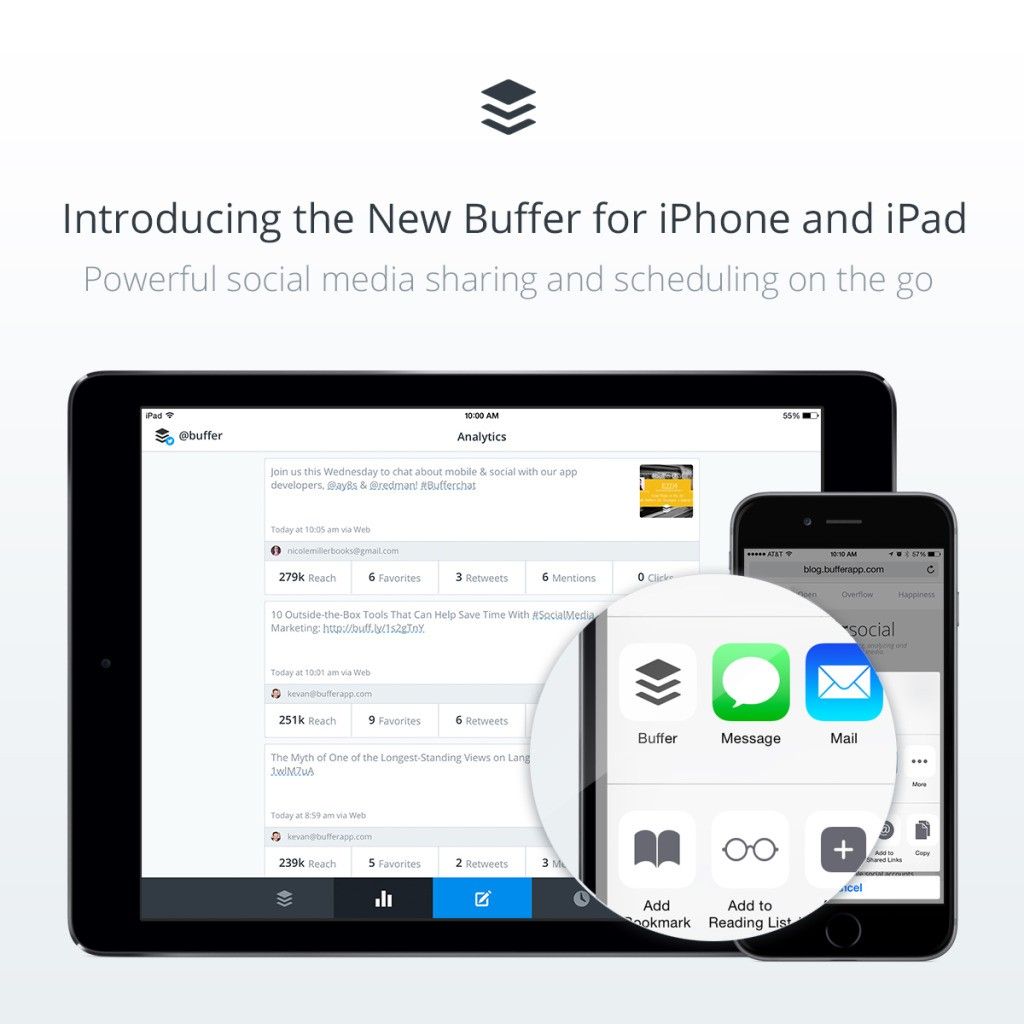 Your sharing schedule is as unique as you.
Content finds you when you're sitting down to work, when you're flipping through your phone, and when you're kicked back on the couch. Inspiration comes, regardless of the device you're holding. How great would it be to schedule and share whenever these moments arrive?
We'd love to do our part to help make sharing to social media even easier, from wherever you are. We're excited to deliver even more of our simple-to-use Buffer app that fits the way you share and  schedule your social media.
Introducing the new Buffer for iPad and iPhone!
For the first time ever, you can manage your complete Buffer dashboard from your iPad. You can schedule and share directly from a native iPad app, built and optimized specifically for the tablet.
And with the new functionality of iOS 8, we've built integrated sharing features right into the iPhone and iPad app. You can Buffer straight from Safari and any other apps that support the native iOS share menu (in other words: tons of 'em!).
New features, new displays, an updated app for a most efficient workday.
Oh, and it's all free.
Get your copy of the new app today, and start sharing from wherever you're most productive.
Download the free app for iPad and iPhone!
Inside the all-new Buffer for iPad
The same awesome app, a new universally awesome experience!
One of our most requested tools of all-time—the Buffer iPad app has arrived!
With this latest release, the Buffer app is now optimized and organized for iPad. You get all the same functionality you have come to love from the Buffer iPhone app, now on your iPad.
The latest version of the Buffer app is universal. Download to your iPhone and your iPad, and the app will work seamlessly on each device.
Enjoy the same gestures, menus, buttons and taps as you have come to know on the iPhone. With the expanded size of the iPad, there is now more room to share and schedule your updates. Buffer's iOS developer, Andrew Yates, put extra care into every pixel to ensure that the iPad app makes the best use of the space at hand.
If the iPhone app is a cozy loft, the iPad app is a plush living room. Stretch out and enjoy the new, roomier iOS experience.
Share to Buffer without ever leaving your favorite apps
Have you ever found an amazing link in your Safari app and wished to wave a magic wand to have it Buffer into your queue?
Well the magic wands have arrived!
Thanks to the newest version of iOS, you can now share directly to Buffer from Safari, Chrome, and every other integrated app that supports the native iOS share menu.
Here's how to enable this feature on your iPhone or iPad for use with the Safari browser.
Open Safari on your iPhone or iPad.
Tap the share button.
Swipe the top row, and tap more.
Enable "Buffer."
Move "Buffer" to the top of the list.
Tap Done.
Voila! You can now share directly to Buffer as soon as you come across a link you'd love to queue. You're just a couple taps away from scheduling, publishing, and shaving serious time off your iOS workflow.
Now featuring: Native retweets from your favorite Twitter apps
You can now publish native retweets via Buffer, through other apps.
Let's say you're browsing your Tweetbot app for the latest news. You spot a tweet you'd love to share.
Now you can share this tweet as a retweet and add the retweet into your Buffer queue—all without ever leaving the original Tweetbot app.
It's the same functionality you'd find on a desktop/laptop browser, using our Buffer browser extension. Now, you can enjoy this cool tool from the comfort of your favorite Twitter app!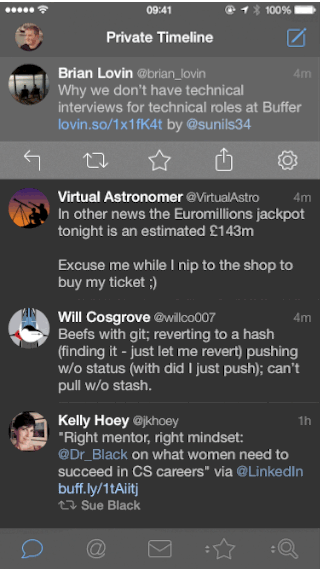 Full iOS 8 support. Upgrade and enjoy!
With the release of the brand new iPhone 6 and iPhone 6 Plus, Apple also sent out a brand new version of the operating system for its phones and tablets. One of the biggest features from this release is the in-app sharing that we've highlighted above.
In addition to the big-ticket features in iOS 8, the new Buffer app also takes advantage of the other improvements to the operating system.
Optimized for the new, larger iPhones
Speed improvements throughout the app
Lean code for the smallest demand on your device
You can learn more about these features straight from our iOS developer Andrew Yates. Here's his inside look at creating the new Buffer for iPad and iPhone. Future tweaks and improvements are on deck as well. Keep updated with the latest improvements by downloading the new version of the app.
Note for Android users: The next big release of the Android operating system, Android 5, will bring with it a revamped Buffer for Android app, taking full advantage of the slick new animations and improvements that will be possible with the release. Stay tuned for updates as the OS launch date nears.
Download now: One-stop sharing on any mobile device
No matter where you are or what device you're using, Buffer's got you covered with the new Buffer app for iOS.
If you love to surf and share from your iPad, you can enjoy the inaugural tablet version of our much-loved app.
If you seem to always find awesome links inside Safari and Chrome, you can share seamlessly to Buffer without ever leaving the browser.
Use Buffer to share natively from anywhere on the web right from your phone or tablet. Multiple social networks, multiple accounts…it's all there.
Download the new app for iPhone and iPad, and experience new and improved social media sharing on iOS!
Download the free app for iPad and iPhone!
Image sources: Placeit.net, Andrew Yates