What if I told you engaging with your customers on Instagram can double or triple your revenue?
That's exactly what happened to Southern Elegance Candle Co. as its founder and CEO D'Shawn Russell told us:
"Our social media makes us a lot of money… We went from doing maybe $20,000-30,000 a month just posting pretty images to well over a $100,000 a month now simply by engaging people more."
Russel and Southern Elegance Candle Co aren't alone. Brands like Glossier (which attributes 70% of its growth to owned, earned, peer-to-peer, or organic channels), MadHappy, and Sass & Belle, focus on responding to almost every customer on Instagram.
So it can be incredibly powerful to focus on engagement. But how do you actually stay on top of every comment?
After working and testing with thousands of customers, we have developed a solution that is truly focused on enabling you to build better relationships and a stronger brand on Instagram.
We are excited to share it's available to all Buffer customers today!
(If you are not a Buffer customer yet, you can get started at just $15 per month.)
Introducing Instagram engagement in Buffer
Every time an Instagram comment goes unanswered, an opportunity to create a lifelong customer is lost.
The problem?
Staying on top of these interactions is really hard.
Notifications from Instagram quickly disappear and important comments slip through the cracks. And we get why — no one has the time to hang out on Instagram 24/7. Your time is precious, and we're here to help you win it back.
With this latest addition, you'll be able to reply to more comments, stay on top of important interactions, and turn your followers into fans. All from the comfort of your Buffer dashboard.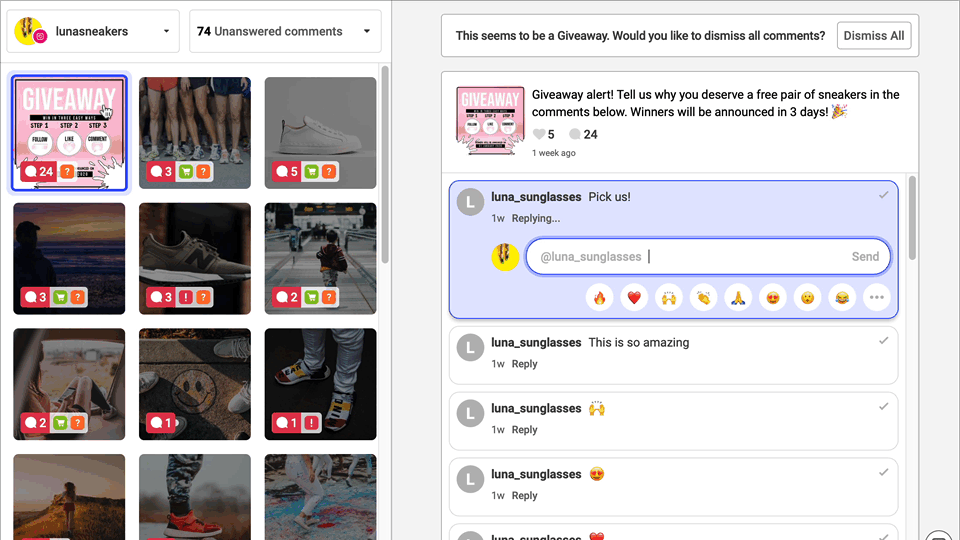 Never miss a comment
It's really easy to miss new comments among the likes, follows, and mention notifications on Instagram. For most small business owners and marketers, this means checking Instagram regularly to keep a close eye on important comments.
We have experienced this ourselves with our own Instagram account and have heard the same from many customers. And that's why our engagement features are built specifically to help you stay on top of all your comments.
There are all the benefits of community building and engagement but it's also a huge time saver for me. I can't tell you how helpful it has been.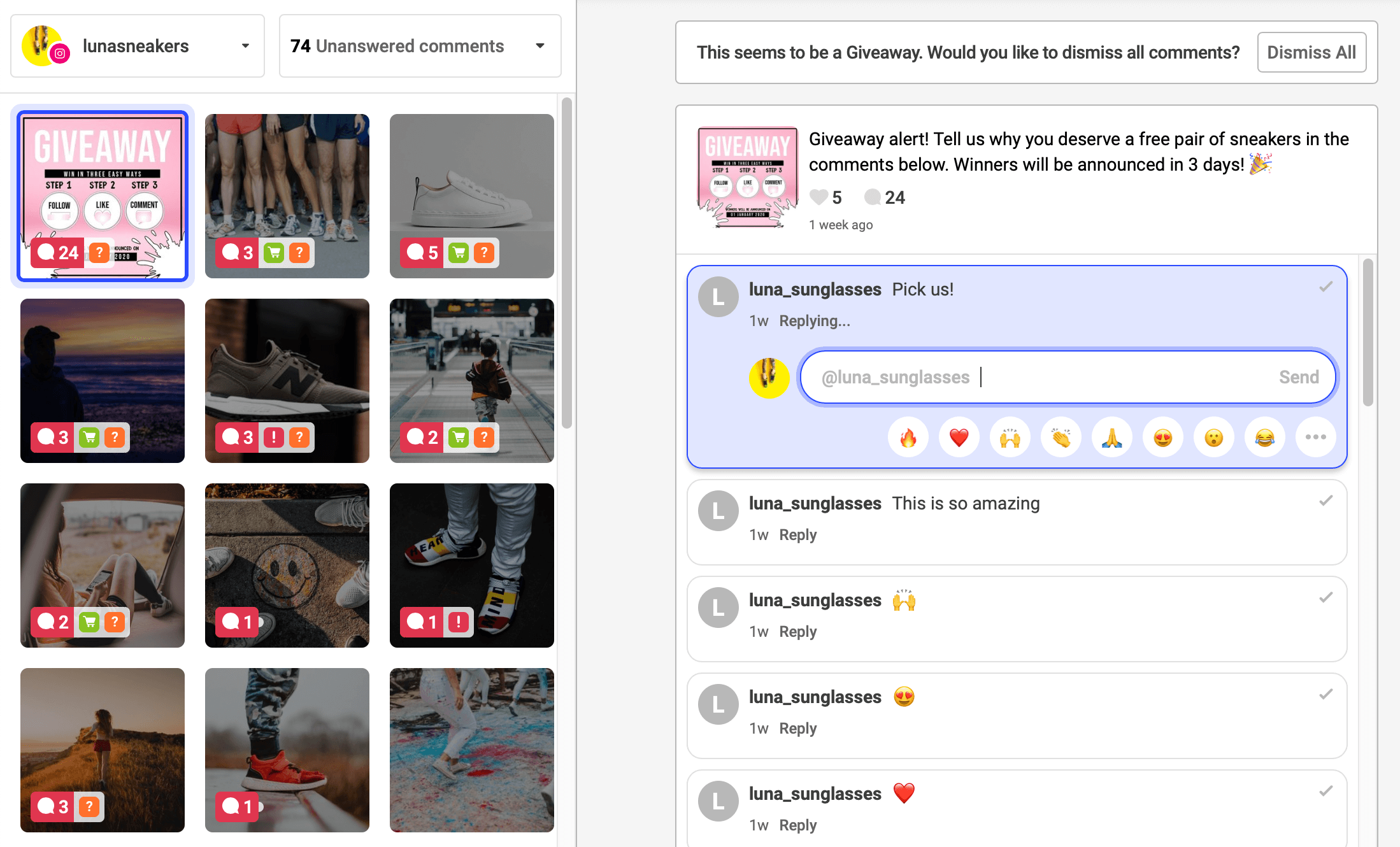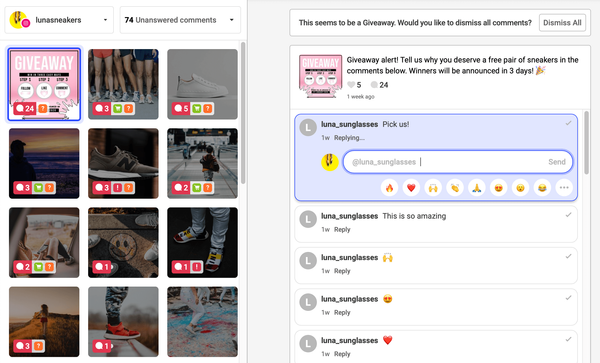 Right at the top, you can immediately see how many unanswered comments you have. The familiar grid view make it super easy and quick for you to jump to the respective Instagram posts to respond to a comment.
You can quickly reply to as many comments as possible, and if there's a comment that doesn't need a respose you can easily dismiss it by clicking on the checkmark beside the comment, and it will be considered as "answered".
Course creator and artist Tamer Ghoneim shared with us, "it's really important to me to try to reply to every comment but finding them was impossible, notifications expire, and I just didn't have a good way to manage comments on Instagram. I can't begin to tell you how happy I was when saw the engagement features in Buffer. I literally spent hours if not days looking for something like this. There are all the benefits of community building and engagement but it's also a huge time saver for me. I can't tell you how helpful it has been."
Prioritize important conversations
Notifications in Instagram are shown in a reverse-chronological order. So for most people you'll see the latest notifications first and likely work your way through in the order they are displayed.
But the latest notification might not be the most important or urgent one to respond to. There could be a comment about a major issue with an order or a comment from an influencer asking about your products—hidden somehow in the middle of all your notifications. These are the comments you might want to prioritize.
With Buffer, you can do just that. We use a mix of filtering and machine learning to identify three types of comments that you might want to check out first:
Negative comments
Comments about an order
Comments with a question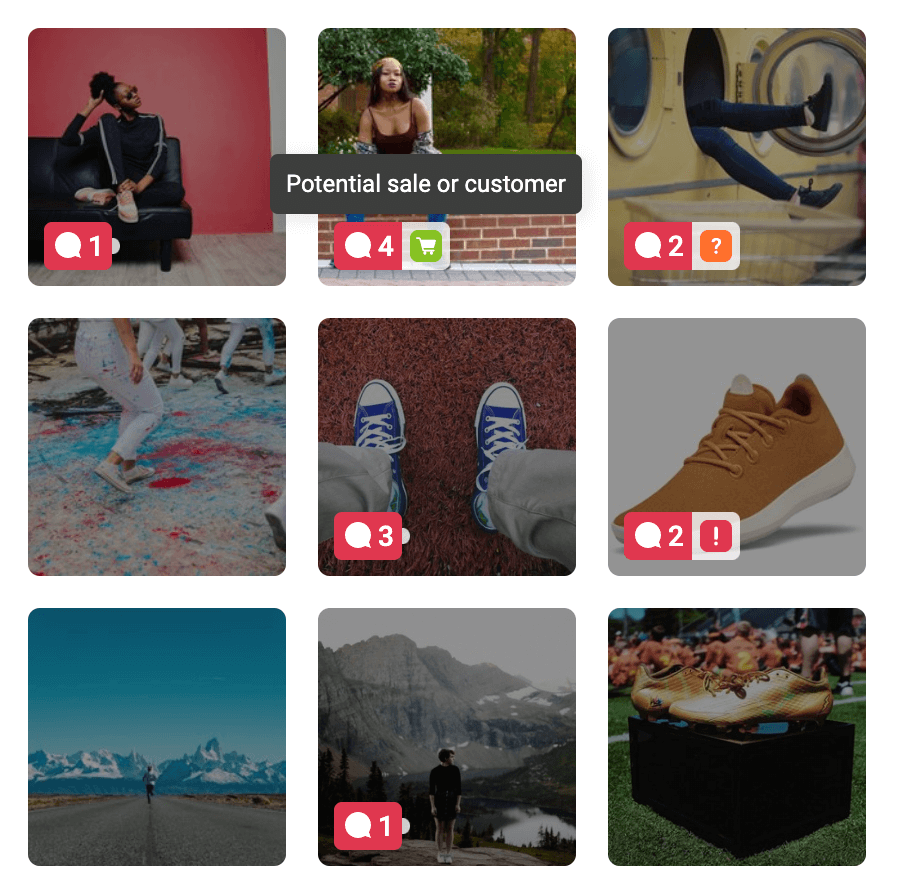 Posts with one or more of these comment types will have a label so that you can spot it right away. No more scrolling and searching. Just click on the post and jump right over to answer the comment.
"We use the Engage tool on a daily basis to ensure we never miss a comment or question from our community. I really like how it flags out comments that may be an issue or that is potentially an important question that we may have missed," said Stephanie Kaluza, the social media manager of Sass & Belle.
The fastest way to engage on Instagram
Time is one of the most important assets for small businesses. There are always so many things to do and so little time. We want to help small business owners and marketers take back their time so that they can work on other parts of their business and also contribute back to their communities.
First, being able to reply to comments on a laptop and desktop allows you to get through the comments much faster than doing so on a mobile app—without compromising on the quality and thoughtfulness of the response.
"It is difficult to stay on top of Instagram, especially since as a full-time marketer, I'm on a laptop/desktop most of the time and IG is so mobile device oriented. You can't do everything on the platform from a desktop. Bravo for Buffer's ingenuity!" Beverly McLean, CTC, Director of Social Media at Covington Travel told us.
Second, there are hotkeys to help speed up your engagement:
Use the Up and Down arrow keys to navigate your comments
Hit CTRL + D to dismiss comments
Hit ENTER to send a reply (and you'll automatically be brought to the next comment)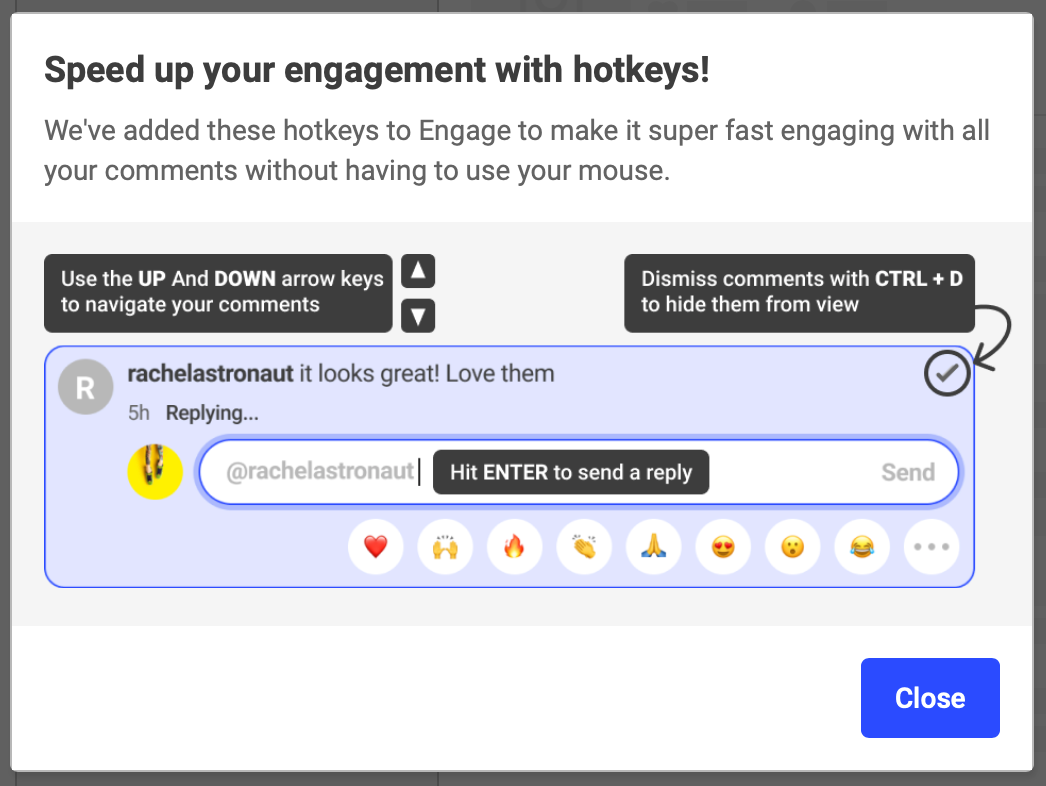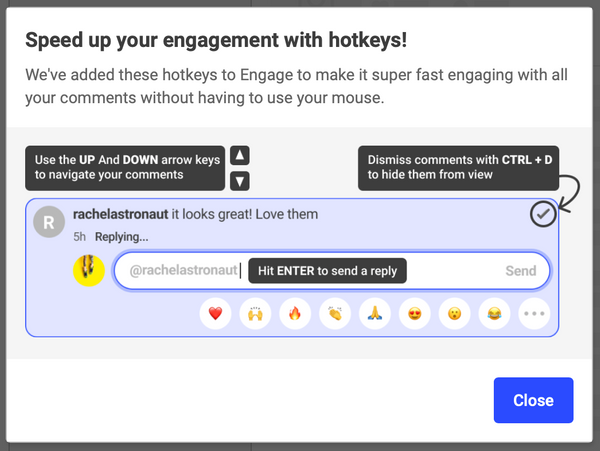 Finally, sometimes you might just want to respond with a quick emoji (especially when responding to an emoji comment). Buffer studies the emojis you use most often and suggests them to you when you are responding to a comment.
Build a lifetime audience
For many years, businesses have simply focused on publishing lots and lots of content. The ones that have been able to build a community of loyal following are those that understand our human instinct to connect and socialize.
While many businesses are not being super responsive on social media, this is an easy way to stand out from the crowd, impress your fans, and build a relationship.
If you have a Buffer (Publish) subscription, this has been added to your account for free! Simply click "Engagement" in the upper-left corner to start engaging your fans on Instagram—right within Buffer.
Otherwise, we would love for you to try Buffer for free for 14 days.  
---
FAQs
Do I have to pay extra for this feature?
Nope. If you have a Buffer (Publish) subscription, this has been added to your subscription for free. If you are not a Buffer customer yet, you can get started here at just $15/month.
Can I use this for Facebook, Twitter, or LinkedIn?
We are working on integrating with Facebook right now, so that you'll be able to reply to comments on your Facebook Page. We do not have a timeline for Twitter and LinkedIn yet.
Does this work for all Instagram profiles?
This only works for Instagram business profiles. If you are using an Instagram personal profile for your business, you could consider converting to a business profile to take advantage of this feature (and our publishing and analytics features).