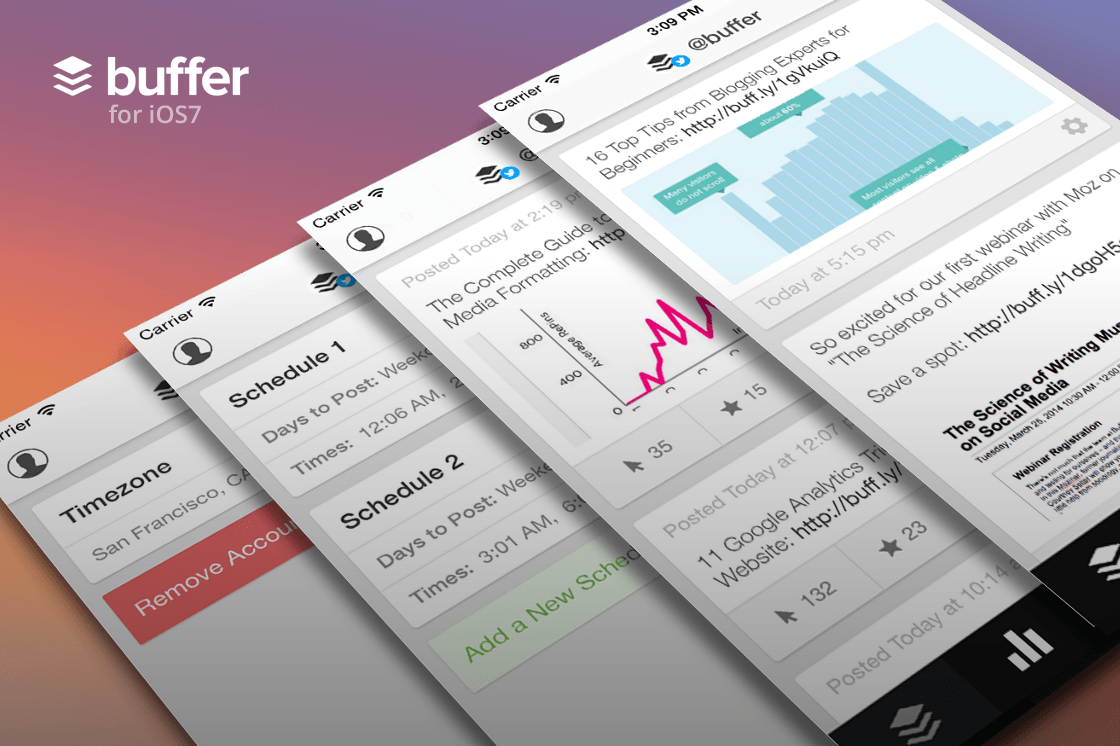 Social media sharing doesn't just happen at a desk. It happens in the car, on the train, during a holiday – anywhere and everywhere. At Buffer, our goal is to provide you with the easiest possible way to share to your social accounts – even on-the-go.
That's why today we're ecstatic to show you a project that's been five months in the making here at Buffer: the completely redesigned Buffer app for iOS 7.
Complete details on all the app's upgrades are below – or if you just can't wait, download it right away for free from the App Store.
What's new in version 3.0 of the Buffer iPhone app
New "Re-Buffer" button allows you to re-post key content
Support for Facebook Groups (in addition to Profiles & Pages)
New "share next" button
Team management: Invite and edit team members from anywhere
Deeper analytics: Know how your content performs, anywhere
Content suggestions: Keep your social media stream full
Advanced customization for your Buffer editor
Background updating to keep your queue total up to date
Revamped to boost performance
New design for iOS 7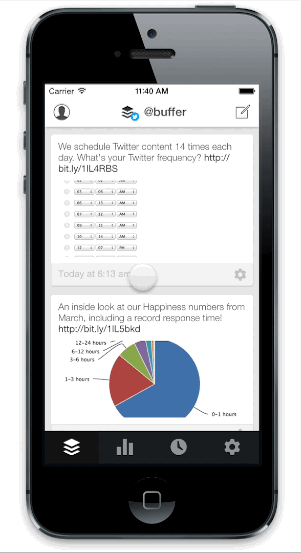 All these updates and more were made with one thing in mind: simple social sharing. Here is more detail into what went into each of these upgrades.
Redesigned to shine
The look of the app has undergone a significant makeover. The design is simpler, with a flat interface that matches the design style of iOS 7.
A lot of design work went into the look and feel of the composer, giving you total control of your options while Buffering your latest post. The full-screen windows allow you to see options for posting to different accounts, attaching photos, and customizing the publish time, all while you're writing your message.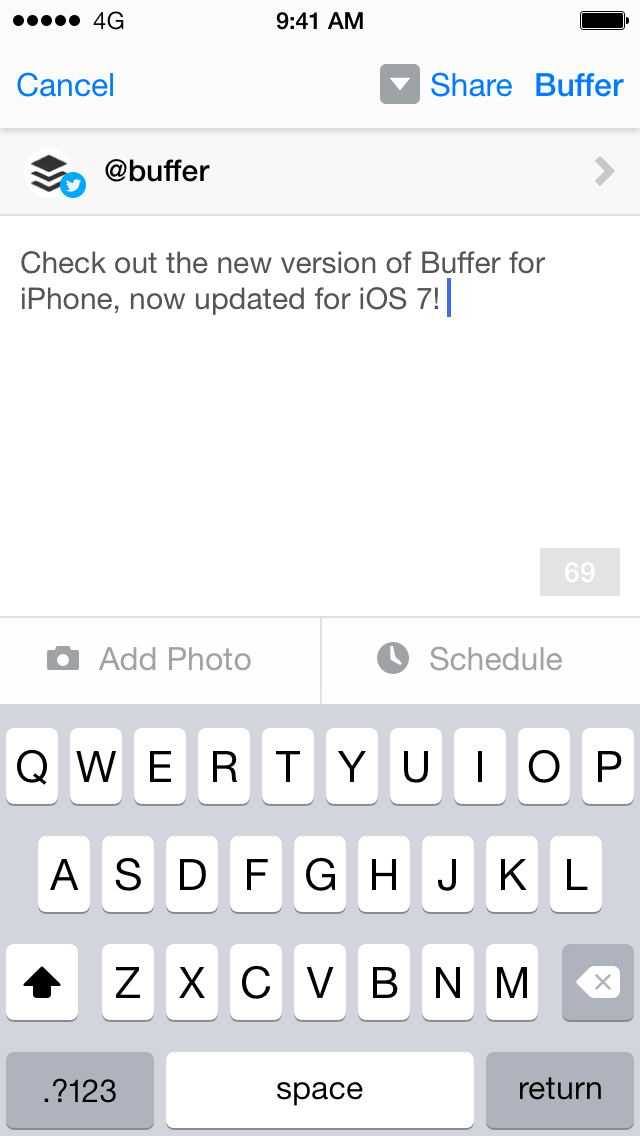 In addition, you'll find special design touches for Buffered retweets, team member contributions, and more.
Add content suggestions to your queue
You never need to go without interesting content to share. Buffer's content suggestions offer five unique choices of must-read stories, informative graphics, and inspiring quotes for you to pick and choose from each day. If you want to add any of these to your queue, you can now do so straight from the app.
(And for those of you who don't need suggestions, any settings you've changed for this feature on the web will carry over to the app.)
Always see your most accurate queue count
Knowing how much remains in your queue can be hugely beneficial as you're adding content. With this in mind, the Buffer iPhone app now fetches data in the background – even when you're not using Buffer on your phone – to ensure that your accounts stay up to date. Now, each time you open the app, you can see right away how many posts you have in your queue.
Add and edit team members
Manage your social media team from wherever you are. The app now supports full team management, including inviting new managers or contributors and editing roles.
If you're curious how the team feature works, you can sign up for the Awesome plan or take our Business plan for a spin.
Complete control over your accounts
Sharing simply and easily to the right place is important to you, and it's important to us. We built the new composer so that you could set which accounts are selected by default—the current account you are viewing or the presets you created from within your dashboard.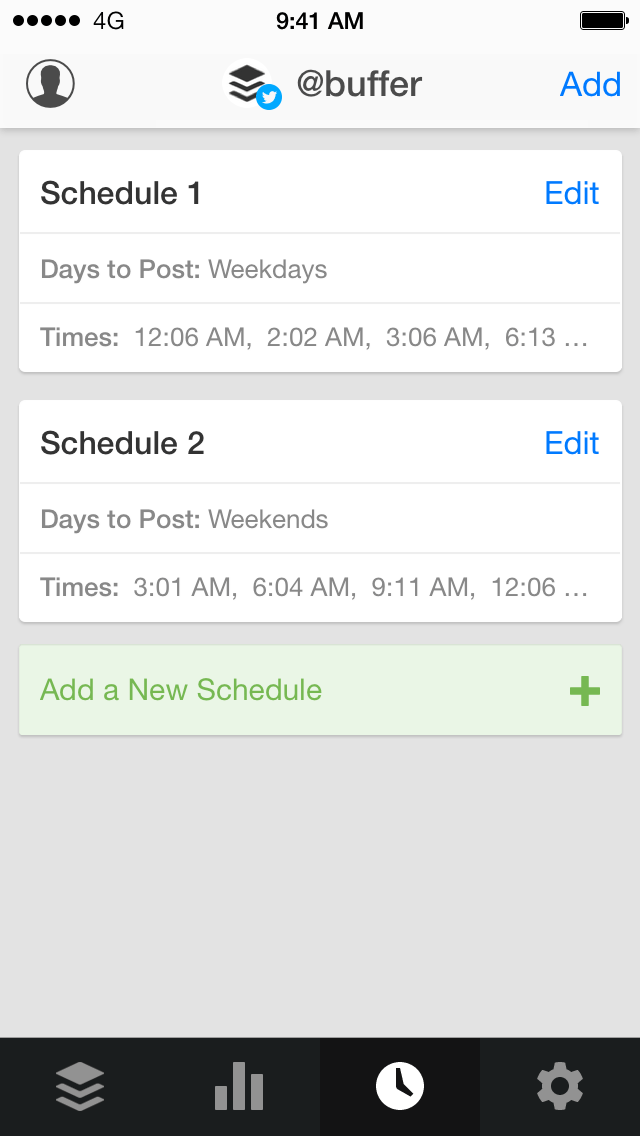 Native retweets and third-party apps
Your Buffer is closer than ever with our integration with third-party apps. We have added the ability for third-party apps to open Buffer, displaying your composer and allowing you to post native retweets for the first time on iPhone.
All the data from the web app, in the palm of your hand
Everything you might need from your Buffer dashboard is here on the app, laid out in an intuitive way to make it as easy as possible to share, track, and engage. You can view the current Buffers for all your connected accounts, analyze the interactions with each of your posts, and make all the changes and edits you need. These areas are always available to you via the bar at the bottom of the screen.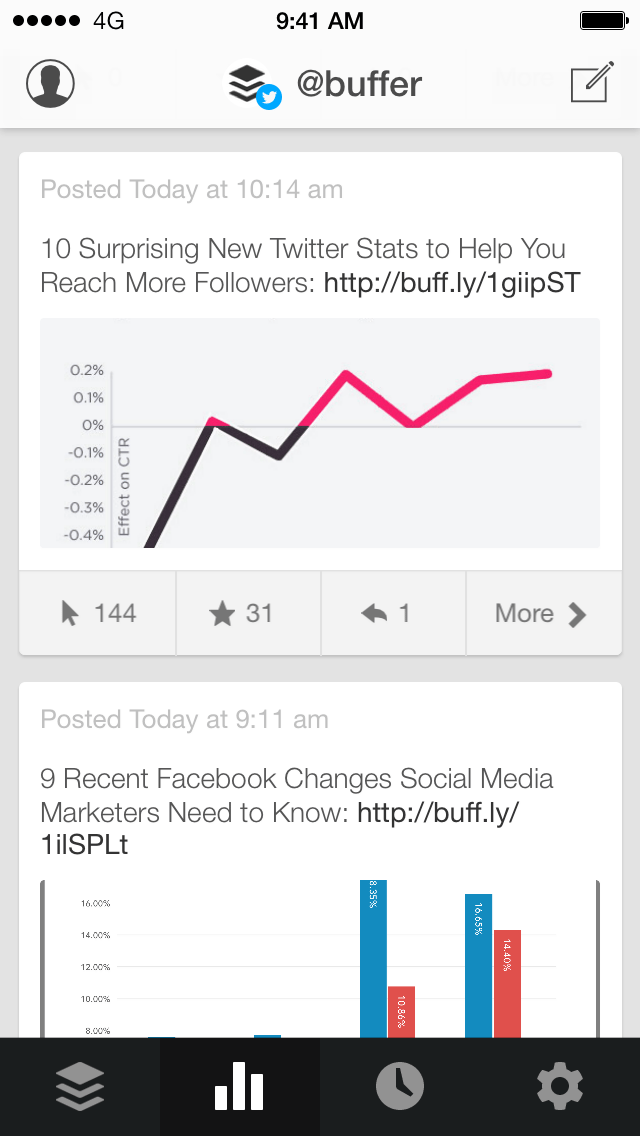 What's next for the Buffer app?
Even as we're thrilled to release this new version of the app, we're already hard at work on the next. We've started looking ahead to how we can continue to make Buffer for mobile a wonderful experience for our awesome users. How does universal support for iPhone and iPad sound? We're aiming for this next improvement to be complete in the next couple of months.
If you want to work with us on making our app universal, we're on the lookout for iOS developers to join our small team. We'd love to hear from you!
Download the new Buffer iPhone app for free
So grab the latest version of the Buffer app right now in the App Store and give it a try. We'd love to hear what you think. Talk to us by email or on Twitter!