---
These days, we live in a world of infinite supply…
In just a few clicks, anyone can start a business. Anyone can create products, build an online store, publish ads, and reach an audience online. This means that every market is becoming flooded with businesses offering similar products, features, and solutions.
So to stand out you need to have a brand that your customers connect with, and care about deeply.
In this post, we'll be sharing some tips and strategies to help you to build your brand. These insights all come from our new podcast series — it's called Breaking Brand and it's out there for you to listen to right now.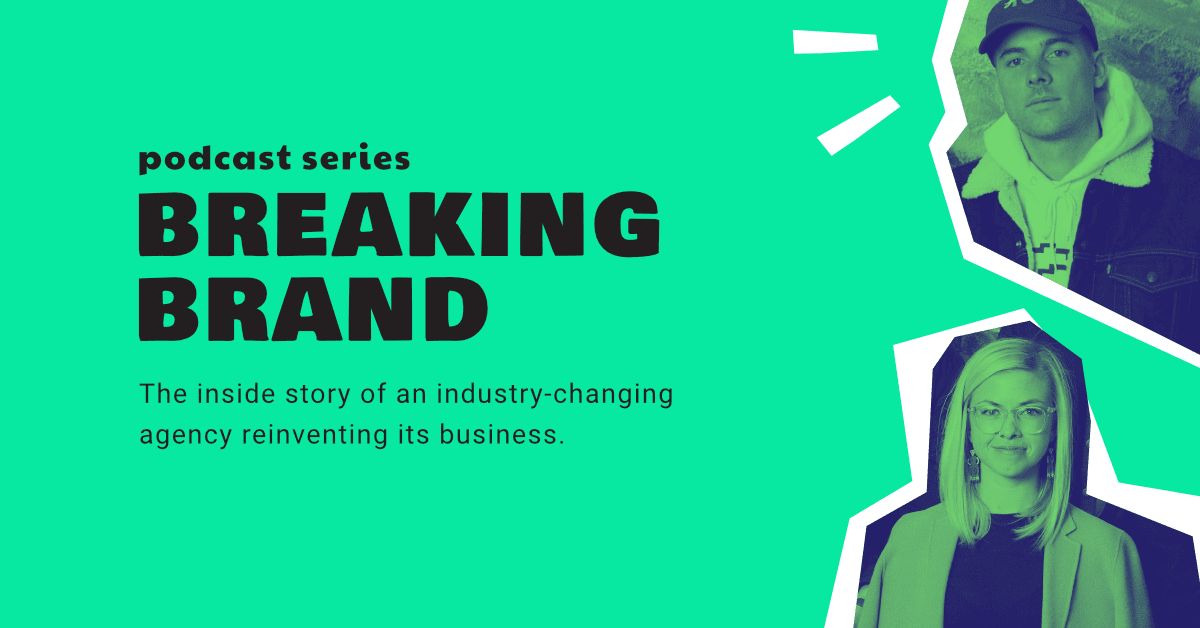 What exactly is a brand?
Before we jump into some strategies and tactics for creating a brand your customers will truly care about, let's first look at what exactly a brand is.
The word "brand" is used a lot in marketing today. But what exactly does brand mean? That question that might sound simple… but is actually pretty complex, and there isn't a one-size-fits-all answer.
David Ogilvy describes a brand as "the intangible sum of a product's attributes."
Marty Neumeier, an author and speaker who writes about branding and innovation, says "a brand is a person's gut feeling about a product, service, or organization."
And Camille Baldwin, one of the Pattern Brands founding team, and star of Breaking Brand, says "brand to me is identity. It's all of the things that make up identity, your values, your principles, who you are, your characteristics and your intention."
Brand to me is identity. It's all of the things that make up identity, your values, your principles, who you are, your characteristics and your intention.Camille Baldwin, VP of Brand, Pattern Brands
So to summarize… Your brand is the identity of your business, and how it makes people feel.
Now, let's dive into some takeaways from Breaking Brand to help you build a buzzworthy brand that stands out against your competitors.
4 Ways to build a memorable brand
1. Know what your consumers care about
Most people are really good at explaining the "what" and the "how" of their business. For example, say you're an accountancy company, describing the what and the how is pretty simple…
What you do is you help individuals and businesses to ensure their finances are in shape.
How you do it might vary, but it tends to involve some form of account management where you assist with invoicing or balance the books every month or quarter.
And the thing that will help one accountancy company stand out from its competitors is moving from the what and the how to the why.
The "why" is what will make a potential customer choose your business over another. The "why" is your differentiator.
In general, consumers aren't too fussed about how you do your work — the tools you use, your internally processes, and things like that. What consumers care about is "why does this business matter in my life?"
And to go back to the accountancy example — we already explained the what and the how — but the "why" might not be so obvious. For example, if an accountancy company mostly serves small businesses, the "why" might freeing up time for the business owner to spend with family and friends.
So how do you find your why?
Customer research is a great place to start.
At Buffer we often do research interviews with customers to learn how our product helps them, and to better understand how they describe the benefits of Buffer. We've even had teammates spend the day with customers at their offices to see first-hand how Buffer fits into their routines and workflows.
And in Breaking Brand, Emmet Shine, co-founder of Pattern Brands, talks about the importance of knowing the customer when it comes to building a brand consumers will care about.
Before starting Pattern Brands, Emmett helped over 50 businesses launch to market, and one of those businesses was Sweetgreen, a restaurant chain selling healthy salads and grain bowls.
When working on the Sweetgreen brand and trying to understand its customers, Emmett and his team spent countless hours at Sweetgreen restaurants. They would watch how the staff would prepare salads, listen to how customers would place orders and immerse themselves in how the company works.
Essentially, they were trying to understand every tiny detail about what made Sweetgreen unique and special.
This enabled the team to craft a brand that really emphasized what customers were looking for from Sweetgreen and helped them to find their "why".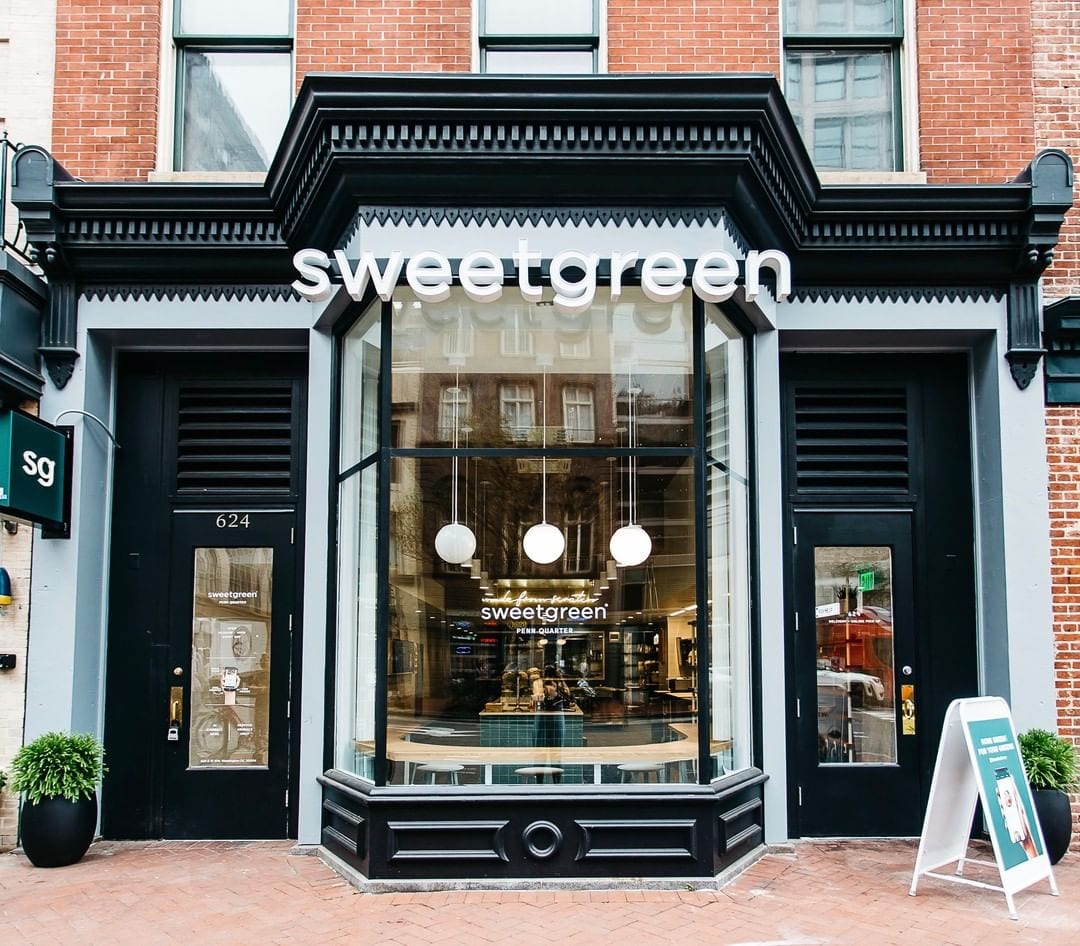 Now Sweetgreen has over 75 restaurants and reportedly generated in excess of £100 million in 2018. So they clearly have a brand that fits what consumers are looking for.
2. Find the technical, functional, and emotional benefits of your business
Once you've done your customer research, you can begin to think about the various types of benefits your business offers consumers.
In episode one of Breaking Brand, Pattern's VP of Brand, Camille Baldwin shares how the brand pyramid framework can help you to define those benefits.
Brand pyramids have been around since the late nineties, but still play a key role in brand strategy. Pyramids help you to answer fundamental questions about your business and its place in the market. Here's an example brand pyramid from Insead Knowledge: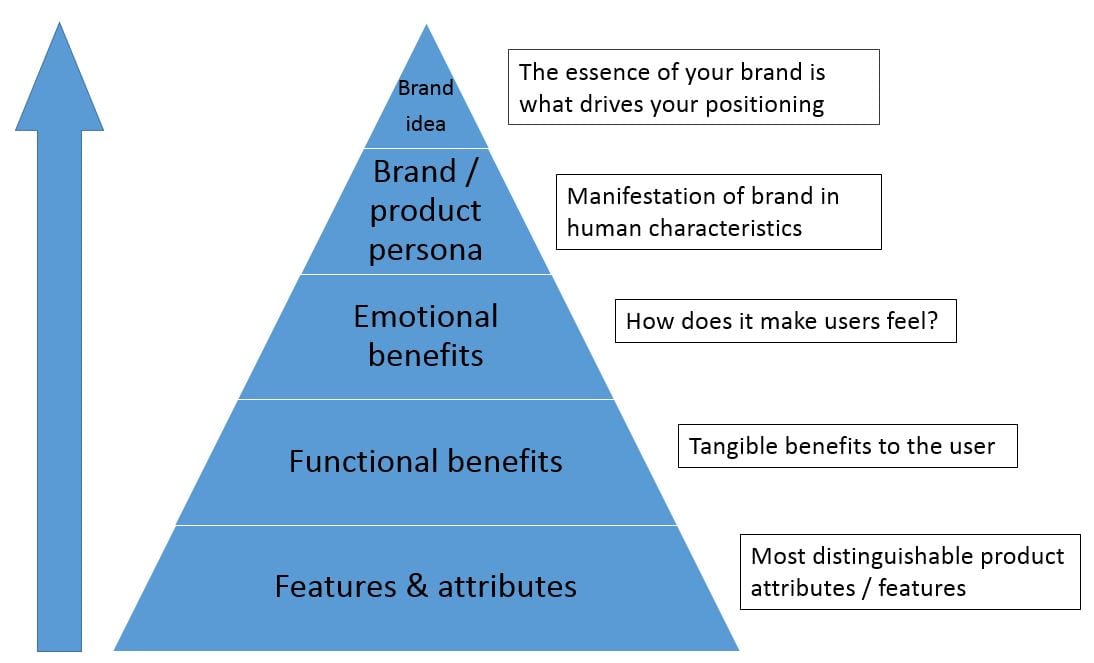 Three of the key elements of any brand pyramid are the technical, functional and emotional benefits your business offers consumers.
Technical benefits
At the bottom of your pyramid, you're thinking about the technical benefits of your brand (labeled 'Features and attributes' in the above image). Essentially this will help you to define what you do as a company. At this stage you'll want to ask questions like: How is this business benefiting the consumers? How will it make money? What are we offering?
For example, at Buffer we might say the technical benefit of our product is to manage all of your social media content and profiles in one place.
Functional benefits
Then, with the technical benefits of your brand defined, it's time to look at the functional benefits you can offer consumers. Functional benefits are essentially what your customers get when they buy your product or service.
Functional benefits tend to focus on things like how a product can improve your life, help you stay connected to others or help you to make forward progress.
At Buffer, a functional benefit might be not having to hit publish manually every-time you want to share to social media. Or in the case of a car: a big, spacious family car will offer the functional benefit of space for your whole family to travel in comfort.
Emotional benefits
Next up, are emotional benefits. And these are really what makes one brand stand out from another.
Emotional benefits are how your brand makes someone feel based on the stories you tell consumers.
One emotional benefit of Nike, for example, is that its equipment will make you feel like a professional athlete. And at Buffer we might say the emotional benefit of our product is peace of mind knowing that your content will be posted to social media platforms at exactly the right time every time.
As you go through everything you've learned during your customer research phase, start looking out for emotion-based words your customers, or potential customers, use to describe your company or the problem you're solving.
Whenever someone says "I feel" or "it made me.. happy, relaxed, proud, or healthy", for example, this helps you to identify the emotional benefits your company delivers.
3. Craft a simple tagline and message
Just Do It, Think Different, I'm Lovin' It…
Those are all examples of great brand taglines. By saying just two or three words, I bet you knew exactly which businesses I was talking about. And that's the power of being able to boil your message down to something simple, and memorable.
In episode three of Breaking Brand, Emmett Shine, co-founder of Pattern Brands explains: "The thing about branding and marketing, is you can do years worth of research. But if you can't boil it down to this thin sliced tagline it doesn't matter."
The thing about branding and marketing, is you can do years worth of research. But if you can't boil it down to this thin sliced tagline it doesn't matter. Emmett Shine, Executive Creative Director, Pattern Brands
But this isn't easy to do.
It took the Patten Brands team months of ideating and back-and-forth to land on their tagline "Enjoy Daily Life".
But now that simple statement acts as a guiding light for everything they do. From the content they post on social media to the products they sell.
Boiling your whole business down to one sentence, or even just a couple of words can be very tough. And you can't force it. One of the best ways to craft the perfect tagline is to facilitate brainstorms and create space for idea sharing. Another thing the Pattern Brands team has done was to journal about their business and riff on ideas in private too.
And sometimes the best ideas will come to you outside of the office. So don't be afraid to think outside the box, and away from your desk.
Communicating a clear message in just a few words is very difficult. One way we've found to come up with taglines at Buffer is to start long and edit down.
So to begin with, write exactly what your business delivers for customers in as many words as it take — this could be a paragraph or two, maybe even longer. And remember to think about the emotional benefits here too, not just the technical and functional benefits you offer.
Next, you'll want to take what you've just written and edit it down to just one or two sentences. Repeat that process to make it one sentence, or just a few words. Then take that final piece of copy and play with a number of different versions: Rewrite it, change out words, and experiment with different lengths. This process will help you to distill all of the thoughts you wanted to share about your business into a short, memorable tagline.
Now you might be wondering: "Why is a tagline so important?"
From personal experience, I know I've never bought a Mac because their tagline is "think different." But having that tagline in places means that Apple has a clear mission, and everything it does — from the adverts it makes, to its keynote launches — is guided by that vision.
4. Ensure your business lives and breaths your brand
To be successful, and for consumers to trust your message, you have to live your brand.
For example, Nike says its mission is to "bring inspiration and innovation to every athlete in the world." And the company sees every single person as an athlete, not just the pros.
But Nike doesn't just say that, it lives by it.
That's why the company focuses on creating the most innovative clothing and footwear, and why its advertising revolves around inspirational messages and stories.
Nike's brand is reflected in every piece of content it puts out on social media. Just before writing this, I jumped over to Nike's main Instagram account, here are just a few posts I spotted:
An IGTV video with Saquon Barkley sharing where his NFL dreams started.
A photo of women's marathon world record holder Brigid Kosgei with former record holder Paula Radcliffe.
A photo of Rafael Nadal sharing his ambitions as a child.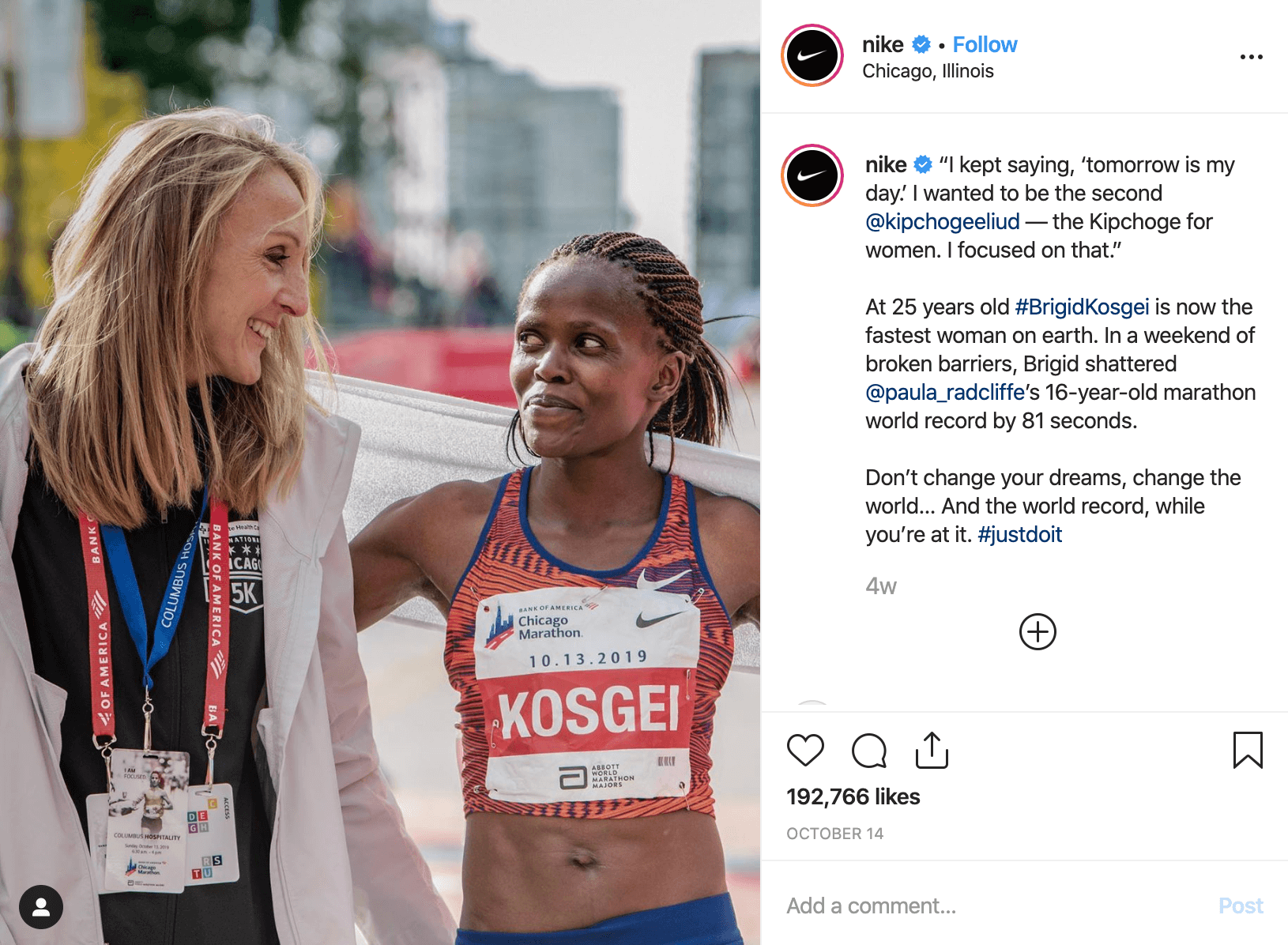 Of course, not all businesses will have the resources of Nike, or the access to global superstars for that matter. But it still serves of a great example of ensuring the essence of your brand shines through on every platform.
To go back to the accountancy example I mentioned earlier. If your "why" or emotional benefit is giving small business owners more free time to spend away from work, you could ensure all of your messaging and content supports this mission. This could mean Instagram posts with clients enjoying themselves away from the office or blog posts about disconnecting from work. It could even mean you rethink the imagery and copy you use on your website.
As I mentioned right at the start of this post, your brand is the identity of your business and how it makes people feel. So every single touchpoint where someone can interact with your business should represent what you want your brand to be, and how you want people to feel.