The path to becoming a thought leader on social media is one that is not always clearly defined. Thought leaders and influencers come from a wide variety of backgrounds, specialties, industries and expertise.
And in many cases, social media thought leaders don't consciously seek to become an "influencer," it happens naturally over time with lots of hard work and dedication.
But what if there was a way to position yourself to become a thought leader in your industry?
We'd love to share some tips on how that may be possible.
Brian Fanzo — a "proud, pager-wearing Millennial" and change evangelist — is a shining example of the power of strategic positioning and dedication to quality content over time. Brian's #ThinkLikeAFan philosophy has powered storytelling campaigns for Fortune 50 enterprise companies and he is slated for more than 40 keynotes in 10 different countries in 2016.
We had the pleasure of speaking with Brian about his journey to becoming a thought leader on social media and just how powerful carving out a niche based on your personal strengths can be.
A huge thank you to Brian for packing this episode with incredible wisdom and takeaways for social media managers and marketers looking for actionable ways to build a community and become a thought leader in the digital space.
This episode is available on:
In this episode, here's what you'll learn:
Brian Fanzo takes us through his personal story of how he got to where he is today and how other professionals may be able to develop themselves as an influencer and thought leader on social media. Plus, some more of the great things you'll learn:
How to find an authentic social media strategy that works best for you
The 3 types of social media influencers and how trust and engagement is built over time
Developing yourself as a thought leader and influencer in the digital space
Identifying opportunities in social media based on your passions and expertise
The importance of developing a consistent and compelling story to share
Why video is the "great equalizer" for people looking to share knowledge in the field
3 Takeaways on Becoming a Thought Leader on Social Media from Brian
In Brian's words…
1. Discover your story
Ask you best friend and your 'worst enemy' what it is about you that they think you do, what they think your strengths are and what they think you weaknesses are. And if you start with those swim lanes you get both sides of the extremes. Then begin to start figure out where that fits into what you're sharing and what you love talking about.
2. Finding your perfect home for conversations
Finding the area that's easiest for you. The area that fits in your swim lane – where you prefer to have these conversations. Start there. I'm not a big fan of starting on the hardest thing first. If I start with something that is difficult for me, then I may never get there. Start out where you're comfortable sharing and that will help you to not get discouraged.
3. Know what you don't know
Surround yourself with people that know what you don't know. So the caveat to that is first you must know what you don't know. Once I understood what I didn't know, what I'm not good at, that allowed me to surround myself with people that understood those things.
Mentionable Quotes and Shareable Snippets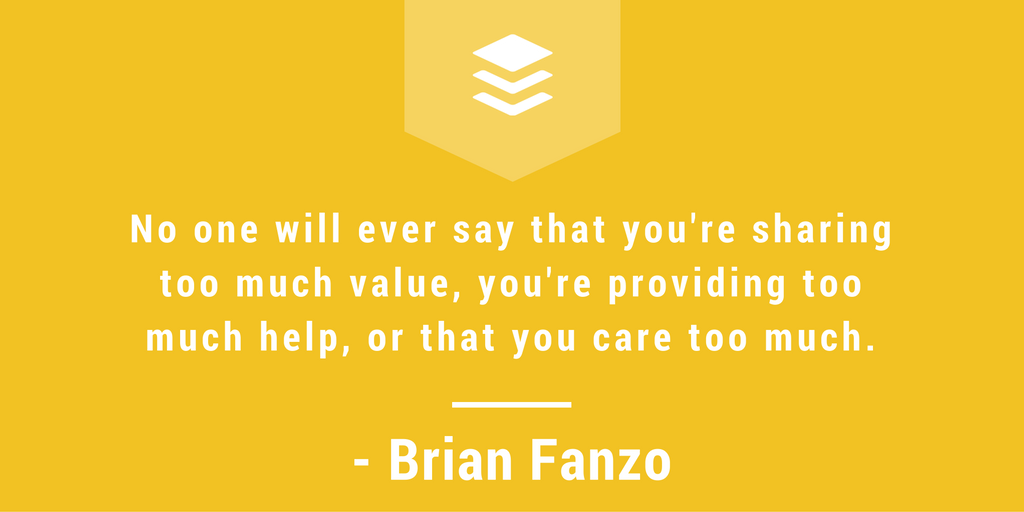 "The most popular question I get, other than 'why do you talk so fast?' is 'how much should I share or what should I share?' And I have a pretty easy saying for that – Nobody will ever say that you're sharing too much value, that you're providing too much value, or that you care too much."
Show Notes and Other Memorable Moments
Thanks a million for checking out this episode! Below are the websites and other tidbits that were mentioned in today's podcast about personal branding on social media. If you have any questions for us, feel free to drop us a line in the comments and we'll respond right away!
Brian's Online Website & Resources
Great Quotes
"Being an influencer isn't about having the loudest microphone, it's about having the microphone that inspires action."
"I'm not afraid to say, 'I don't know.'
"Personal branding is storytelling. In the digital space, your first impression, your first handshake, the first conversation, or the first understanding someone has of you is way before they ever meet you online… Consistency on what your story is is super important. How much time are you willing to invest?"
"My parents, always since day one, have instilled in my brothers and I that the value that you have is what everyone else can't do or can't be, and that's being yourself. And so what that came down to was 'I'm going to tell my story everywhere and anywhere.'
"Screenshot awesomeness – You take a picture with your phone or a screenshot with your computer when all of the little good things happen along the way on social media. I put those into a folder on my desktop and it's called the 'portfolio of awesomeness'.
"Google was the 27th search engine. There were 26th other search engines that came before Google. So just because we're on the 10th or 11th live video platform, if you build a community you can move and pivot and your community will follow you."
How to Say Hello to Brian (and us)
Brian is super active on Twitter at @iSocialFanz and also is a shining example of a how to showcase your brand at www.isocialfanz.com.
Thanks for listening! We'd love to connect with you at @buffer on Twitter or with the hashtag #bufferpodcast.
Enjoy the show? It'd mean the world to us if you'd be up for giving us a
rating and review on iTunes
!
—
About the Show
The Science of Social Media is a podcast for marketers and social media managers looking for inspiration, ideas, and results for their social media strategies. Each week, we interview one of the very best in social media marketing from brands in every industry. You will learn the latest tactics on social media, the best tools to use, the smartest workflows, and the best goal-setting advice. It is our hope that each episode you'll find one or two gems to use with your social media marketing!
The Science of Social Media is proudly made by the Buffer team. Feel free to get in touch with us for any thoughts, ideas, or feedback.