Social media has evolved to become inherently visual, with text, video, and photos dominating on almost every platform.
Sharing a great looking photo on Instagram is quick and easy, as is sharing a video to Facebook, but until now, creating and sharing audio content has been very difficult.
Anchor is looking to change that.
Anchor is a free iOS app that makes it easy to broadcast short audio clips in seconds. Listeners can talk back, sparking instant group conversations.
In this post, I'd love dive into how Anchor works and how you can get started with social audio.
Let's go! ⚓️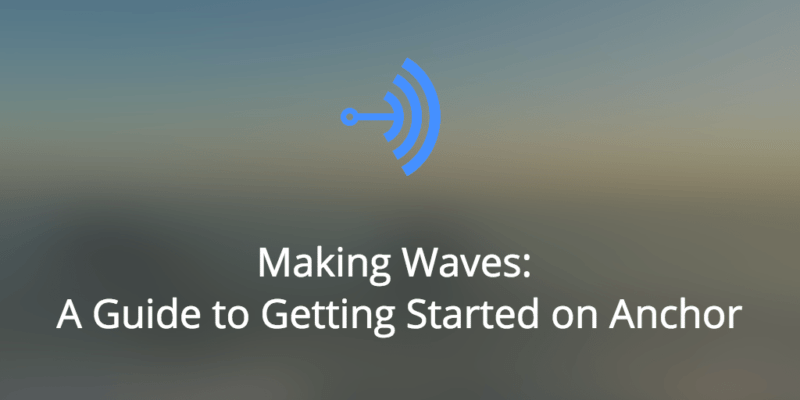 Is audio the next big social media trend?
Successful social media and content platforms have a knack for helping us to develop new skills. Medium has helped us to become writers. Instagram has helped us all take amazing photos, and to some extent, Twitter and Facebook introduced many of us to the concept of short-form blogging.
What about audio, though? Podcasting is undergoing a renaissance, but creating and sharing audio content is still tough for most of us, as Anchor co-founder and CEO Michael Mignano explains:
"There are currently so many hurdles preventing the average consumer from recording and sharing their voice: expensive hardware, confusing software, cumbersome distribution. But nowadays most of us are carrying around Internet-connected microphones in our pockets."
Mignano also points out that audio content opens up new opportunities for people who want to share their thoughts with the world, but maybe don't feel comfortable using existing mediums like video or text:
"I get self-conscious putting myself on video or taking a photo of myself, but I feel completely comfortable just speaking as if I'm on the telephone or at a party. It opens up a lot of opportunities for people who want to be heard and want to express something, but haven't necessarily felt comfortable doing so through other mediums."
How to use Anchor
Anchor has a smooth, super-easy onboarding process, and after signing up, you'll be shown your feed, containing "waves" from everyone you follow on Twitter and other urated waves (the app refers to individual posts as "waves").
If you're looking to listen to content or join a discussion around a particular topic, you can head to the Discover page to find waves on a range of topics including tech, music, movies and more.
Recording a wave
To record a wave, simply tap the big red button that's on every screen of the app and hold the phone up to your ear as if you were making a phone call.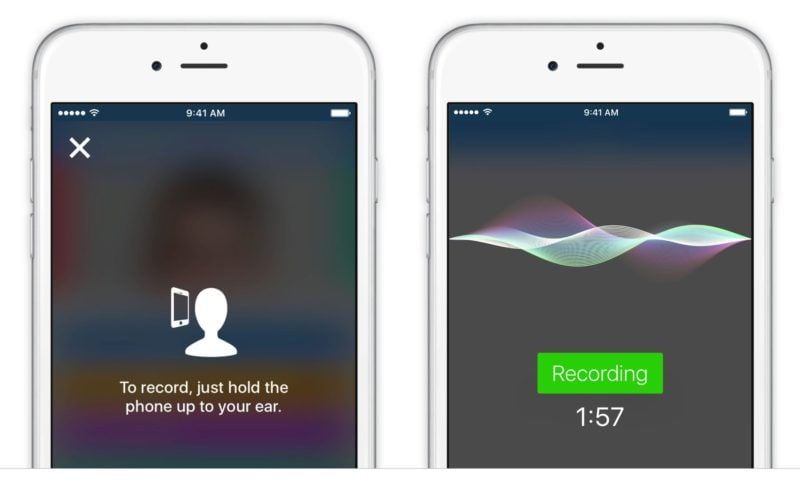 Once you publish a wave, other listeners are encouraged to reply to it with a wave of their own. Once someone has replied, Anchor automatically plays the next wave in a discussion thread, giving you the feeling of listening to a conversation.
Sharing and discovering content
Each wave and discussion is shareable, and embeddable. Here's how a wave looks when shared to Twitter: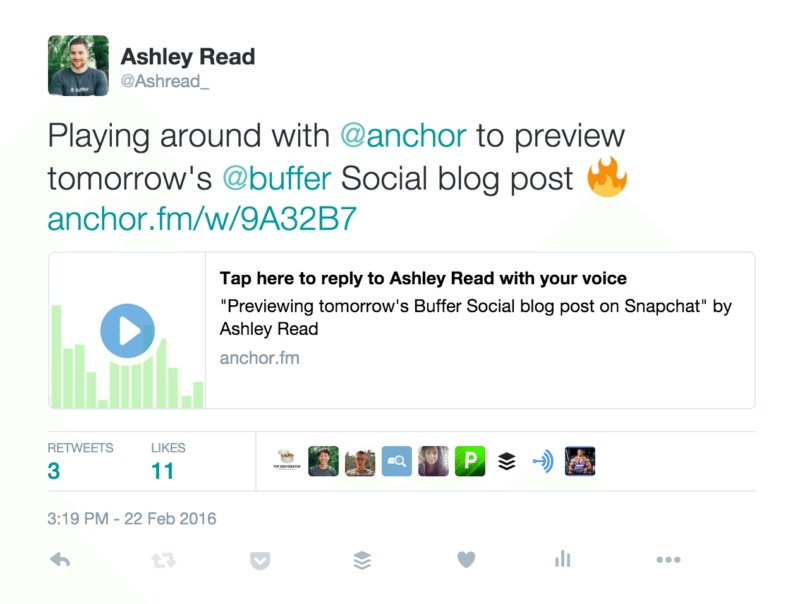 Here's a wave on Facebook: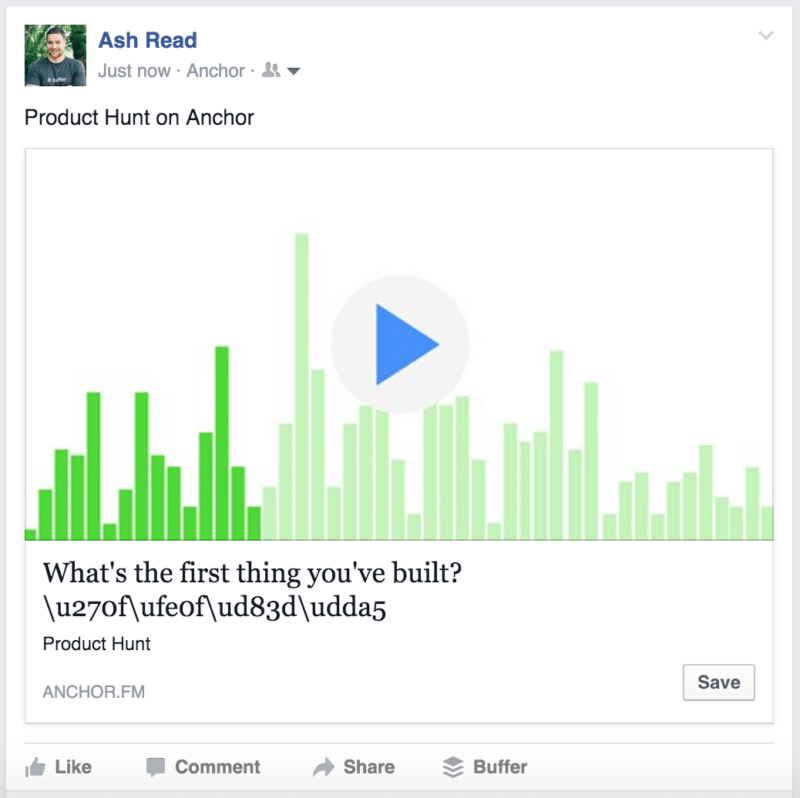 And here's an embedded wave:

Anchor's card-based design makes it super easy to follow conversations by tapping back and forth to move to through the replies on embedded waves and within the app.
Content discovery
Making content easy to discover is also extremely important to Anchor.
The best clips will be compiled into a "best of Anchor" podcast. And Mignano explained to Fast Company that new users will be shown curated waves upon sign up:
"We provide a level of curation by promoting the best recordings to users who aren't yet following any other users. Over time, a user's stream will be more algorithmic in how it's populated."
Content can also be discovered via hashtags within Anchor as well. To search hashtags, tap on the Discover option within the app and then enter your search term in the search bar at the top of the screen.
4 ways to use Anchor
1. Real-time podcasting
Social media platforms have become destinations for shorter-form, real-time content. For example, travel bloggers will likely turn to Facebook, Twitter or Instagram to share real-time updates or reactions to stories.
But for podcasters, there's not been a way to jump in and share real-time audio content until now. Anchor could be an excellent way to react quickly to breaking news and stories in audio form.
Here's a great wave from Justin Jackson on this concept:


(P.S. you'll catch Justin again in our "Who to follow" section below)
2. To preview content
Anchor feels like a great place to share previews and outlines of content before you publish. Here's a wave I recorded to preview a recent post about Snapchat:

I'm excited about this opportunity to connect with readers through audio and would love to hear your thoughts on this in the comments below this post or on Anchor.
3. Integrating audio into blog content
One of my favorite things about writing is the discussion that happens around a post, and Anchor feels like a great way to bring discussion directly into articles.
An excellent example of this is Joseph Lichterman, who recorded a wave asking for thoughts on Anchor and then embedded some of the responses within his Nieman Lab article.
Here's Lichterman's initial wave:


And here are some of the replies Lichterman also embedded within his article:

4. Join discussions
There are so many fascinating discussions happening on Anchor already.
Joining in with these discussions and sharing your thoughts and opinions on topics related to your niche or business could be an excellent way to build relationships with other Anchor users.
To find relevant discussions, check out the topics on the Discover screen in Anchor or search for some relevant hashtags.
Who to follow on Anchor?
WNYC
WNYC were the first news outlet to join Anchor and WNYC have been working alongside Anchor's team for a few months to test and provide feedback on the product.
WNYC have been using the platform as a way to spark discussion around news topics.
Here's a wave from WNYC reporter Arun Venugopal:

Justin Jackson
Justin Jackson has been using Anchor since it was first released and shares thoughts on entrepreneurship and product building. Jackson also uses the platform to share audio versions of his written content.
Here are Jackson's creative ideas for using Anchor:

Gary Vaynerchuk
Gary Vaynerchuk is a great follow on almost every social network. The best-selling author and Vaynermedia co-founder has shared his excitement about Anchor on his blog and plans on using the app to share raw, un-edited thoughts before they're turned into blog posts or content for Medium.
Vaynerchuk explains more in the below wave:

Michael Mignano
Mignano is one of Anchor's cofounders and regularly joins conversations with the community and shares product updates. He also does a great job of curating great waves and recommending conversations to get involved with.
Here's one of Mignano's recent Anchor product update waves:

Over to you
I'd love to hear your thoughts on Anchor and audio content.
Have you experimented with Anchor yet? Are you excited to create more audio content? Any creative ways you could see individuals or business us the platform?
Let me know in the comments or reply to the below wave.