Most weeks, I stare blankly at my LinkedIn channel, wondering what on earth I should post. It's hard.
Coming up with new content on a weekly or even daily basis isn't just time-consuming, it can be infuriating.
Fortunately, Buffer's AI Assistant can help. But there's a secret you need to know if you want to get the most out of it: adding the right prompts.
Why prompts matter
One word: context.
For AI to thrive, it needs adequate information. Like with Buffer's AI Assistant, the difference between a basic prompt and a well-informed one can be striking.
For instance, the prompt:
"Write a tweet about Black Friday" will deliver this post:
"Gear up for the shopping spree! #BlackFriday is near."
Meh.
But, with a detailed prompt:
"I run a sustainable coffee shop with a unique organic, fair-trade roast from Peru. Can you craft a post for our Black Friday 50% off deal targeting eco-conscious consumers?"
You get:
"Fuel your day with purpose! Enjoy 50% off our distinct organic roast this #BlackFriday. Hand picked for those craving sustainable goodness! #EcoCoffee"
AI rule of thumb: Nail the input and you're way closer to the perfect output.
With that in mind — are you ready for some prompt inspiration? The list below will help you get the hang of crafting the right input for a great output. Fill in the placeholders in square brackets so the AI returns content applicable to you.
💡
Use these prompts in your AI tool of choice or, if you're a Buffer user, click on the 'use' link to open them directly in Buffer's Ideas space, so you can schedule them then and there.
50 AI prompts to kickstart your creativity
Tips for creating a great prompt
But what if you want to craft a great prompt all by yourself? Here are some suggestions — ask yourself these questions to help you create a better prompt:
Objective: What is the goal of the post? Are you promoting a product, sharing information, driving engagement, or something else?
Target audience: Who is the intended audience for this post? Understanding your audience helps tailor the tone and style accordingly.
Content: Always provide the main content you want to include in the post. It could be a specific message, a call-to-action, or any other specific details you'd like to share.
Keywords/hashtags: Provide any specific keywords or hashtags you want to include to improve visibility and engagement.
Tone and style: Do you have any preferences for the tone and style of the post? For example, friendly, informative, cheeky, to-the-point, etc.
Branding: If applicable, share any branding guidelines or information you'd like to incorporate into the post.
CTA (call-to-action): If you want to direct the audience to a website, landing page, or any specific action, please provide the link or CTA details.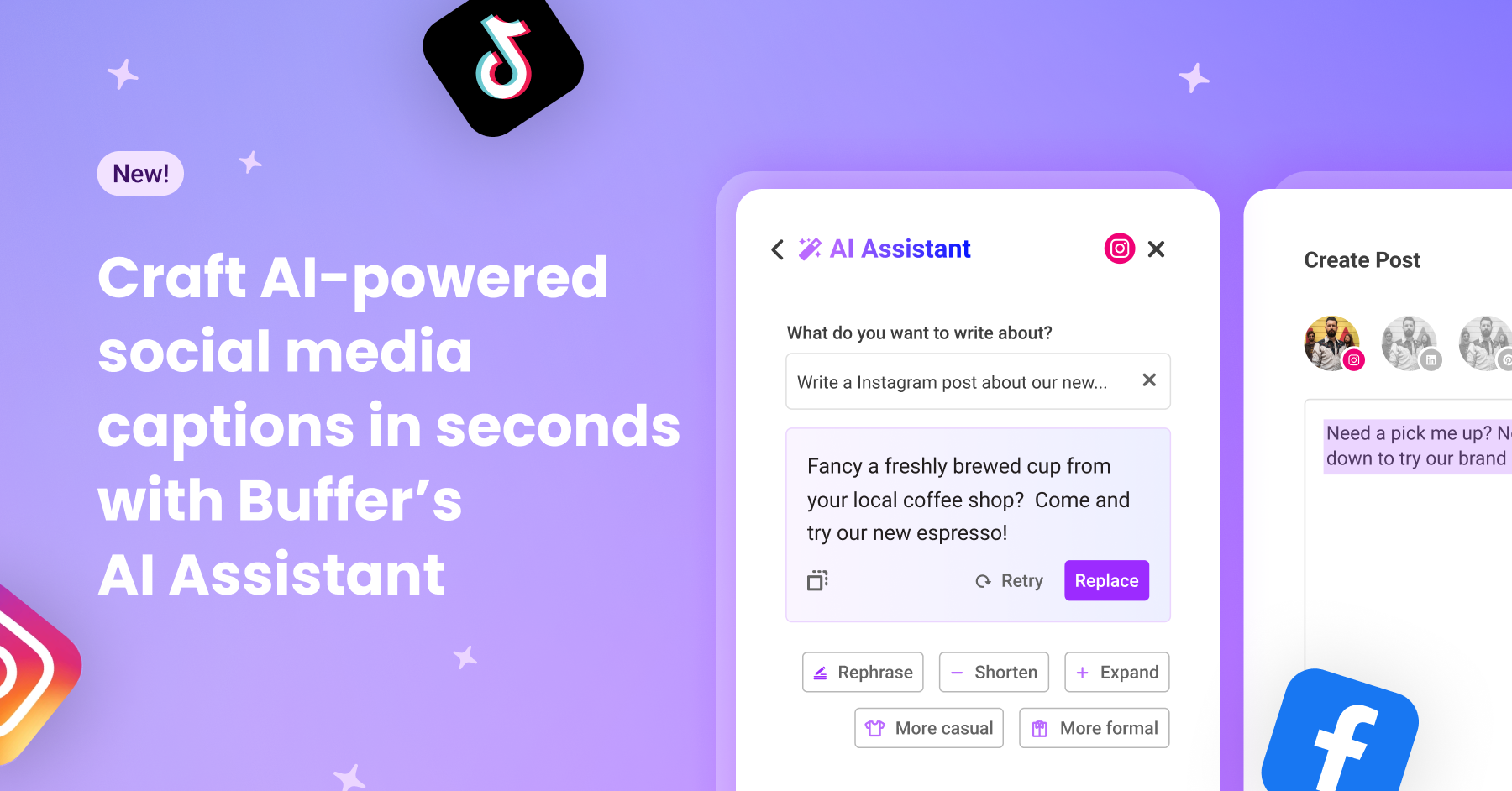 Stuck on social media posts?

Buffer's AI Assistant has your back! It suggests content your audience will love, but it needs context. The more you share, the better the suggestions.
Got a prompt to add to our list? Tweet us to let us know!