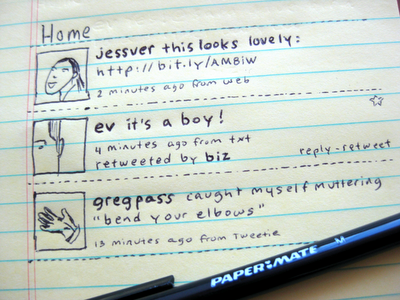 Twitter.com has a gorgeous interface I believe. It is extremely simple, without any bells and whistles. A
t the same time, if you are trying to make your workflow more efficient, getting by with just Twitter.com is a little difficult, you probably already know this.
As of a few days ago, we have therefore added a brand new Chrome extension that will give you a great new experience right on Twitter.com. With the Buffer button inside Twitter, you can add retweets to your queue, post to multiple profiles and lots more. Here are the top 4 features for you to turn Twitter.com into your most amazing Social Media tool with Buffer:
1.) Post old style Retweets at optimal time
Ever since Twitter introduced the new way of retweeting someone, it became very hard to add a comment to your retweets. You can also no longer show your appreciation for others by mentioning them in your retweet easily.
With our latest changes to the browser extension, this should all work super efficiently now. All you have to do is click the Buffer retweet button and add another update to your queue to be posted at optimal timing later on: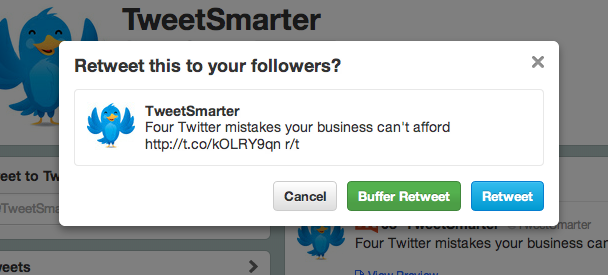 2.) Post to multiple profiles from Twitter.com
Another helpful tip, that I have actually only discovered after using the extension for a while, is that you can now post to multiple Twitter or Social Media profiles right from Twitter.com.
Start writing a Tweet or a retweet and add it to your queue with just one click: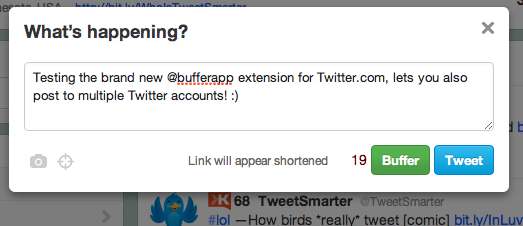 And when you do so, you can easily add it straight to multiple profiles you have connected to your Buffer account. Check out the example below here: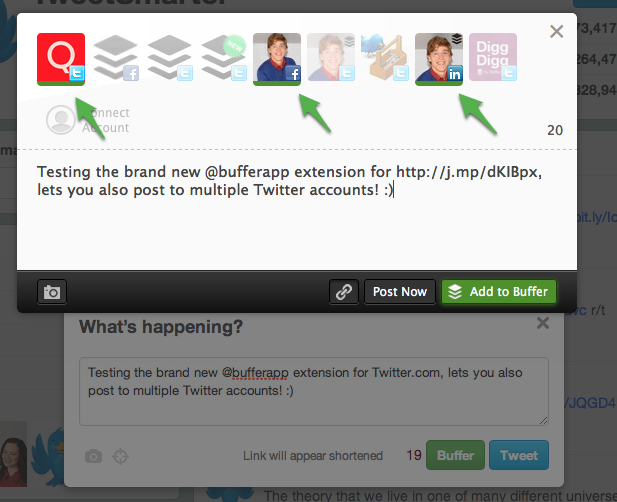 3.) Use the Tweet button on any website to Buffer
Another addition, that isn't actually just limited to Twitter.com is that the extension also works on any page, that has a Tweet button installed.
Buffering the great articles you find, instead of Tweeting them right away, can be a huge win to get more engagement on your postings: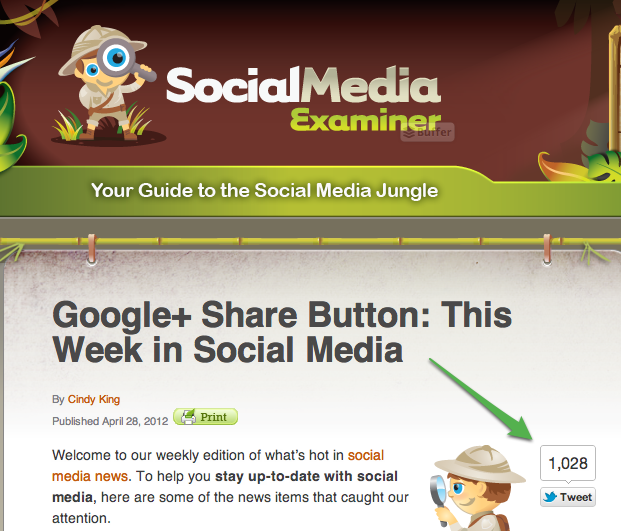 So, whenever you click Buffer instead, one more post lands in your queue and is ready to go out when more followers will see it: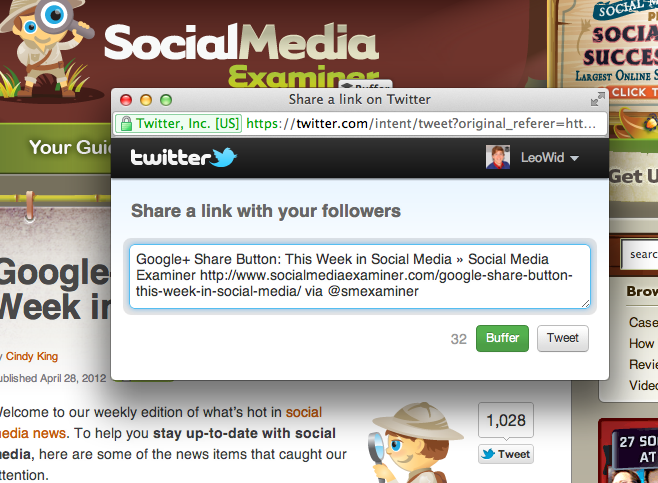 Of course, installing the official Buffer button for your blog, will make sharing that article even more efficient.
4.) Buffer normal Tweets with one click
Lastly, you can also just start Buffering normal Tweets, so you can get all the additional analytics that Buffer has available for you. This includes number of retweets, clicks on links, mentions and favorites all saved for you: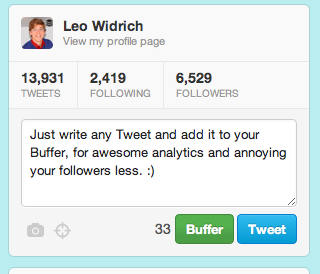 You can of course do the exact same thing with replies, so your Twitter stream isn't either 10 replies or 10 content Tweets in a row, but rather a mixture of the two: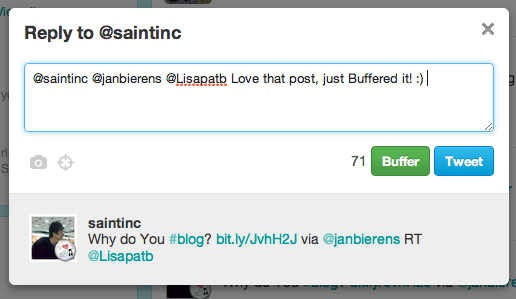 How much are you using Twitter.com? Have you thought about giving the Twitter.com interface a full try? I hope with the new Buffer browser extension it will make your life a lot easier and most importantly save you tons of time when interacting on Social Media.
What are your thoughts on these new features? Any other places on the web you would like to Buffer from or to? Let us know below.