The ability to create Twitter Moments is being rolled out to all users.
Twitter Moments enable users to stitch together multiple tweets into slideshow-like stories. When they originally launched, Moments were intended to help Twitter users keep up with what the world is talking about at any given time without having to follow loads of new people or watch trending topics closely.
The below video from Twitter explains a little more about how Moments work:
Moments were first released in October 2015, with Twitter and selected partners able to curate stories on a range of topics, including News, Sports, and Entertainment. Then, in August 2016, Twitter opened Moments up to a broader group of influencers and creators, before beginning the public roll-out of the feature on September 28th.
By extending this creative format to everyone, Twitter says they're "giving people a new and dynamic way to tell their stories."
Moments have already been used by a wide range of brands, individuals, and groups. VaynerMedia are one of the agencies who were invited to experiment with Moments in August and their Chief Creative Officer, Steve Babcock, explained:
We're excited about the new ability to make Moments because it provides our brand partners with a great opportunity to seamlessly integrate into how real-time culture is being consumed today.
Civil Rights Activist, DeRay Mckesson, has also found Moments to be a compelling way to share a story:
Moments allows us to collect and curate Tweets to tell stories in new ways. It's a powerful Twitter feature, continuing to help build community as we engage specific topics and events.
How to create your own Twitter Moment in 4 quick steps
1. Head to the Moments tab on your Twitter profile
To create your own Moment, you'll have to click into the new "Moments" tab on your profile.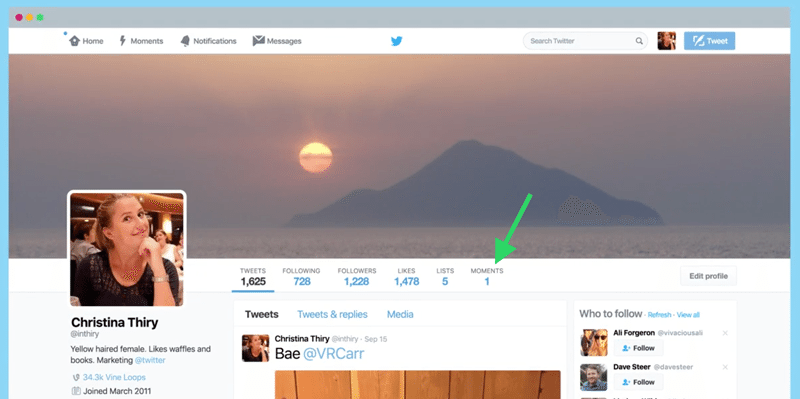 Currently, Moments can only be created on Twitter's desktop site (though it should be coming to mobile soon).
2. Click 'Create new Moment'
Next, you'll see the option to create a Moment in the right hand column of the page: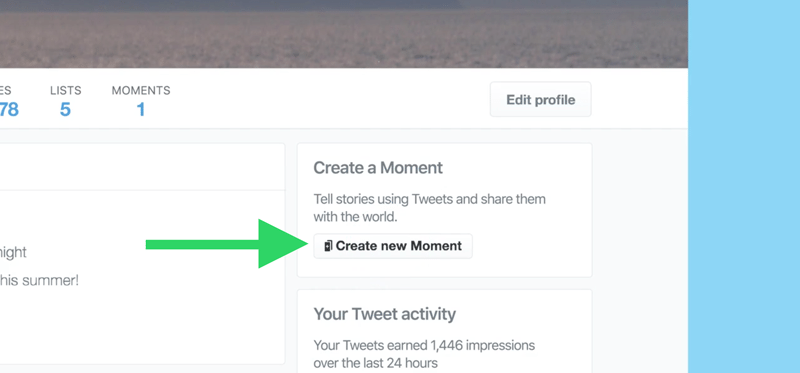 3. Add your title, description, and cover
The Moment creator tool then lets you add a title, description, and cover to your Moment. Twitter recommends keeping your title short, but descriptive and says your description should give users "a taste of what to expect in your Moment."
You can choose a cover using photos or videos from tweets, or by uploading an image of your choice: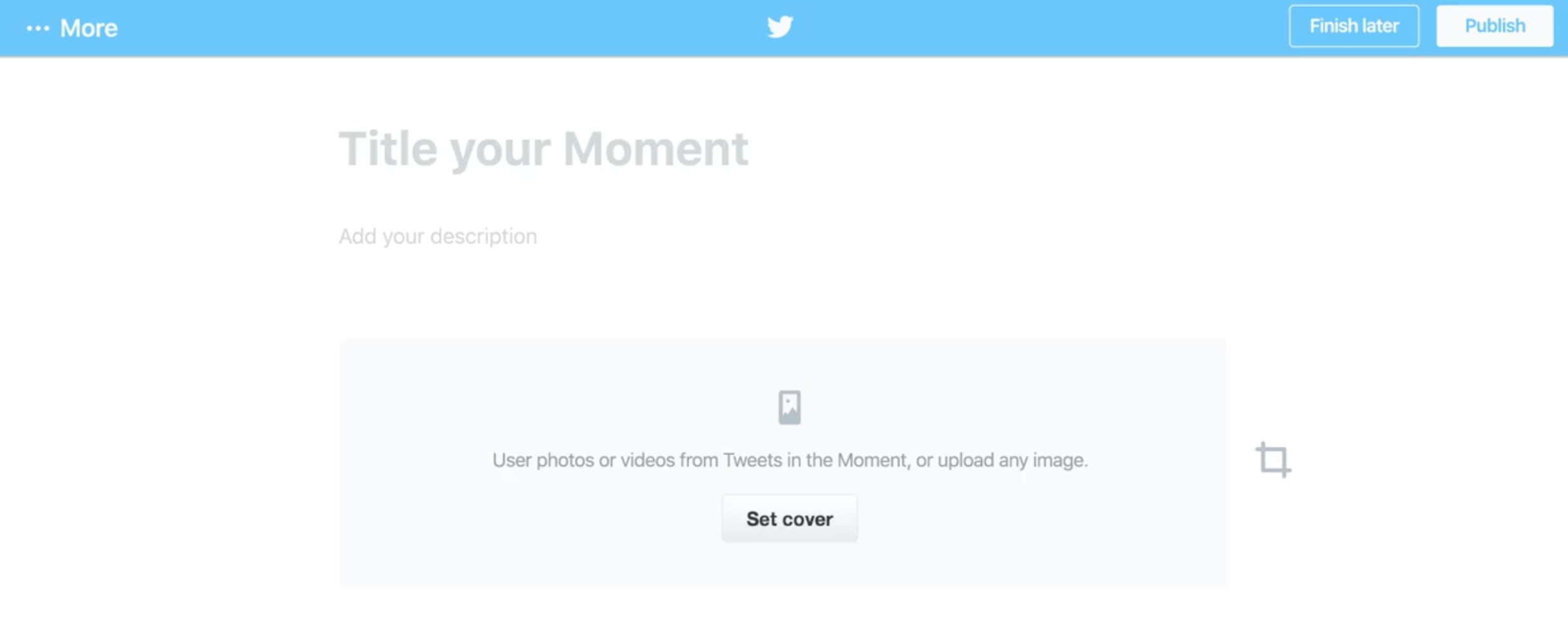 Here's how your title, description, and cover will be displayed on mobile: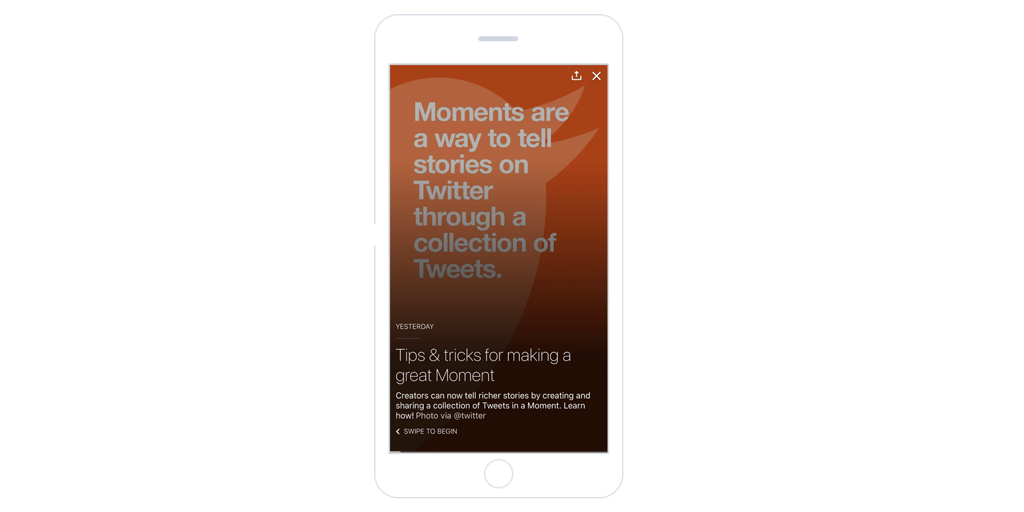 And on desktop: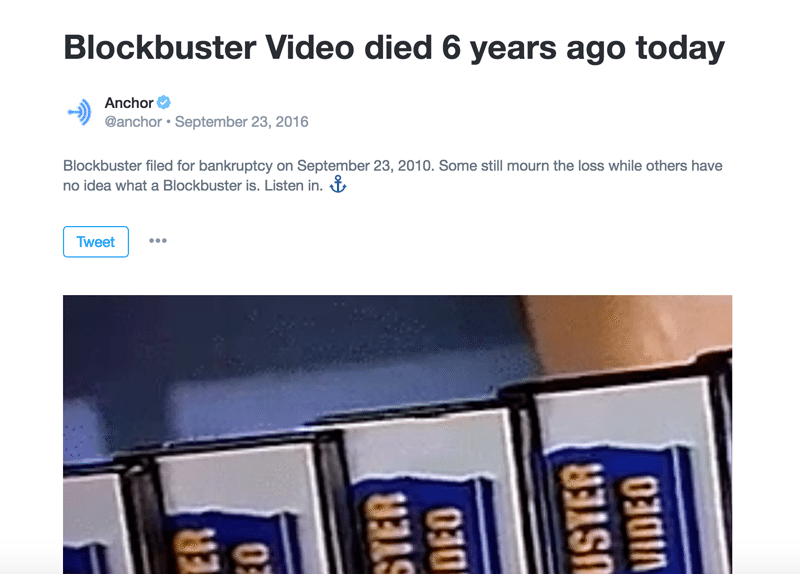 4. Pull in your content and publish
Now, it's time to start adding content to your Moment. And there are a variety of ways you can add tweets:
You can choose from tweets you've liked (or favorited)
Pick tweets from specific accounts
Find tweets via a Twitter search
Add tweets directly using the tweet's link.
Once you're happy with the tweets in your Moment and the story you're telling, it's time to hit publish and share your Moment with the world.
How many tweets should you include in a Moment?
Twitter's recommendation is to keep Moments around 10 tweets long. And the company also advises to include a mix of photos, videos, GIFs and Vines to keep your viewers engaged.
You can check out more in Twitter's own 'how-to' guide Moment.
Viewing and sharing Moments
Once a you've created a Moment you can share it on your Twitter for all of your followers to see. Here's an example of how a Moment looks when it's shared within a tweet:
To give added visibility to Moments, you can also find all of the Moments created by any Twitter account on their profile page: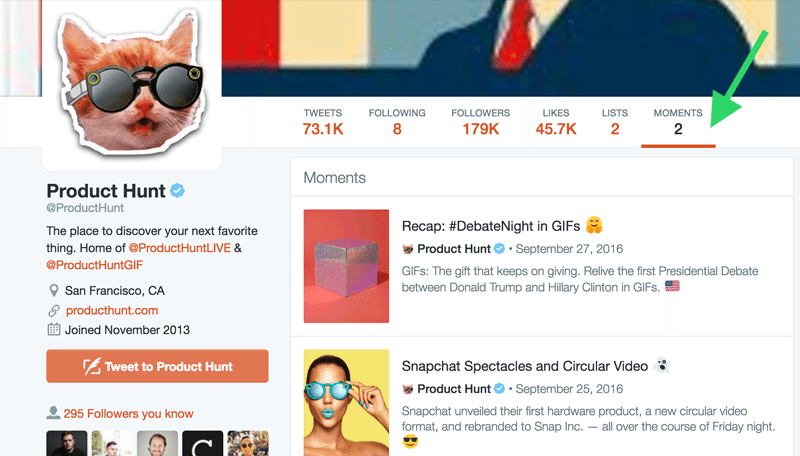 Some of the best Moments may be eligible to appear in the Moments tabs within Twitter's main navigation.
One area Twitter is reportedly looking to grow is the number of impressions Twitter-generated content is earning outside of Twitter. And as a way to boost this figure and encourage users to spread their creative Twitter Moments as far as possible, Moments can be embedded just like tweets. Here's an example Moment from Product Hunt embedded below:
Snapchat Spectacles and Circular Video ?
To embed a moment, click on the three blue dots '…' next to the Tweet button at the top of the Moment and then select 'Embed Moment.'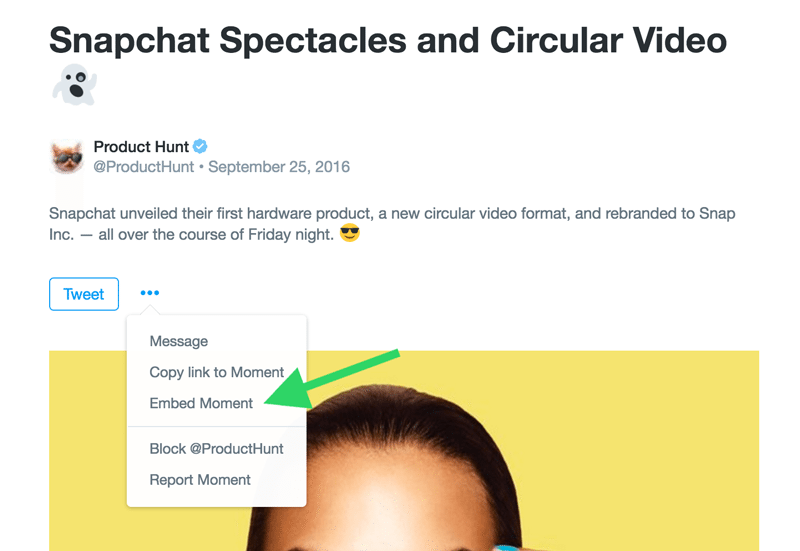 4 ways you could use Twitter Moments
We've seen the 'Story' concept explode on Snapchat and more recently Instagram, and Moments could be compared to both of those features. However, Twitter's Moments feel slightly different from the Stories you can create on Snapchat and Instagram.
Twitter makes it easy to curate content for your Moments – you can pull in content from any account on Twitter and easily bring together a range of perspectives and media to tell your story. Moments also have a very clear beginning and end, making it easier to create a bunch of separate moments to tackle a range of topics.
As Moments have been around in testing for around a year now, there have already been some successes and a range of use cases have emerged. I'd love to share 4 ways you could use Moments today.
Let's jump in.
1. Curating tweetstorms
A tweetstorm is a series of tweets shared in quick succession (usually focused on a singular topic). Tweetstorms are like mini-essays and have become a way for users to share longer thoughts.
Tweetstorms could now be shifted into Moments, allowing users to read the series of tweets in the correct order without needing to skip around the timeline to catch each post, potentially increasing clicks and engagement generated by sharing longer thoughts on Twitter.
2. Take followers behind the scenes
Behind the scenes content tends to be a great way to connect with your audience and share the human side of your business on social media. Moments could be a great way to tell a story behind the scenes at your company – maybe with a "day in the life of" series or by giving followers an exclusive peek into life at your company and how you work.
For example, Allure Magazine created the below Moment to take their followers behind the scenes for a day in the life of their Editor in Chief, Michelle Lee:
3. Curating news and timely content
One of Twitter's key selling points is its real-time nature and often, some of the most successful content on Twitter takes off precisely because it's shared at the right time and covers a trending topic. In fact, Moments were first conceived as a way to help Twitter users keep on top of what's happening in the world around them.
In a blog post announcing Moments, Twitter Product Manager, Madhu Muthukumar, explained:
Every day, people share hundreds of millions of Tweets. Among them are things you can't experience anywhere but on Twitter: conversations between world leaders and celebrities, citizens reporting events as they happen, cultural memes, live commentary on the night's big game, and many more. We know finding these only-on-Twitter moments can be a challenge, especially if you haven't followed certain accounts. But it doesn't have to be.

Moments helps you find the best of Twitter as easily – regardless of who you follow.
The Product Hunt Moment we featured earlier was released as Snapchat announced their latest product, Spectacles, and rebranded to Snap, Inc., this Moment brought together the key things people in the tech space needed to know about this story from a range of perspectives.
4. Creating a product demo
It's become common for new launches to be accompanied by a range of social media content: GIFs, videos, photos and tweets to announce the launch and share how it can benefit users. Moments provide a place to bring all of this content together and share the key details about your launch.
A great example of this in action comes from Twitter itself. When Moments were first announced, Twitter created a Moment of their own to share some best practices and advice for anyone looking to create their first Moment:
Over to you: How will you use Twitter Moments?
I'm excited to see Moments rolled out to all users and can't wait to see the creative ways in which people and brands start to use them.
Are you excited to experiment with Moments? How would you like to use them? Let me know in the comments below ?
Brought to you by
Did you find this article helpful? You might also like our all-you-need social media toolkit.
Get started for free now