We often talk about the importance of social media managers and the amazing people who handle social media as a team of one. But often, for agencies, larger enterprises, and even some small businesses, social media is handled by teams of people covering a broad range of skills.
So how do you go about building an awesome social media team?
There are so many things to consider: What skills do you need in your team? How should you structure the team? How do you hire new team members?
We'd love to help you answer all those questions (and more) to make you feel confident about building your rockstar social media team!
In this post, we'll go through step-by-step the process of building a great social media team. If you have built a social media team before or have any advice to share with us and fellow readers of this blog, it'll be great to hear from you!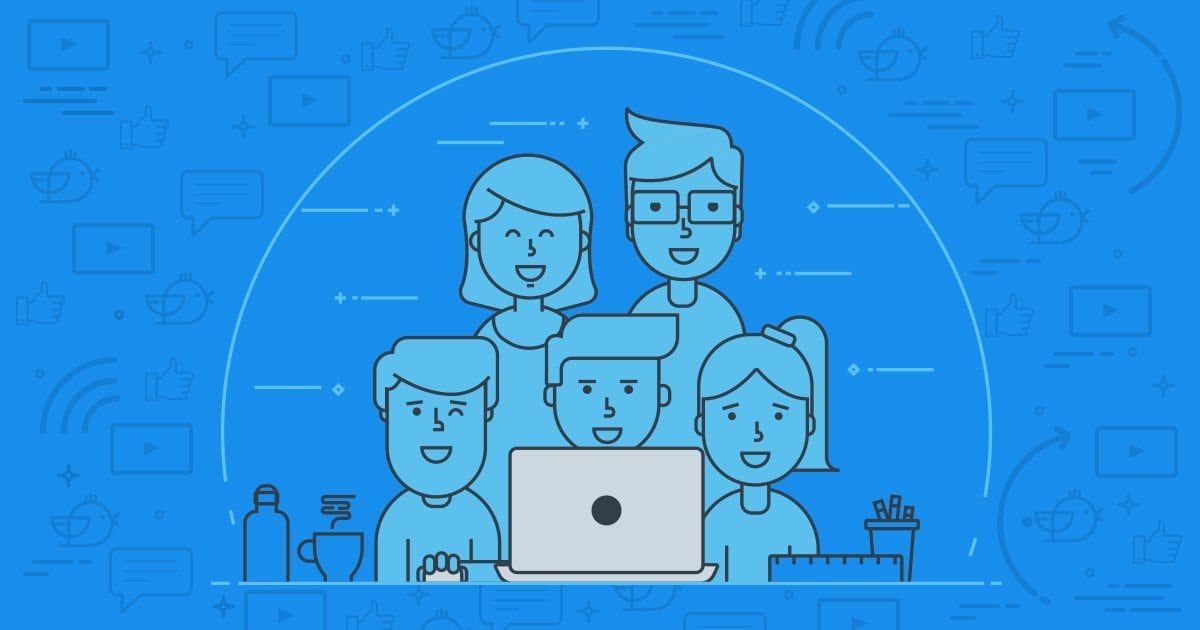 How to build an all-star social media team in 5 steps
Building a social media team is quite a big topic. To help you easily navigate and digest the information here we've broken down this guide into five steps.
As most of you might be knowledgeable about a few areas already, feel free to jump to the section that interests you the most.
Let's jump in!
—
Step 1: Assess your current situation
Review your budget, workforce, and resources
I believe that assessing your current situation is a great first step to building your social media team. There are several factors about your current situation that can influence your decisions around your social media team. Some of these factors include:
Budget: Your budget can influence many key hiring decisions such as how many people you can hire and what tools your team could use. It could also affect how ambitious you would want to be with your social media goals.
Workforce: Instead of hiring new team members, there might be people in your company who are interested in working on or helping out with social media. Or perhaps everyone in your company might want to contribute a little of their time to social media. We will discuss team structure further in step 5.
Resources: Resources can be tools such as a marketing automation software or assets such as photographs taken by your media team or articles written by your content team. Having such resources can increase your team's productivity and might reduce the number of people you need on your team.
Once you have a proper assessment of your situation, the next step would be setting aligning with your company goals.
—
Step 2: Align social media with your company goals
Define how social media can help your business
Goal-setting is proven to increase an individual's motivation and performance. It becomes even more important when you are building your social media team. Knowing your goals can help you decide on the suitable team size, the appropriate structure, and the right hires.
(It might also be great to go through the goals with your team after you hire them and adjust them if necessary.)
In recent years, the use case for social media has gone beyond just marketing and it is now being used for customer service, community building, public relations, and more. Here are 10 social media goals you could aim for:
Brand Awareness: To establish a presence and increase your reach on social
Traffic: To drive traffic to your website or blog
Lead Generation: To collect key information from your prospects
Revenue: To increase signups or sales
Engagement: To connect and engage with your audience
Community Building: To gather advocates of your brand
Customer Service: To help and serve your customers
Public Relations: To disseminate news and build relations and thought leadership
Social Listening & Research: To listen to your customers and understand your market
Hiring: To recruit top talent
Whether you're new to social media and making your first hire or you're looking to expand your current social media team, it's important to consider how social media can help you achieve your overall company goals.
For example, if you're looking to launch in a new market, here's how social media could help you: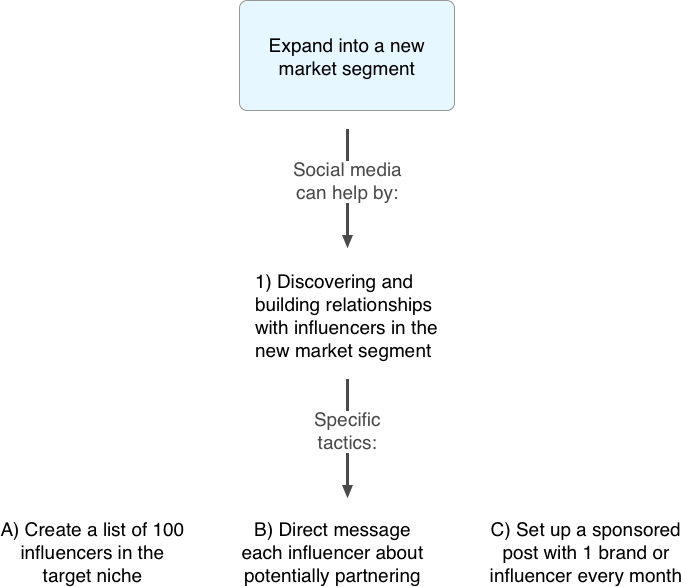 By understanding the relationship between social media and your company goals and ambitions you can begin to map out the type of team you need to build.
—
Step 3: How many people do you need?
There's no ideal team size (but the average is 3 people)
What's the ideal size of a social media team is an interesting question to explore. It's almost like asking what's the ideal size of a company, and there's certainly no right or wrong answer.
There are social media teams of many different sizes. On one end of the spectrum, there are companies like us that have one person who owns social media (that's the awesome Brian Peters). On the other end of the spectrum, there are companies like KLM Royal Dutch Airlines which has over 150 social agents to provide customer service on social media.
So, yes, it depends and varies greatly from company to company!
That said, here are some factors you can consider when deciding the ideal number for your team:
Your hiring budget – The more budget you have, the bigger team you can build.
Resources available for social media (e.g. tools, photographs, and content) – The more resources available, the fewer people you'll likely need.
Your social media goals – The bigger your goals, the more people you'll need.
Your company's goals – The more important social media is in your company, the bigger your team could be.
If having a number will be helpful for you, the latest research on social media team size I could find was by Ragan and NASDAQ OMX Corporate Solutions. They surveyed more than 2,000 respondents from organizations of various sizes (fewer than 25 to more than 1,000) in 2012. (If you know of a more up-to-date study, we'd love to hear from you!)
Most organizations surveyed only had up to three people working exclusively on social media. I imagine the average social media team size would have increased quite a bit since then.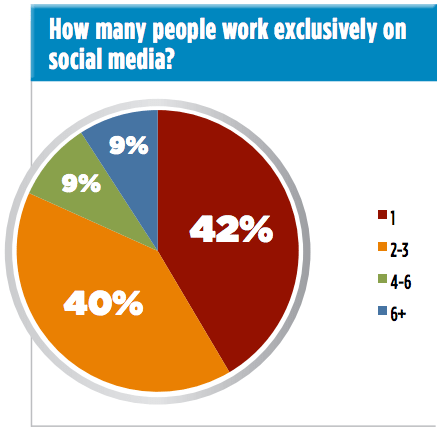 —
Step 4: What skills are needed on a social media team?
5 key social media skills to hire for
When deciding your team size, it might be helpful to understand the various roles and skills required as part of your social media team.
Here are the five common roles in a social media team:
Note: In some cases, one multi-skilled person may fill all of these roles whereas larger organizations may have multiple people assigned to each role.
1. Social Media Manager
A social media manager takes a high-level view of social media and is often responsible for setting the strategy and planning for the team. In a small team, they might also assume most of the social media responsibilities such as managing all the social media profiles, publishing content, listening, replying to comments and analysis.
Median salary for a social media manager in the U.S. according to PayScale: $46,984

2. Content Creator
A content creator specializes in creating content for social media posts. Such content includes blog posts, images, and videos. Because of the scope of this work, sometimes they could double up as the designer for the social media team. They might also be the person in charge of taking posts planned by the social media manager and getting them ready to be scheduled and published.
Median salary for a content manager in the U.S. according to PayScale: $53,875

3. Community Manager
A community manager focuses on engaging and connecting with your audience and customers on social media. Their responsibilities usually involve listening out for relevant conversations on social media, replying to comments and inquiries, and organizing social media events like Twitter chats or Facebook Live sessions. They are often considered the face of the company and play a key role in your business's relationship with its biggest fans and advocates.
Median salary for an online community manager in the U.S. according to PayScale: $48,907

4. Advertiser
An advertiser works on paid social media advertising, such as Facebook and Twitter ads. They are usually a quantitative person who enjoys experimenting with different ad types, creatives, analyzing the results of the social media ads, and refining ad campaigns for maximum ROI.
Median salary for an advertising or promotions manager in the U.S. according to PayScale: $51,405

5. Analyst
An analyst digs into the data and metrics of your social media efforts, such as engagement rates, traffic, click-through rates, conversions, and maybe even revenue. They tend to be the technical person who can help with setting up the appropriate tracking system and analyzing your team's results using statistical techniques.
Median salary for a social media analyst in the U.S. according to PayScale: $47,264
Here are a few other roles that could fit under a social media team, especially when your company is much bigger:
Public relations specialist
Salesperson
Customer support specialist
Partnership coordinator
Designer
Developer
It's possible for a person to take on multiple roles, and many people to take on a single role.
For example, here at Buffer, Brian Peters, manages our social media profiles, creates content, engages our community, creates ads, and analyzes our social media performance. On the other hand, larger companies can have two or more people working solely on social media advertising.
P.s. For more salary benchmarks, feel free to check out Glassdoor and Salary.com.
—
Step 5: Decide on the structure of your team
5 ways to structure your social media team
After knowing the size you want for your team and the roles required to achieve your goals, you can then decide on the structure of your social media team.
There are various ways to approach team structure and here at Buffer, we're constantly experimenting in order to find our idea structure.
If you're looking for some inspiration on how to set up your team, the five ways of structuring a social media team suggested by Sallie Burnett, founder and president of Customer Insight Group, Inc. is a great place to start.
Here're the five structures Sallie outlines:
Organic – A free-for-all arrangement
Centralized – A standalone social media team
Hub and Spoke – A central team working with other departments in the company
Multiple Hub and Spoke or "Dandelion" – A main social media team with smaller social media teams in different departments
Holistic – Everyone in the company is involved in social media in some ways
You can find out more about each structure in her SlideShare below:
What's our structure at Buffer?
We don't have a social media team per se. However, if I were to refer to Sallie's five ways above, I think a Hub and Spoke structure might best describe our social media effort here at Buffer (though we don't exactly see it that way.)
Within the "hub" (i.e. our marketing team),
Brian (Digital Marketing Strategist) creates new, engaging social media content and experiments with new social media features and products like Instagram Live and Snap's Spectacle, among many other things.
Ash Read and I (Content Crafters) write long-form articles on this blog.
Arielle Tannenbaum (Community Champion) organizes our weekly #bufferchat and, together with Bonnie Huggins (Loyalty Marketer), listens and engages our community on social media.
Outside the "hub", our Happiness Heroes (i.e. our customer support specialists) support our customers through Twitter and Facebook Messenger on a time zone basis. The rest of the team also jumps onto relevant social media conversations (e.g. an engineer replying to a technical question on Twitter).
—
Over to You
Putting together a team can be one of the most challenging tasks as a manager. This job becomes even harder because social media as a profession is relatively new.
That said, I believe there are many ways to build or structure your team. So don't worry if your team looks different from other companies' social media team.
If you have any questions about building a social media team, feel free to leave a comment below. We'd love to see if we (or fellow readers) can help!
Brought to you by
Did you find this article helpful? You might also like our all-you-need social media toolkit.
Get started for free now