The Little Monsters. The Beliebers. Swifties. Barbz. The Beyhive. These are fan bases consisting of fiercely loyal advocates for Lady Gaga, Justin Bieber, Taylor Swift, Nicki Minaj, and Beyonce. They will stream every album endlessly, camp outside for hours to catch a glimpse of their favorite artists, and might even get the name (or face) of a singer tattooed on their bodies.

Fortunately, you don't need to be a pop star to have fans and advocates. With social media advocacy, you too can create an army of loyal customers who will rave about your products to family and friends and leave glowing reviews on social media.
What is social media advocacy?
Social media advocacy involves building a relationship with customers who naturally want to share their love for your brand on their networks. Brand advocates can include employees, stakeholders, business partners, and customers. It's your job to create partnerships with your advocates, so they continue to champion your brand in ways that support your messaging.

Here are some ways to spot potential social media advocates:
A customer regularly comments on photos of your products on Facebook.
A reader shares your blog post on Twitter.
A customer recommends their favorite bagel via Instagram Stories and tags your café.
Reaching out to fans like these who are already talking about your business builds strong relationships that will turn customers into loyal advocates.
Benefits of social media advocacy
Because these kinds of positive interactions are an opportunity to generate brand advocates, nurturing these relationships will:

Generate trust for your brand

Because social media advocates are usually employees or customers with a deeper connection to your business, they are more likely to share positive sentiments with their followers. In fact, 92% of consumers trust recommendations from friends and family above all other forms of promotion. This makes advocates more credible than brand-led advertising.

Improve brand awareness on a low budget

A social media advocacy program generates an impressive long-term ROI: an average of 650% for every dollar invested. And it costs less than traditional advertising because advocates create their own content, so you don't have to create content from scratch.

Drive revenue

Companies engaged in advocacy marketing generate higher business revenue. In fact, "a 12% increase in advocacy generates a 2x increase in revenue growth rate." It has also been found that customer advocacy marketing generates more than two times the sales of paid advertising.

Build customer loyalty

Not only does word-of-mouth marketing increase trust and brand awareness, but it's also a great way to retain existing customers and build a base of loyal customers.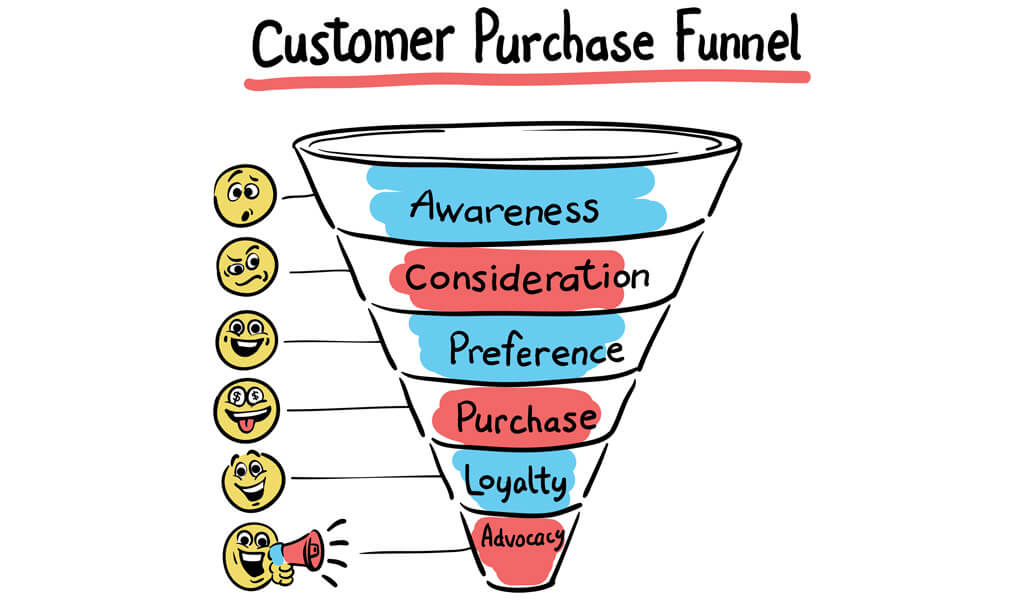 The loyalty stage is the final part of the customer purchase funnel before your customers become advocates. It's an important stage because not only will loyal customers make repeat purchases, but hopefully, they will become advocates and refer more business to you. And according to Business 2 Community, "customers referred by other customers have a 37% higher retention rate."
How to build social media advocacy
Building an army of brand advocates on social media requires happy customers, passionate employees, and an active and engaged social media presence. When you put this all together, you'll create a winning social media advocacy program for your business. Here's how.
1. Create personalized experiences
Personalized experiences help your company establish stronger customer relationships and build brand loyalty. Research shows that 91% of customers are likely to shop from brands that offer tailored experiences like custom recommendations.

But personalization is more than just using a customer's first name in email subject lines. The more contextualized the experience is, the more it will resonate with customers. You can create those experiences by using data to deliver more relevant messages to your target audience.

To collect that data:
Use surveys or questionnaires to get opinions and suggestions.
Personalize website content based on geolocation (e.g., display content in their language).
Look at behavior data in Google Analytics to create customer segments for demographics, behavior patterns, device type, location, age, role, etc.
Deploy in-app messaging tools to automate personalized messages to customers.
Analyze data from previous website searches or purchases to make custom recommendations.
The Spotify Wrapped campaign creates a custom experience for Spotify listeners. The personalized annual recap consists of songs the user listened to the most, music they discovered, and how many minutes they spent listening. This is all based on the data Spotify collects on its users' listening habits throughout the year. Because Spotify Wrapped is tailored to their personal habits, customers love to share their results on social media.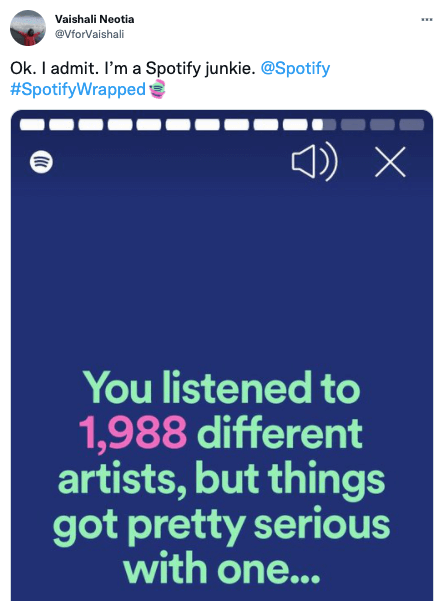 Spotify created brand advocates from the campaign by using its data to create personal experiences for listeners and encouraging them to share their experiences with others. In 2020 alone, Spotify Wrapped measured over 60 million social media shares from its 90 million users.
2. Include brand advocates in your social media content
Sharing user-generated content (UGC) and customer testimonials includes advocates in your content, and it also shows them you value them. UGC also provides free content that can increase your brand's social proof and credibility. A survey from Wyzowl found that 95% of people say that reviews influence their buying decisions. An additional survey from Stackla revealed that user-generated content has 9.8x more of an impact on consumer purchasing decisions than content from paid influencers.

In addition to resharing content from advocates on your social media accounts, consider reaching out directly to people who have left great reviews and testimonials. Ask if they'd be interested in creating content for your brand. Offer a discount or free swag as a thank you.

Glossier is a great example of a brand that incorporates UGC content into its social media strategy. The direct-to-consumer beauty brand shares a mixture of photos and videos from regular people and celebrities who share content of themselves using Glossier products on Instagram.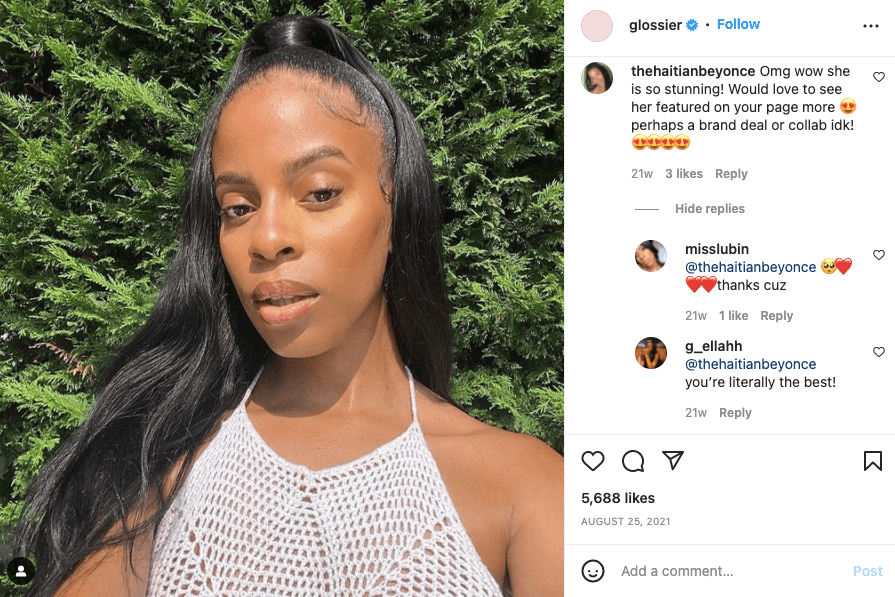 Its approach to fostering a community on social media and regularly sharing UGC has helped it amass90% of its total revenue from its fans.
3. Offer a referral incentive
Referral incentives motivate customers to spread the word about your brand. In fact, 73% of people say they'll review a product or service when they receive an incentive, and referred customers stay longer. They also have larger profit margins and an increased customer lifetime value (LTV). It's a win-win strategy that generates new customers and turns existing customers into brand advocates.

To make your referral program a success, offer an incentive that benefits both the referrer and the referee. This gives your existing customers more reason to refer you to their network.

For example, through its referral program, the meal delivery company Freshly gives existing customers a $30 discount for every new customer referred, and that friend gets $90 off. The company has share buttons on its referral page to make it as easy as possible for people to get the word out.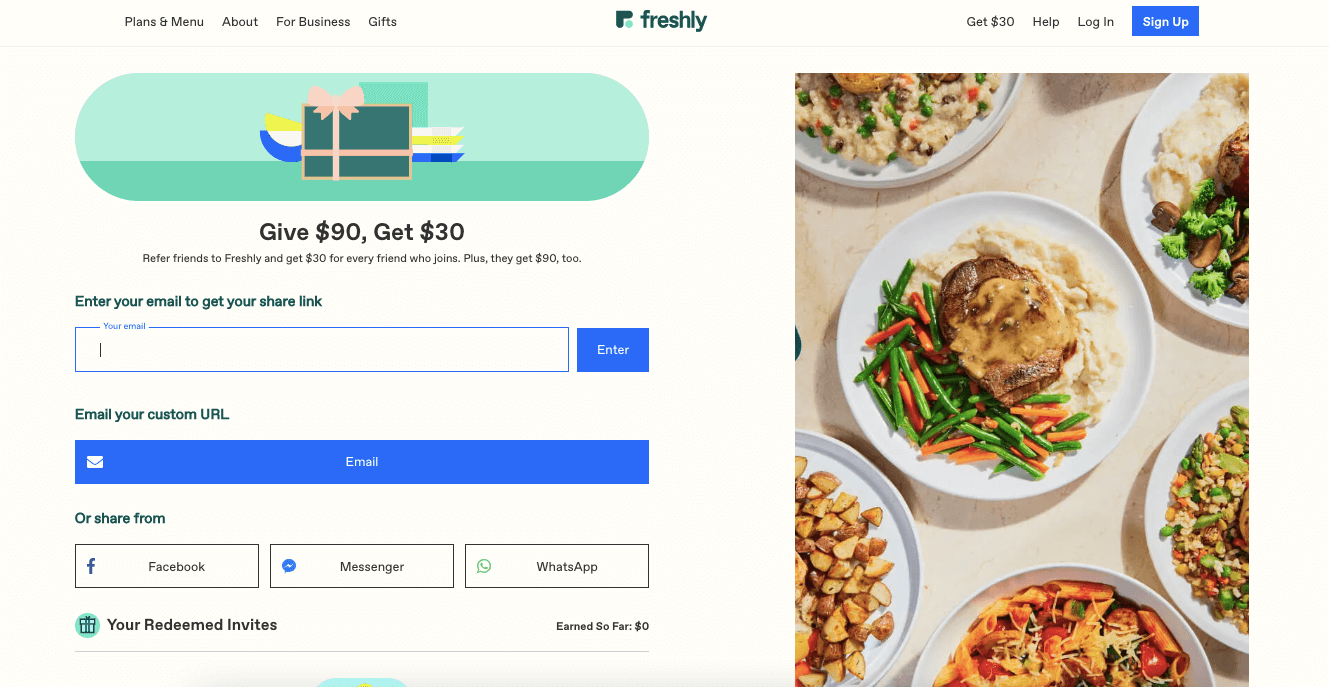 4. Turn employees into brand advocates
Employees can be amazing advocates for your business. They can amplify company messaging, establish your organization as a thought leader in your industry, and increase your social media reach. Involving employees in brand advocacy also helps attract top talent and increases employee engagement.

According to LinkedIn, "when employees share content they typically see a click-through rate that is 2x higher than when their company shares the same content."

With a good employee advocacy program in place, you can drastically increase the reach of your social media campaigns by asking employee advocates to amplify company messaging.

Dell, the computer manufacturer, is known as "The World's Most Social Company," and 10,000 employees have gone through its internal social media certification course known as the Dell Champions program. The goals of Dell's Champions program are to:
Improve collaboration/communication
Build a stronger brand through advocacy and positive word of mouth
Drive credibility and influencer relations
To ensure your own employee advocacy efforts are a success, check out our tips on keeping employees engaged through social media.
5. Provide prompt customer service
Responding promptly to customers goes a long way toward creating brand advocates. A quick response lets your customers know that your business cares about their problems and what they have to say. In contrast, almost 60% of customers said being put on hold is the most frustrating aspect of a service experience. Customers will spread the word about your service — good or bad — with their networks. To increase the reputation of your business and attract new customers, you need to act quickly.

For example, Warby Parker, the online prescription glasses and sunglasses retailer, has an amazing customer service reputation. The Warby Parker Help Twitter handle frequently retweets positive comments from customers who appreciate the brand's quick response to customer queries.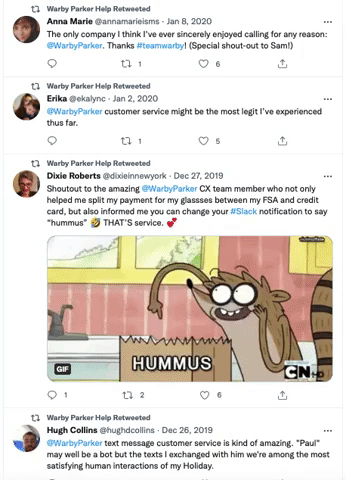 Source: Warby Parker

While you might not always be able to address specific customer issues as quickly as Warby Parker does, you can use a chatbot or automated email responses to help your company be more responsive to your customers and resolve common problems.
Kick off your brand advocacy program by focusing on customer relationships
As you plan out and execute your social media content strategy, make social media advocacy an ongoing commitment.

Galvanizing your employees, being responsive to customers, including followers in your social content, and offering incentives and tailored experiences all go a long way toward creating a brigade of strong advocates.
Brought to you by
Did you find this article helpful? You might also like our all-you-need social media toolkit.
Get started for free now