Did you know you can now create your own Snapchat Geofilters?
It's only been a few months since Snapchat debuted this feature, and there are already some amazing results flowing in for businesses and brands of all sizes (we'll share a few quick case studies in this post).
Right now, Snapchat Geofilters can offer an enormous competitive advantage because 1) not a lot of brands are using them and 2) Snapchat users love to share filters – even branded ones!
In this post, I'd like to give you everything you need to know about Snapchat On-Demand Geofilters as well as share a step-by-step guide on how to create your own.
Ready? Let's go!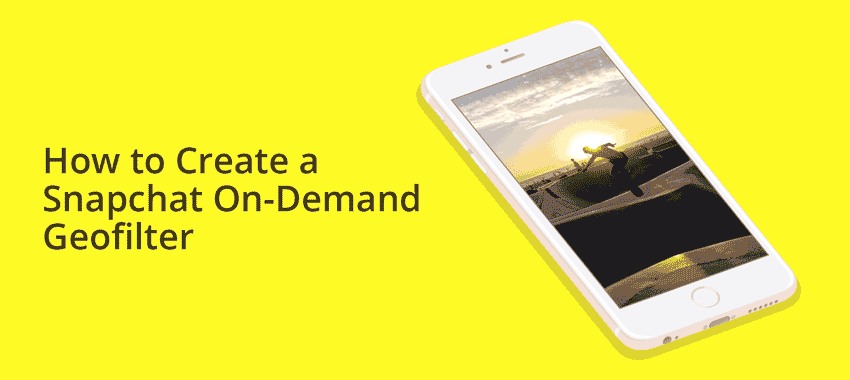 In this article, we'll do three things:
Introduce you to Snapchat On-Demand Snapchat Geofilters and share some examples;
Guide you through how to create a Geofilter and provide some templates so you can get started right away;
Share a quick case study of a campaign that generated over 90,000 impressions for just $30!
Let's begin with a quick summary of Snapchat Geofilters and some real-world examples…

What are On-Demand Geofilters?
On-Demand Snapchat Geofilters behave in much the same way as traditional Snapchat filters: you take a picture or record a video and can then overlay a design on top.
The main difference is that anyone can create an On-Demand Geofilter. That's right; Snapchat has opened up Geofilters to everyone. Whether you're celebrating the opening of a new store, running a special event or looking for a unique way to grab consumer attention, you can now create a custom Snapchat Geofilter to go alongside your activations.
Quick tip: How to view available Geofilters
To see the available filters in your area, simply take a picture or record a video and then swipe across the screen: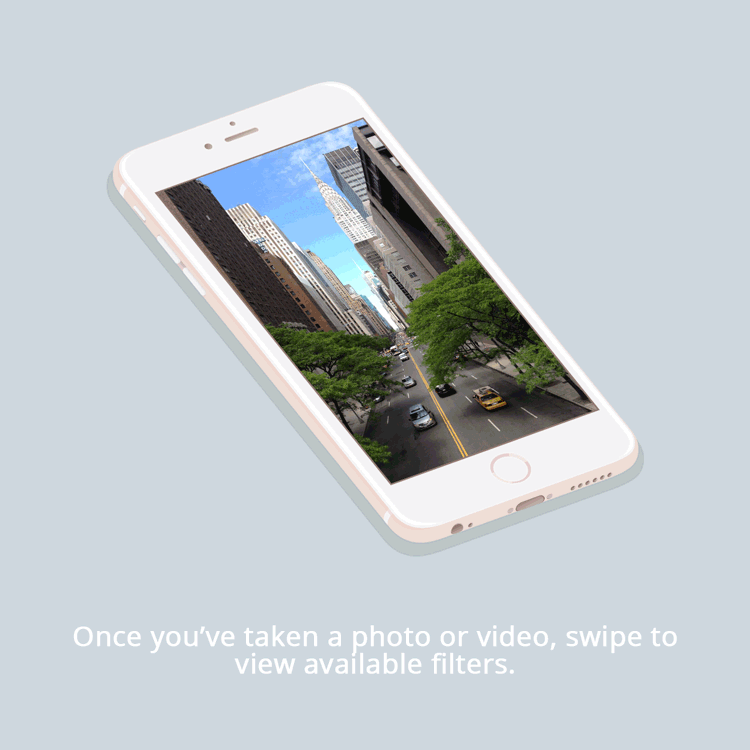 Example Geofilters
Here are three examples of how different brands have embraced Snapchat Geofilters:
1. W Hotels
W Hotels created a number of filters to give visitors the chance to share their views and experiences at W's hotels with their friends on Snapchat.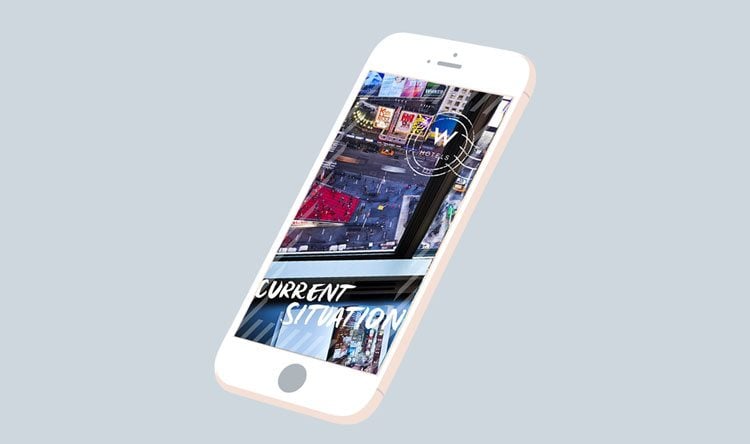 These filters were the Starwood Group's first venture into Snapchat and delivered above-expected results. Digiday shared that the filters drove more views than they estimated, as well as a higher conversion rate — the number of users who actually used the filters divided by those who just saw them — than other paid filters.
2. Blue Fountain Media
Blue Fountain Media designed a custom filter to attempt to get its employees to get firsthand experience with the feature.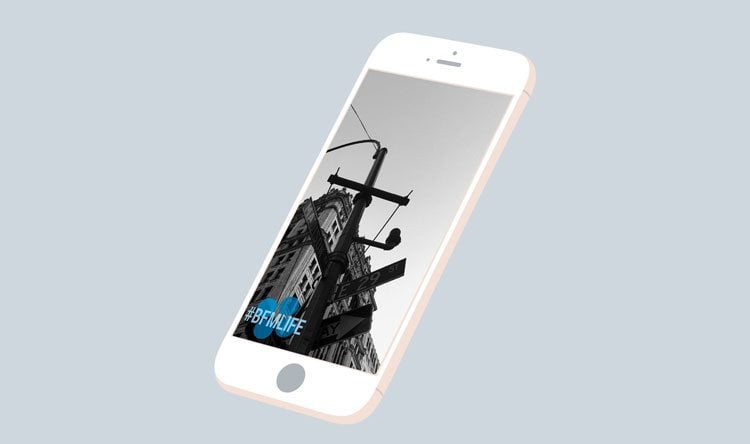 Karina Welch, associate corporate marketing specialist at the agency explained that they also found the filter to be ideal for employee engagement, "Our staff loved it, and we saw great engagement. Over a hundred employees used it, and we had over 4,000 views," she explained.
3. Gary Vaynerchuk
Gary Vaynerchuk was an uber-early adopter of Snapchat Geofilters and used them a great deal during his #AskGaryVee book tour, setting up a custom filter for every talk, Q&A, or event he hosted.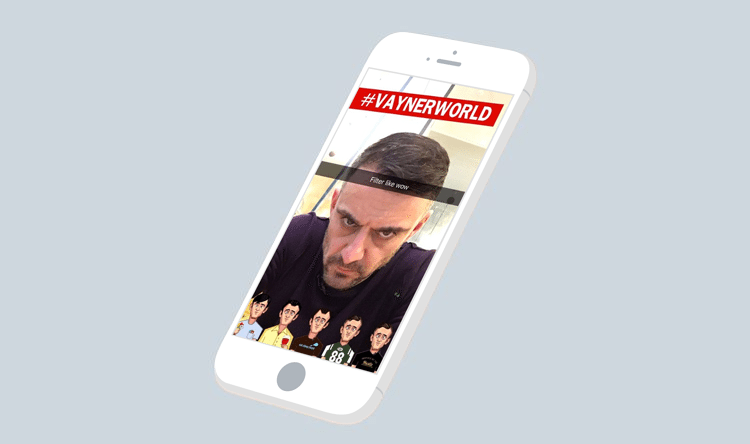 On his blog, Vaynerchuk explains that a filter which cost him $62.98 went on to generate 229,713 views and a CMP of $0.27.
Everything you need to get started with Snapchat Geofilters

Before we jump into the action and talk about "how to create a filter," it feels necessary to cover some of the guidelines for what content you can include within your filters and also talk a little about pricing.
The essential guidelines
Snapchat has a full list of guidelines for On-Demand filters on their website, and I'd love to share some of the essentials here – as well as a few that may sometimes fall under the radar.
The first thing to note is that two types of On-Demand filters are offered: Personal and Business. In their guidelines, Snapchat explains:
A Personal Geofilter is one that doesn't include any branding, business marks/names, or logos, and doesn't promote a business or a brand. You might submit a Personal Snapchat Geofilter to celebrate a birthday or graduation, for example.
A Business Geofilter is one that promotes a business or a brand.
If you're creating a Business filter, you must have the necessary rights and permissions to include any business names, marks, logos, or trademarks and you must also supply a business name while purchasing the filter.
Secondly, filters must not contain any photographs of people, URLs, phone numbers or emails. This means you may need to get creative when it comes to adding a CTA to your filter. And with your first few filters, I'd recommend submitting them at least 3-4 days before you'd like to use them. This way, if they're rejected for any reason you have time to make changes and re-submit.
The last two essentials I'd love to share here are that Snapchat Geofilters must be between 20 thousand and 5 million square feet, and each filter can be active for a maximum of 30 days.
How much do Snapchat On-Demand Geofilters cost?
Right now, filters feel like AMAZING value. Pricing depends on a few factors including the size of the Geofence and how long you want it to run. As a roundabout figure, Snapchat charges $5 per 20,000 square feet.
How to create a custom Snapchat Geofilter
Step 1: Design your filter
The first and most important step in the process is to design your filter. If you're not a designer or aren't experienced with Photoshop, Illustrator or Sketch, it may be worth seeking assistance here. Though Snapchat does have some simple-to-edit templates available (more on these below) and Canva is also a great alternative.
When designing your filter it's important to keep in mind:
The filter must 1080 by 1920 pixels with a transparent background (.PNG)
It must be under 300KB in size
Snapchat suggests you only use the top or bottom 25% of the screen so Snapchatters can still see their original picture behind your filter
I'd also recommend testing your filter with multiple images to make sure it's clear and looks great in all situations. It's great to experiment with your filter over a mix of light and dark photos.
Templates
If you'd like a little assistance with the design or even a little inspiration, Snapchat has a set of templates available in Adobe Photoshop or Illustrator format, which can be downloaded here.
The templates cover a range of events from weddings to parties and events. No matter what you're creating a filter for you'll probably find one close to your needs in this set.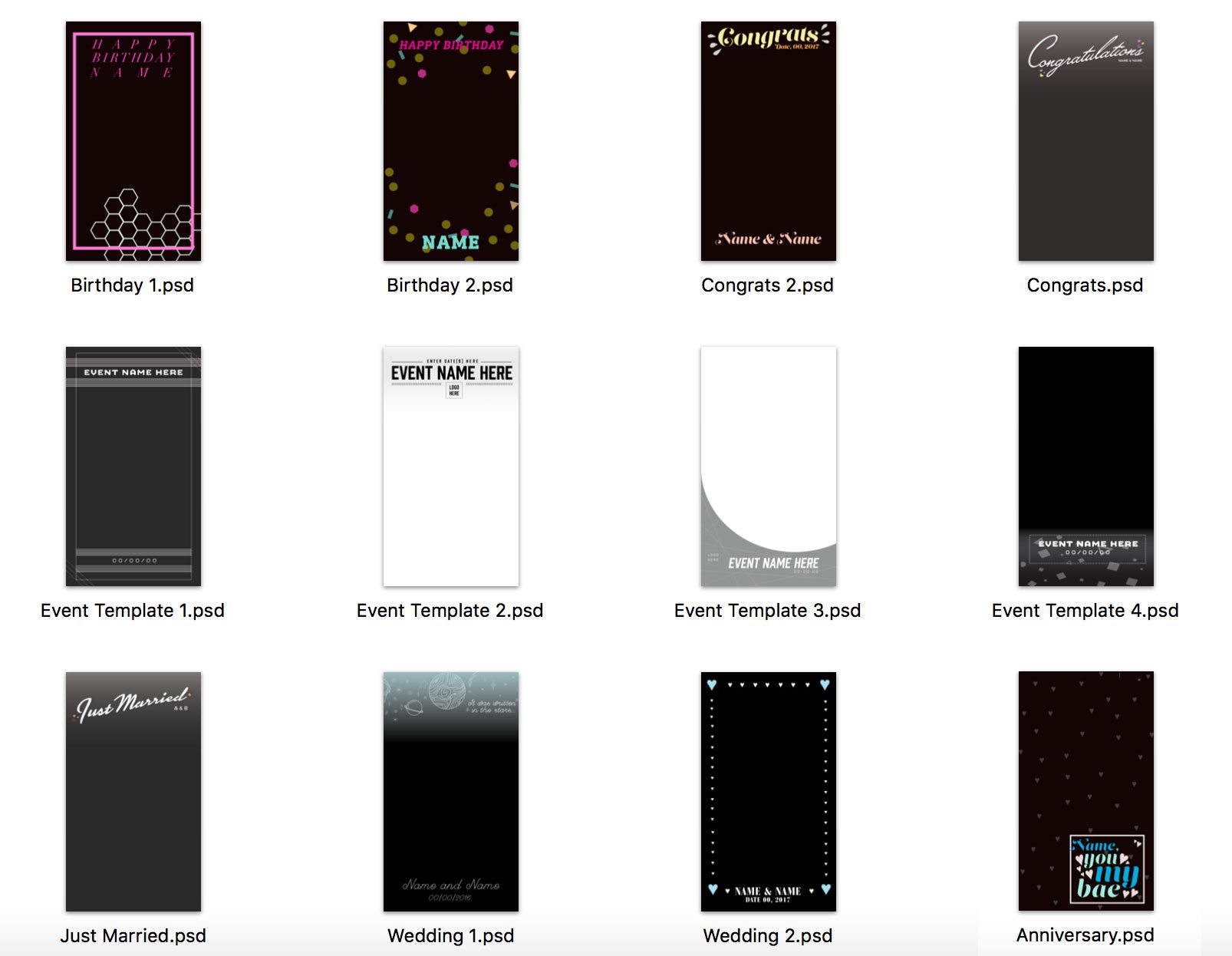 Looking for a little more inspiration? This Tumblr is jam-packed with of hundreds of Snapchat filter designs.
Step 2: Upload your filter
Once you have your design ready, head on over to the Snapchat On-Demand site and click "Create Now." You'll then need to login using your Snapchat account details.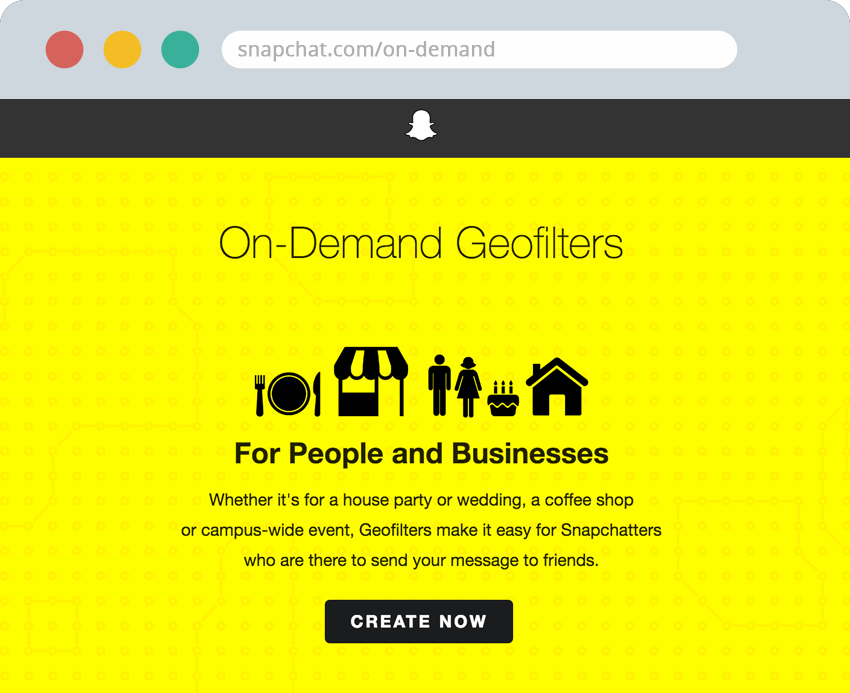 Once logged in, you'll be prompted to upload your design. And when I created my first filter I ran into a few issues with the size of my PNG file, if this happens to you, TinyPNG is a fantastic service to shave some KB's off your file and get under Snapchat's 300KB limit.
Once your image is uploaded, you'll see a cool preview of how it'll look and also have the option to give it a name.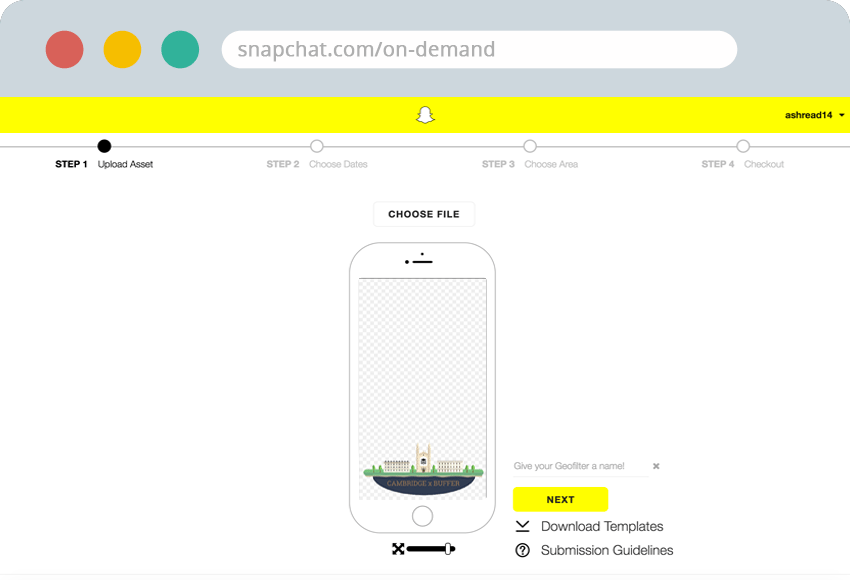 Step 3: Set the date and time
On the next screen, you need to select the duration you'd like your filter to run for. Be extra careful here as the times and dates cannot be edited once you've submitted your filter.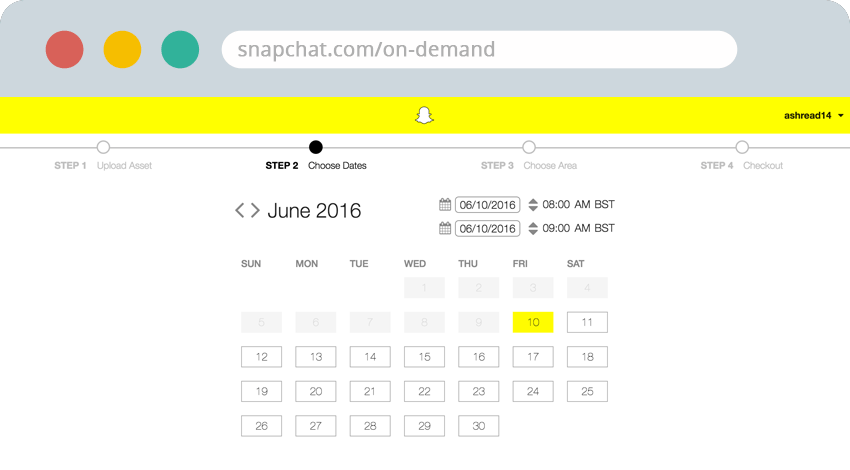 Step 4: Choose the location
Now that you've selected the duration your filter will be live for, it's time to select the location. Currently, On-Demand Snapchat Geofilters are only available in the USA, UK and Canada and the area you select must be less than 5 million square feet.
To select your location, enter the address in the search bar and then draw a fence around your selected area. It's best to be a little generous here.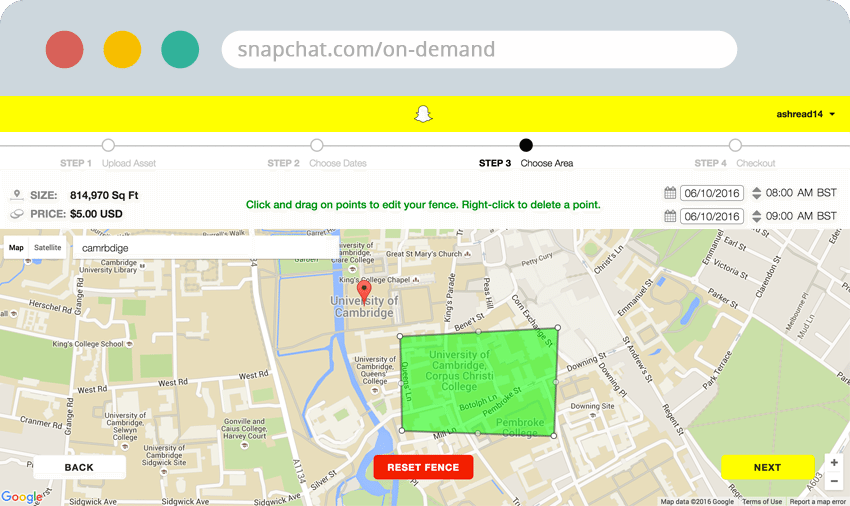 Now you're all set! Once you've completed the above steps and paid for your filter, you're ready to go and will receive a few emails from Snapchat to confirm your order.
Measuring the success of your filter
Once your filter has expired, Snapchat provides some basic reporting on how your filter performed, showing you Uses and Views. Uses show you how many people used your filter and Views is how many times people saw it. This data can sometimes take a day or two to appear.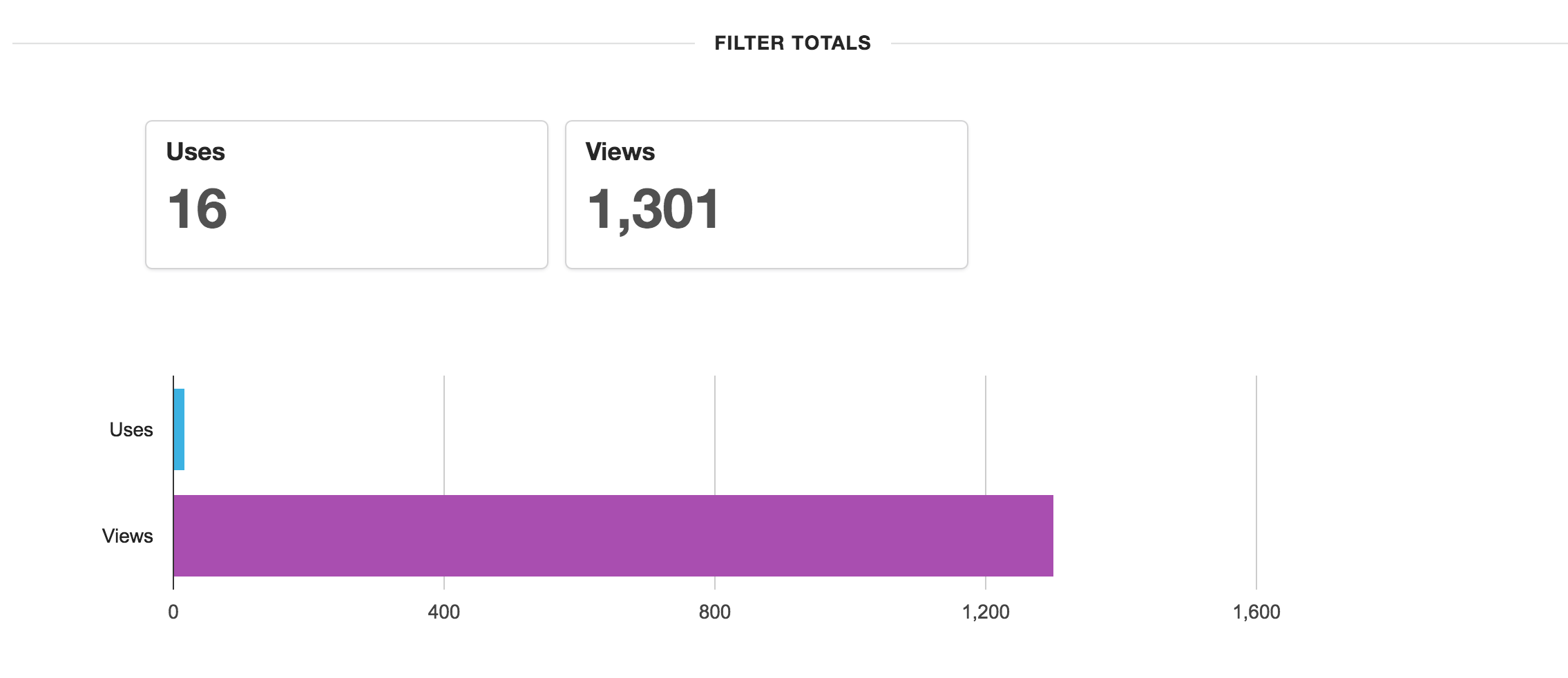 To view your metrics, head to over to Snapchat, login, hover over your username in the top right-hand corner of the screen and select 'My Orders.'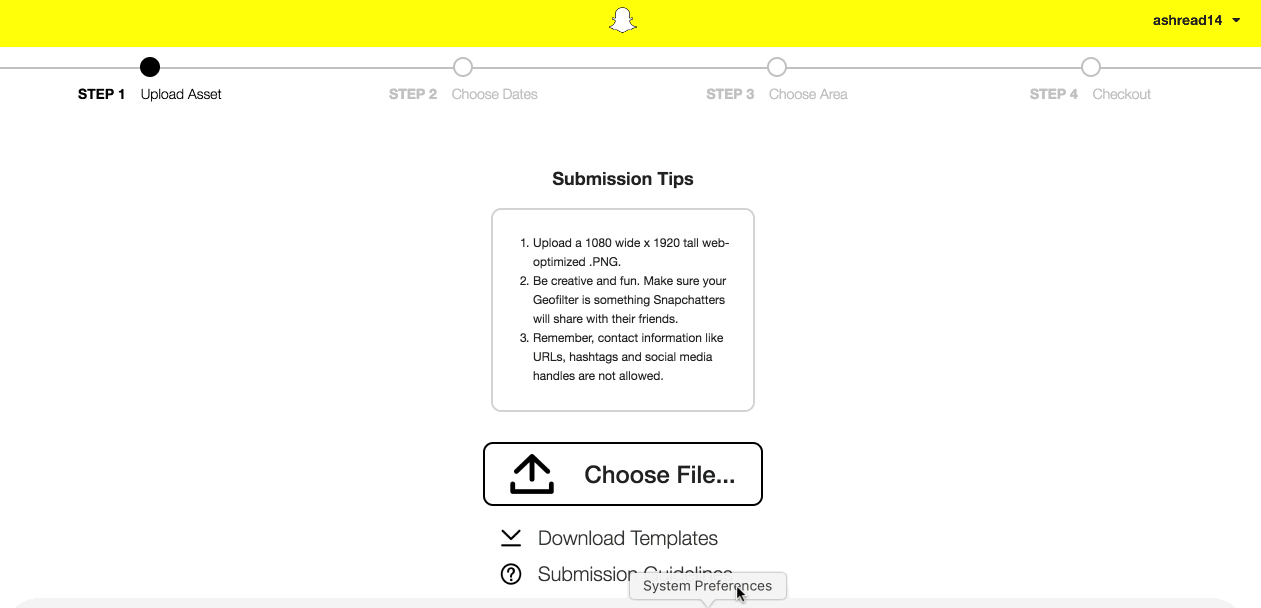 Quick-fire case study: How a 700-person event achieved over 90,000 impressions using Snapchat

The Hoopsfix All-Star Classic is an annual event showcasing the best in British basketball talent. And searching for a way to engage the audience in attendance and spread the word about the event far beyond the arena in Brixton, London, Hoopsfix founder, Sam Neter, turned to Snapchat.
The filter went live the evening before the event so that the Hoopsfix team could show some behind the scenes action of the arena coming together and it expired just after the event finished. A total of 25 hours at a cost of $30. By the time the filter expired it had been used 389 times and received 91,346 views.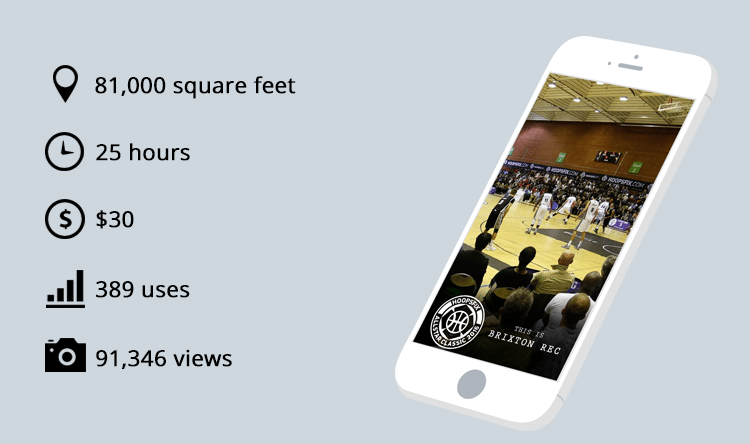 Over 90,000 views for $30 feels like brilliant value. Especially when you consider views on Snapchat are far more immersive than an advert in a feed. People are actively choosing to view this content, and the overlaid filter is effectively a part of the content.

Over to you
Snapchat appears to have a real winner here. Not only are Snapchat Geofilters easy to create and fairly cost-effective (for now, anyway), they're also incredibly engaging for consumers and highly shareable.
I'd love to hear your thoughts on Snapchat filters: Have you created one yet? How could you see your business utilize them?  Feel free to share your thoughts and any questions in the comments below.
Brought to you by
Did you find this article helpful? You might also like our all-you-need social media toolkit.
Get started for free now