Earlier today, we released something major… the Buffer AI Assistant.
A brand new feature, available to every Buffer user (on both free and paid users) that supports your social media management.
It makes publishing and scheduling posts faster by suggesting post ideas or even writing posts for you. It helps you elevate your content by optimizing, shortening, or even translating your post. And it's fast, meaning you can manage content for all your social media accounts without hoovering up your time.
But there's a catch.
Getting the most out of Buffer's AI Assistant isn't easy. To truly master it, there are a few rules you'll want to follow.
See, artificial intelligence (AI) could revolutionize the way businesses like yours handle social media marketing. AI-powered tools can help businesses streamline their social media processes, reach their target audience, and achieve their marketing goals more effectively. But if you're not using it properly, it'll probably be more of a hindrance than a help.
So, we've written a beginner's guide for those using AI with social media for the first time. This is your handbook for using AI in Buffer. Follow it, and (we hope) you'll get the results you're after.
How to Use AI for Social Media Scheduling
Apply the following steps when using AI for social media scheduling:
1) Define your goals
Before diving into Buffer's AI Assistant, it's important to set out what you're trying to achieve. Buffer's AI Assistant, like most others on the market, has a cap on the number of times you can generate responses—spamming the generate button will use up your AI Credits fast.
So, take a moment before starting to decide what you want to achieve. This could be increasing brand awareness, generating leads, or improving customer engagement. Let's say, for example, that your goal is to improve customer engagement. If that's the case, you might ask Buffer's AI Assistant to "come up with 5 social media post ideas to engage my community."  (try this)
You'll also want to consider what type of social media user you are. Are you a heavy publisher who regularly posts updates to a large group of fans or a newcomer looking to build an audience from scratch?
For long-time social media users, you might use AI to repurpose some of your old posts. We'd suggest looking in your Buffer Analytics for some of your best-performing posts from the last year and asking Buffer's AI Assistant to "rewrite this post in an engaging-style." (try this)
For newcomers to social media, you might use AI to come up with brand new ideas for you to test out online. Say you've started a community gardening project, you could ask Buffer's AI Assistant to "brainstorm 7 social media post ideas to encourage people to start gardening at home". (try this)
Setting out your goals and thinking about what you'd like to achieve should help you get the most out of Buffer's AI Assistant.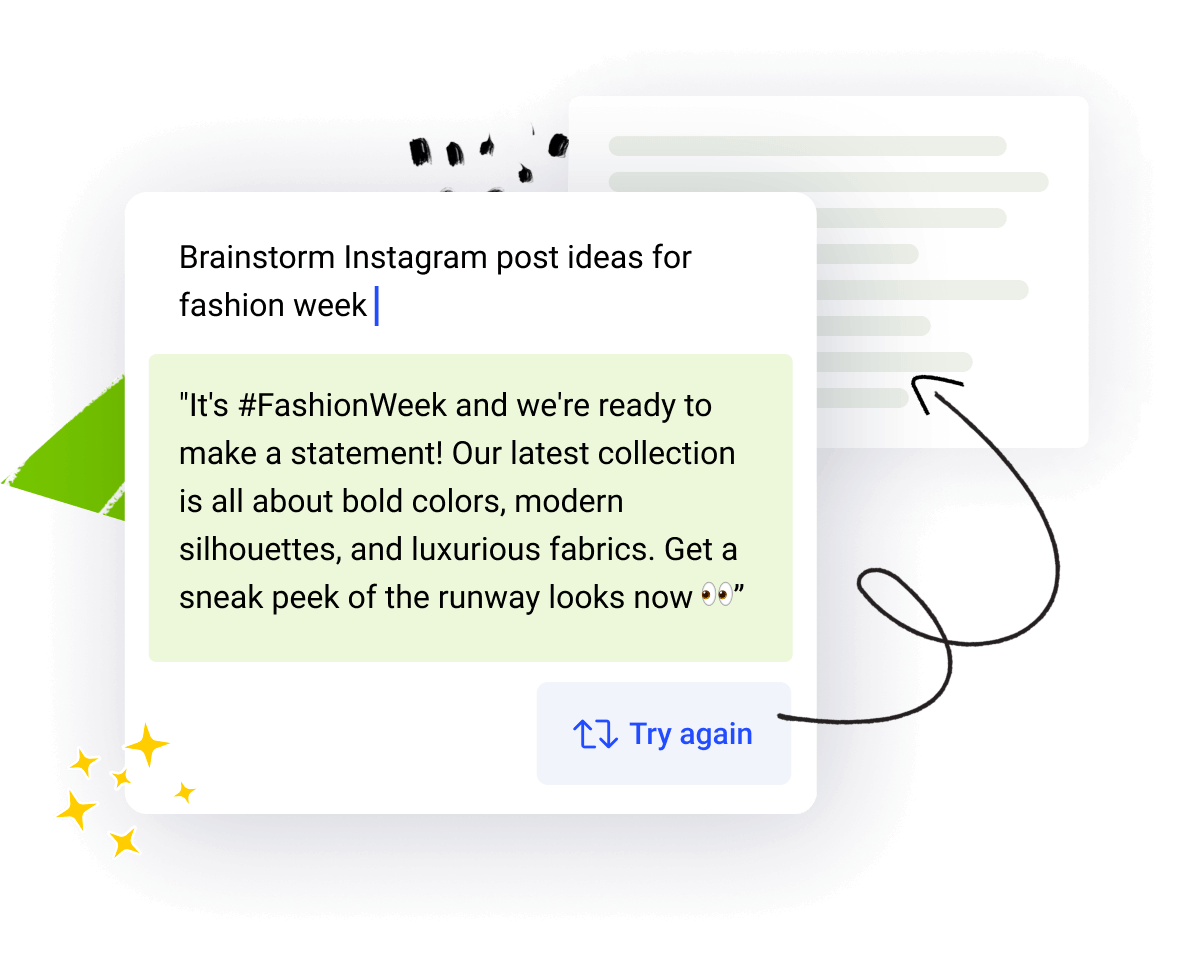 2) Consider how Buffer's AI Assistant works

Think about your last Google search. You probably didn't search for the first thing that came to your head. Instead, you probably entered a search term that you knew would provide the right results. You didn't ask Google, "what should I eat tonight" – you asked, "good Thai restaurants near me".
Just like with Google, you'll want to customize what you ask AI to get the best results. A good rule of thumb to follow is to add as much detail as possible into your prompt (a prompt is the information you give Buffer's AI Assistant before hitting generate).

Try out different styles of prompts to see what works for you. I've found that giving the AI some information about the tone of voice you'd like it to use (friendly vs. formal) and the type of result you want (engagements vs. clicks) can really boost the quality of the results.
3) Provide clear prompts
AI tools like Buffer's AI Assistant rely on the information you provide to generate high-quality ideas. So it's worth taking the time to make your prompt as clear and descriptive as possible. This includes adding information about your target audience, such as demographics, interests, and behaviors, as well as what social network you're publishing to and what topics resonate with your audience. Here's an example of a clear prompt:
Write an Instagram post targeted at millennial coffee lovers who live in Brooklyn about our latest coffee roast from Peru. The post should talk about how the coffee is organic, fair trade, and reference the taste notes "chocolate, butter, and caramel". The tone of the post should be friendly, informal, yet engaging. (Test this prompt out for yourself →)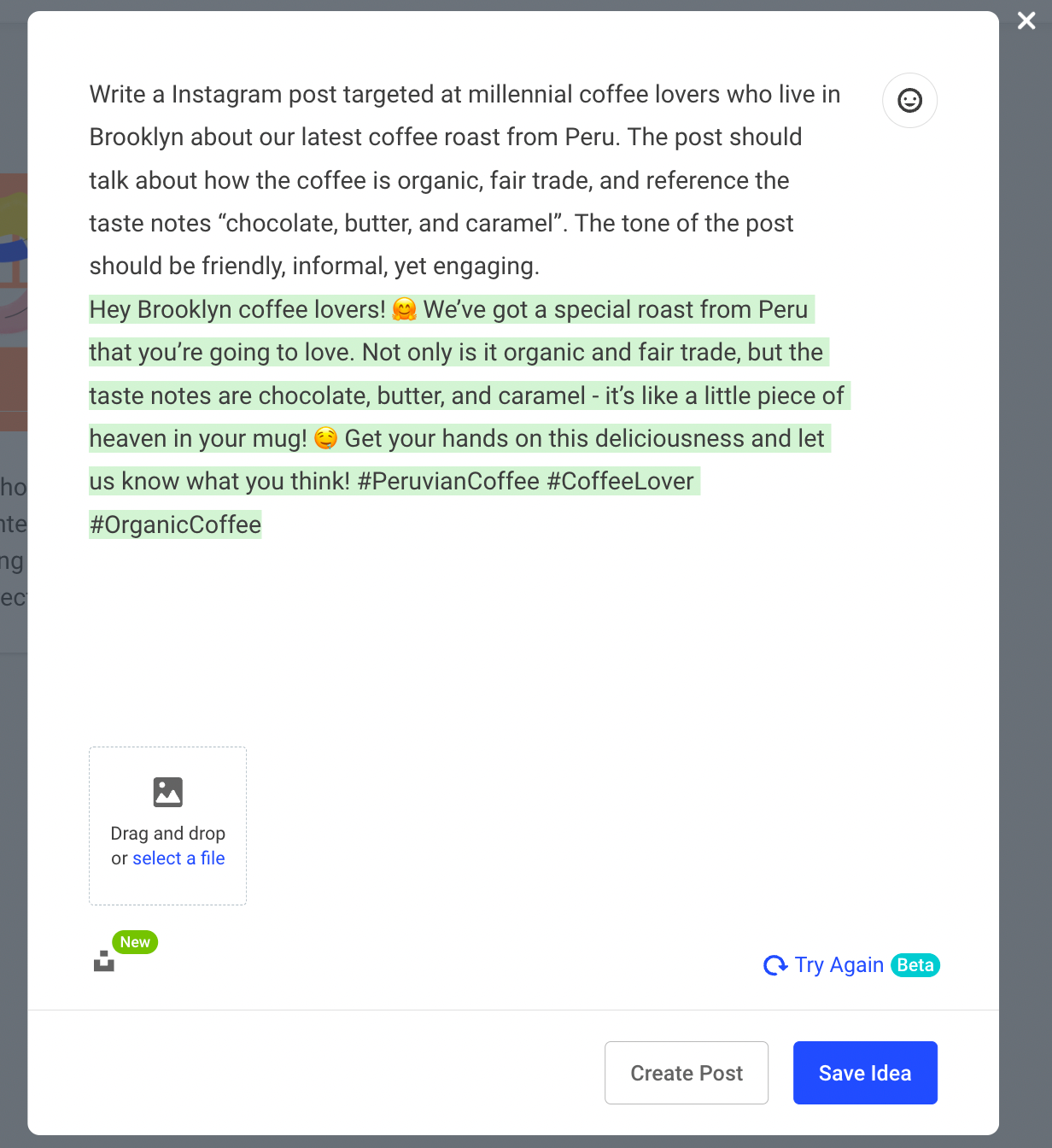 Having access to clear prompt will help the AI tool tailor its output to your specific needs and goals. As you can see from the image above, the suggested post from the AI tool meets a lot of my requirements. It's informal yet engaging, references all of the points I needed, and is right for my target audience. It's even included some relevant hashtags for Instagram.
4) Monitor and evaluate results
It's essential to regularly assess the performance of your AI-powered social media posts to ensure that they are delivering the results you desire. Keeping check of these results will give you valuable insights into what's working and what's not.
Let's face it, Buffer's AI Assistant won't always be perfect. Some of the post suggestions might not be right for you. We'd advise users to test it out but not blindly adopt it. Test the performance of AI-assisted posts vs. your standard posts. Do they perform better or worse? If it's latter, you might want to change track.
By continually tracking and evaluating your results, you can make adjustments to your prompts, changing what you ask the AI assistant to generate. This iterative process of monitoring and adjusting your prompts will help you to continuously improve your results and get the growth you deserve.
5) Keep learning
Let's face it, this article will probably end up going out of date before summer is over. That's because AI is a rapidly evolving field. Not only do we expect the landscape to change, but Buffer's AI Assistant should change a lot in the future too.
It's essential to stay informed and educated on the latest developments and best practices in AI, especially as it relates to social media. By regularly reading articles (perhaps by subscribing to our newsletter), you'll be able to stay up-to-date on the latest developments in AI for social media and learn about new ways to use AI to your advantage.
In the meantime, feel free to join our Discord community. You can share your thoughts and feedback or chat with other users about what's working for you. The community is packed with Buffer users and our engineering and product teams. If you have a suggestion for what to build next, that's a good place to share it!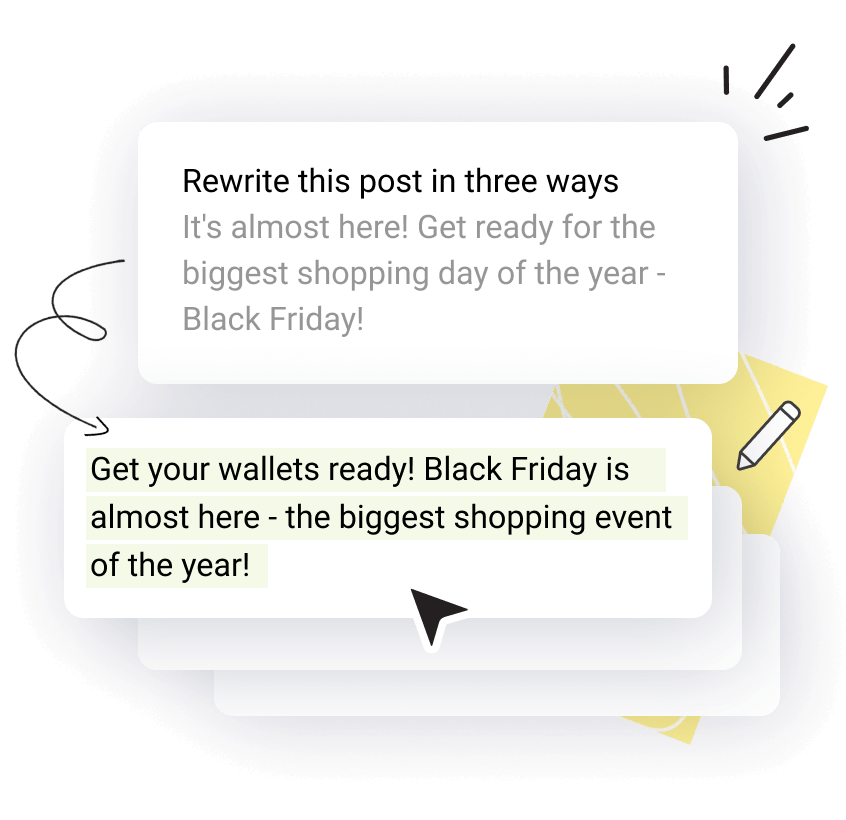 Buffer's AI Assistant is a fantastic feature that makes social media scheduling faster and easier by suggesting post ideas and repurposing existing content. However, to get the most out of it, it's important to define your goals, understand how the AI tool works, and provide clear prompts to the system.
By following this beginner's guide, you can effectively use the assistant to streamline your social media processes, reach your target audience, and hopefully achieve your marketing goals.
Want to test drive Buffer's AI Assistant for yourself? Get started today for free!
Discover seven unique ways to use Buffer's AI Assistant here.
P.S. Got any feedback? Send us a tweet and let us know.
Brought to you by
Did you find this article helpful? You might also like our all-you-need social media toolkit.
Get started for free now