💡
New update (Oct 2023): We've packed our AI Assistant full of features ready to support your growth. Tweak your tone, state your desired audience, and the AI takes care of the rest—all available with unlimited credits.
Two months back, we launched Buffer's AI Assistant.
It's one of the most popular features we've ever launched at Buffer.
Since launching AI has assisted in creating over 31,500 posts for 8,100 users.
That's 2.5 million AI-generated words created in Buffer.
So, you won't be surprised to hear we've been hard at work making it both smarter and faster.
From today, Buffer's AI Assistant can:
Rephrase your posts
Summarize long-form text
Expand sentences into paragraphs
Generate personalized social media ideas
Plus, it's integrated with Canva's AI image generator—helping you create the perfect picture for your post.
Assistance right when you need it

If you've ever struggled to come up with fresh ideas for your social media content, Buffer's AI Assistant can help. By answering questions about your brand and target audience, you can generate new ideas that are perfectly suited for your account.
Ideas are one thing, but ultimately you need to tweak those ideas until they're ready to publish.
To help the AI Assistant also comes equipped with features that help you rephrase, summarize, and expand your posts.
This means that you can take existing content and make it more engaging and effective without spending hours writing and rewriting.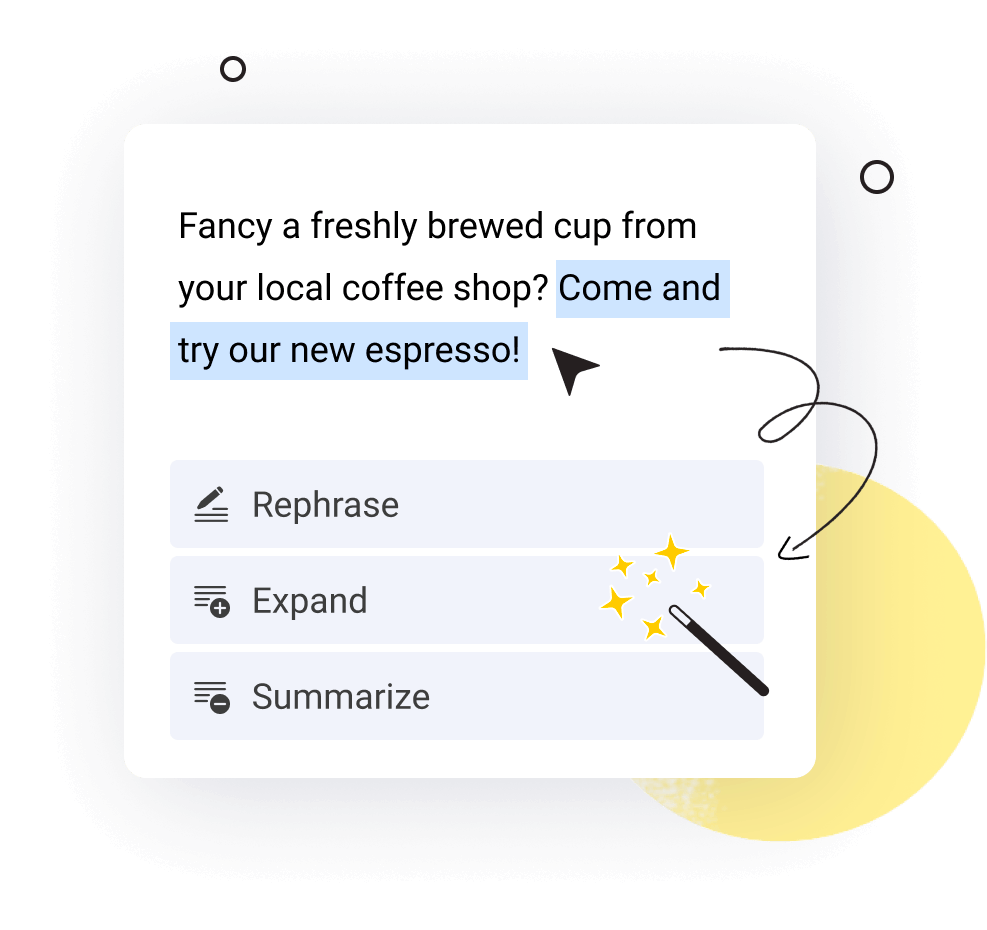 Lightning-fast content creation

So, how does this help you create better content for social media, faster?
For starters, the idea generation feature saves you time and brainpower. Instead of wracking your brain for hours trying to come up with new ideas, you can let the AI do the heavy lifting.
This frees up your time to focus on other aspects of your social media strategy, like crafting compelling visuals or engaging with your followers.
The rephrasing, summarizing, and expanding features are also incredibly helpful. If you're struggling to find the right words to convey your message, the AI Assistant can help you find a new way to phrase things.
If you need to summarize a longer piece of content, the AI can help you distill the main points down to their essence. And if you need to expand on a particular topic, the AI can help you find new angles and fresh insights.

How it stacks up

When we launched Buffer's AI Assistant back in February 2023, we were one of the first to market. Today, many tools like Buffer have some form of AI available.
So what makes Buffer stand out?
First up, our AI Assistant is available across every channel. This means you can use the AI Assistant to improve your content on every social media platform you use.
Secondly, the AI-powered personalized social media ideas aren't available elsewhere. Simply answer a few simple questions about your brand and target audience, and voila, you've got endless ideas to try.
Plus, the AI Assistant is available directly in the Buffer composer. This means you can create, edit, and improve your content all in one place, without having to switch between different tools or windows.
---
Let's face it, the best way to learn is to test it out yourself.
So, don't wait around, try Buffer's AI Assistant for free →
P.S. Would you like to 2x your growth in 2 weeks? Join our free AI Accelerator, an 8-part video course to help you 2x your growth with AI.