💡
August 2023 Update: We have a brand new Transparent Product Roadmap and it's even better. You can upvote your favorite ideas and suggest features we should build.
Take a look →
Buffer is known for being transparent in radical ways. We share the diversity of our team. We share our cultural evolutions and learnings. We share our salaries.
We keep sharing because we keep learning so much along the way! So many of you participate in discussions and help us shape the Buffer path. And we're inspired when we hear that our story might have helped you shape yours!
So you might imagine my reaction when I saw this blog post from Trello: Going Public! Roadmapping With a Public Trello Board. It reminded me of Trello's own public roadmap and some others, too. (Thanks, Trello, for leading the way and highlighting others who are sharing their product plans!)
I thought, 'We should do that!'

We already have an amazing amount of ideas from the community in our UserVoice forum. We're regularly sharing prototypes made with InVision. We speak with customers all the time. Why not share our feature roadmap!
So I shared Trello's blog post and idea of a Buffer transparent product roadmap with a few teammates.
As I spoke with various folks around the company—Hannah (one of our newest Onboarding Heroes for Buffer for Business), Hailley (PR Crafter), Joel and Leo, other product types—I found a common thread.
Our quarterly goal documents are great, but they're quite scattered around. And with so many product teams, it can be a chore to get a high level answer to simple questions like,  'What's the latest?' or 'What's up next?'
We shared a roadmap Trello board with the team, and it seems to be really helping us!
Introducing the Buffer transparent product roadmap
So today we wanted to open it up and share it with you as well. Now we can build in the open, with all of you alongside!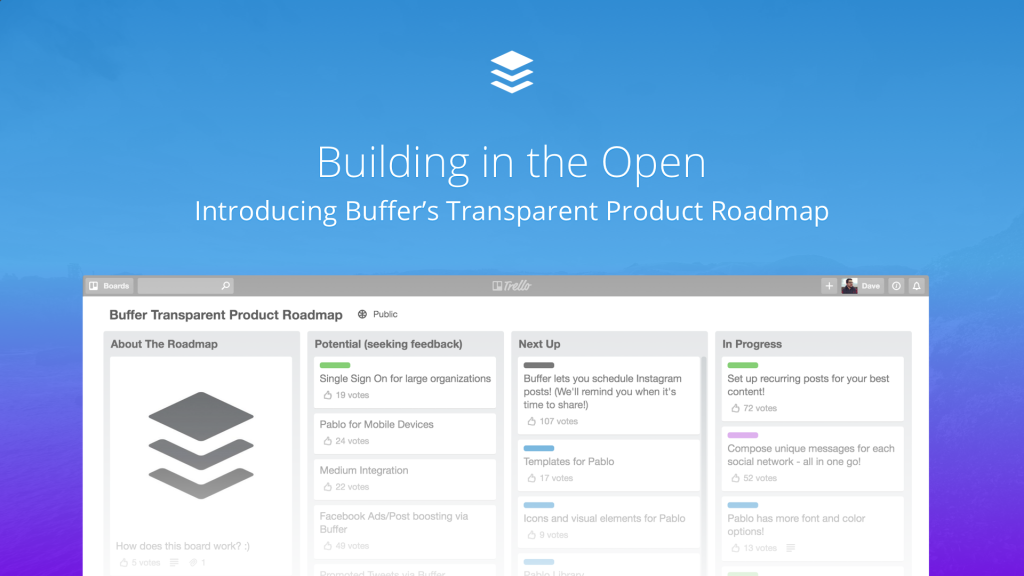 You might be asking, 'Isn't this sort of risky? Telling everyone—even your competition—what you're working on?'
Great question! We're definitely opening ourselves up a bit here. Thing is, we believe this could be better for everyone in the long term, not just Buffer. Let me explain.
Why build in the open?
Building in the open could positively impact:
The Buffer team. It encourages us to think more long term and be more deliberate about what we build, hopefully resulting in us building more value for you.
The Buffer community. We hope you'll feel more closely connected to the features we're building, how they'll work, what they could do to make your social media life easier and more successful. Also, you'll be able to tell us if we're off track!
Our competition. Yes, even our competitors could be better off. And that's a good thing! Maybe they'll see something we're working on and fill the need a little differently. Or they'll be inspired to build a similar feature. For us, this is more than OK. It's not a zero sum game, after all. There's plenty of opportunity for everyone to be successful! All in all, we think this could raise the bar for all of us, and challenge Buffer to build the best, most valuable features possible.
The marketing community at large. If by building in the open we all learn together, we hope that some of the challenges facing our community will be addressed just a little more quickly.
Our collective audience. Better tools in the hands of marketers have the potential to make better marketing. And in doing so make consumers better off.
The startup and business community. Buffer was once a couple of founders working from a bedroom, and we still have a lot to learn. By sharing our failures and successes, we'd love to play a small part in helping people fulfill their dreams and start a company, or grow an existing company in a more effective way.
What building in public has taught us already
Here are a few examples of what we're learning so far.
Lesson One: Embrace the power of prototyping
A prototype is a great conversation starter!
In the process of building a new reporting feature for Buffer for Business, we needed some feedback and shared this wireframe in an email to the community.
I was amazed to hop into InVision the next morning to see all of these comments! Big hat tip to InVision here for making it dead simple for anyone to click on the design and leave their comment right in line! (Each pink dot represents a customer conversation)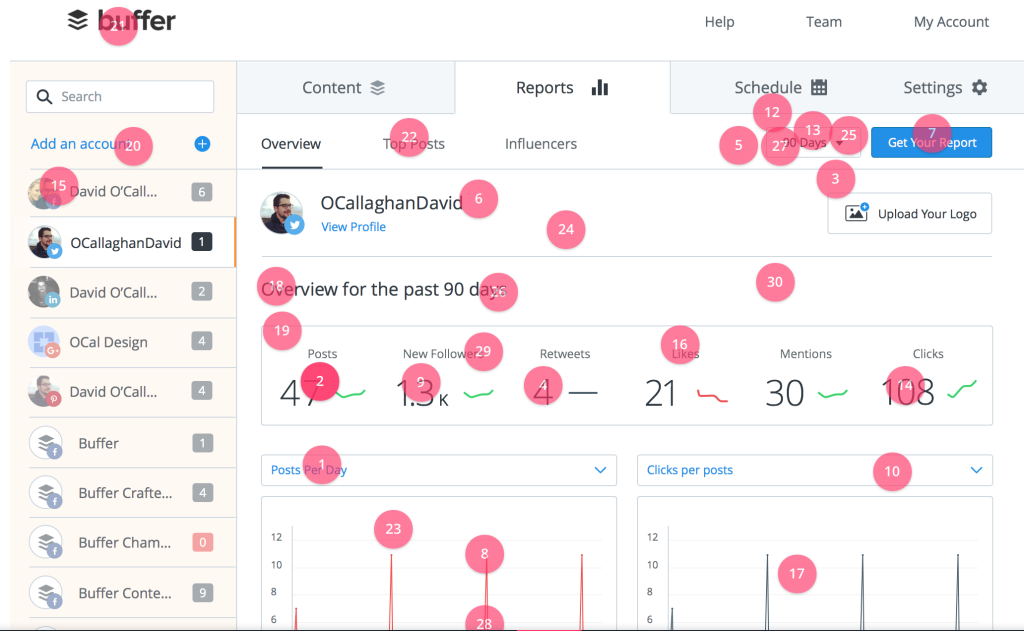 Lesson Two: Let the community connect
Feedback has a beautiful way of compounding!
Take a look at how the Buffer community interacts here: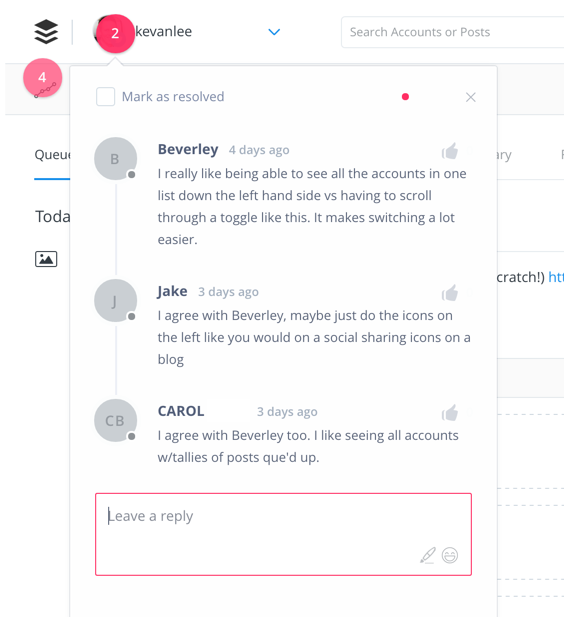 Lesson Three: Look at the forest, not just each tree
It's so helpful to be guided by the community to the highest priority features. Take a look at early voting on these few items. There's great momentum around creating unique content for each network!
Want to cast some votes yourself? Take a quick second to log in to Trello (you can use a Google account and not even need to create a new password!).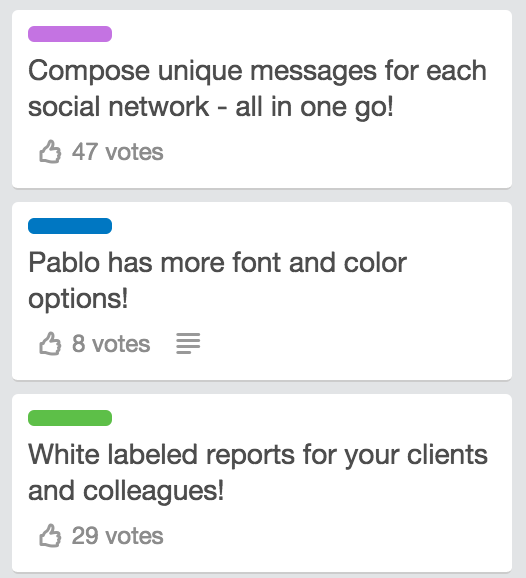 Lesson Four: Keep drinking from the firehose!
We're fortunate to have ideas coming to happiness heroes, to UserVoice, to our Customer Development team, to InVision prototypes, and more. How can we actually make use of it all? Well, I have to say, it can be a tough task!
Sometimes we can incorporate it into the feature under construction. Sometimes it's stored away for a future version. Sometimes it simply adds to our level of empathy and understanding of our community.
One thing's constant: How grateful we are for the time and thought that you've taken to share with us.
We still have a long way to go here, but my hope is that we keep asking, keep sharing, and keep having this conversation.
Lesson Five: Strive for a higher standard
We're communicating this publicly, so the stakes are higher.
On one hand, if we change direction we'll want to communicate even more with you. We're committed to doing our best in this.
On the other hand, we're fully aware that the 'Next Up' column will be something that you may build plans around.
We don't want to let you down! So we'll need to increase our discipline early in the process to be sure we're quite committed to something before publishing it on the roadmap.
A few potential challenges of transparent building
As with many things, we have some challenges on this path too! Here's a little view into three of those.
Challenge One: Startup projects need freedom
We have three startup projects underway at the moment: Pablo, Respond and Content Library.
They're all early in their lives, and early in their search for what entrepreneurs call product-market fit.
As we search for their place in the market, sometuservoiceimes we might need to make bigger changes with less advance warning. That can be tough with a published roadmap.
How will we keep this up-to-date and and helpful, while still giving the teams freedom to find the best path? We'll be working on that!
Challenge Two: It takes time and effort to share all of this!
Beyond today, who will maintain the transparent roadmap? How frequently will it need to be updated?
And how does the feedback we'll receive work in tune with UserVoice, comments on InVision prototypes, and all the ideas from our customer happiness conversations? How much time will it take to incorporate those thoughts into 5 product teams and 2 mobile engineering teams?
We don't know the answers to all of these questions, but I'm keen to embrace a good portion of it in hopes that all the context will help me be the best product leader I can be for Buffer—and for you, the community.
Challenge Three: Communicating with clarity
The roadmap is intentionally very high level, with just a short phrase to describe each potential feature or change.
Is that enough for you to know what it is and whether it'll be helpful or not? I'm not sure!
Our fantastic design team is eager to add context here by showing their design process, including early prototypes. That sounds like a great addition to me, but I'm not 100% confident we're sharing enough!
If you'd be up for helping out by providing any feedback or thoughts as we get going here, we'd all really appreciate it.
How the Roadmap Works
If you're intrigued by all of this and want to be part of how Buffer evolves, thank you! It means so much that you'd take time and energy from your own life and work to share in this story with us.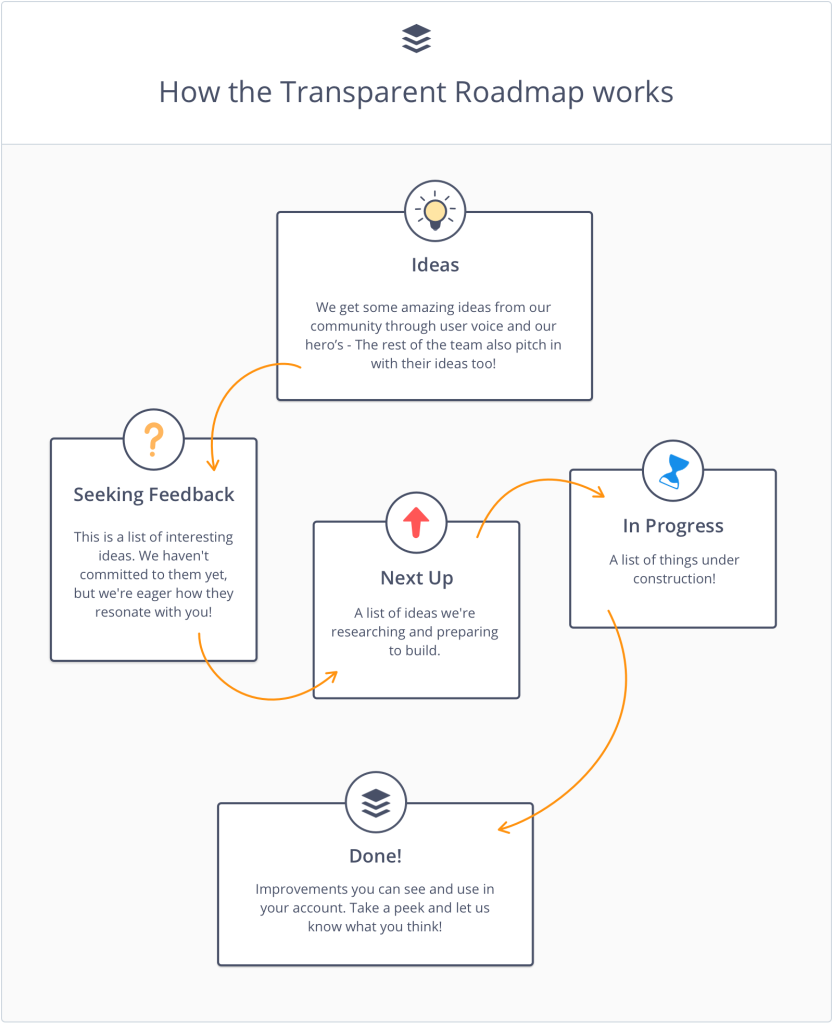 Here are a few places to get involved:
The Roadmap. Please add your votes and comments for any features that you're eager to use! (You can log into Trello through an existing Google account and not even need to create a new password!).
Our UserVoice forum: Want to add your thoughts or suggest another idea? This is the place!
Beta groups: We form beta groups around new features from time to time. Typically we'll invite you to join while inside Buffer. Please take us up on that if you're keen!
Over to you!

We're looking forward to you joining us on the journey. Please jump in and let us know what you think as we build in the open!
And by the way, here's a quick rundown of friends who helped shape our transparent roadmap:
Joel shared the idea of making an "introduction lane" to help newcomers know what to expect.
Steve helped sort out some design elements.
Niel, Dan, Sunil and Joel suggested turning the voting feature on.
Dave, Steve, James, Tyler and Lorenz got excited about sharing early designs in the card. More is on the way!
Hannah and Amy were some of the first to share the board with customers for feedback.
Kevan incorporated it into a recent email to our Buffer for Business community. (We like to keep them in the loop as early as possible so they can best serve their team and clients!)