Having a remote job has been a life-changing experience for me.
I worked in traditional offices for a few years before I decided to start working remotely. Working from anywhere frees you from commuting; it also requires you to be organized and productive, everyday. There are so many benefits of remote work — it's hard to name them all.
I feel fortunate to have been given the chance to work from where I'm happiest and most productive.
I'd love for others to get to experience the freedom of remote work as well!
That's why I created Remotive.io, to share my thoughts and learnings about remote work and to encourage others to take the plunge. Remotive is now the largest newsletter on remote work, and we've built a great community and resources. Over the past couple years, we've connected with thousands of remote workers and hundreds of remote companies to create the largest database of startups hiring remotely!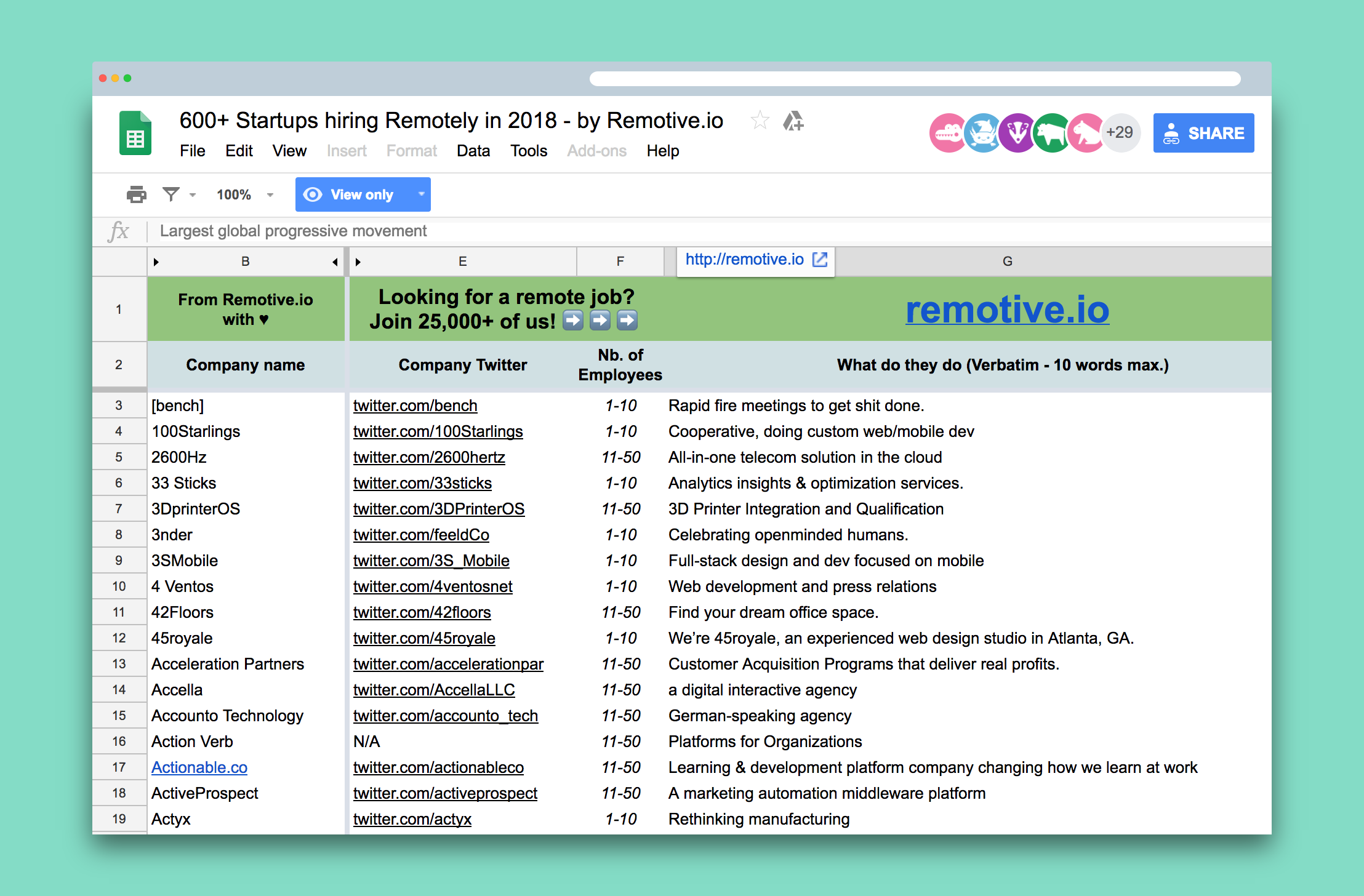 The list began with 200+ remote companies when we initially built the spreadsheet in 2016.
Today, the list is more than 600 remote companies.
If you're looking for remote jobs, you've come to the right place!
Remote jobs: A shortlist of 25 great companies places to work
The remote jobs spreadsheet is a huge resource for anyone interested in working from home or finding a remote company. If you're looking for a shortlist of where to begin, here are 25 companies whom we admire at Buffer.
Go deep inside the remote jobs database
Each of the 600+ remote jobs and companies listed in the spreadsheet includes the following details:
Company website & Twitter: You'll get to check out startups in as much detail as you want!
Company size: Nearly all listed companies are startups, we decided to add a few larger ones too, for good measure
A brief description: Browse through verbatim from various websites to get more familiar with them.
CEO name & Twitter: One of the best ways to get to know a company is through following its founder(s)!
HQ location: Most startups featured are registered in the US, we're also amazed to feature startups from another 20+ countries!
Additional resources
The website weworkremotely.com (maintained by the folks at Basecamp) is a job board purely for remote work positions.
Remote.co is a website and aggregator of remote work tips and opportunities.
And we're also fond of searching sites like Angel List for open jobs and filtering with the tag/label "remote."
Over to you
We hope this spreadsheet and blog post puts you on the right track to exploring a remote job. Feel free to come back to these resources often as we aim to keep them up to date with the latest companies hiring remotely.
Best of luck in your remote job search!