It's been almost a year since ChatGPT launched publicly.
Since then, we've seen AI used for all sorts of social media tasks. Whether it's writing content, designing images, responding to comments, or sending DMs.
The problem is most AI tools aren't built for social media. They're general chat-based tools designed to be used anywhere. Which means these tools don't understand the nuances of social.
But today, that changes.
We've spent almost a year working hard on Buffer's AI Assistant to redesign it for social. From today, it knows what social network you're on, who your audience is, and what tone of voice you'd like.
Buffer's AI Assistant is not just smart. It's social media smart.
Five improvements we've made to Buffer's AI
Ultimately, we wanted our AI Assistant to perform better on social media.
So, we interviewed dozens of Buffer users, asking exactly what they wanted to achieve on social. Almost all of them responded with three requests.
Help me boost my engagement
Help me grow my following
Help me save time
With those three goals in mind, we've redesigned the AI Assistant from the ground up.
1) Composer-ready
Almost all of the Buffer AI Assistant users we spoke to said it helped them save time.
See, AI can help you repurpose great content you've already written, shorten the length of a post, or even rewrite a post for a new audience. This is a huge time-saver.
But, Buffer's AI Assistant wasn't easily accessible to users — being only available in Ideas.
So, we've changed that.
Now, the AI Assistant is available right where you need it: in the composer.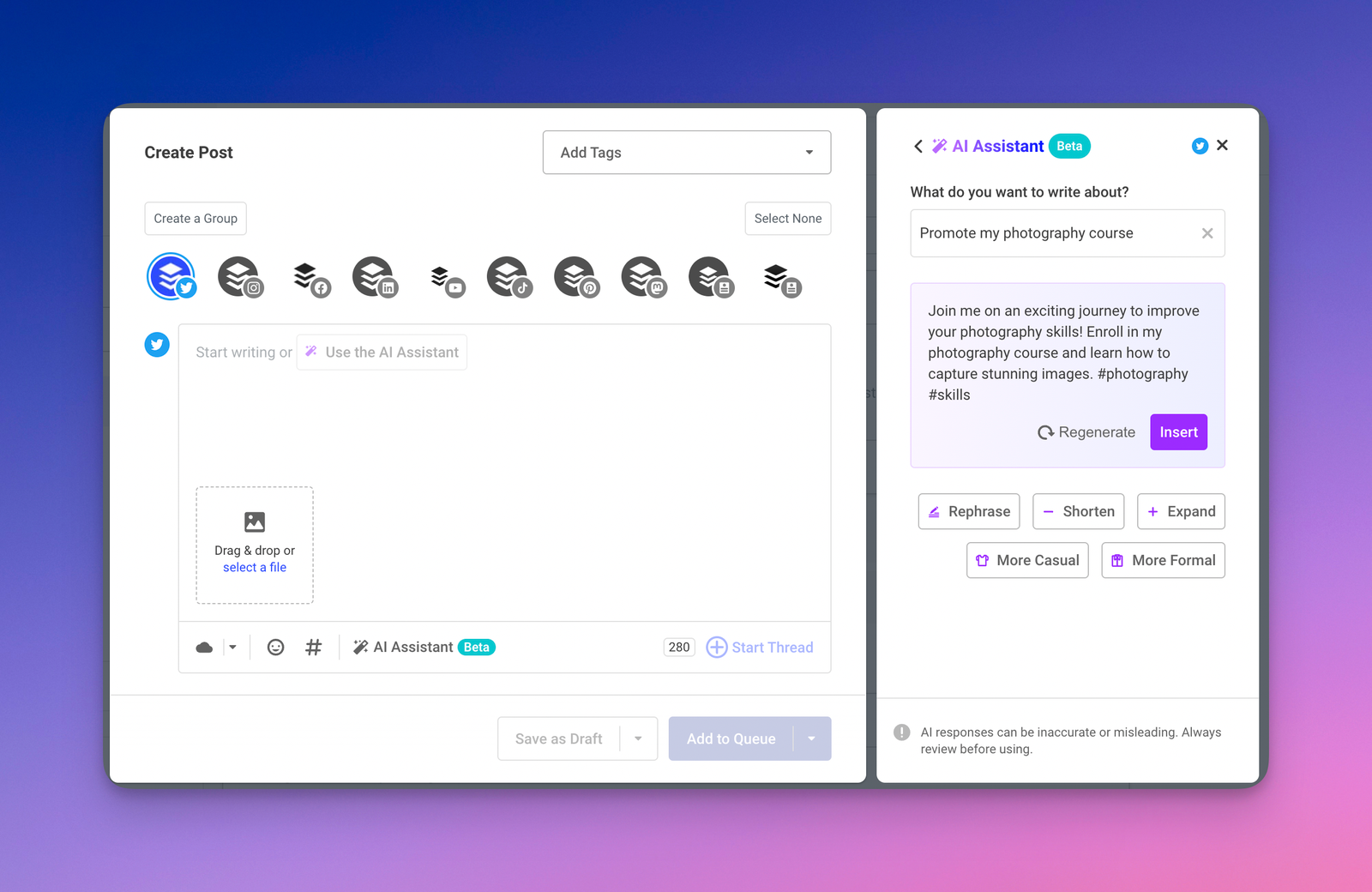 2) It's social media smart
With the AI Assistant in the composer, it's not only is it available right when you're posting, but it's also able to tell which channel you're planning on posting to.
Using this information, we've trained the AI to customize its suggestions based on the social network.
It knows the character limit for each channel, meaning you'll never end up with a post that's too long.
But it also understands what type of language performs best on each platform, crafting more formal posts for LinkedIn, shorter updates for TikTok, and longer, more personal posts for Facebook.
3) Tweak your tone
To get the likes, clicks, and impressions you deserve, you'll need to write posts that resonate with your audience.
For some of you, that'll mean writing in a casual, fun style. For others, that might mean writing in a more professional manner.
Many loyal AI Assistant users shared that Buffer's suggestions were too friendly and superficial.
So, we've added two extra options to tweak your tone. Make it more casual, or more make it more formal.
4) Describe your audience
One of the main issues with using AI for content creation is that it doesn't understand your audience.
Every good writer knows that to craft great content, you need to write in a style that appeals to your audience. It's fairly jarring reading unimaginative, formal copy while browsing your coffee shop's Instagram. And it's disconcerting when you see your lawyer post Facebook updates littered with emojis.
Fortunately, Buffer's AI Assistant knows this. When writing your prompt, you're now encouraged to share information about your target audience.
Doing so will prime the AI to write content that's designed for your audience.
5) Unlimited credits
This update was a no-brainer.
Previously, the use of Buffer's AI Assistant was limited by credits. Free users got 50 credits, and paying users got up to 3,000.
Today, we've removed all the limits, meaning you can use the AI Assistant as much as you want.
Four lesser-known Buffer's AI Assistant use cases
Let's explore some of the lesser-known use cases for Buffer's AI:
Crafting post drafts: Have a vague idea? Buffer's AI Assistant can help transform initial thoughts into full-fledged posts.
Creating captivating captions: An image may speak a thousand words, but a great caption can amplify its impact. Buffer's AI Assistant can create this caption instantly, with just a short prompt.
Text overlays for TikTok: Elevate your TikTok videos with text overlays. Whether it's a catchy phrase or an essential piece of information, Buffer's AI can help.
Hashtag generation: With hashtags playing a crucial role in discoverability, the AI Assistant can suggest trending and relevant tags, making your posts more visible to a wider audience.
Oh, and there's one more thing…
Fancy a challenge?
To celebrate the launch of the new AI Assistant, you're invited to join Buffer's AI Accelerator, a curated 2-week growth challenge that's unlike any other.
The goal is simple: 2x your growth in just 2 weeks.
We'll help you get there in our expertly designed two-week course. Members receive:
Tailored AI training: Learn to wield AI for high-reach posts, perfect for your audience.
Daily growth hacks: Receive actionable tips daily designed to elevate your social strategy.
Community & collaboration: Engage with fellow participants in our Discord group, sharing triumphs and insights.
Recognition: We'll feature the top performers on our blog, social and our newsletter (seen by 100,000 readers).
Oh, and access is 100% free. Join the AI Accelerator today →