Starting early this week you may have noticed some changes around how posting to Facebook works through Buffer. We could've been a whole lot more mindful around this and are so sorry for the confusion we've caused. Today I wanted to briefly give an update around these changes and create a place where we can keep you posted with any updates.
A little background
Earlier this week we were notified by the folks over at Facebook that a few flows within Buffer around how we suggest post content were against its terms. This was related to the way Buffer would automatically enter the title of the post being shared.
In order to give users the best experience, it's Facebook's policy to make sure that all text shared to the app is input by users individually, not pre-filled by an app. Facebook has an awesome video covering this in a bit more depth if you're curious :)
We had a brief outage around our Facebook posting while we had Facebook's help implementing a few swift fixes that changed the way our browser extensions work with Facebook sharing. We also shifted our Feeds and Suggestion tabs within Buffer to be 'under construction' while we work to update them, too.
What's changed (as of June 12th)
There are a number of updates we've pushed through recently that have changed the way you post to Facebook through Buffer. Here's a brief rundown:
The compose window: New "Message for Facebook" area
We've made a change within the Buffer compose window both at Buffer.com and through our browser extensions that adds an entirely separate box for your Facebook message.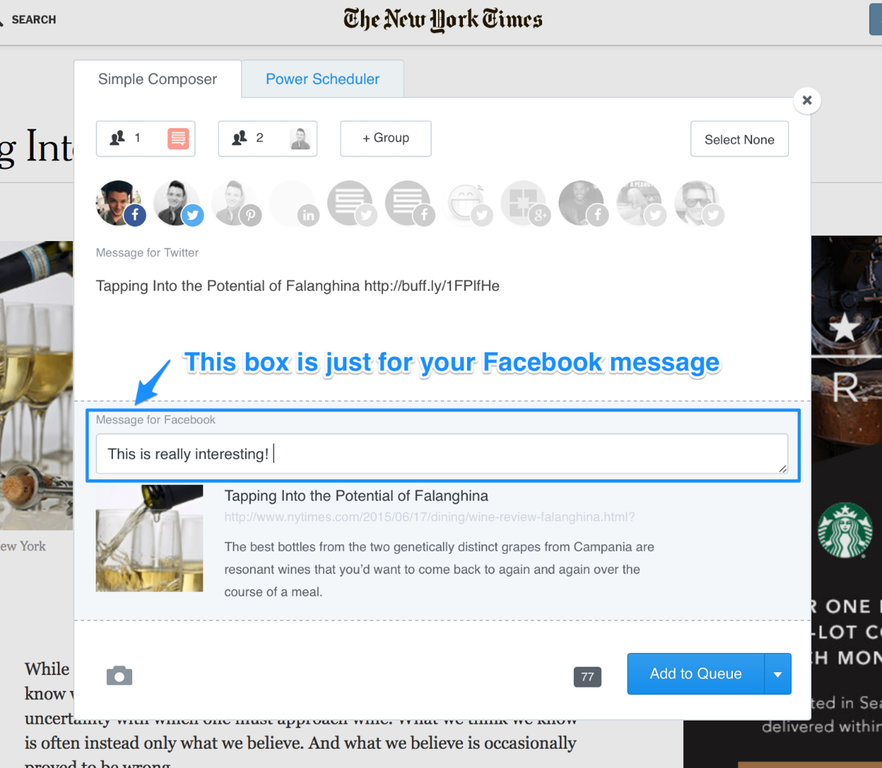 Sharing links to Facebook
When a post you're sharing to Facebook has a link attached with a preview (like in the image above) the link will automatically be attached to your Facebook post. You can optionally add a comment via the 'Message for Facebook' box to go out alongside it to Facebook, like this:
Sharing images to Facebook
When sharing an image to Facebook, you'll need to copy and paste the URL you're sharing into the 'Message for Facebook' box, like this:
Feeds and Suggestions: "Under construction" for now
You may have noticed both Feeds and Suggestions aren't working for Facebook at the moment. We're sorry to say when building these features we didn't quite keep Facebook's policies in mind. For now, we've gone ahead and disabled them while we work to update them to fall within terms.
Right now our team is hard at work re-thinking these features. For now, we don't quite have an update on when or if they'll be back! Of course, we'll keep this post updated with the latest information around this!
In the meantime, one workaround for Feeds is to add your favorite feeds to another, non-Facebook social account. Then when you tap 'Add' on an article, you have the option to add it to Facebook, too, like this:
Update June 18
Feeds are back in your Facebook account! Feel free to add and manage feeds as normal now. :) The suggestions area is still under construction.
We've also made the Box for Facebook bigger and moved attached images to that area if only Facebook is selected: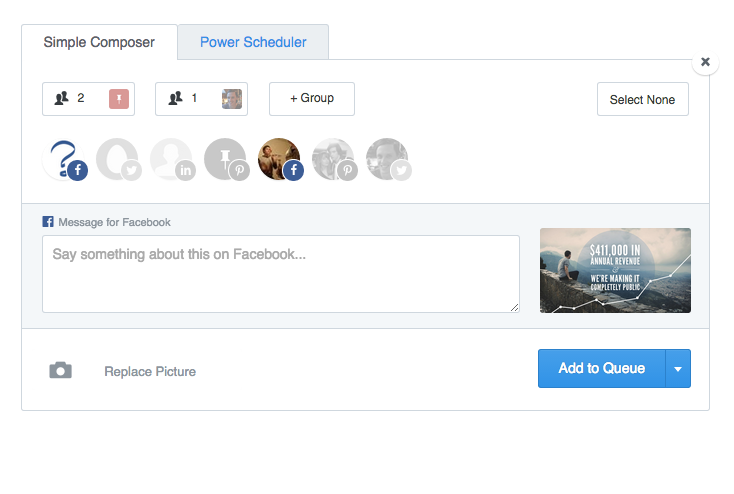 Apologies and we'll keep you posted here
We really dropped the ball on this one and again, are so sorry for the headaches and inconvenience this has caused! Our team's working at 110% to get things going for you again. We'll keep any updates to these features and functionality posted here for you with a proper timestamp so you can always have the latest information.
And as always, if you have any questions about this or anything else (at all!) don't hesitate to reach out to us at hello@buffer.com or via Twitter.